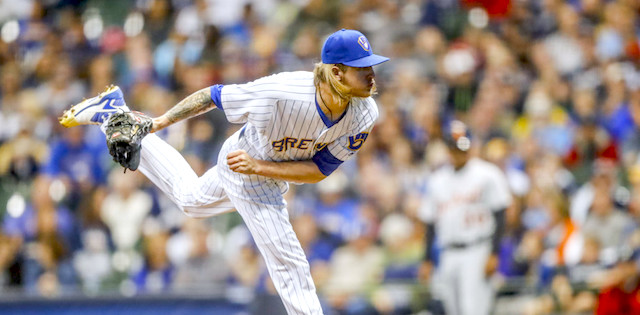 What Appears In This Article?
hide
Recent seasons have shown how a great relief corps can sometimes be a cheap and effective way to bolster a team. Moreover, the move to convert semi-viable starters to relief pitchers has increased the number of legitimately good relievers rather than hoping to luck into the good Joel Hanrahan (excellent for two years, unusable otherwise).
Josh Hader and Arodys Vizcaino represent two powerful arms in the reliever landscape. Hader sports a dynamic fastball and slider combination that made for one of the most effective pitch arsenals in all of baseball last year. Vizcaino throws his fastball at 98 MPH and complements it with an 86 MPH curve that is hard enough to double as a slider but still moves like a curveball. Currently, Hader and Vizcaino are separated by almost 100 picks: 103 and 202 respectively.
Despite the volatility of all relievers, both these players can be valuable assets to their team. The question is whether they can return that value at their current cost.
Featured Promo: Get any full-season MLB and DFS Premium Pass for 50% off. Exclusive access to our Team Sync platform, Premium articles, daily Matchup Rating projections, 15 lineup tools, DFS cheat sheets, Research Stations, Lineup Optimizers and much more!
Go Premium, Win More!
Josh Hader (RP, MIL) – ADP: 103
Other than the unfortunate airing of his teenaged tweets during the all-star game, Josh Hader had a downright amazing 2018 season. While this author does not condone the contents of those tweets, he is also more than familiar with both the language of hip hop and the myopic foolishness of adolescence. On that basis, we'll omit further discussion of Hader's Twitter account and focus on his 2.43 ERA, 2.23 FIP, 2.05 xFIP, 15.82 K/9, and .811 WHIP.
In some fantasy formats, that would be enough to make Josh Hader a strong candidate to draft as a top-80 player, and I could finish my article early. The raw numbers are arresting. Hader also had the audacity to round them out with 12 saves and 21 holds. Last, but certainly not least was his .229 xwOBA. Among pitchers who faced at least 250 batters, that was second to only Edwin Diaz.
Hader's primary weapon is his four-seam fastball, which he throws at 95 MPH. The offering has about 10 inches of vertical movement and 5.5 inches of horizontal movement, making its trajectory similar to a sinker or two-seamer. Oddly enough, the spin-rate on Hader's fastball (2,043 RPM) is a middle of the road for a four-seam fastball. Despite that, Hader's fastball has been one of the most effective at producing both poor contact and swinging strikes both inside and outside the zone.
Hader's secondary pitch is his slider with a 20% swinging-strike rate. Considering that most pitchers are simply looking to induce poor contact on their slider, Hader's ability to generate whiffs is an exceptional advantage. The fact that Hader owns two pitches with swing-and-miss potential increases his margin of error and the likelihood that even if he struggles in one game or another, it's less likely that an offense will actually catch up to him.
The major drawback for drafting Josh Hader is the fact that he remains the setup man for Corey Knebel, who is an elite closer himself. Furthermore, even if Knebel were to struggle or become hurt this season, there's no guarantee Hader would vulture saves because of the recently resurgent Jeremy Jeffress who has made changes in his approach that would make him the lockdown closer on all but a handful of other teams.
The context and specific draft position are critical for evaluating Hader's value. For our purposes, let's assume that Hader provides four wins, 110 strikeouts, 2.80 ERA, and 0.90 WHIP. If he becomes the closer or even part of a closer by committee and accrues 15 saves in 2019, he'll probably miss his ADP of 103. If he takes control of the closer position, he'll need 20 saves to return top-100 value. That's part of why the emergence of other top-tier relievers is so important. Players like Hector Neris or Dellin Betances reduce Hader's absolute value in a traditional format.
The caveat in all of this is for head-to-head leagues, deeper leagues, and leagues that value holds. In those situations, Hader's value increases, and it is more likely that he will be worth his price. That's a fair number of exceptions. In Saves+Holds leagues, in particular, Hader projects as the second most valuable relief pitcher after Edwin Diaz, so knowing your exact format is critical in evaluating Hader.
Verdict: Fantasy Chump in standard 5x5 10-teamers; Fantasy Champ in most other formats (based on ADP of 103)
Arodys Vizcaino (RP, ATL) – ADP: 202
Vizcaino's season was a bit bumpier than Hader's. Despite coming in as the established closer with the role, the season started with whisperings about how long it would take Dan Winkler or A.J. Minter to claim the closer role in Atlanta.
However, Vizcaino finished the season with a 2.11 ERA, a 9.39 K/9 rate, a respectable 1.17 WHIP, and thoroughly entrenched in the closer's seat. Unfortunately, Vizcaino's season was a bit more tumultuous than the final results indicate. For starters, there was an injury that resulted in his temporarily losing the closer's job, and Vizcaino was ineffective even after he returned. Worse, AJ Minter was as impressive as he'd been advertised.
What saved Vizcaino's spot as the closer was that Minter did not always look comfortable in the ninth inning. Plus the Braves have the incentive to reduce Minter's arbitration value by limiting his saves, and they envision him as their own version of the elite setup man.
To Vizcaino's credit, he brings an elite fastball as well as a curve and changeup, which he can use to get swinging strikes. None of the three offerings are as effective as Hader's, but Vizcaino doesn't need them to be. He still manages a strong Swinging-Strike rate (14.3%) and a K% (25.3%). The advanced ERA indicators will never love him because he allows too many walks and gets outs on contact. However, Vizcaino induces his share of poor contact (e.g., 10% career IFFB), explaining why his BABIP (.268) is unlikely to regress to all the way to league average (.293).
The biggest knock against Vizcaino is injury. He's never managed to pitch more than 60 innings in the major leagues. Since 2015, his innings total has been 33.2, 38.2, 57.1, and 38.1, so he's likely to miss time. The question is whether the Braves become adept can become adept enough at managing his health that they can keep him on the field for more than 50 innings.
Having just sung a song of caution about Josh Hader, it feels dirty to write this, but Vizcaino is one of the few opportunities to buy a top-15 closer towards the end of the draft. Let's be clear: this is not an ode of celebration for Arodys Vizcaino, who is quite talented. It's a ballad of opportunism. There are a few closers available after pick 200, but aside from Drew Steckenrider, I don't see any who are likely to hold their job as closer.
Verdict: Champ (based on ADP of 203)