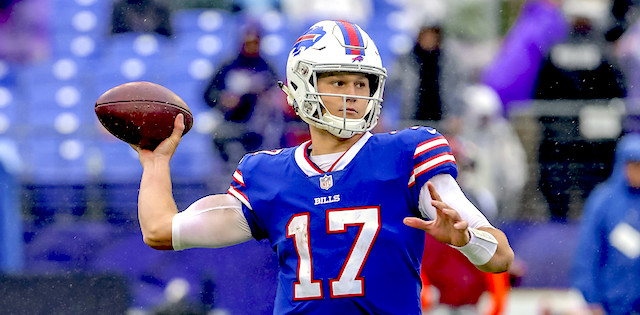 Quoting the Montana Bison Association, "You can gain their trust and friendship, but you have not really changed their basic nature----they will always be wild."
No, I'm not calling Buffalo Bills quarterback, Josh Allen, an animal. I'm figuratively comparing his allure and NFL skills to the nature of this Bovidae. (And for those that say it's a buffalo, not a bison; the American Buffalo is actually called a bison, while the other two buffalo species reside in Africa and Asia.(Jhbuffalomeat.com)) Use that to win a bet at the local bar near Orchard Park, or (at your own risk), potentially get punched in the face by someone from the #BillsMafia.
With that out the way, we must now recognize that Josh Allen is an anomaly in the current QB market. Touted for his cannon arm, he instead ran wild last year and helped fantasy owners with his legs. Many are concerned about his future prospects, so I'm here to help you gain some trust in this Buffalo Bill.
Editor's Note: Get any full-season NFL Premium Pass for 50% off. Our exclusive In-Season Lineup Tools, Lineup Optimizer and over 150 days of Premium DFS Research.
Sign Up Now!
A True Dual Threat
While he is a very capable running QB, during his 12-game season, he was in the bottom of the league in numerous categories including:
62.1 Adjusted Completion %. (Last in qualified QB's.)
39% for the above when "under pressure". (Last in qualified QB's.)
85% when throwing to open or wide open WR's. (38th)
Throws nine yards or less in the air, (32nd)
Throws from 10-19 air yards, (37th)
Throws above 20 air yards, (32nd)
Ball placement when throwing properly to WRs. 53.9%, league average is 61.9%. (37th)
So, how can we expect a QB1 season from Allen? One of the big clues is from the end of season success with the empty-backfield play-calling in 2018.
For only 13 plays, in the first 10 games of the season, the Bills used an empty backfield set. In the last six weeks of the season, after Allen returned from injury, they used that set 66 plays. Of those 66, Allen was 30 of 51, had 421 passing yards, two touchdowns, and ran for 11 carries totaling 168 yards and a touchdown. In the empty backfield, the Bills averaged nearly double the yards per play compared to their season average, 8.53 vs 4.47. Offensive Coordinator Brian Daboll credited this to Allen better understanding protections during the weeks he was not on the field. For the course of the season, the Bills were near the league average of empty backfield sets at 7.8% (league average=8%), but were 16.7% over the final six weeks.
In empty formations, your offense becomes more spread out, forces the defense to spread, requires more protection recognitions (which Allen improved), allows for quick throw opportunities, and in Allen's case, requires the defense to take an extra body to Spy or Contain the QB, often leaving a defense more vulnerable. And as we saw with the success of the deep ball throw by Allen, and the game-breaking speed of Robert Foster, (396 yards, three TD in three of the Bills' final six games), a vertical threat still exists; with some upgraded wide receiver options as well.
An Easier Path
To better project Allen for next season, let's look at his divisional competition and fantasy points scored allowed last year. As we saw, Allen struggled to start the season averaging just 10.46 FPPG before he went down with an injury. In divisional opponents, he averaged 15.01 FPPG versus the Jets & Patriots. He absolutely scorched the Dolphins averaging 34.6 FPPG. Let's call the Dolphins games anomalies, as reaching those numbers consistently are a far stretch, and say he hits the average mark of points allowed by the Dolphins, 18.7. Dolphins also traded Robert Quinn and Cameron Wake was let go. They combined for 12.5 sacks last year and 15 tackles for a loss and were first and second in sacks for the team. Expect negative regression in QB points allowed for them.
Furthermore, we can extrapolate the opportunity from games missed last year, by averaging out the fantasy points allowed per team, to give us a better idea of where he could have finished. In the four games missed by Allen, he would have faced the Indianapolis Colts, New York Jets, New England Patriots, and Chicago Bears. Having played the Patriots and Jets, and having not played the others, (using his actual fantasy points versus the Jets and Patriots, versus the average fantasy points allowed by the Bears and Colts), he was expected to score 58.8 in total for those games. Add that to his 208.1 points scored in 12 games, he's the QB15 in fantasy in 2018, with 266.9 fantasy points.
Let's then consider the Bills overall strength of schedule. Last year, they had the fifth-toughest schedule based on win totals. This year, they are expected to have the eighth-easiest schedule in terms of win totals, and face only three teams ranked in the top-eight toughest for QB points allowed (FantasyPros). As for fantasy points allowed to QB's, the expected median for their 2019 opponents is 17.59 FPPG. Compare this to a league average of 17.36, and the fact that they played two of the toughest defenses in fantasy points allowed to QBs, in the Bears and Vikings, whom they don't play this year; and you start to see opportunity.
Future Fantasy Forecast
For projections, with our small sample size, let's assume the Bills run 66 plays per game, +3 from last year, 1056 for the season. Let's also assume they run an empty backfield set for 16.7% of their snaps. They will approximately run 176 plays from this set. Of those 176, 77% are pass plays, 23% are runs, 17% of those runs are for Allen. Allen can expect to throw for 1203 yards, five touchdowns, and four interceptions. He can expect to run for 264 yards while adding another three rushing touchdowns.
As for the other 880 plays available, based on 2018 numbers, a full 16 games played, an adjusted +.23 QB/TDs allowed on schedule vs 2018, more run heavy as they pass more in the empty backfield set, and a slightly better receiving corp., expect him to throw for 2430 yards, 17 touchdowns, and 15 interceptions. He will approximately see 119 carries, 565 rushing yards, and seven touchdowns as well. In total, expect 3,633 pass yards, 22 touchdowns, and 19 interceptions. For rushing, approximately 149 attempts, 829 yards, 10 touchdowns, and five fumbles.
We also need to consider historical data. With the help of Pro Football Focus's Query Finder, I went back through 10 years of data. I found 23 QBs that started at least 10 games each between their rookie and second years. Of the 23, 13 had improved fantasy point totals in their second year versus the first year. I then looked at rushing yards for those QBs. 13 of the 23 ran for over 200 yards for a season, of those 13, eight ran for more yards their second season than in their first, with only one QB, Marcus Mariota, having the largest difference in games played from first to second year, three games. Of those 13, nine had a lower interception percentage their second year and seven had a higher touchdown percentage as well.
This data suggests Allen has an opportunity to increase his rushing yards, lower his interceptions per attempts, increase his touchdowns per attempt, and increase his fantasy point totals, with the majority of this data also favoring running QBs.
As for Allen and the argument for a QB1 year, expect his legs, his second-year progression, and his favorable schedule, to guide him in that direction. As of this writing, I have him as my QB6, finishing with 328.2 fantasy points for the 2019 season.
Thank you for taking the time to read my breakdown of Josh Allen. For more fantasy news, notes, and future articles, or to discuss my reasoning behind Allen, follow me on Twitter @DrakePFSA.
More Fantasy Football Analysis