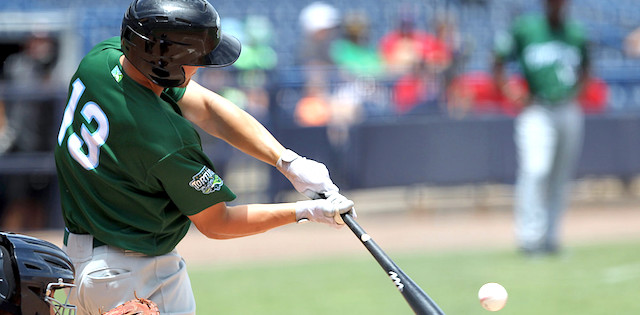 With the NFL season officially a thing of the past, we can now turn our undivided fantasy attention to preparing for our baseball drafts. We are still waiting on the answers to a few key questions (such as, I don't know, where Bryce Harper and Manny Machado might play their home games?), but we have enough information at hand to formulate the bulk of our draft strategies for 2019.
We know to target multi-category stars in the first few rounds. We know which positions are deep enough to wait on, and which ones we should try to lock down early. We know how volatile bullpens can be, especially in this day and age, and that spending high picks on closers doesn't always pan out.
But what about the players we have only seen sparingly on a Major League diamond, or not at all? Rookies can be tricky for a multitude of reasons in re-draft leagues, but fear not. I've devised a road map for how to go about acquiring and deploying them on your rosters, starting with how they fit into your draft plan and ending (hopefully) with a league championship.
Editor's Note: Get any full-season MLB Premium Pass for 50% off. Exclusive access to our Draft Kit, premium rankings, projections, player outlooks, top prospects, dynasty rankings, 15 in-season lineup tools, and over 200 days of expert DFS research.
Sign Up Now!
Know Your Prospects
The first thing you'll want to do is take some time to familiarize yourself with the top prospects in baseball. There are endless resources available on the world-wide web, including a great deal of prospect research right here at RotoBaller. A fine place to start is with our Top 100 prospect list.
Take note of one thing in particular regarding any MLB prospect: his estimated arrival date at the big league level. If a player is expected to make his MLB debut in 2019, follow him closely throughout spring training to see if he is trending toward an early-season (or even Opening Day) roster spot. Players who put forth an impressive effort in spring ball are the ones you want to consider on draft day. If a highly-regarded prospect struggles during the spring, however, he may be sent back down to Triple-A to work on his game before being called up during the summer. In this case, you may want to hold off until the very last rounds of your draft before spending a pick on a player in the minors.
Or, you can simply file away a few names to follow early in the season and track their progress at the minor league level. If at any point a promotion appears imminent for a given player, don't hesitate to pick him up a couple days early. It pays to keep an eye on these developments in order to give yourself an advantage over the other owners in your fantasy league.
Know the Organization
Another crucial aspect of dealing with rookies, particularly in re-draft leagues, is understanding the team they're eventually going to suit up for in the Majors.
It is entirely plausible that a prospect's primary position is already occupied by a quality player at the big league level. As a result, he may see time at a different position, or shuffle around the diamond altogether at the behest of the manager. Case in point: Nick Senzel of the Cincinnati Reds.
Senzel is a third baseman by trade, but Eugenio Suarez is already firmly entrenched at the position in Cincinnati. An outfield experiment seems logical then, but keep in mind that the Reds added Yasiel Puig and Matt Kemp to an outfield already inhabited by Jesse Winker and Scott Schebler. Despite being a top-10 prospect believed to be prepared for the highest level, there is no ready-made path to consistent playing time for Senzel. Until we get a clearer picture of how the Reds plan to utilize him, his fantasy value takes a hit in re-draft leagues.
This is, of course, just one example, but the point remains: whether you're at your draft or browsing the in-season waiver wire, take into account the potential role a rookie will have on his respective team once called up before you acquire him.
Beware of Starting Pitchers
In 2018, 13 rookies recorded 100 or more innings pitched. Of those 13, six recorded 120 or more strikeouts. Of those six, three recorded an ERA below 4.00. Among starting pitchers league-wide, 120 strikeouts would have been good for the 86th-highest total, and a 4.00 ERA would have tied for 128th.
Using the same thresholds, in 2017 there were 12 rookie pitchers who accumulated 100 or more innings, four of whom recorded 120 or more strikeouts. Only one finished with an ERA below 4.00. A 120-strikeout season in 2017 would have tied for 85th, and a 4.00 ERA would have fallen in 86th.
The point here is that while it's become somewhat common to see rookie position players work their way into the upper echelons of production, rookie pitchers tend to have considerably more ups and downs. As such, you're going to deal with some turbulence if you choose to roster any.
Additionally, here's something to keep in mind if you play in a head-to-head league: everyday players give you the opportunity for fantasy production several days a week and thus can atone for a bad performance here and there. Starting pitchers, on the other hand, give you two outings a week at most. One or two disastrous starts from a couple of rookies could mean the difference between winning or losing your weekly matchup.
Now, fantasy baseball leagues come in all different shapes and sizes, and maybe you play in a deep league or have a few extra bench spots. In this case, feel free to stash a rookie pitcher or two and hope for a return on your investment. In most 10 or 12-team leagues with standard roster sizes, however, it's best to tread carefully with rookie starting pitchers, as opposed to selling out in the hope you'll strike gold with the next Walker Buehler.
Maintain Patience
This is easier said than done thanks to guys like Mike Trout, but it pays to remember a simple fact when dealing with rookies in fantasy baseball: not every prospect is immediately going to blossom into the second coming of Willie Mays, and that's okay.
Consider this: in Ronald Acuna's first full month of playing time (May) in 2018, he hit .235 and struck out more times than he reached base. Then he got hurt, missed most of June, and put up half-decent numbers across 22 games in July. It wasn't until August that he truly broke out with a .336/.405/.698 slash line that included 11 home runs, 21 RBI and 25 runs scored.
If you're the owner who spent a draft pick on a highly-touted prospect like Acuna, don't give up on account of a rough first month or two. Baseball season is a long and winding road, and even if a young player isn't helping you early on, he can still play a vital role in your quest for a title down the stretch.
Conversely, if you notice a development like this elsewhere in your league, don't be afraid to exploit it. If an impatient league mate is growing frustrated with the performance (or lack thereof) of a rookie, try to acquire the player in a buy-low deal. Acuna's 19 post-All Star break home runs in 2018 (good for fourth in the entire league) would have been well worth sending away a couple mid-tier veterans early in the season.
Finding Hidden Gems
So we've established that it pays to monitor the progress of highly-regarded prospects in spring training and early in the regular season. We've also discussed exercising patience with these youngsters once we acquire them, whether it be through the draft, free agency or a trade. This is all well and good for high-profile players, but what about the ones flying under the radar? Not every prospect is going to arrive at The Show on a hype train.
While the baseball community swooned over Acuna, Juan Soto and Gleyber Torres in 2018, there were plenty of other rookie position players who made an impact at various points throughout the season.
Willy Adames of the Rays posted the highest batting average among shortstops with 200 plate appearances after the All-Star break. Daniel Palka of the White Sox tied Miguel Andujar for the rookie lead in home runs despite recording 156 fewer at-bats. Miami's Brian Anderson crossed the plate 87 times, good for 18th among all outfielders league-wide. If you're not paying attention, you're going to miss the boat on guys like these.
And so my last bit of advice is simple: don't get complacent. Everyone in your league is going to be looking for the next Acuna, the next Soto, the next Torres. Maybe you'll beat your league mates to the punch on guys like those, and you'll be well off because of it. But if you want to separate yourself from your adversaries, you have to be the owner in your league who knows to look for the next Adames, Palka or Anderson as well.
By now, I hope you feel well-prepared for this aspect of your fantasy baseball season and confident that you're going to make the right calls when the time comes. Just remember to put in the preparation, have some faith in yourself, and be sure to check back here at RotoBaller as draft season gets into full swing for updates on prospects around the league.
More 2019 Fantasy Baseball Advice