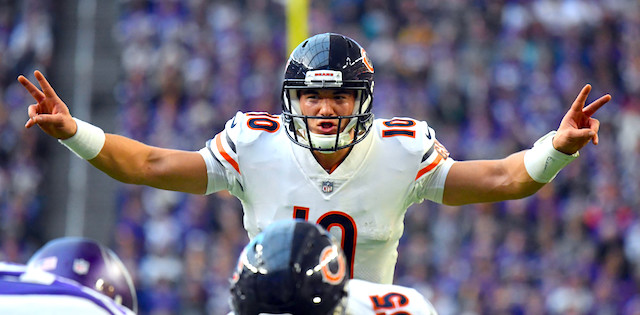 Those of you who play in any form of playoff league, congratulations on being a true fantasy football junkie. 17 weeks wasn't enough so you need to keep the fix going with some contrived form of competition despite the fact there are only four games this weekend and nearly everyone will be setting the same lineup. Experienced DFS players are thinking, "Why do you need multiple games to play a tournament?"
While the number of true flex options is very small this weekend, in an effort to be less obvious than telling you to start Ezekiel Elliott, I'll try to find some under-the-radar plays that could help. For help on how to approach lineup construction in playoff leagues, check out our podcast on how to win in single-use a.k.a. "one-and-done" leagues.
Now, here are my fantasy flex and streamer "heroes" and "zeroes" at each position for Wild Card weekend. These players are borderline start considerations for your flex and superflex spots that I believe will perform unexpectedly well or that might fare poorly relative to expectations in this week's matchups. To see how our staff feels about every fantasy-relevant player in the known universe, look no further than our very own RotoBaller consensus weekly rankings. Good luck Ballers!
Editor's Note: All you early birds can get a full-season NFL Premium Pass for 50% off. Our Draft Kit, In-Season tools and over 150 days of Premium DFS.
Sign Up Now!
Wild Card Lineup Heroes
QUARTERBACK
Mitch Trubisky, Chicago Bears
Last week, Trubisky was featured in this article but on the bottom half of the fence. Trust me, you don't want to be on the bottom half of the fence. Sure enough, the run game did the heavy lifting in a victory over Minnesota and Trubisky was limited to 163 yards and didn't toss a touchdown. The script could flip this week, though. Other than the hapless Redskins, with their fourth-string QB, the Eagles have been allowing big passing games throughout the second half of the season. You may remember Dak Prescott's ridiculous 455-yard, three-touchdown game in Week 14 when you probably chose to stream Lamar Jackson instead because he was playing the Chiefs and you thought "This is the game where he breaks out as a passer!" Trubisky hasn't put together a big game for a while but the potential is there and game flow could work in his favor.
RUNNING BACK
Kenneth Dixon, Baltimore Ravens
I realize waiting for Dixon to take over as the star of Baltimore's offense is akin to waiting for Josh Doctson to breakout. He's still sharing time with Gus Edwards and is only catching one pass per game, so the ceiling isn't where we'd like. Dixon isn't a safe play by any means but if you want to differentiate in some way, Dixon may be your best hope. He's on a team that will run first, second, and third, despite the score of the game. Dixon has been getting stronger as the regular season came to a close with 117 yards in Week 17 and could get more carries than expected based on the trust factor since he's been with the team for three years, whereas Edwards has one season under his belt. Dixon could just tease us again but his upside is greater than most other RB2 types this weekend.
WIDE RECEIVER
Keke Coutee, Houston Texans
The biggest wild card of this weekend may be Coutee, who hasn't played for a month now but could find himself playing a big role in his first playoff game. Demaryius Thomas is out with an Achilles injury and the rest of the WR corps is filled with rookies. Coutee is "trending toward playing" in this matchup, which doesn't inspire much confidence, but that's what makes him a great sleeper. Not counting Week 7 against the Jags where he re-aggravated his hammy and had a terrible matchup, Coutee averaged eight targets and 5.6 receptions per game. If he turns out to be a full go ahead of game time, he could pay big dividends if you have the nerve to put him in your lineup.
TIGHT END
Mark Andrews, Baltimore Ravens
I refuse to put Hunter Henry on this list, so let's be realistic and pick a tight end that might actually do something. Speaking of, we can't realistically expect Andrews to catch a 68-yard touchdown pass like he did a couple weeks ago against the Chargers. They haven't been particularly susceptible to the tight end this year but we know Andrews will get a few targets, which is already more than you can say about most tight ends this weekend. He's gone over 45 yards in five of the last eight games and is second on the team in red zone targets, so there is at least some tangible upside here.
Wild Card Lineup Zeroes
QUARTERBACK
Dak Prescott, Dallas Cowboys
Prescott has been a personal nemesis of sorts for me this season, as he burned me on a previous "Zero" call and seems to put up big games when it's least expected (and I have him ranked super low). But going back to the well is necessary this week because there is no QB I expect to score less other than Nick Foles. Prescott put up a dud in Week 3 against Seattle when he threw for 168 yards, one TD and two INT. He didn't do any better last year, throwing for 181 yards, no TD and two INT in his first time facing the Seahawks. The chance for a rushing TD is always present but that should be nullified by a Seahawks defense that hasn't let a QB rush for a TD all year.
RUNNING BACK
Josh Adams, Philadelphia Eagles
At risk of sounding too obvious, I'm going to tell you not to start Josh Adams against the top defense at restricting points to running backs. It's about more than matchup alone, though. Chances the Eagles commit to the run game and give Adams 15 or more touches in this game: slim to none. Adams hasn't seen more than 15 touches or run for more than 50 yards since Week 13. We can't blame game script either, as the Eagles won all three of those games. It should be noted that since Darren Sproles returned in Week 13, both he and Wendell Smallwood have outsnapped Adams. There's something to be said for differentiation but there's also something to be said for logic and reasonableness.
WIDE RECEIVER
Doug Baldwin, Seattle Seahawks
It would make sense that Seattle's most veteran receiver would see more action in the playoffs. That was before Russell Wilson developed his on-field bromance with Tyler Lockett. Baldwin has been a fantasy asset down the stretch, scoring five touchdowns in the last six games but he is averaging just 57 yards per game over that stretch. He doesn't have a great history facing Dallas either. Baldwin has never posted more than 35 yards in five career games versus the Cowboys (he was a DNP in Week 3 this year). It's not that I foresee Baldwin being shut out completely but for the same price point / ownership level, you can pivot elsewhere for more upside. Seattle isn't a pass-first team and that won't change this weekend against a tough defense.
TIGHT END
Trey Burton, Chicago Bears
The former Philly Specialist now faces the team he helped win last year's Super Bowl. That's a nice story for the pre-game show on Fox but it means nothing for fantasy purposes. Putting Burton in your lineup is so early 2018... you might as well be flossing while bumping Cardi B and doing the mannequin challenge (it's all about Blind Box baby). Burton became waiver wire fodder, mainly due to the fact he's scored once in the last eight games. The Eagles have had their issues on pass defense but they still rank as the third-toughest fantasy defense against tight ends. Burton's simply not trendy, er, trustworthy enough to start anymore.
More Start/Sit Advice