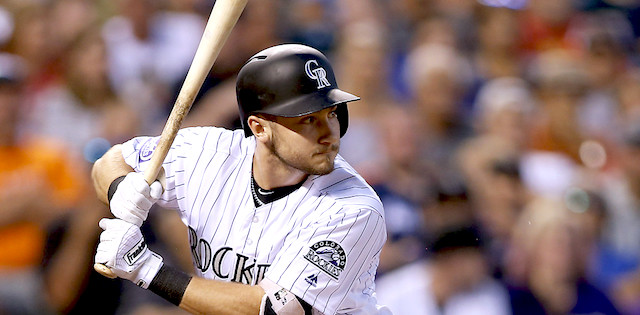 There are plenty of strategies that fantasy managers explore in hopes of getting an advantage over their opponent. Heavy lineup, heavy starting pitchers, no catcher, all (or mostly) reliever staff, no reliever staff, etc. Even if you play a balanced lineup, injuries can cause holes. A few weeks without a key player won't kill a season, but why accept losing when you can stream?
Streaming can be a risky business. If you do it right and check the necessary boxes, you can win the week. This column will do most of the work for you. It'll cover weekly recommendations for when you need: steals, home runs, average, strikeouts, wins, and/or ratios (ERA/WHIP).
All position eligibility and ownership percentages are based on Yahoo! Fantasy leagues.
Editor's Note: Get any full-season MLB Premium Pass for 50% off. Exclusive access to our Draft Kit, premium rankings, projections, player outlooks, top prospects, dynasty rankings, 15 in-season lineup tools, and over 200 days of expert DFS research.
Sign Up Now!
Steals – Head-to-Head Category Streamers
Jon Berti (2B/3B/SS/OF, MIA) - 18% Owned
You better believe I'm touting Miami Marlins super-utility man and column-favorite Jon Berti in this final week. Sure, Berti has only three stolen bases and a .239 AVG in September but the Marlins have seven games in this final week of regular season baseball and four of them are against the Mets. As in, the Mets that has he of the noodly appendage behind the dish, Wilson Ramos. The same Wilson Ramos that has allowed 88 stolen bases - or 21 more than Yasmani Grandal sitting in second place. Berti is usually batting leadoff these days is in the final game of an unlikely season in which he exceeded everyone's expectations. You don't think he's going to run against a bad catcher any opportunity he gets? I do. Run Berti, run.
Garrett Hampson (2B/SS/OF, COL) - 18% Owned
How about that? We're finally starting to see some of this speed we've heard so much about in regards to Colorado infielder Garrett Hampson. The 24-year-old rookie has now stolen three bases in his last four games and has six in the past 30 days, after taking advantage of Wilson Ramos for those three bags in his last series. Hampson will get another turnstile catcher in his final series of the year, as Yasmani Grandal (67 stolen bases allowed) and the Milwaukee Brewers come to Coors for three games over the weekend. In much the same situation as Berti above, Hampson is a speedy youngster likely looking to impress against a substandard catcher in his last chance of the season. Plus, Coors!
Home Runs – Head-to-Head Category Streamers
Brandon Nimmo (OF,NYM) - 19% Owned
New York Mets outfielder Brandon Nimmo is back and crushing it but is still being widely ignored since returning from a neck injury on September 1. Since his return, Nimmo is slashing .297/.481/.703 with a .468 wOBA and four home runs in 52 plate-appearances, along with 10 RBI and nine runs scored. Having seven games at Citi Field (97 Park Factor for LHB home runs) in this last week isn't ideal but sometimes you ride the hot hand. And a hot hand who's smashing a .405 ISO and gets to face the cellar-dwelling Marlins four times is a good one to pick.
Randal Grichuk (OF, TOR) - 34% Owned
When streaky Toronto outfielder Randal Grichuk gets hot, he usually gets really hot. And right now Grichuk isn't just hot, he's gone plain nuclear, hitting five home runs in his past six games, with 10 RBI and six runs scored. And with Toronto lined up for a seven-game homestand to end the season, Grichuk has a good chance to keep this meltdown from cooling off. Grichuk will end the week facing tougher pitching, as Tampa Bay will come into town likely fighting for their playoff lives. But the Jays open the week up by welcoming the Baltimore Orioles to town and their substandard starting pitching. Which will include home run bingo-machine Dylan Bundy, so just go ahead and start Grichuck with one home run, mmm-kay?
Batting Average – Head-to-Head Category Streamers
Luis Arraez (2B/3B/OF, MIN) - 13% Owned
Minnesota Twins rookie Luis Arraez continues to flash the future 60-grade hit tool he was slapped with in the minor leagues and is continuing to hit with a vengeance, with six multi-hit performances in his last 10 games. Even after going 0-for-8 in his last two games, Arraez is still slashing .394/.459/.515 with a 164 wRC+ over 74 plate-appearances in the month of September. Arraez is eligible at three positions and lately has been batting either leadoff or sixth in a powerful Minnesota lineup that's in the midst of their most important stretch of games this year, as they look to hold off the Cleveland Indians and capture their first American Central title since 2010. In this final week, Arraez and the Twins should be helped in the offense department by playing seven games against the lowly Tigers and Royals.
Howie Kendrick (1B/2B/3B/OF, WSH) - 33% Owned
How much does Washington Nationals infielder Howie Kendrick need to hit before we take the renaissance of the 36-year-old seriously? How much has he hit? Try slashing .343/.393/.577 in 346 plate-appearances with a .401 wOBA and 146 wRC+. Read that line again. Surely 346 PA is enough to judge that Kendrick isn't going to suddenly stop hitting, especially since he's saved his best for last by absolutely crushing September. As in, crushing it to the slash-tune of .436/.476/.692 with three three-hit games, and five multi-hit games overall. Fighting for their playoff lives, the National's schedule is fully loaded in Week 26 with a seven-game homestand against the Phillies and the Indians.
Strikeouts – Head-to-Head Category Streamers
Dylan Bundy (SP, BAL) - 12% Owned
Let's wind back the tape and recommend Baltimore Orioles starter Dylan Bundy against the Toronto Blue Jays for strikeouts for the second week in a row. Facing Toronto last Wednesday, Bundy piled up eight strikeouts in five innings, allowing just one earned run. But he also did Dylan Bundy things, walking five and allowing five hits for a cool 2.oo WHIP. Bundy sets up for two starts in this final week of baseball, first getting those same Blue Jays on Monday night in Toronto. Our northern neighbors have struggled with their whiffery against right-handers as of late, carrying a 27.3% K-rate against righties since the beginning of August. Bundy's next start is surely dicier, going to Boston to face the Red Sox in the last game of the regular season. If you fear for your ratios, that's one you'll probably want to avoid, with Bundy almost guaranteed to give up a home run or two. Farewell, sweet Dylan. May your offseason be filled with rumors of a velocity increase and tales of being in the best shape of your life.
Tanner Roark (SP, OAK) - 38% Owned
Oakland starting pitcher Tanner Roark may not be known as a strikeout artist but it seems almost any right-hander these days can become one as long as they're facing the Seattle Mariners, who are a carrying a league-worst 28.2% K-rate against righties since the beginning of August. Roark and the Reds will face the Mariners in Seattle on Saturday after getting a little roughed up in his last start, allowing four earned runs in 4 2/3 innings in a no-decision versus Kansas City. But Roark also struck out eight Royals and now has 17 strikeouts in his last 17 innings. Besides the horrible K-rate, Seattle has floundered in other ways when facing right-handers, posting just a .689 OPS and 84 wRC+ against them since August 1.
Wins - Head-to-Head Category Streamers
Vince Velasquez (SP, PHI) - 14% Owned
Anyone else love to play the game where you try to guess when Philadelphia pitcher Vince Velasquez will pitch a gem and when he'll burn the stadium down with his gas hose? Me too! For example, Velasquez last pitched on the road against Atlanta's fierce offense, so it's an obvious gas can night, right? Nope! Five innings, one earned run, eight strikeouts, and the win. What about the certain gem on August 3 when he faced the pitiful Marlins at their pitcher-friendly park? 2 1/3 innings, seven earned runs, two strikeouts. Never mind those facts, let's chase. Velasquez gets those same bad Marlins in Week 26, this time at home on Friday. Miami has now lost eight of their last 10 games and has an 87 wRC+ against right-handers since August 1, so obviously this will be a Velasquez gem that ends in a win, right? Don't answer.
Gio Gonzalez (SP, MIL) - 14% Owned
With the news that Milwaukee starter Gio Gonzalez will stay in a "piggyback" role for the remainder of the regular season (Gonzalez most recently followed a returning Brandon Woodruff last Tuesday), the veteran left-hander could be in a better position to snag a win or two. Gonzalez has always struggled going deep into games as a traditional starter, so entering later may suit him well especially seeing how well he's pitched of late. In four appearances(three starts) since September 1, Gonzalez only went more than four innings once but still had a 1.80 ERA and 1.20 WHIP over his 15 innings. You'll need to keep an eye on what exactly the Brewer's plans are for his usage but fighting for a playoff spot, Milwaukee should only deploy him when the situation most behooves them.
ERA/WHIP - Head-to-Head Category Streamers
Aaron Civale (SP, CLE) - 44% Owned
We can do deep analysis, we can do a shallow analysis. But sometimes you need to just check out the bottom line. And the bottom line of Cleveland starter Aaron Civale through his first nine starts in the majors is more impressive than you probably think. Because through nine starts and 54 1/3 innings since he came up on June 22, Civale has gone 3-3 with a 1.82 ERA and 0.99 WHIP. Small sample be damned because the only pitchers since then who've thrown at least 50 innings with a sub-2.00 ERA and sub-1.00 WHIP are Gerrit Cole, Jacob deGrom, Jack Flaherty, and Sonny Gray. Not bad company, rook. Civale has two starts on the road this week, going first to Chicago to face the White Sox, who have a 26% K-rate and 89 wRC+ versus right-handers since August 1. Next is a start in Washington on the final day of the regular season, where both teams will still likely be fighting for their playoff lives, so be aware that Civale could have a shorter leash than usual.
Seth Lugo (SP/RP, NYM) - 45% Owned
Yes, you read that correctly. And yes, Seth Lugo is a reliever. But you may not realize just how dominant Lugo has been over the past month and if you need some ratio help in this final week, then Lugo might just be your man. Since allowing seven earned runs in less than an inning against the Braves on August 14th, Lugo has basically been unhittable in his 17 innings (11 appearances) since, allowing just one run and two walks. That's good for a 0.52 ERA and 0.56 WHIP, along with a 2-1 record and three saves. While it's always dicey to count on reliever-usage, Lugo usually manages to get four innings or so per week and with the Mets still in playoff contention, there likely won't be thoughts of compunction as it relates to his usage.
More Streamers and Head-to-Head League Columns