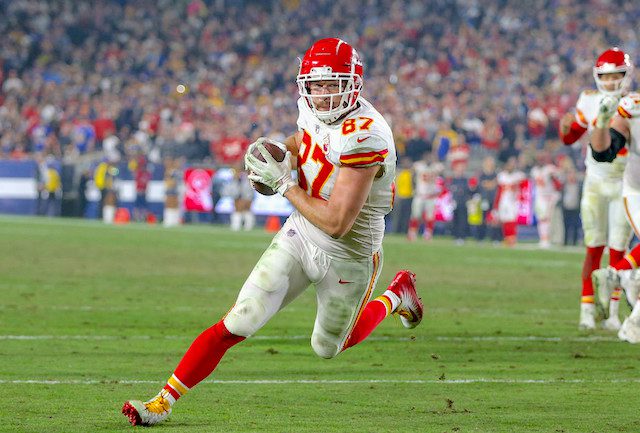 As we prepare for the Super Bowl, we are set to see the Philadelphia Eagles try to contain Kansas City tight end Travis Kelce. While it is often mentioned that Kelce is doing things no tight end has ever done before, there were a few trailblazers before him that it's important we don't forget.
During the 2023 NFL Playoffs, I will be looking back at some of the best fantasy football seasons of all-time position by position. While it's mainly an exercise for amusement, I wanted to see just how spoiled we've been of late or how much we've forgotten the greatness of the past.
We started last week with the quarterback position and then moved on to running backs, so today we'll tackle the tight end position.
Featured Promo: Get any full-season NFL Premium Pass for 50% off and win big in 2023. Exclusive access to our Premium articles, 15 lineup tools, new Team Sync platform, Lineup Optimizer, Premium DFS tools and cheat sheets, and much more!
Sign Up Now!
Best Fantasy Football Tight End Seasons of All-Time
I used Pro Football References fantasy stats, which go back as far as 1978, and collected the best half-point PPR seasons (listed under FanDuel scoring on the site). Below is the top 20 leaderboard sorted by points per game. I believe this is a fair way to adjust for the current longer season as well as give proper credit to players who may have missed a couple of games but were dominated when they were on the field.
I've broken down some of the best seasons below for a larger context, and you'll also see VBD mentioned, which was popularized by Joe Bryant in the 90s and is the player's fantasy points minus the fantasy points of the baseline player at that position. It's used to highlight just how much better a player was than their peers, so think of it like Wins over Replacement.
HONORABLE MENTION: Shannon Sharpe (1996)
Stats: 1,062 receiving yards and 10 touchdowns on 87 catches with 140 targets
By VBD, Sharpe's 1996 season is the 8th-best season of all time, and it's easy to see why. Tight ends had yet to become game-breaking offensive options, yet Sharpe was 16th in the NFL in catches, 15th in yards, and 6th in receiving touchdowns. For context, Tim Brown of the Raiders, one of the best receivers in the league had just 10 more catches, 42 more yards, and two fewer receiving touchdowns.
1996 was the third of Sharpe's four really strong years, and his 1997 season was better in many ways, but he just couldn't find the end zone. Still, he needs to be respected as an early pioneer of the fantasy tight end.
In fact, Ben Coates and Shannon Sharpe are the only two players who played before 2000 who had seasons in the top 30 all-time based on points per game. If you expand to the top 60, the only other players that join them are Wesley Walls and Tony Gonzalez, who will come up later.
HONORABLE MENTION: Tony Gonzalez (2000)
Stats: 1,203 receiving yards and nine touchdowns on 93 catches with 150 targets
Oh, look, it's later, so here is Tony Gonzalez. By VBD, this is the 6th-best season of all time, so even though Gonzalez finishes just outside the top 10 in terms of points per game, he remains one of the best fantasy tight ends in history.
Obviously, his story is well-known as a college basketball player who turned himself into an elite tight end, and it's a story shared by a few other guys who appear on this list. Gonzalez debuted as a 21-year-old in 1997 and by 1999, he was one of the top tight ends in the league.
In 2000, he took his game to a whole new level. He finished 8th in the NFL in targets, 10th in catches, 14th in yards, and tied for 9th in touchdowns. It was a truly elite season that was better than some of the best wide receivers in the game like Jimmy Smith in Jacksonville, Cris Carter in Minnesota, David Boston in Arizona, and Muhsin Muhammed in Carolina.
If Gonzalez had played in the fast-paced, pass-heavy version of the modern NFL, he easily could have put up numbers like the guys who appear near the top of this list.
#10. Antonio Gates (2004)
Stats: 964 receiving yards and 13 touchdowns on 81 catches with 114 targets
Another former college basketball forward turned tight end, Gates and Philip Rivers were a dynamic duo for a few years. Two of Gates' seasons cracked the top 11 all-time, and while he had more receiving yards in 2005 with 1,101, the 13 touchdowns in 2004 helped to make it a more successful fantasy season.
If you go by VBD, this is the 6th best season of all time. Gates was 16th in the NFL in catches and 4th in touchdowns, so even though he didn't crack 1,000 yards, he still helped fantasy managers and emerged onto the scene in what was just his second NFL season. He would go on to play 14 more seasons; although, he never recorded this many touchdowns again and only once had more catches.
Stats: 952 receiving yards and 11 touchdowns on 87 catches with 114 targets
I know people may not like that Reed makes this list because he only played 14 games due to injury, but I think he deserves to be rewarded for this season. For those who have been concerned in past articles about players not helping during the fantasy playoffs, Reed missed weeks five and six had actually had five total touchdowns in Weeks 13-15, which would have been the fantasy playoffs in most leagues.
This season, Reed was 13th in the NFL in catches and 8th in the NFL in touchdowns. Also, at 76.3%, Reed had the highest catch rate of any non-RB in the league, so he was one of the most reliable receiving targets in the entire league. Sadly, this was Reed's only real dominant season. He battled concussions and other injuries and never topped 700 yards or six touchdowns in a season again.
2021 Stats: 1,361 receiving yards and nine touchdowns on 107 catches with 153 targets
Mark Andrews had been a solid rotational tight end in Baltimore's system for three years before breaking out in 2021. After watching him split reps for Nick Boyle and Hayden Hurst, it was nice to see Andrews finally get more playing time, and he proved that he was worthy of the extra run.
In 2021, Andrews was 5th in the NFL in receptions, 6th in the NFL in receiving yardage, and 9th in the NFL in touchdowns. Unfortunately, do the injuries to Lamar Jackson and Rashod Bateman, Andrews wasn't able to reach the same heights in 2022, but we should fully expect him to be back near the top.
#3, 5, 6. Travis Kelce (2020, 2022, 2018)
Also has #5 all-time season (2022), and #6 all-time season (2018).
2020 Stats: 1,416 receiving yards and 11 touchdowns on 105 catches with 145 targets
I know it might surprise people to see Kelce only come in at number three, but there have been some truly dominant seasons out there. However, Kelce already has three seasons in the top 10, which cements his legacy as one of the best tight ends ever and potentially the best fantasy tight end we've seen.
In 2020, Kelce was 5th in the NFL in catches, 2nd in the NFL in receiving yards, and 5th in the league in touchdowns. He was truly a dominant force. Kelce did have one more touchdown this season, but he had fewer receiving yards and played two extra games since he sat out the final game in 2020 with Kansas City locked into a playoff spot. Given that Kelce put up these 2020 stats in just 15 games, it's hard to argue against how strong a year it was.
Stats: 1,215 receiving yards and 16 touchdowns on 86 catches with 142 targets
Jimmy Graham comes in to break up the Kelce and Gronkowski love fest. Graham is yet another former college basketball player turned NFL tight end who brought athleticism to the tight end spot that we hadn't really seen before then. He put up a truly strong year in 2011, his second in the NFL, but really broke through in 2013 thanks to leading the NFL with 16 touchdowns. He also averaged 14.1 yards per catch and was 15th in the NFL in receiving yards.
However, after catching another 10 touchdowns and over 800 yards in 2014, Graham was traded to the Seattle Seahawks and never reached the heights in their offense that he did with Drew Brees and the Saints. It was a bummer of a move for fantasy managers.
#1, 7, 8. Rob Gronkowski (2011, 2014, 2015)
Also has #7 all-time season (2014), and #8 all-time season (2015)
2011 Stats: 1,327 receiving yards and 17 touchdowns on 90 catches with 124 targets
Listen, even to a Bills fan there is no better tight end to lead the way than Gronk. He has been the face of the tight end position for a decade and has been one of the most recognizable NFL personalities. Despite coming into the NFL with back issues, Gronk put those concerns behind him and went on to form an all-time great pair with Tom Brady.
While Gronk joins Kelce with three seasons in the top 10, the 2011 season stands out because of those touchdowns. He led the NFL in that category in just his second season in the league while also finishing 5th in catches (behind Jimmy Graham), and 6th in yards (just head of Graham). I mean, 2011 might have been the best tight-end season of all time with Graham and Gronk, no?
The rest of Gronk's career was just about injuries. He wasn't able to play a full season in 2012 and 2013, but then came back with dominant seasons in 2014 and 2015. He was hurt again in 2016, great again in 2017, and then hurt again in 2018 which led to his one-year retirement before reuniting with Brady in Tampa.
Anyway you slice it, we are experiencing some of the best tight end play we've seen with Kelce and Andrews, but we've been seeing truly elite tight end play for over a decade. However, the top-end production has been dominated by just a few names, which is why you see people drafting Kelce high or talking about removing the tight end position from fantasy lineups.
Download Our Free News & Alerts Mobile App
Like what you see? Download our updated fantasy football app for iPhone and Android with 24x7 player news, injury alerts, rankings, starts/sits & more. All free!


Win Big With RotoBaller
Be sure to also check out all of our other daily fantasy football articles and analysis to help you set those winning lineups, including this new RotoBaller YouTube video:


More Fantasy Football Analysis