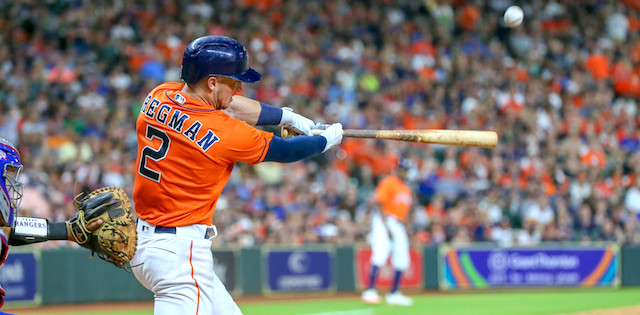 Welcome back, RotoBallers! I hope you enjoyed these first three days of baseball, and now we're back today with another massive 15 game slate. Unfortunately, Vegas got us back yesterday, as we went 0-2 on our bets. However, like I said yesterday, I believe that you're only as good as your next bet, and today is another day. The entire RotoBaller team has been working around the clock to make sure we can get you guys the best betting picks, props, and lineups for the opening weekend and throughout the season as a whole. We're happy you're here with us and are looking forward to an extremely profitable 2022 season!
Attention fellow sports bettors! We have some exciting news to share as we are now officially partnered with various sportsbooks and have some sweet sports betting promo offers! Get your deposit bonus, as well as a year of free RotoBaller Premium access, when you sign up with a new account today! After you're signed up, use our picks in this article for spreads, totals, and props to win big.
If you're new, or just a refresher to those who read my articles last season, I'm John Brubaker. I've been betting MLB baseball games for four years now, and this is my second MLB season working with the great folks at RotoBaller. I've created my own betting model to help me create and identify value on run lines, totals, and money lines. In this article, I'll be providing my favorite betting picks MLB games on Sunday, April 10, 2022. I'm continuously working to improve my models to make them more accurate, and as the season progresses I'll share the data I have on my personal Twitter @LucidMediaDFS. Feel free to give me a follow if you haven't already, and do not hesitate to ask any questions! My DMs are always open. With all of that said, let's break down some baseball games.
Featured Promo: Want a free RotoBaller Premium Pass? Check out these sports betting promo offers from the top sportsbooks! All new sign-ups get a free bonus offer on their first deposit, and a free year of RotoBaller's Premium Pass for all sports ($450 value)!
Sign Up Now!
LucidMedia's 2022 MLB Betting Picks
Season to Date: 3-3, -0.74 units
Sides: 3-2, +0.26 units
Totals: 0-1, -1 unit
Notes: A tough break in both games yesterday, despite the lopsided loss in the CLE/KC matchup. There were 29 balls hit over 90mph in that game, and like the old adage goes "you have to hit 'em where they ain't". I don't have much to say about the Giants game, as Pablo Lopez looked to be back in his 2021 form. A Brandon Crawford GIDP in a 3-1 count in the bottom of the ninth killed any chance of a rally, but we have to roll with the punches. Since today is a getaway day, I'll be taking some different bets with lower units. I normally split my units in half on Sundays throughout the season, since I feel that there's too much volatility in a slate of day games where the players are looking forward to getting on the team plane and off to the next city. Regardless, let's get right to it.
Miami Marlins @ San Francisco Giants
O/U: 7.5 | Moneyline: SF -126
MIA: Trevor Rogers | SF: Anthony DeSclafani
I'll start off today's slate running it back for the third straight day with another matchup between Miami and San Francisco. We should see another quality pitching matchup between these two teams, and it looks like it will be another low-scoring affair. We'll take advantage of this today.
Trevor Rogers takes the mound for Miami. He'll look to carry on the momentum from his stellar rookie season where he logged a 2.64 ERA and a 3.54 xFIP across 25 starts. He'll be squaring off with Anthony DeSclafani, who had himself a solid bounce-back campaign in 2021 where he posted a 3.17 ERA and a 3.95 xFIP.
We'll be looking at the "no runs in the first inning" game prop, or NRFI for short. In Trevor Rogers's 14 starts on the road last season, he allowed a first-inning run in just one of them. DeSclafani posted similar numbers at home last season, shutting opposing offenses out in 10 of 11 starts at Oracle Park last season. The line is a bit juiced on FanDuel Sportsbook at -150, but I'm more than willing to jump on this line after they've hit this in each of the last two days.
Pick: MIA @ SF, NRFI (-150) FanDuel Sportsbook, 0.5 units
Houston Astros @ Los Angeles Angels
O/U: 9.5 | Moneyline: LAA -108
HOU: Jose Urquidy | LAA: Jose Suarez
The Astros and Angels will close out their opening series this afternoon, with the Astros trying to pick up their first series win of the season. The Angels took game three of the series tonight on the back of 5.1 strong innings from Noah Syndergaard, and will look to continue their momentum into the Sunday finale.
Jose Urquidy takes the ball for Houston. Urquidy had a solid 2021 season, finishing with a 3.62 ERA and 4.39 xFIP across 20 starts while working out of the bullpen as well. He's 2-0 with a 4.50 ERA against the Angels in his career, with his most recent start coming on September 21st of 2021, where he logged 5.1 innings in a winning effort. He'll face Jose Suarez, who finished 2021 with a very respectable 3.75 ERA and 4.33 xFIP. He logged two wins against the Astros last season allowing just two earned runs in 9.2 frames.
I feel as if the Astros have been underpriced since Opening Day and will continue to take advantage of it. FanDuel Sportsbook has this game with both teams listed at -108, giving the implied odds of 51.92% for each side. My model gives the Astros a 58.82% chance to win this game with a final score of 5.28-4.27, giving us a very nice expected value of 6.9%. While I think Suarez continues to improve as his career goes along, I have a hard time fading the Astros who finished 2021 leading the league with a 117 wRC+ against left-handed pitching.
Pick: Astros ML (-108), FanDuel Sportsbook, 0.5 units
Good luck, RotoBallers! Stay tuned for more great MLB analysis during the break and more DFS and betting content later in the week!
Download Our Free News & Alerts Mobile App
Like what you see? Download our updated fantasy baseball app for
iPhone
and
Android
with 24x7 player news, injury alerts, sleepers, prospects & more. All free!
More Fantasy Baseball Analysis