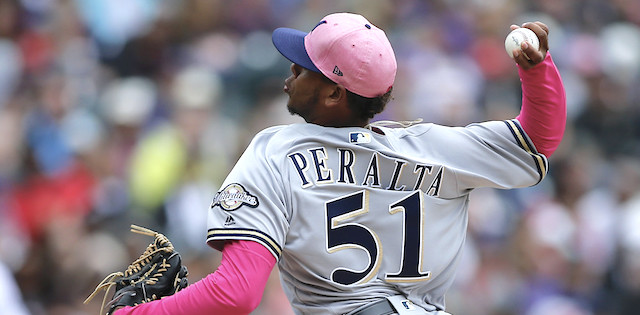 BALLER MOVE: Draft target ~pick 280
CURRENT ADP: ~320 overall
ANALYSIS: Milwaukee Brewers starting pitcher Freddy Peralta only had a 6-4 record and 4.25 ERA after being called up from the minor leagues in 2018. In his 14 starts, he allowed at least three earned runs in seven of them and walked multiple batters in 11 starts. All of that being said, Peralta is lauded as one of the top starting pitcher sleepers coming into 2019. Peralta is so valuable because, in 78 1/3 MLB innings, he allowed just 49 hits and struck out 96 batters. In fact, through the majors and minors in 2018, Peralta struck out 188 batters in just 141 1/3 innings, allowing 99 hits.
If there is a better way for a player to start their career than Peralta, you will be hard pressed to find it; Peralta allowed one hit in 5 2/3 shutout innings against the Reds on May 13, striking out 13 batters. He then followed that up by allowing no more than three hits in any of his next three starts, pitching throwing six shutout innings against the Pirates and seven against the Royals. The issue with Peralta this season is the poor start in that four-game spell: he allowed six walks in just four innings against the Royals. In fact, after walking two or fewer batters in three of his first four starts, he walked three batters or more in all five of his July starts.
Peralta's value comes in the fact that he is basically unowned in mixed leagues with an ADP at 321. Strikeouts are a vital part of fantasy baseball and are on the rise. Peralta could be a good, cheap source of Ks throughout the year.
Check out RotoBaller's entire fantasy baseball waiver wire pickups and sleepers list, updated daily!