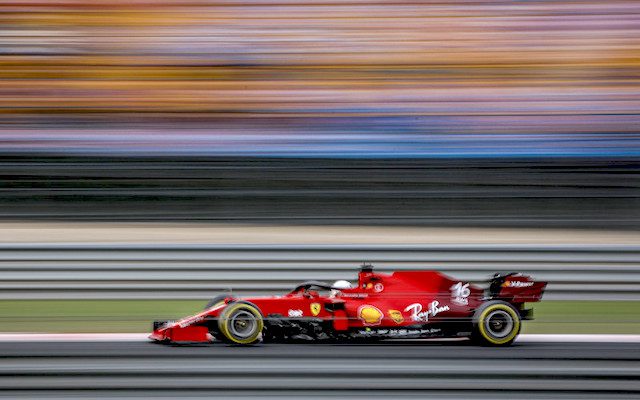 Two weeks ago, the Formula 1 season began in Bahrain, and it was essentially the same thing we saw in 2022: Red Bull dominance, as Max Verstappen and Sergio Perez finished first and second. But things could be a little more interesting at Jeddah this week.
A grid penalty has Charles Leclerc starting 12th, and an issue in qualifying has Max Verstappen firing off 15th. While both drivers should make their way toward the front, this could also be the best chance all year for a team like Aston Martin or Mercedes to steal a win.
Below you will find our Formula 1 DraftKings DFS lineup picks for the Saudi Arabian Grand Prix on 3/19/23, with the slate locking at 1:00 p.m. ET. If you have any questions or want to talk about Formula 1, you can find me on Twitter at @juscarts.
How Does Formula 1 Fantasy Work?
Here's how the scoring and format work for F1 DFS on DraftKings. You'll pick five drivers and a constructor. One of those drivers will be your captain, who earns you 1.5 times the points but also costs 1.5 times as much as they usually cost. For the constructor, you're choosing one of the F1 teams.
So, here's how the scoring works. Your driver only gets points if they finish in the top 10. Here's a chart for how that breaks down:
| Finishing Spot | DraftKings Points |
| --- | --- |
| 1 | 25 |
| 2 | 18 |
| 3 | 15 |
| 4 | 12 |
| 5 | 10 |
| 6 | 8 |
| 7 | 6 |
| 8 | 4 |
| 9 | 2 |
| 10 | 1 |
In addition, the driver with the fastest lap of the race gets three points. You get 0.1 points per lap led, five points for beating your teammate, one point for being classified at the finish (finished 90% of the race, essentially), and points for place differential. Finish three spots higher than your grid position and you get two points. Finish five better and you get three points. Finish 10 better to get five points. You also lose points for a negative place differential, starting at three spots.
The constructor points work the same way, with some added points if both cars do well.
It's confusing, but for Formula 1 DFS to work, it probably had to be confusing.
Now that we've gone over that, let's talk drivers. Here's what I've put together as a kind of base lineup.
Captain: Sergio Perez ($16,800)
Starts 1st
Second year in a row that Perez sits on the pole at Jeddah. Last year, he led the first 14 laps before he was overtaken by Charles Leclerc. Max Verstappen went on to win the race.
This year, Perez has a better shot at holding onto that pole position throughout the race. As I mentioned in the intro, Verstappen and Leclerc both start outside the top 10, and while I expect Verstappen to be there at the end to fight for the win, Perez has a chance to bank a lot of laps led points. And with so many cars to pass, Verstappen has more downside here, as things can get dicey mid-pack.
Constructor: Aston Martin ($9,200)
Sadly, Aston Martin jumped a good bit in price this week after the team's strong performance in Bahrain, and they're not the No. 3 constructor in price, ahead of Mercedes. Coming into the weekend, that worried me, but after qualifying I'm fine paying this for Aston Martin. Both cars had speed, and Fernando Alonso will have a good chance to grab a rare non-Red Bull victory this weekend.
Fernando Alonso ($9,600)
Starts 2nd
Look, I was among the people who were skeptical of Alonso's move to Aston Martin. The team just didn't show a lot of good speed last season, and I was worried Alonson would languish in the back of the pack.
But after a third-place finish in Bahrain, Alonso's move already looks to be paying off. Both Alonso and new teammate Lance Stroll scored points, while Alonso's team from last year, Alpine, had just one of its drivers finish the race.
Now, Alonso starts second at Jeddah this weekend. This track hasn't really been kind to him, as he has finishes of 13th and 16th in two starts, but he ran well last year before engine troubles spoiled his day. With Verstappen starting in the mid-pack, Alonso is Sergio Perez's biggest competition to lead laps in the early stages of this one.
Esteban Ocon ($5,800)
Starts 6th
Alpine had some speed issues in Bahrain, but those seem to have vanished this weekend. He was fourth in FP2 and had the seventh-best qualifying run in Q3. Factor in the Leclerc penalty and Ocon moves up to sixth on the grid, while teammate Pierre Gasly starts ninth.
This will be Ocon's third race at Jeddah, and he showed a lot of skill in the first two, finishing fourth in 2021 (and leading a lap) and then finishing sixth here last year. He should be a good bet to finish in the lower half of the top 10, and to outperform his teammate.
Oscar Piastri ($4,800)
Starts 8th
The 2021 F2 champion has some experience at Jeddah in that series, winning the second sprint race and the feature race here in 2021, beating current F1 drivers Guanyu Zhou and Logan Sargeant in the process.
After falling out early with an electrical issue in the season opener, Piastri has shown some solid speed this weekend. But the biggest reason to play him is because of the points for defeating his teammate: fellow McLaren driver Lando Norris rolls off 19th, giving Piastri a pretty big edge here in that fight.
Yuki Tsunoda ($3,400)
Starts 16th
This is basically just a "I need someone cheap who can defeat his teammate" play. Tsunoda starts two spots ahead of Nyck De Vries, giving him a slight edge there.
Tsunoda's also had more speed than De Vries this weekend. In FP1, Tsunoda was 10th and De Vries 13th. In FP2, Tsunoda was 13th to De Vries' 17th. I'd rather pay a few hundred more for Tsunoda.
The Keys to Weekly NASCAR DFS Success
NASCAR is back, and it's time for you to win big with RotoBaller!
Our DFS NASCAR Premium Package
 features several heavy hitters and proven winners.
Jordan McAbee joins the team in 2023 with his exclusive NASCAR DFS projections and algorithm-predicted finishing order! In 2022 DFS contests, Jordan had a +33.92% profit margin good for +$10,467.06 profit and qualified for the Fantasy Racing World Championship.
Four-time NASCAR Racing Writer of the Year finalist and fantasy industry legend Scott "The King" Engel is also in the crew, bringing you his weekly strategies and lineup picks. Set your winning DFS lineups with our award-winning team.