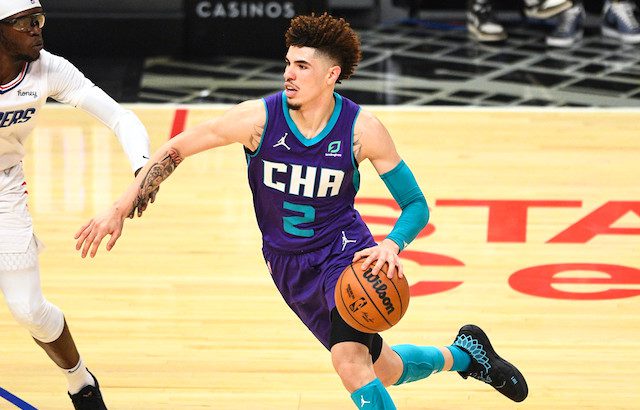 A lot of content focuses exclusively on which players you should draft (or not draft) and when. But what about specific teams? Should we target certain teams more heavily than others?
While you don't have to stack up players from one team onto your teams (and in fact, it's probably a bad idea to put too many of your eggs in one basket) it does make sense to draft players from teams that are going to be in as many fantasy-friendly games as possible during the course of the season.
I have compiled a list of five teams you should have on your radar during your drafts. Whether it's a matter of minutes, their style of play, or new rotations due to trades and free agency, these teams are going to produce multiple fantasy players that should be taken ahead of their ADP. Let's see who makes the cut, shall we?
Featured Promo: Our friends at Sharp App have created the ultimate tools for sports bettors. Download the FREE app to track bets, compare odds, get daily picks from the most accurate models in the industry, and identify the sharp side of any bet. Use promo code BALLER to get a month free of Sharp Pro access.
Get The App!
Toronto Raptors
Minutes are not everything but they are pretty darn important because players can only rack up fantasy points when they are actually on the court! And no one loved playing their starters more minutes last season than Raptors' coach Nick Nurse!
The core four of Pascal Siakam, Fred VanVleet, Scottie Barnes, and OG Anunoby all played huge minutes last season and finished in the top 20 in minutes played per game. In fact, Siakam and VanVleet led the league in minutes played at 37.9 per game!
This is not a new trend for Nurse, he's been doing it for years and whether you agree with his approach of going with a short bench or not, it doesn't matter. It helps these players rack up stats and all four of these guys should be pretty high up your draft boards as a result. The Raptors were a very good young team last year on offense and defense and their young core can all stuff the stat sheet across the board - draft them with confidence in 2022.
Sacramento Kings
I just finished a breakout-bust-lock piece on Sacramento and in doing so I think I've come around to the idea that this is going to be a really fun, young team to watch this season. The trade last season that sent Tyrese Haliburton to Indiana brought back Domantas Sabonis who at 26 years old is the veteran in this group and a solid building block for their franchise. I am a huge fan of Haliburton, but I will reserve judgment on that trade until we see how his career pans out and how both of these teams fare over the next handful of seasons.
Sabonis is a skilled offensive player and gifted passer - like his old man was - but not a good defender in the slightest. He will fit right in with De'Aaron Fox who is also a gifted young scorer who has developed a reputation as a very poor defender in his time in the league. But there's reason to believe this will be a solid offensive team this year with Fox and Sabonis being joined by talented rookie Keegan Murray (my ROY prediction), the always steady Harrison Barnes, and then a trio of solid shooters in Malik Monk, Kevin Huerter, and Davion Mitchell.
Last year, Sacto ranked 24th in offensive rating, but Sabonis only showed up for the last 14 games, Fox missed time with injuries, and Monk, Huerter, and Murray weren't on the team yet. They should improve on that number this year and push up into the top half of the league. Meanwhile, they finished 27th in defensive rating and I'm not sure they'll improve too much there with this group of players on the floor. When you pair good offense with bad defense (and the 10th fastest pace of play) it should be a recipe for a lot of high-scoring games, which means more potential for fantasy points for this group. I love Keegan Murray in the middle rounds, Sabonis is solid in the third or fourth rounds, Fox around round 5 and all three of the shooting guards are worthy of a look in the late rounds.
Houston Rockets
Are you ready for the Houston hype train? The Rockets enter year 3 of a massive rebuild effort as they moved on from James Harden and Russell Westbrook two years ago, paid John Wall not to play last year, and tanked once again. But now when you look at this starting lineup, you have to get a little excited for this young core group of players as there is a load of potential in this group.
Kevin Porter Jr. and sophomore Jalen Green make for a pretty dynamic duo in the backcourt for starters. Towards the end of the year, we saw these two start to play heavier minutes and they produced some really fantasy-friendly numbers. Green posted 28-4-2.5 over his final 9 games of the season as they cut him loose for 36.5 minutes per game in the final two weeks while KPJ went for 25-6-7.8. Those numbers aren't sustainable but offer a glimpse of what these guards are capable of with a full 36 minutes.
Alperen Sengun is a fantasy dynamo at the center position and should be ready to take on the starting role now that Christian Wood is out of town. He played only 20 minutes per game last season, but his per-36 averages were 16-9-4.5 with 3 combined steals/blocks. It's easy to see why he's high up everyone's draft boards.
And now the fourth piece of the puzzle could be the talented rookie Jabari Smith Jr., the third overall pick in this year's draft. He should slot in at PF next to Sengun and gives Houston another very athletic big man and shot maker. He's being drafted anywhere from 100-150 but could be an absolute steal if he plays up to his potential.
Houston isn't ready to compete for a playoff spot yet, but their style of play could be a fantasy gold mine. Last year they had the worst defensive rating in the league and played second-fastest pace. The same logic applies here that I discussed with Sacramento - that's going to result in a lot of high-scoring games and some box scores loaded with fantasy stats. I would definitely be targeting some Rockets in your draft and don't be afraid to take guys like Sengun and Smith Jr. well ahead of their ADP.
Charlotte Hornets
The Hornets' style of play last year was definitely conducive to fantasy stats, too. They were top-5 in pace with the 8th-best offensive rating and the 9th-worst defensive rating. There was a period of time early in the season where I just betting Charlotte over their game total every night and winning. Eventually, they slowed down a bit, but this was still a team that wanted to push the pace and who also was very lax on defense.
But their style of play is only one reason why we should be eyeing Hornets this year, the other reason has to do with the Miles Bridges situation. Bridges had a breakout year in which he averaged 20-7-4 and he was a major part of this team on both ends of the floor. His legal troubles are mounting and it appears very unlikely he will ever wear a Hornets uniform again, let alone play in the NBA. That's a huge hole that this team is going to have to fill and I have bumped up LaMelo Ball, Terry Rozier, Gordon Hayward, P.J. Washington, and Kelly Oubre Jr. in my rankings accordingly.
LaMelo is a first-rounder this year with his all-around fantasy game, so you better grab him in the top-10 if you want him. But I think the other Hornets could all be somewhat sneaky values in drafts. Terry Rozier has a fantasy-friendly game and Gordon Hayward isn't all that far removed from being a fantasy force either. Kelly Oubre Jr. showed us flashes of excellence in Phoenix and Golden State and is one guy going in the late rounds that I'm in on as well.
Hayward and Oubre Jr. are the most directly affected with minutes, but all of the starters should each soak up some more shots and I think Charlotte is an excellent team to target for value in drafts.
San Antonio Spurs
I saved the best spot for last! While Charlotte is dealing with the loss of a very good player in Miles Bridges, the Spurs are entering an entirely new phase for their franchise as they traded away Dejounte Murray to Atlanta. Murray finished the 2021-2022 season as the runner-up to Ja Morant for the most-improved player and had an incredible statistical season last year. He was the engine that drove this offense, especially after the Spurs dealt Derrick White to Boston halfway through the year.
So who steps up to fill this huge void for the Spurs? Well, the obvious answer is Tre Jones, who at 22 years old is going to be handed the keys to the offense as their starting point guard in his third season. Jones was solid in limited minutes and spot starts last year, posting per-36 averages of 13-4-7 with 1.3 steals. He's a great value in late rounds as his ADP has yet to catch up to where industry experts are ranking him.
The other returning starters from last season who we have to consider here are Devin Vassell, Keldon Johnson, and Jakob Poeltl. Vassell and Johnson are the most likely candidates to soak up the usage and get more shots up on offense, while Poeltl could see himself more involved as a distributor since Jones isn't necessarily a true pass-first point guard. All three players have fantasy-friendly skill sets, the only question that looms will be minutes and a potential end-of-season shutdown if the Spurs decide to tank hard for Victor W in the draft. Then again, half the teams in the league could do that, so I don't think we can try to predict late-season team strategy right now (other than the Thunder - I never trust OKC guys to finish the year).
So, in conclusion, maybe don't load up on too many Spurs, but I really do like all four of the guys I mentioned here to outperform their ADP. This team played fast last year (6th in pace) and part of that was probably due to Dejounte Murray, but I also think this team is going to get up and down quite a bit. They are going to take their lumps this season, but that certainly doesn't mean we can't still target them for fantasy basketball purposes.
Download Our Free News & Alerts Mobile App
Like what you see? Download our updated fantasy basketball mobile app for iPhone and Android with 24x7 player news, injury alerts, lineup notifications & DFS articles. All free!


More Fantasy Basketball Analysis