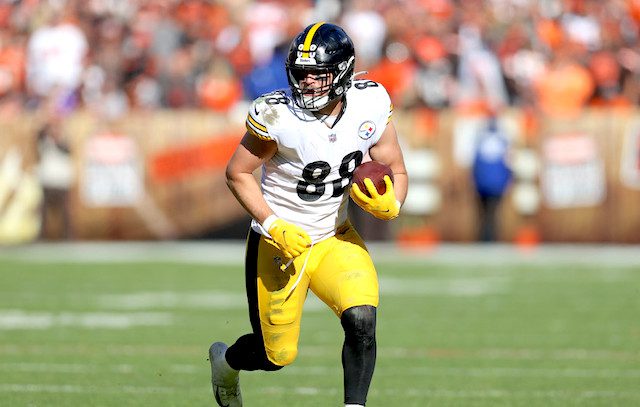 Tight end isn't an easy position and unfortunately, it doesn't always get easier as the season rolls along. As much as we want to follow the numbers, we can still end up with guys like Cole Kmet and Juwan Johnson who hit the touchdown jackpot over a few weeks whereas other guys like Pat Freiermuth can't seem to buy a score. That's the way it goes with this position.
This week we're going to answer six tough questions surrounding the tight end position to hopefully help fantasy managers make the correct start and sit decisions for this weekend.
With today being Thanksgiving, I wanted to say thank you to everyone who has read this article series this season. I hope this information has been helpful for you and led you to having made some good roster decisions at your tight end position. Good luck this weekend with your fantasy football matchups in your playoff races. Happy Thanksgiving!
Featured Promo: Get any full-season NFL Premium Pass for 50% off and win big in 2022. Exclusive access to our Premium articles, 15 lineup tools, new Team Sync platform, Lineup Optimizer, Premium DFS tools and cheat sheets, and much more!
Sign Up Now!
While most fantasy managers are still drooling over Taysom Hill's Week 5 performance of 34.3 points, Juwan Johnson has been the most consistent and best tight end for the Saints this season. Since Week 6, Johnson has scored 62.5 half-PPR points for an average of 10.4 PPG. Over the last six games, he has racked up four games with at least 11 points. He has scored five touchdowns in the last six games, which has undoubtedly led his fantasy surge up the rankings, but can that production be trusted?
While we all can recognize Johnson's fantasy value over the past six weeks has been driven by his touchdowns. That is not a mystery and while we don't want to chase touchdowns, we do want to ask ourselves if there's been a change in how a particular player is being used that could potentially explain the jump in touchdown production. If it cannot be explained, then it's most likely a hot streak we should expect to end sooner rather than later.
In Weeks 1-5, Johnson averaged 3.6 half-PPR PPG and did not find the end zone a single time. This gives us two completely different sides of the spectrum. The question now becomes are the Saints utilizing Johnson more or differently. If so, we should buy. If not, we should sell. Let's see.
| | | | | | | | | |
| --- | --- | --- | --- | --- | --- | --- | --- | --- |
| Time Frame | Targets Per Game | Target Share | Receptions Per Game | Yards Per Game | Air Yards Per Game | Average Depth of Target | Routes Run Per Game | |
| Weeks 1–5 | 3.8 | 11.40% | 2 | 25.8 | 38.6 | 10.2 | 22.4 | 1.15 |
| Weeks 6–11 | 4.7 | 14.80% | 3.5 | 36.7 | 34.8 | 7.5 | 26.2 | 1.4 |
| Weeks 1–11 | 4.3 | 13.20% | 2.8 | 31.7 | 36.5 | 8.6 | 24.5 | 1.3 |
When you look at the table above, it's easy to see Johnson's utilization has improved over the last six games, but the improvement has been modest. His targets per game have increased by 19.15%, his receptions per game have increased by 42.86%, his receiving yards per game have increased by 29.7%, and his routes per game by 14.51%. However, his PPG has increased by 65.39%.
In the first five weeks of the season, Johnson wasn't even on the streaming radar. His utilization has increased marginally over the past six games, which is why fantasy managers can start treating him as a touchdown-dependent TE2. His utilization isn't even close to the top-five option he's been since Week 6. His utilization doesn't even merit weekly starter status. Definitely tread lightly.
Cole Kmet has kind of had three mini-seasons baked into one so far in 2022. He had Weeks 1-3 where the Bears didn't throw the ball at all. During this time, Justin Fields averaged just 15 attempts per game and 99 passing yards. From Weeks 4-11, the team has averaged 23.4 attempts and 168.1 passing yards. Still not great, but still, incredibly different for fantasy purposes. At this point, fantasy managers would be wise to eliminate the first three weeks entirely. The offense has been completely different.
With that in mind, even during the last eight weeks, fantasy managers have seen two drastically different Cole Kmets. From Weeks 4-7, he averaged just four half-PPR PPG. He was the TE28 during this span. From Weeks 8-11, he's literally the TE2 and is averaging 13.5 half-PPR PPG. It's the Juwan Johnson experiment all over again. The increased point production is great, but can it be explained? We know he's scored five touchdowns in the last four weeks, which is not sustainable but are there changes in his utilization that might tell us the team is using him differently? Let's take a gander.
| | | | | | | | | |
| --- | --- | --- | --- | --- | --- | --- | --- | --- |
| Time Frame | Targets Per Game | Target Share | Receptions Per Game | Yards Per Game | Air Yards Per Game | Average Depth of Target | Routes Run Per Game | |
| Weeks 4–7 | 3.2 | 14.60% | 2.5 | 27 | 17 | 5.2 | 23.8 | 1.14 |
| Weeks 8–11 | 4.8 | 21.30% | 3.5 | 40.2 | 43 | 9.1 | 20.8 | 1.94 |
Short answer, no, there is not. His targets per game have increased by 33.33%, his receptions per game have increased by 28.57%, his yards per game have increased by 32.84%, and his routes per game have actually decreased by 12.61%. We are seeing some much more positive utilization trends from Kmet, which is great, but it doesn't even come close to explaining his 70.37% increase in his PPG.
Fantasy managers shouldn't get excited thinking he's finally realizing some of the potential bestowed upon him this offseason. Chicago's minimal passing volume still significantly caps his weekly potential. Despite the hot streak, Kmet is still nothing more than a touchdown-dependent TE2. He wasn't even on the streaming radar before, but he can safely be put into that category now, but that's about the best his utilization dictates.
Just How Good is T.J. Hockenson in Minnesota?
The T.J. Hockenson trade caught almost everyone by surprise. There were really no rumors that Hockenson might be moved and to an inter-divisional rival made it all the more surprising. As it turns out, however, the change in locale has really increased Hockenson's fantasy value. In fact, he should be valued as a top-five tight end for the rest of the season and there's an argument to be made only the great Travis Kelce and Mark Andrews will be better.
| | | | | | | | | |
| --- | --- | --- | --- | --- | --- | --- | --- | --- |
| Player | Targets Per Game | Target Share | Receptions Per Game | Yards Per Game | Air Yards Per Game | Average Depth of Target | Routes Run Per Game | |
| Travis Kelce | 9.5 | 25% | 6.9 | 85.5 | 67.4 | 7.1 | 34.7 | 2.46 |
| Mark Andrews | 8 | 28.50% | 5.3 | 61.2 | 82.3 | 10.3 | 27.6 | 2.22 |
| T.J. Hockenson w/Minnesota | 9.3 | 23.90% | 7 | 49.7 | 50.3 | 5.4 | 36 | 1.38 |
| Dallas Goedert | 5.9 | 20.80% | 4.8 | 60.4 | 30.7 | 5.2 | 26.2 | 2.31 |
| George Kittle | 5.9 | 18.50% | 4.1 | 53 | 35.8 | 6.1 | 26.4 | 2.01 |
The tight ends listed in the table above are the top-five tight ends for 2022 in terms of half-PPR PPG. Kelce is destroying the field, averaging 18.9 PPG. Andrews is at 12.2, Goedert at 10.2, Kittle at 10.1, and Hockenson at 9.8. There are a few things that stand out when looking at the table above.
First and foremost are Hockenson's targets per game. Since joining Minnesota, he has averaged 9.3 targets per game, which is on par with the King, Travis Kelce. That kind of volume simply does not exist at this position. Case in point, look at Goedert and Kittle, our TE3 and TE4 in PPG averaging just 5.9 targets per game. The best part about Hockenson's target volume is that it's been so consistent. This is great because we're dangerously working with a small sample size, but he has 9, 10, and 9 targets in his three games. See what I mean, consistent.
The other number that stands out is his routes run per game. While Andrews, Goedert, and Kittle are between 26-28 routes, Hockenson is once again dancing with the King. Hockenson has averaged 36 routes run with Minnesota, which is even higher than Kelce at 34.7. Between his targets and routes run per game, only Kelce is receiving more volume and opportunity than Hockenson.
Despite having fewer targets than Hockenson – although he is very close with eight – there are three reasons why he should continue to be ranked solidly ahead of Hockenson. One, he's just a much, much better player. That's evident by his yards per route run number vs Hockenson's (2.22 vs 1.38). The other reasons are Andrews's air yards per game (82.3 vs 50.3) and his average depth of target (10.3 vs 5.4). Andrews's targets are down the field and incredibly more valuable. If there's a fourth reason, it's that Kirk Cousins' primary target near the end zone is justifiable Justin Jefferson, while Lamar Jackson's is Andrews, giving him more touchdown potential.
However, compared to Goedert and Kittle, Hockenson paces both of them. There's more target competition in Philadelphia with A.J. Brown and DeVonta Smith. There's way more target competition in San Francisco with Deebo Samuel, Brandon Aiyuk, and Christian McCaffrey. Hockenson on the other hand has already leap-frogged Adam Thielen.
Fantasy managers shouldn't be surprised if Hockenson finishes as a top-five tight end the rest of the way. He's now an absolute must-start every single week.
By most accounts, Dalton Schultz's 2022 season has been viewed as a disappointment. The word "bust" has gotten tossed around. However, that isn't completely fair and there are plenty of reasons why he's underperformed thus far. Even that, underperformed, isn't even fully accurate, but we'll get to that in a second.
For starters, Dak Prescott missed five games. Most pass-catchers are going to see a decrease in production when they lose their starting quarterback. During that same time, Schultz suffered a MCL sprain that caused him to miss a few games of his own, but let's go back to that "underperforming". Below is another table (bear with me here) on Schultz's utilization metrics and stats during the five games where Prescott started.
| | | | | | | | | |
| --- | --- | --- | --- | --- | --- | --- | --- | --- |
| Player | Targets Per Game | Target Share | Receptions Per Game | Yards Per Game | Air Yards Per Game | Average Depth of Target | Routes Run Per Game | |
| Dalton Schultz w/Dak | 6.8 | 20.60% | 5.4 | 52.2 | 45.4 | 6.7 | 24.8 | 2.1 |
I'd encourage you to scroll up to the previous table where we looked at Hockenson vs the other top-five tight ends and compared Schultz's numbers with Prescott to that of Goedert and Kittle. He's right there with them. He has averaged more targets per game and more receptions per game than both of them. While they have both out-performed him in yards per game, the margin is minimal (less than a yard per game behind Kittle and eight yards behind Goedert). Pretty encouraging stuff and there's reason to think it might get better.
| | | | | | |
| --- | --- | --- | --- | --- | --- |
| | Week 1 | Week 7 | Week 8 | Week 10 | Week 11 |
| Snap Share | 100% | 64.10% | 68.40% | 75.90% | 63.40% |
We all know Schultz has been dealing with a nagging knee issue and it's possible that limits him throughout the season. However, in Week 1, Schultz played 100% of the snaps. In the other four games with Prescott, in three he didn't even play 70% of the snaps. If he is able to get healthier down the stretch, a big if, I know, but if he is, we could see his routes run per game increase. Should that happen, it's reasonable to expect his targets to increase, as well.
Schultz should be viewed on the same level as Goedert and Kittle for the rest of the season. After these three tight ends, there's a significant tier break as fantasy managers start to get into the backend of the TE1 conversation. During Schultz's five games with Prescott, he's averaged 9.12 half-PPR PPG. This is just one point per game shy of Goedert's and Kittle's seasonal average. Don't sleep on Schultz finally living up to the offseason hype down the stretch.
Can Greg Dulcich Produce Despite Denver's Offense?
By now everyone should be expecting the Russell Wilson-led offense to suck for the rest of the season. We're entering Week 11 and based on Wilson's rostership percentages across Yahoo! and ESPN, I'd say there's far too much hope for a rebound. At this point of the season, it is what it is and what it is, is very bad. Very bad. Is the catastrophe enough to derail a promising tight end's rookie season?
Since being activated off of IR, Greg Dulcich has had games of 11.4, 8.1, 10.7, 1.6, and 5.0 in half-PPR. He's averaged 7.4 PPG, which is good enough for TE10. Based on these numbers we can come to the reasonable conclusion that no, Denver's putrid offense won't derail Dulcich's fantasy season, but it will undoubtedly limit him.
| | | | | | | | | |
| --- | --- | --- | --- | --- | --- | --- | --- | --- |
| Player | Targets Per Game | Target Share | Receptions Per Game | Yards Per Game | Air Yards Per Game | Average Depth of Target | Routes Run Per Game | |
| Greg Dulcich | 5.2 | 16% | 3.4 | 44.6 | 65 | 12.5 | 26.6 | 1.68 |
There are some good things in the table above, things fantasy managers should be excited about. His 5.2 targets aren't amazing, but they're not so far behind Goedert or Kittle either. Considering the fact he's just a rookie and missed training camp, that says a lot about the kind of player he is already, but what really stands out to me are his air yards per game and his average depth of target.
Both of these numbers are elite and give Dulcich a higher ceiling despite somewhat limited targets. Due to his utilization down the field, he can still rack up solid yardage totals and possibly break a long score, both of which have already been on display in his small sample size in the NFL.
However, these deeper targets also tend to come with a lower completion percentage and unfortunately, we've seen that too. In Week 10, he caught just 25% of his targets, but that's only one barrier he needs to contend with.
We all know just how important touchdowns are at the tight end position and Denver is currently the lowest-scoring team in the NFL. They are averaging just 14.7 points and 1.3 touchdowns per game.
Wilson has completed just 33.93% of his deep ball attempts (passes with at least 20 air yards). This ranks 25th among quarterbacks with at least three starts. He's also 32nd among quarterbacks with at least three starts in completion percentage at 59.47%. He's 26th in catchable pass rate at 73%. Due to the inconsistency at quarterback and the disastrous offensive production, Dulcich is going to be somewhat of a boom-or-bust option at tight end.
Despite that, he should continue to be valued as a backend TE1 most weeks. His target volume is good and his utilization metrics show a player with a lot of weekly upside. Because of his downfield targets, he only needs to come down with one of them to be a top-12 option for the week.
When Chase Claypool was traded to the Chicago Bears, optimism grew that Pat Freiermuth could have a second-half breakout. That's fair, Claypool was leaving behind 6.25 targets per game and just under 39 yards per game. While Freiermuth's fantasy production has yet to display that upside, there are some fairly significant utilization trends since the trade. However, due to the Steelers having their bye in the last three weeks since the trade, we are working with an extremely small sample size of just two games, so that needs to be considered.
He averaged 8.4 half-PPR PPG from Weeks 1-8 with Claypool on the roster and that PPG average has modestly increased to 8.8 in the two games since the trade. However, when you look at the utilization differences between the two, we should expect that PPG difference to expand in the coming weeks.
| | | | | | | | | |
| --- | --- | --- | --- | --- | --- | --- | --- | --- |
| Time Frame | Targets Per Game | Target Share | Receptions Per Game | Yards Per Game | Air Yards Per Game | Average Depth of Target | Routes Run Per Game | |
| Pre-Trade | 6.9 | 18.60% | 4.6 | 52.4 | 56.3 | 8.2 | 27.3 | 1.92 |
| Post-Trade | 9.5 | 29.70% | 6 | 57.5 | 92 | 9.7 | 35 | 1.64 |
Despite the post-trade sample being just two games it's hard not to get excited about how he's been used since the Claypool trade. While everyone will most likely look at his targets per game first, which is definitely a great thing, I'd urge you to look at his air yards per game and routes run per game.
The increase in routes from 27.3 to 35 takes him from George Kittle territory up to Travis Kelce territory, in terms of this specific category anyways. It's great news for his fantasy prospects moving forward. His air yards per game went from T.J. Hockenson territory to Mark Andrews. You absolutely love to see it. Not only has he been getting more opportunities in the form of routes run, which has translated to an increase in targets, but the targets he's getting are further down the field.
Everything about his utilization says he's a set-it-and-forget tight end and that much is true, but expectations need to be tempered solely because of the offense. Much like Dulcich, even though Freiermuth's metrics are better, the upside is capped due to the overall production of his team's offense.
The Steelers are just 28th in scoring, 23rd in passing yards, and have the second-fewest passing touchdowns in the NFL. As a team, they average just 1.6 touchdowns per game, which is the fourth-worst mark in the league. Until the Steelers' offense starts scoring more, which is not going to happen this season, Freiermuth will be stuck as a mid-to-backend TE1. He'll have some weeks that he pops, his excellent utilization metrics will see to that, but it won't be enough to break into that upper tier of tight ends of Kelce (tier of his own), Andrews, Goedert, Hockenson, Schultz, and Kittle.
The difference between Freiermuth and these other guys when it comes down to fantasy value is entirely due to Freiermuth's quarterback and the offense he is stuck in. Fantasy managers should continue firing him up on a weekly basis and he should be valued in that TE7–10 range for the rest of the season.
Download Our Free News & Alerts Mobile App
Like what you see? Download our updated fantasy football app for
iPhone
and
Android
with 24x7 player news, injury alerts, rankings, starts/sits & more. All free!
Win Big With RotoBaller
Be sure to also check out all of our other daily
fantasy football articles
and analysis to help you set those winning lineups, including this new RotoBaller YouTube video:
More Fantasy Football Analysis