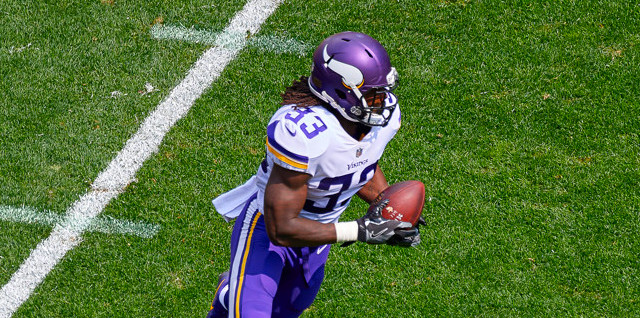 What Appears In This Article?
hide
On June 9, 2020, Adam Schefter reported that Minnesota Vikings running back Dalvin Cook plans to holdout from training camp unless he receives a "reasonable" deal. Cook is a young, ascending running back in this league and while he's very important to the success of the Vikings, he doesn't have much leverage. Player holdouts are going to look a lot different in the NFL moving forward, starting in 2020.
It seems like an eternity ago, but back before COVID-19 swept through America and the world, the NFL and NFLPA agreed to a successor CBA which extends the current agreement by 10 years. Shortly after the new CBA was ratified, Pro Football Talk reported that the new CBA makes it extremely prohibitive for players to hold out into training camp. In the past, when players had fines levied against them for missing training camp, the club could decide whether to actually impose those fines. The new CBA removes such discretion from the club and teams are now required to levy the fines. On top of that, if a player fails to report for training camp on time, or if they leave camp for more than five days, the player will lose an accrued season toward free agency. But while these new contractual provisions make holdouts prohibitive, it doesn't mean that holdouts will not happen.
According to current ADP data on NFFC, ranging from the 2020 NFL Draft through the present, Dalvin Cook is currently being drafted as the fourth overall player off the board behind only Christian McCaffrey, Saquon Barkley and Ezekiel Elliott. While fantasy football owners still have Melvin Gordon's 2019 holdout fresh in their minds, it's important to recognize that any holdout by Cook likely won't last long given the mandatory fines that can quickly stack up against him. I am not one to overreact or have a strong "take" on situations like this when they first break, but I do have a plan.
Featured Promo: Our friends at Sharp App have created the ultimate tools for sports bettors. Download the FREE app to track bets, compare odds, get daily picks from the most accurate models in the industry, and identify the sharp side of any bet. Use promo code BALLER to get a month free of Sharp Pro access.
Get The App!
How To Deal With Dalvin Cook's Holdout
First, you must ask yourself if you are a risk-averse person, or if you are willing to assume some risk while drafting players in the first round. If you are willing to take a risk, then continue taking Cook at his current ADP. If you are like me and a little risk-averse, then you will want to compare Cook to other young, ascending, feature running backs and evaluate each situation accordingly. Now, let's take a look at the players being drafted just after Dalvin Cook.
Alvin Kamara currently has an ADP of fifth overall and I think it's a no-brainer to draft Kamara ahead of Cook given there's less risk with Kamara. Michael Thomas is next with an ADP of six and I would also take him over Cook because he's a sure thing in PPR formats, similar to Antonio Brown around the 2015 and 2016 seasons.
Derrick Henry, Joe Mixon and Miles Sanders come in at seven through nine, and I would take all three of these guys over Cook, even Mixon, unless the news of his holdout-threat starts to have more flames as we approach training camp. Henry, Mixon and Sanders are all going to be featured backs in their respective offenses that should get nearly 20 touches per game, so it makes sense to take these guys over Cook because they are similarly situated players.
Davante Adams checks in with an ADP of 10th overall, and I would probably take him over Cook as well because he's the only show in the Green Bay passing attack and should be a target-hog for them.
As we get towards the back-end of the first round, we get to guys like Aaron Jones who has an ADP of 11, Kenyan Drake who has an ADP of 13 and Nick Chubb at 16 overall. In re-draft and dynasty leagues, I would pull the trigger on Cook here, at 11-overall, and here's why. While Jones, Drake and Chubb are very good players and fantasy football producers, they all have question marks of their own. Jones was fantastic for the Green Bay Packers in 2019, but he scored 19 total touchdowns and that number will surely regress.
With respect to re-draft leagues, cannot ignore the fact that Jones' snap-share fluctuated throughout 2019 and with dynasty drafts in mind, the Packers drafted A.J. Dillon in the second round of the 2020 NFL Draft, which means they either plan on moving on from Jones after the 2020 season or they plan on having him share the load with Dillon.
Kenyan Drake is a prolific play-maker but he has never produced for a full season which is a concern.
Nick Chubb is an absolute stallion in the Browns backfield, but the data is out there, and he was not the same fantasy football producer once Kareem Hunt entered the mix after his suspension. In my view, Dalvin Cook is a true foundation back and if he reports, he will outscore Jones, Drake and Chubb, so 11th-overall is where I would draw the line and draft Cook given the current situation based on the information we have.
Dalvin Cook's backup, Alexander Mattison, is currently being drafted as the 115th player off the board, which makes him a 10th-round pick. If you draft Cook, you must be extremely proactive in acquiring Mattison. If you equate this situation to the Melvin Gordon III and Austin Ekeler situation from 2019, then Alexander Mattison's ADP will surely start to rise aggressively, and it may creep into the seventh, possibly the sixth round.
At this point, if you have a fantasy football draft before we get more news on the situation, you simply need to be a little more proactive in acquiring Alexander Mattison. However, don't get too crazy, because if you miss out on Mattison, there are other (less exciting) options available with ADP's of 80+, such as Sony Michel, Jordan Howard and Tevin Coleman who could help you get through any holdout that costs Cook a few games.
What To Do With Cook In Dynasty
As far as dynasty leagues are concerned, if I already own Dalvin Cook, I would hold steady until we get to training camp. Don't panic, because Dalvin Cook is a feature back. If you own Alexander Mattion but you don't own Dalvin Cook, I would attempt to trade him to the Cook owner, but only for a king's ransom. Hold steady and let others overreact. If I have a startup dynasty draft coming up, I would take the same approach as I outlined above, and basically take other young, ascending players, who have potential similar to that of Cook, yet don't come with the holdout risk, drawing the line at the 11th overall pick.
In conclusion, Dalvin Cook has way too much to lose based on the terms of this new CBA and he will likely report to training camp on time, because if he doesn't, he will lose a year towards free agency and his fines may exceed his 2020-salary. For the time being, let's not overreact, just hold steady. If you do draft Dalvin Cook, do your best to get Alexander Mattison as well.
More Fantasy Football Analysis