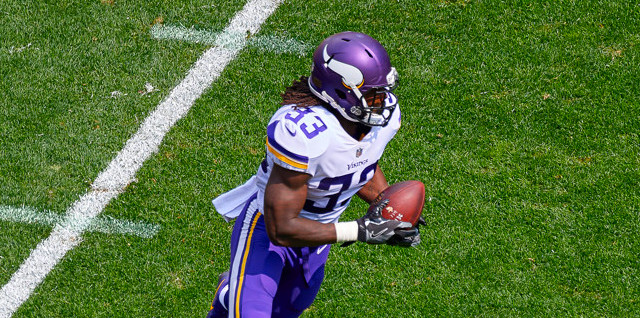 Welcome to our Week 9 matchup analysis and start/sit column for fantasy football. We'll be covering every single contest from the Sunday slate in one convenient location, helping you make the best decisions for your fantasy lineups. Be sure to check back regularly because this article will be updated as news comes in regarding injuries and other important information.
Chris O'Reilly will start off by covering the first set of games that begin at 1:00 PM ET on Sunday, and Spencer Aguiar will take you home with his analysis of the late afternoon and evening games.
If you have any additional lineup questions, follow us on Twitter @Teeoffsports and @cjoreillyCLE and feel free to ask away! Without further ado, let's get started.
Editor's Note: Get any rest-of-season NFL Premium Pass for 50% off. Our exclusive DFS Tools, Lineup Optimizer and Premium DFS Research through the Super Bowl.
Sign Up Now!
Matchups Analysis - 9:30 AM ET Game (London)
Houston Texans vs. Jacksonville Jaguars
Matchups We Love:
Carlos Hyde (RB, HOU)
In Houston's five wins, Carlos Hyde is averaging 19.2 carries per game. In three losses: 11.3 carries per game. A relative lack of touchdowns combined with a nonexistent role in the passing game has rendered Hyde an RB2 or flex candidate most weeks despite routinely seeing RB1 rushing volume. I expect him to once again see the workload necessary to return start-worthy value in London this Sunday, as the Jaguars are permitting 4.7 yards per carry to opposing backs. The Jaguars held this Texans passing attack in check last time these two teams squared up, so Houston might choose to lean on the ground game again.
DeAndre Hopkins (WR, HOU)
Jacksonville has been a bend-but-don't-break defense against WRs, having given up the fifth-most total yards to the position while otherwise holding them to just five touchdowns in eight games. DeAndre Hopkins is as solid a bet as anyone to keep the chunk yardage trend going against this secondary, and that touchdown total doesn't feel very safe against the Texans number-one wideout, either. Hopkins owns a massive 29.4% target share in this offense, and has had at least 12 balls thrown his way in each of his last three games. He should have his day in London.
Gardner Minshew (QB, JAX)
You might interpret me listing Gardner Minshew among the loves as an indication that I expect him to have a better fantasy day than Deshaun Watson, who we will discuss among the "other matchups." That's not necessarily the case, although I don't have a hard time believing it could happen. I simply "love" Minshew as a streaming option who could very well be in line to outperform several consensus every-week starters at QB this Sunday. Only the Cardinals have been lit up for more yards through the air than the Texans; only the Raiders, Falcons, and Cardinals have given up more passing touchdowns. Houston's defense has the fifth-lowest interception rate, the sixth-lowest pressure rate, and has allowed a league-high 69.6% of opposing red zone chances to result in touchdowns. I say Minshew wins over the hearts and minds of NFL fans across the pond this week.
D.J. Chark / Dede Westbrook / Chris Conley (WR, JAX)
I'm lumping Jacksonville's receivers together due to how atrocious the Texans have been against wide receivers, but there's definitely a pecking order here assuming all three are active for Sunday (D.J. Chark and Dede Westbrook are working through injuries as of this writing). Chark is the top dog with a 22.76% target share, and he's only failed to hit the 50-yard receiving mark twice in eight games. He's also scored at least one touchdown in five of eight. Westbrook is second in line in terms of target share, and had actually put together a pretty impressive four-game PPR streak before leaving last Sunday's game due to injury. Conley is the obvious big-play threat in this trio, averaging 20.4 yards per reception. He's caught seven of 14 targets for 186 yards and a touchdown in his last two games. Chark is your no-doubt stud, Westbrook is your PPR flex option, and Conley is your potentially low-floor flex with massive upside.
***UPDATE: Dede Westbrook remains questionable heading into the weekend. Fantasy owners who are depending on him in lineups will want to remember this game starts at 9:30 AM Eastern time, so be sure to check on his status early Sunday morning.
Leonard Fournette (RB, JAX)
While Houston is serviceable in defending the run, running backs have still been able to take advantage of them for fantasy purposes through the passing game. The Texans are allowing over seven receptions per game for 59.5 yards to opposing RBs. Leonard Fournette has seen at least six targets in six of eight games this season, and Sunday should make it seven of nine. Combine that with an already overwhelming portion of Jacksonville's rushing work, and he's in for another customary RB1 fantasy day. I also like him to finally return to the endzone for the first time since Week 5 against the worst red zone defense in the league.
Matchups We Hate:
Seth DeValve / Josh Oliver (TE, JAX)
As much as the Texans have struggled against the pass, tight ends have not been the ones giving them fits. Rolling with one of Jacksonville's this week would be a fool's errand.
Other Matchups:
Deshaun Watson (QB, HOU)
Deshaun Watson has reached must-start-regardless-of-matchup territory, but there are enough detriments to his value for Week 9 that I'm not crazy about his upside. Jacksonville hasn't allowed a 300-yard passer since Week 4, and has held three of its last four opponents to one passing touchdown. Watson has also struggled against the Jags in his young career, having thrown just two total touchdowns in four games versus his division rival. The game is on another continent and the Jaguars are one of the league's better teams at pressuring the quarterback. He's a high-end QB1 on account of who he is, just bear in mind that one of his least lucrative fantasy outings of 2019 came against this same Jacksonville team at home in Week 2.
Duke Johnson (RB, HOU)
I feel like I say the same thing about Duke Johnson every week: he's efficient on the rare occasions he touches the ball, but the operative word in that assessment is "rare." We like that he's hauled in eight of 14 targets for 75 yards and two touchdowns in his last three games, but those touchdowns naturally inflate what is otherwise some pretty pedestrian output. The Jaguars don't present anything that jumps off the page at you in terms of susceptibility to pass-catching backs, so Johnson's lack of consistent work in the Texans backfield is better suited for fantasy benches.
Kenny Stills (WR, HOU)
I love Hopkins this week because of his target share and because, well, he's DeAndre Hopkins. But you know by now that I'm nervous about the Texans pass offense at large in this contest, and that trickles down to Kenny Stills. Stills had a golden opportunity last Sunday to go off against a Raiders pass defense significantly more exploitable than Jacksonville's, and he turned in a lowly three catches on five targets for 22 yards. Even with Will Fuller still sidelined, there is only one Houston receiver I trust in this matchup.
Darren Fells (TE, HOU)
Darren Fells appears to have emerged over Jordan Akins as the go-to tight end for the Texans after seeing six or more targets in two of his last three games and hauling in 14 total catches in his last three. After scoring two touchdowns in Week 8, a performance that happened to coincide with Will Fuller being inactive, it will be tempting to roll Fells out there in Week 9 to see what he does for an encore. If you're so inclined to do so, keep in mind that the Jags have permitted tight ends an average of 3.6 catches per game, and are one of the league's stingier red zone defenses with a 50% opponent touchdown rate. All five of Fells' touchdowns have come in the red zone.
Matchups Analysis - 1:00 PM ET Games
Washington Redskins at Buffalo Bills
Matchups We Love:
None
Matchups We Hate:
Case Keenum / Dwayne Haskins (QB, WSH)
Regardless of whether Case Keenum (concussion) or Dwayne Haskins gets the start on Sunday against the Bills, you can't justify starting the Redskins QB against one of four defenses giving up fewer than 200 passing yards per game. If you believe in intangible external factors potentially influencing a team's play, consider that the Bills just got smacked in the mouth on their own home field by the Eagles last week. This defense is going to be perturbed to say the least, and they'll be looking to make an example out of the outgunned Redskins in Week 9.
***UPDATE: Case Keenum has officially been ruled out for Sunday, in turn rendering Dwayne Haskins the starter.
Adrian Peterson (RB, WSH)
Adrian Peterson is averaging 4.8 yards per carry in his last three games after a dreadful first month and change. He continues to be hobbled by an ankle injury that is limiting his practice participation during the week. The health concern along with the matchup against Buffalo's run defense combine to suggest that Peterson's success is due to come to a screeching halt in Week 9. I know Miles Sanders and Jordan Howard just bulldozed this unit on the ground last week, but I'm steering clear of Peterson as anything higher than a volume-dependent flex option.
***UPDATE: Adrian Peterson no longer carries an injury designation. He is in line to play on Sunday.
Redskins Pass-Catchers (WR/TE/RB, WSH)
We'll discuss Terry McLaurin shortly, but the rest of Washington's potential pass-catchers can all be lumped into one big "for the love of all that is sacred, do not start these players" category. This is doubly true if Haskins, who has looked completely in over his head in his limited game action this season, is the starter. Chris Thompson is the lone possible exception to this umbrella rule if he suits up after missing the Redskins' last two games, but even he is little more than a deep PPR gamble without Keenum at the helm. I'm avoiding this mess at all costs.
***UPDATE: Chris Thompson has officially been ruled out for Sunday's game.
Other Matchups:
Terry McLaurin (WR, WSH)
Terry McLaurin carries some desperation flex appeal if Keenum starts on Sunday, as the two of them have an undeniable rapport in the passing game. Even so, the Bills have yet to allow a 100-yard receiver, and only two WRs have gotten into the endzone against this unit. If you roll with McLaurin on Sunday, you're hoping he sees enough volume to overcome the tough matchup. He's a dicey play at best.
Josh Allen (QB, BUF)
Josh Allen's rushing ability gives him a high floor even if he leaves something to be desired in the primary facet of his job as a quarterback. There's promise in the fact that he's thrown two touchdowns in each of his last three games, but inefficiency continues to plague him; he has completed more than 65% of his passes in a game just once this year, and he turned in a dismal 47.1% completion rate against the Eagles, who are one of the league's most exploitable pass defenses. It should be taken into account that the Redskins aren't anything special against the pass, although they are top-10 in the league in terms of creating turnovers defensively. Heaven knows Allen has struggled in that aspect. What's more, this doesn't strike me as a game in which the Bills will have to air it out a ton. Hope for Allen to provide you with bonus points on the ground and another two-touchdown outing.
Frank Gore / Devin Singletary (RB, BUF)
Devin Singletary has only slightly cut into Frank Gore's rushing workload since his return to action in Week 7, having seen just 10 total carries in his last two games. It's also worth noting that the Bills almost totally abandoned the run in Week 8 against the Eagles, so there isn't a whole heck of a lot of data to analyze here. What we continue to like about Singletary is his explosiveness; even in a Week 8 matchup in which he only saw seven total touches, he racked up 49 yards and a receiving touchdown. I'd caution you on reading too much into his six targets last week, as the Bills spent most of the day playing catch-up. Singletary has only seen a viable passing-game role in two of his four games, and the Bills were behind early on in both of those. As for Gore, we have to continue to operate under the assumption that he is the lead back, though a lack of touchdowns has greatly hindered his overall output despite the healthy week-to-week volume. The Redskins have allowed the fourth-most total rushing yards to running backs, and the second-most receptions. Both Gore and Singletary qualify as flex options for Week 9, with Gore getting the edge due to volume.
John Brown / Cole Beasley (WR, BUF)
Can you tell by now that I just don't have any interest whatsoever in this game from a fantasy standpoint? The Redskins boast some misleading numbers against wide receivers on account of the fact that their last three opponents either refuse to throw the ball (49ers), are terrible on offense (Dolphins), or have Dalvin Cook and thus don't have to win through the air (Vikings) against inferior competition. As a result, I'm not sure I trust the fact that Washington is only allowing 12.5 receptions per game to wide receivers. But I'm also not sure I trust the duo of John Brown and Cole Beasley to hit the over on that average in Buffalo's low-octane passing offense. I'll take a high-floor PPR day out of Brown, who has posted double-digit PPR outings in all of his last four games. A touchdown or long gain puts him over the top. Beasley worries me unless he sees a ton of targets, as he's only caught nine total passes in his last three games, and has been bailed out of two dreadful fantasy days by touchdowns the last two weeks.
Dawson Knox (TE, BUF)
After back-to-back weeks at the end of September in which he looked to be carving out a sustainable fantasy role, Dawson Knox has faded into anonymity. He has caught just four of 11 targets in his last three games for 34 total yards. He hit rock bottom with a zero-catch, one-target outing in Week 8 against Philly, which shouldn't go ignored considering Buffalo had to throw the ball a ton in that one. Maybe he bounces back against a Washington defense giving up double-digit PPR production on average to tight ends, but can you trust his recent pattern enough to roll the dice on that?
New York Jets at Miami Dolphins
Matchups We Love:
Le'Veon Bell (RB, NYJ)
In a turn of events only a handful of NFL franchises are dysfunctional enough to pull off, the Jets were allegedly shopping their $52.5-million running back at the trade deadline just seven games into his tenure. As it turns out, they might be happy Le'Veon Bell is still in town come Sunday. I keep repeating this sentiment every week, but it's never not worth pointing out: the Dolphins have played in one fewer game than 16 NFL teams, and they have still allowed the most total rushing yards to opposing backs. Bell might turn out to be a poor investment on the part of the Jets (and his fantasy owners) in the long run, but I have to believe he's up to the challenge of producing against a defense surrendering 4.9 yards per carry and over 140 yards per game.
Matchups We Hate:
None
Other Matchups:
Mark Walton (RB, MIA)
The Jets are a tough front to crack in the ground game, but Mark Walton could have a half-decent fantasy outing if the Dolphins hit him with a couple of pass-catching opportunities. Only the Texans are allowing more receptions per game to RBs than the Jets, and unless the Dolphins are fully committed to losing as many games as possible, they'd be wise to try to exploit that. Walton has seen six targets in two of his last three games, so there exists some evidence that this might in fact be a part of the plan for Miami on Sunday. All this said, Walton will likely need the PPR production to return solid value versus a Jets team holding RBs to 3.3 yards per carry.
Ryan Fitzpatrick (QB, MIA)
I have an easy time envisioning a high number of opportunities for Ryan Fitzpatrick on Sunday, considering the Jets' effectiveness against the run. Opportunity alone isn't quite enough for me to buy stock in a guy completing under 60% of his passes with more interceptions than touchdowns. The Jets have also looked bad enough offensively even with Sam Darnold back in the fold that I'm not comfortable betting on some wild shootout here. The Dolphins are destined for a top-three 2020 draft pick for a reason, and it's not because their quarterback is a good fantasy option.
Devante Parker / Preston Williams (WR, MIA)
Despite not being super enthused about Fitzpatrick this week, someone in Miami will eventually have to catch a pass on Sunday unless the Dolphins want to make a whole new kind of NFL history, and Preston Williams and DeVante Parker have actually been serviceable in that department of late. In the two full games since Fitzpatrick reclaimed the starting role, Williams has caught 10 of 15 targets for 124 yards, while Parker has caught 11 of 18 for 114 yards and a touchdown. The Jets are surrendering more than 175 yards per game to receivers, along with eight touchdowns in seven games. I can get on board with both Williams and Parker as flex options in a game where the Dolphins will likely have to throw to move the ball effectively.
Mike Gesicki (TE, MIA)
Just in case you were preparing to take an ill-fated leap of faith on Mike Gesicki this week, the Jets are holding tight ends under four catches and 40 yards per game. They've allowed one touchdown to the position, and Gesicki hasn't scored one in 2019.
Sam Darnold (QB, NYJ)
You can count me among the Sam Darnold truthers who believe he will take off against a favorable second-half schedule. Week 9 would be a terrific time for the second-year signal caller to start rewarding the faith his believers have maintained. Miami's numbers against the pass are nothing short of a mirage. They have had the second-fewest passes attempted against them, and that's not just a result of them having played one fewer game than half the league. They're so ineffective against the run and so often trailing by multiple scores that high-volume passing attacks haven't been needed to defeat them. Only the Bengals, Seahawks, and Raiders pressure the quarterback at a lower rate than the Dolphins, and Miami is also sporting an 18-to-2 touchdowns-to-interceptions ratio. Darnold might not have to throw the ball 40 times on Sunday, but we should see him begin to resemble the guy we've been waiting for all season.
Robby Anderson / Jamison Crowder / Demaryius Thomas (WR, NYJ)
Demaryius Thomas is working his way through an injury, so be on the lookout for his status heading into the weekend. If he suits up, he brings with him a decent 6.75-targets-per-game average in his last four contests. Jamison Crowder has had more downs than ups, but he's capitalized on the two games in which he was targeted more than six times, hauling in 20 catches for 197 yards in such contests. If the volume is there, he'll make good on it. Robby Anderson is a fine candidate to beat the Dolphins downfield, as they're allowing 15.35 yards per reception to WRs. For the reasons we discussed above in the Darnold segment, Miami's all-around numbers against wide receivers are not to be taken seriously. The Dolphins have allowed 12 touchdowns to the position, which is tied for second-most in the league. Anderson is relatively dependent on big plays, but there's a window for that here. Crowder and Thomas factor in as middling PPR options, provided the latter gets the green light to play.
Chris Herndon IV / Ryan Griffin (TE, NYJ)
Chris Herndon's status remains frustratingly uncertain, but if he's active, he has the potential to blow the top off a Dolphins secondary that has repeatedly given up big plays through the air. If he's not, Ryan Griffin remains in play as a sneaky flier who just found the endzone twice last Sunday. You'll have to ask yourself, however, whether such a performance is the beginning of a rapport with Darnold or a one-time anomaly. Considering that he hadn't seen more than three targets in any game since Week 1, the safe play is to assume the latter.
Tennessee Titans at Carolina Panthers
Matchups We Love:
Derrick Henry (RB, TEN)
Can Derrick Henry reenact the outstanding fantasy day Tevin Coleman just had against this Panthers run defense? Maybe not, but he's likely to at least see enough volume to give him a chance. Henry has attempted at least 15 rushes in all eight of Tennessee's games this season, and has sprung for 75 or more yards in four of his last five. Sprinkle in a touchdown against a Carolina team that has now allowed the most in the NFL to running backs, and we could be looking at RB1 output from Henry.
Christian McCaffrey (RB, CAR)
Christian McCaffrey is averaging over 25 touches per game and well over 100 yards from scrimmage. Only Aaron Jones has scored more touchdowns. His next victim is a Tennessee defense allowing 6.5 receptions per game to running backs. Even if the current 2019 fantasy MVP can't get going on the ground, he'll see more than enough passing game volume to account for it.
Matchups We Hate:
Ryan Tannehill (QB, TEN)
The Panthers have held five of their seven opponents under 200 total yards passing, and have given up just nine total touchdowns through the air. They boast the eighth-best pressure rate in the league. Only the Jets have given up sacks on a higher percentage of their drop-backs than the Titans. I'm not sure if you actually need someone to talk you out of starting Ryan Tannehill in fantasy, but this is me telling you not to anyway.
Other Matchups:
Delanie Walker / Jonnu Smith (TE, TEN)
Delanie Walker still hasn't logged a practice session as of this writing, so the safe play is to prepare as if he will be sidelined again for Week 9. If such is the case, Jonnu Smith remains an interesting option at tight end after catching nine passes for 142 yards and a touchdown in his last two contests. The matchup doesn't qualify as favorable, but if we combine the target count of Walker in his six full games (31) with that of Smith in the last two with Walker out (10), the primary tight end in this offense actually leads the team in targets. There are worse directions to throw a dart if you're scrambling at tight end.
A.J. Brown / Corey Davis / Adam Humphries (WR, TEN)
In a tale as old as time, Corey Davis followed up a six-catch, 80-yard, one-touchdown performance in Week 7 with two catches for nine yards in Week 8. There's an argument to be made for trusting the volume here, as Davis has seen at least six targets in both of Tannehill's starts. I'm not sure that qualifies as enough to distract us from how inconsistent Davis has been throughout his career. A.J. Brown is beginning to establish himself as the heir apparent to Davis' throne of volatility, as he also disappeared from the stat sheet in Week 8 after an impressive Week 7. Adam Humphries has broken 50 yards receiving in a game just once this season, and has come in well under 40 in five of them. If the Panthers weren't allowing nearly 16 catches a game to wide receivers I would strongly recommend benching all three of these guys, but there is undeniable PPR appeal if Tannehill can get them the ball. If I have to start any of them, it's Davis, and I'm only trusting him with flex responsibilities.
Kyle Allen (QB, CAR)
The Titans have allowed back-to-back 300-plus yard, multiple-touchdown efforts from quarterbacks. That's about the extent of the advantage I'm seeing in this matchup. Kyle Allen has completed just 56.5% of his passes in the last three weeks, and the Panthers offense clearly runs primarily through Christian McCaffrey. You can find safer streaming options for Week 9.
D.J. Moore / Curtis Samuel (WR, CAR)
Average quarterback play and a lack of touchdowns have kept D.J. Moore from catapulting into the upper echelon of fantasy receivers, but there's no ignoring his weekly target share. He's averaging six catches and nine targets in his last three, which will normally translate into double-digit PPR work at the very least. Curtis Samuel is a different character in the same story, having been targeted 54 times this year but only catching half of those. His recent form includes 23 targets in his last three games. You just have to feel like better days are waiting for these two talented young wideouts, and maybe that starts this weekend against a Titans secondary that just finished bandaging up their wounds from a Mike Evans smackdown in Week 8. Both can be considered flex plays this Sunday, with the target-share nod going to Moore.
Greg Olsen (TE, CAR)
The Titans are the worst kind of fantasy defense to prepare for in that they're just all-around average; not too good or too bad at any one thing. Such is the case regarding their effectiveness against tight ends, as the position is averaging 4.5 receptions and 51.6 yards per game. Further clouding Greg Olsen's fantasy outlook this week is that he's totally dropped off the map of late. In his last four games, he's caught eight passes for 70 yards on 15 targets. That's not the TE1 volume we're used to seeing go Olsen's way, and it's hard to trust him as the automatic, high-floor option he used to be. At a position as unbelievably frustrating as his, you might not have a choice in the matter. But I'm at least exploring the possibility of an option with higher upside for Week 9.
Minnesota Vikings at Kansas City Chiefs
Matchups We Love:
Dalvin Cook (RB, MIN)
So... you're telling me I can have a guy averaging 19.5 rushing attempts per game, who also happens to be one of three running backs with more than 100 yards per game on the ground, against a team giving up 4.9 yards per carry to his position? Where do I sign up?
Tyreek Hill (WR, KC)
The Vikings are allowing the second-most receptions per game to WRs, so you have to figure the Chiefs will take to the air in this game. Tyreek Hill hasn't let you down since returning from injury three weeks ago, going for at least 74 yards in each of his last three games and recording at least one touchdown in two of them. Only four teams have given up more receiving touchdowns to WRs than Minnesota, so I'd be proceeding as planned with Hill for Week 9.
Travis Kelce (TE, KC)
The Vikings have allowed the second-most receptions in the league to tight ends, but have not yet permitted one to cross the goal line. We can safely bank on Travis Kelce continuing the high-catch trend, and he's a fine candidate to be the first tight end to get into the endzone. He's seen at least eight targets in seven of eight games this season, and a backup quarterback at the helm didn't keep him putting up a solid fantasy day in Week 8. Lock him in.
Matchups We Hate:
LeSean McCoy / Damien Williams (RB, KC)
Damien Williams happened to score a touchdown on Sunday night, but don't let that sucker you into believing he's poised to reclaim a fantasy-relevant role in this backfield. LeSean McCoy saw two more carries against the Packers and was the only one of the two to see any work in the passing game (four catches on as many targets). In any case, this is a terrible matchup for both of them. The Vikings are holding opposing backs just under four yards per carry and have allowed exactly one rushing touchdown all season. Even the Patriots have allowed more than that. I understand if you don't have any choice but to roll with McCoy at the flex, but I'd be avoiding Williams this week.
Other Matchups:
Kirk Cousins (QB, MIN)
The Chiefs aren't what you would call an exceptional pass defense, but they're better than you think. The last time they allowed more than 280 total passing yards in a game was Week 1, and only Aaron Rodgers has individually reached that threshold since. Rodgers was also the first quarterback since Matthew Stafford in Week 4 to throw multiple touchdown passes against Kansas City. At least part of the reason for this is how susceptible they are to the ground game, but with Dalvin Cook as your lead back, why wouldn't you scheme to exploit that? I don't have anything against Kirk Cousins this week, I just think this game probably has to turn into a shootout for him to bring back big-time fantasy value.
Stefon Diggs / Adam Thielen (WR, MIN)
If Stefon Diggs takes a week off from his recent surge, this could be it. The Chiefs are allowing just under 11 catches per game to WRs for 133.9 yards. Diggs has gone for at least 143 yards in each of his last three outings, so it's difficult to see him achieving that total for a fourth straight week in this matchup. You'll like his potential better if Adam Thielen suits up and draws some of the Kansas City secondary's attention, but Thielen hasn't logged a full practice as of this writing. It'd be wise to have a backup plan in place for Thielen if he's unable to go, while Diggs should be downgraded to more of a low-end WR1 or high-end WR2 as opposed to the week-winner he's been of late.
***UPDATE: Adam Thielen remains questionable heading into the weekend, rendering him a game-time decision for Sunday's 1:00 start.
Alexander Mattison (RB, MIN)
Alexander Mattison's three highest touch counts have come in games the Vikings won going away. In his other five games, he's seen single-digit carry totals. Matt Moore proved to be a serviceable replacement for Patrick Mahomes in Week 8, so I'm not sure the Vikings are going to roll into Arrowhead and smack Kansas City in the mouth. You love the matchup here, but Mattison will probably have to spring a big play or score a touchdown to provide solid value in Week 9 unless the Vikings feed him more often than they have been.
Kyle Rudolph / Irv Smith (TE, MIN)
The absence of Thielen in Week 8 didn't translate into any additional work for Kyle Rudolph or Irv Smith, both of whom saw just three targets each in a Thursday night win over the Redskins. Minnesota will probably have to throw more than 26 times against Kansas City this week, but the Vikings' TE pair hasn't given us any reason to trust them in fantasy lineups. If Thielen does make his return, their respective outlooks grow even dimmer.
Mecole Hardman / Demarcus Robinson / Sammy Watkins (WR, KC)
You certainly want to love the rest of the Chiefs receiving corps for the reasons discussed in the Tyreek Hill segment, but as I wrote in this column last week, the issue comes down to figuring out which ones deserve our trust. I'll lean toward Sammy Watkins here since he's averaging over nine targets a game and saw eight of them in Matt Moore's first start last week, but if he turns around and gives us two catches for 15 yards this week, it wouldn't be the first time. As for Mecole Hardman and Demarcus Robinson, these guys have volatile fantasy profiles even with the best quarterback in the league throwing them the ball. There's not much volume to bank on, so you're hoping Hardman or Robinson score a touchdown or spring a big play if you're rolling them out for Week 9.
Matt Moore (QB, KC)
Matt Moore proved to me on Sunday night that everybody forgot the Chiefs were a pretty good offense with Alex Smith as their quarterback in 2017. As effective as the Vikings are against the run and as suspect as they are against the pass, I can see enough from an opportunity standpoint to give Moore some upside in this matchup. Even so, I'd have to be feeling pretty lucky to trot him out there this week.
Philadelphia Eagles at Chicago Bears
Matchups We Love:
Allen Robinson (WR, CHI)
Allen Robinson has quietly been one of the more consistently reliable wide receivers in fantasy this year, which makes you wonder what kind of season he'd be having if just about anyone other than Mitch Trubisky was throwing him the ball. He's gone over 60 yards receiving and put up double-digit PPR totals in all but one of his games this year. If anyone can overcome this hapless pass offense to exploit an Eagles secondary giving up the fourth-most total yards and the second-most touchdowns to receivers, it's Robinson.
Matchups We Hate:
Carson Wentz (QB, PHI)
Carson Wentz has thrown for fewer than 200 yards in four of his last five games, and in a pattern like that, you're very much praying for multiple touchdowns and zero turnovers. For all of the things plaguing the Bears this season, the one aspect of the game in which they've been as advertised is in their defense of the pass. They're pressuring the QB at the second-highest rate (tied with Pittsburgh), giving up just decimal points over 230 passing yards per week, and have only surrendered seven passing touchdowns. They've also shown some weakness against the run of late, with two of their last three opponents accumulating at least 150 yards on the ground. After the way Philly carved up Buffalo with the rushing attack last Sunday, I'd bank on a similar formula against Chicago in Week 9. All of this renders Wentz a fringe fantasy starter.
Eagles Wide Receivers (WR, PHI)
If I'm worried about Wentz, I'm naturally going to worry about his underwhelming collection of wideouts. No Eagles WR has caught more than four passes since Week 6, when Alshon Jeffery hauled in 10. Even if DeSean Jackson suits up for the first time since Week 2, Jeffery is the only one of this bunch I'd trust in any capacity. Even he comes in as a volume-hopeful flex as far as I'm concerned.
Mitchell Trubisky (QB, CHI)
I'm well aware of how beatable Philly is through the air, so allow this to serve as a testament to just how little faith I have in Mitch Trubisky. Trubisky has started six games for the Bears. He has accounted for zero touchdowns in four of them. That is ridiculous even if we eliminate the Week 4 contest he exited early with an injury. Maybe he connects with Allen Robinson enough to bring back a decent fantasy floor, but it's not worth hanging your Week 9 hopes on that.
Other Matchups:
Jordan Howard / Miles Sanders (RB, PHI)
It's up to you whether you believe the Bears' recent susceptibility against the run is a sign of things to come or not, but I'll leave you with this: the two games in which they were scorched on the ground coincided with the possibly season-ending injury to Akiem Hicks, and took place against two relatively run-heavy teams in the Raiders and Saints. The Eagles have attempted the sixth-most rushes in the NFL. Jordan Howard would appear to be the volume workhorse in this duo, while Miles Sanders serves more of a utility role with big-play upside. After seeing a season-high 23 carries in Week 8, Howard qualifies as a volume-dependent RB2 or high-end flex. Sanders has a frighteningly wide range of outcomes, but he has contributed solid PPR numbers in recent weeks, eclipsing at least 44 receiving yards in three of his last four games. He's not a bad bye-week fill-in for fantasy owners who are thin at WR or RB.
Zach Ertz / Dallas Goedert (TE, PHI)
I don't know what else there is to say about Zach Ertz other than I'd be extremely worried about his rest-of-season outlook if I spent a second or third-round draft pick on him. Forget about TE1 numbers, he hasn't even posted double-digit PPR numbers in any of the last three weeks. His target share has also begun to dwindle at an alarming rate, bottoming out at four in Week 8. All the while, Dallas Goedert has seen an increase in his role over the last three weeks with 17 total targets, 12 catches, and two touchdowns. Without either one earning a commanding share of the work, there's no way to definitively lean in one direction or the other. My best (and possibly worst) advice is to trust the long-established rapport between Ertz and Wentz and hope they get back on track, while continuing to value Goedert as a likely touchdown-dependent option with an admittedly increasing role.
David Montgomery (RB, CHI)
I'd like to think David Montgomery's breakout Week 8 was the turning point in his season, but the Bears' play-calling this season has been frustrating enough that it wouldn't be at all surprising to see him get something like nine carries this week. Further dampening Montgomery's chance at another explosion is that Philly is holding RBs to 3.44 yards per carry. The Eagles have, however, been giving up nearly receptions per game to the position, which opens up the door for a decent PPR day for the rookie. Maintain faith that Montgomery will have a solid second half, but don't be surprised if he's largely held in check in Week 9.
Tarik Cohen (RB, CHI)
Tarik Cohen has been wildly inefficient on a per-touch basis, but he's still sneaking onto the field and cutting into Montgomery's workload every now and then, specifically in the passing game. There's PPR upside for Cohen on account of what we just discussed above: the Eagles are allowing 5.75 receptions per game to RBs. He's definitely a roll of the dice, but the volume has been there on occasion to warrant consideration.
Trey Burton (TE, CHI)
Trey Burton has yet to total more than 20 receiving yards in a game this season. If for some reason you were considering him, move along.
Indianapolis Colts at Pittsburgh Steelers
Matchups We Love:
None
Matchups We Hate:
None
Other Matchups:
Jacoby Brissett (QB, IND)
Flying under the radar amid all the tumult that is the Steelers' letdown of a fantasy offense is that their defense has actually played pretty well in real life. The Steelers are tied with Chicago for the second-best pressure rate on opposing QBs, have the highest turnover rate in the league, and are the sixth-most difficult team to score on in the red zone. T.Y. Hilton could also potentially miss this game after suddenly appearing on the Colts' injury report as a non-participant in Thursday's practice. All of this renders Jacoby Brissett as a somewhat bland fantasy play for Week 9.
Marlon Mack (RB, IND)
It's been a season of peaks and valleys for Marlon Mack; he's gone for at least 74 rushing yards (and over 130 twice) and/or a touchdown in four games, while topping out at 51 yards or fewer in his other three. A total lack of involvement in the passing game caps his upside in those outings in which he just can't get going, and I'd be bracing myself for one of them this week against a Steelers Defense holding his position to 3.75 yards per tote. If not for the volume he regularly sees, I might be inclined to list him among the hates this week. But I trust that he'll see his customary high number of opportunities, and touchdowns are always a possibility for the Colts workhorse.
Nyheim Hines / Jordan Wilkins (RB, IND)
Both Nyheim Hines and Jordan Wilkins very much take a back seat to Mack, with Hines occasionally seeing fantasy-relevant run on passing downs. The Steelers aren't particularly exploitable by pass-catching backs anyway, and neither Hines nor Wilkins see a consistent enough role to warrant fantasy consideration.
Jack Doyle / Eric Ebron (TE, IND)
Eric Ebron is dealing with an ankle injury that could potentially render him inactive for Week 9, in which case Jack Doyle would see increased chances in a low-ceiling matchup. The Steelers are allowing five catches per game to tight ends, so you certainly don't like that outlook if both tight ends are on the field for the Colts. Pittsburgh's red zone defense also limits the potential for Doyle to score if he is indeed the lone wolf on Sunday.
T.Y. Hilton (WR, IND)
T.Y. Hilton missed Thursday's practice, which definitely raises some red flags regarding his status for Sunday and dampens the Colts' offensive outlook at large. If he does make a quick late-week turnaround, he'll be getting a Steelers defense holding WRs to 11.4 catches per game, albeit accompanied by eight touchdowns. You have to start him if he's active, but have a contingency in place if he's ruled out.
***UPDATE: T.Y. Hilton has been ruled out of Sunday's game against the Steelers, and could miss several weeks.
Colts Wide Receivers (WR, IND)
As for all other WRs on this Colts team, Zach Pascal appears to be the guy to turn to if Hilton does miss this game. Pascal hauled in four catches for 72 yards in Week 4 with Hilton out, and he went for 106 yards and two touchdowns a couple of weeks ago against Houston. Parris Campbell also saw a season-high eight targets in Week 4, so he could potentially be thrust into a more prominent role without Hilton again. All this said, nobody other than Hilton among this group could be categorized as consistent.
JuJu Smith-Schuster / Diontae Johnson (WR, PIT)
Volume hasn't been a concern for JuJu Smith-Schuster and Diontae Johnson this season, but unpredictable (and admittedly injury-influenced) quarterback play has capped the ceilings of Pittsburgh's new receiving duo. There's promise in how the Steelers looked coming off a bye on Monday night, a victory in which both Smith-Schuster and Johnson scored touchdowns and the offense as a whole seemed to click. But that was against the Dolphins, and the Colts present a more formidable challenge. Indianapolis is limiting receivers to the same exact number of receptions per game as the Steelers, so both Smith-Schuster and Johnson will have to work hard to put up WR2 and flex numbers, respectively.
James Conner / Jaylen Samuels (RB, PIT)
With Benny Snell likely out for a couple of weeks and James Conner's Week 9 status in doubt, the Steelers backfield could very well be Jaylen Samuels' office on Sunday. The Colts have been average against the run, giving up 4.4 yards per carry to RBs but holding the position to just three rushing touchdowns. Due to the pass-catching responsibilities inherent in the lead back role for Pittsburgh, there's hope that a healthy share of targets could supplement whatever production Samuels is able to provide on the ground. Monitor Conner's status heading into the weekend, but be ready to lock and load with Samuels.
***UPDATE: James Conner's injury designation heading into the weekend is doubtful. It would be wise to prepare as if Jaylen Samuels will get the start for Pittsburgh.

Mason Rudolph (QB, PIT)
The Colts and Steelers rank 16th and 19th, respectively, in offensive points per game. They rank 14th and 13th, respectively, in points allowed per game. With both teams potentially missing focal points of their offenses, this game has 20-17 written all over it. Mason Rudolph gives his actual team a better chance to win than he does your fantasy team.
Vance McDonald (TE, PIT)
Vance McDonald's disappearing act is especially disappointing considering how much upside he came into the season with, but eight catches for 68 yards in his last four games isn't getting it done. Maybe the Steelers turn things around on offense in the second half, but at this point you have to move on until he reemerges as a legitimate fantasy threat.
Matchups Analysis - 4:00 PM ET Games
Tampa Bay Buccaneers at Seattle Seahawks
Matchups We Love:
Russell Wilson (QB, SEA)
For whatever Tampa Bay is or isn't defensively, they have proven to be a team that is stout against the run. However, their secondary has been manhandled on multiple occasions this year, which includes allowing quarterbacks to score at least 17.4 points in standard ESPN settings the past five weeks. Russell Wilson is elite and perhaps will need to be a little more aggressive to account for the Buccaneers' front four. Sign me up!
Jameis Winston (QB, TB)
Despite providing the production for two top-five PPR WRs in Mike Evans and Chris Godwin, Jameis Winston only enters the week ranked 18th at his position. Yes, that statistic is slightly misleading because he has already accrued his bye week, but it doesn't help when your third favorite target is the other team. Through seven starts, Winston has piled up 14 touchdowns and 12 interceptions but does have a quality matchup to right the ship against the Seattle Seahawks, who rank 18th in explosive passes allowed and 20th in success rate through the air. You can never pencil in numbers for the 25-year-old, but that isn't necessarily a negative when you are looking for outside of the box QB1 production.
Tyler Lockett (WR, SEA)
Owning Tyler Lockett can be a bit of a headache. He clearly is one of the most productive players at the position, but a lack of volume continues to limit the ceiling for the 27-year-old. Lockett provided one of his best outings in Week 8 against the Atlanta Falcons, catching all six targets for 100 yards and draws another combustible matchup in Week 9. Will we see him reach his actual upside in the game? Perhaps not. But there is always a chance for Lockett to get loose deep, which helps to alleviate some of his lack of targets. Consider the wideout a WR1 once again.
Mike Evans / Chris Godwin (WR, TB)
As an industry, we need to stop asking who the WR1 is in Tampa Bay. As far as I am concerned, both Chris Godwin and Mike Evans should be considered as such. We have seen teams in the past provide enough upside for both parties to produce WR1 numbers, and I believe we are going to continue going down that road as the season stretches on. There will be some ebbs and flows to the weekly level of production, but fire up each as top-12 options on Sunday.
Matchups We Hate:
Rashaad Penny (RB, SEA)
As a Rashaad Penny owner myself, I was hoping we would see the 23-year-old moved at the trade deadline. Unfortunately, that was not the case, and now we are stuck in this weird limbo zone, where he is one of the premier handcuffs to own but doesn't quite receive enough work to warrant flex upside. There might be weeks of desperation where you can justify inserting Penny into your lineup as a flier, but this is not one of them against the top-ranked team against the run.
Peyton Barber (RB, TB)
Peyton Barber is getting virtually none of the passing game work and is being limited to around 10 rushes per contest. With a high total posted in Vegas, maybe Barber can salvage his day with a short scamper, but I'd prefer to ignore a player that is touchdown-dependent if I can avoid it.
Other Matchups: 
Chris Carson (RB, SEA)
Volume and touchdowns make it challenging to advocate benching Chris Carson, but a showdown against the Tampa Bay Buccaneers is far from ideal. The Bucs rank first in the NFL in success rate against the run, allowing only 32% of plays to grade out successfully and are inside the top-10 when it comes to explosive rushes given up. Rashaad Penny returned last week and was able to provide eight carries for 55 yards, and while Carson's role is definitely safe if he doesn't fumble, there are always concerns that a lost ball could derail his weekly output - especially against a formidable team like the Buccaneers.
Ronald Jones II (RB, TB)
A clash against the Seattle Seahawks is not great for any RB on the Tampa Buccaneers, but Ronald Jones II does have a little more upside because of his bigger-play ability than Peyton Barber does. Seattle enters the week giving up 13% of explosive plays on the ground - a total that places them 27th in the league. If you are desperate for RB3 potential, you could do a lot worse than the former USC product. Still, though, this is probably a contest that you will want to avoid if you can.
D.K. Metcalf (WR, SEA)
I had DK Metcalf on the love list last week, which felt good when he accumulated two touchdowns on the day. However, it is somewhat worrisome that Metcalf has failed to catch more than four passes in a game this year. If you rolled him out last weekend, you most definitely can again against the Bucs, but there is a little boom-or-bust potential here given his reduced catch share.
O.J. Howard / Cameron Brate (TE, TB)
With O.J. Howard limited with a hamstring injury and Cameron Brate failing to produce in his absence, the whole position appears to be a befuddled mess heading into Week 9. With that being said, the Seahawks do provide a great matchup to TEs and should allow Brate to produce as a back-end TE1 if Howard isn't able to go. If Howard does suit up, I would prefer to leave both on the bench, although I don't mind desperate teams taking a swing for the fence with Howard, who hasn't shown that he is capable of producing this season but perhaps a week off is what was needed to get back on track. As you can tell, there isn't a simple answer here.
***UPDATE: O.J. Howard has been declared inactive for Week 9.
Detroit Lions at Oakland Raiders
Matchups We Love:
Matthew Stafford (QB, DET)
Matthew Stafford is in the midst of a resurgent campaign in 2019, scoring at least 23.4 points in ESPN standard leagues three times in his past four games.  This week, the Lions will face the Raiders, who have allowed 23.7 points per contest this season to the quarterback position - the second-highest mark in the league. With no real running game to lean on, look for Stafford to provide QB1 numbers again against a porous Raiders secondary. Stafford is ranked third in the NFL with a 120.4 passer rating when facing a clean pocket.
Josh Jacobs (RB, OAK)
Josh Jacobs has been limited with a shoulder injury this week but featured the same ailment before his Week 8 game against the Houston Texans. With no reports of any setbacks in the contest, I will assume the rookie can be fired up as usual. Jacobs has averaged 19.75 carries in his past four games and will get a Detroit Lions Defense that ranks in the bottom-10 when it comes to stopping the run. The matchup, volume and touchdown upside all point to Jacobs having a chance to produce as an RB1, so let's not overthink the situation.
Kenny Golladay (WR, DET)
If we are looking at this matchup from a pure success rate metric, the Oakland Raiders should be even a little easier than the New York Giants, who Kenny Golladay just destroyed for six catches, 123 yards and two scores. Matthew Stafford will need to lean on his wideouts to pull out a challenging road test and expect Golladay to show up once again. The 25-year-old is a WR1 on Sunday.
Darren Waller (TE, OAK)
The tight end gauntlet continues for the Detroit Lions, who have faced Zach Ertz, Travis Kelce, Jimmy Graham and Evan Engram in the past few weeks. Ironically, their worst outing of the year came against the Minnesota Vikings in Week 7 when they allowed Kyle Rudolph and Irv Smith Jr. to explode for 10 catches, 118 yards and one score, but the unit has struggled during most of their premier tests this season. Darren Waller has transformed into one of the best players at the position and is an automatic TE1 option for the rest of the year.
Matchups We Hate:
Ty Johnson / Tra Carson / J.D. McKissic (RB, DET)
Will the real starting RB please stand up? Oh, boy...what a mess. Last weekend did not help us at all with what the Lions plan to do after losing Kerryon Johnson to a knee injury that put him on injured reserve. I have individual thoughts about all three players but will clump them up into one section because I don't think any should be played without a little more clarity to the situation. If you spent big FAAB bucks on Ty Johnson, stay patient. I believe he is still the back you want to own; he just might not be a back that you want to play given the uncertainty this week. J.D. Mckissic is an option that requires volume through the air to find any success, but he has failed to receive over three targets in any game this year. If you want to play the wait and see approach one more time before dropping him, I am okay with that, but I also am fine with demoting him to the waiver wire. And then we have Tra Carson, who I can only imagine got as much work as he did because Detroit thought they were playing Chris Carson? Whatever the reason was for his workload, I am not buying into the hype. Twelve carries for 34 yards doesn't make him worth a waiver pickup, and I want him nowhere near my lineups come Sunday.
Other Matchups:
Derek Carr (QB, OAK)
There is streaming potential here for Derek Carr, who posted his best stat line of the season last weekend with 285 yards, three touchdowns and no interceptions. The issue is that Carr does have a quality running game available to him, and I don't believe the Lions are nearly as easy of a matchup as the numbers lead you to believe. The 28-year-old does enter the week as a high-to-mid level QB2 option, but it will be difficult to find a lineup where he deserves QB1 consideration.
Marvin Jones Jr. / Danny Amendola (WR, DET)
Matthew Stafford has found something with Marvin Jones Jr. and Danny Amendola as of late. Amendola has caught 16 passes in his past two games, while Jones erupted for four touchdowns during Week 7. The Raiders are a beatable matchup, which makes Jones as WR2/WR3 and Amendola a WR3/flex.
Tyrell Williams (WR, OAK)
For a player who has been struggling with plantar fasciitis, Tyrell Williams looked mobile and impressive last weekend. Williams played 49 of a possible 55 snaps, catching three of six targets for 91 yards and score. The Oakland wideout has caught a touchdown in every game he has played in this season and will look to keep that streak going on Sunday. While all that is good and well, a matchup against CB Darius Slay would be a massive downgrade if the All-Pro corner is able to suit up with his hamstring injury in Week 9. It looks as if Slay will be active, so you might want to downgrade Williams to more of a flex option.
Hunter Renfrow (WR, OAK)
Looking for an interesting streamer in Week 9? Hunter Renfrow was able to score his first NFL touchdown last weekend on a 65-yard play and will draw a favorable matchup against the Detroit Lions. The Lions have given up at least 16.5 fantasy points to the following slot receivers this year: Larry Fitzgerald (25.3), Keenan Allen (17.8), Nelson Agholor (25), Allen Lazard (16.5), Bisi Johnson/Adam Thielen (23.5) and Golden Tate (16.5). Some of those examples are different than others in terms of talent, but it does show that there is an opening to be had to find production.
T.J. Hockenson (TE, DET)
Rookie tight ends are extremely difficult to trust. T.J. Hockenson's Week 1 display set the stage for what looked like it might be a breakout campaign in the making, but the 22-year-old has only been able to catch 13 passes total in his past six games. On the bright side, the Raiders will provide some streaming potential for TE needy teams, which is good enough to make him a TE1 option.
Cleveland Browns at Denver Broncos
Matchups We Love:
None
Matchups We Hate:
Baker Mayfield (QB, CLE)
It doesn't appear as if "Cleveland Rocks" this season. Baker Mayfield is getting testy with reporters, the team continues to struggle to find an identity and their offense that was supposed to be dynamic after the acquisition of Odell Beckham Jr. can't seem to get going. The schedule will begin to ease here shortly for the Browns, but Denver is not going to be one of those more straightforward tests.
Brandon Allen (QB, DEN)
With Drew Lock available to come off of IR during Week 11, the team will be forced to go to Brandon Allen during Joe Flacco's neck injury. The Cleveland Browns have been a beatable matchup this season for opposing QBs, but with Greedy Williams and Denzel Ward both healthy, it is impossible to trust Allen as anything more than a desperation QB2.
Courtland Sutton / Daesean Hamilton (WR, DEN)
Question marks remain around Courtland Sutton after Emmanuel Sanders was traded to the San Francisco 49ers, and it won't help the situation that Brandon Allen will be taking over the reins for a few weeks before Drew Lock enters the fray. Sutton is a big-play threat but will see better coverage and more double-teams with Sanders now out of town. Trusting Allen to get him the ball seems like a risky proposition, and I would prefer to play the wait-and-see approach if at all possible. As for DaeSean Hamilton, he bombed with no receptions in his first game without Sanders in the lineup and is looking to be best left on the waivers.
Ricky Seals-Jones / Demetrius Harris (TE, CLE)
There are weeks where both Ricky Seals-Jones and Demetrius Harris have been reasonable dart throws for desperate teams, but this isn't one of them. Baker Mayfield continues to underutilize the position, leaving both as options to be left on the waiver wire.
Other Matchups:
Nick Chubb (RB, CLE)
If we remove Leonard Fournette's explosion of 225 yards in Week 4, the Denver defense has done a dependable job against opposing backs on the ground. As a collective group, no team has exceeded 100 yards rushing, although touchdowns and receptions have given slight boosts to the scoring outputs that they have allowed. Luckily for Chubb, the game script should revolve around him on Sunday, making the 23-year-old a viable high-end RB2 option for this difficult road test.
Royce Freeman / Phillip Lindsay (RB, DEN)
It is worth noting that Phillip Lindsay has been limited with a wrist injury in practice this week. The second-year back underwent wrist surgery during last offseason, so it is a situation that should be monitored as the week progresses. Lindsay has been slightly more effective and efficient on the ground than Royce Freeman has, but both have kept a reasonably safe floor due to their work catching passes out of the backfield. Freeman doesn't have the same upside that Lindsay does, but each should be viewed in the back-end RB2 range in Week 9 if Lindsay suits up like I believe he will.
***UPDATE: Phillip Lindsay no longer has an injury designation to his name, so it appears as if he is good to go for Sunday's game.
Odell Beckham Jr. (WR, CLE)
If you own Odell Beckham Jr., his eventual relief in scheduling may not matter if you are unable to get yourself into the playoffs. Beckham will draw a challenging test against corner Chris Harris Jr. on Sunday and will then draw another difficult showdown with the Buffalo Bills and Tre'Davious White. I still believe Beckham remains a solid buy-low option to teams desperate for production at this very moment, but he will need a big-play or two if he can be counted on against the Denver Broncos.
Jarvis Landry (WR, CLE)
With Chris Harris Jr. on Odell Beckham, Jarvis Landry might get some room to run underneath. That is enough to provide him with low-upside flex potential, but you most likely won't be in store for anything that will break the bank.
Noah Fant (TE, DEN)
The removal of Emmanuel Sanders from Denver's offense looks like it will give Noah Fant the most significant boost of anyone. Fant received nine targets in Week 8 and should continue to be a focal point of the offense with QB Brandon Allen needing a security blanket to dump passes off to. The Browns have allowed 11.3 points to TEs this year, and I don't think it is unreasonable for the rookie to approach those numbers on Sunday.
Green Bay Packers at Los Angeles Chargers
Matchups We Love:
Aaron Rodgers (QB, GB)
No Davante Adams? No problem for Aaron Rodgers. The 35-year-old has tossed for 339 yards and 3.33 touchdowns per game during his star wideouts absence and will look to continue his momentum this weekend against the Los Angeles Chargers - possibly with his Pro-Bowl WR back in the mix. Despite all the accolades the Chargers have received for their defensive prowess, the team is only ranked 26th in success rate against the pass. Fire Rodgers up as one of the top options on the board this weekend.
Melvin Gordon (RB, LAC)
With the trade deadline over and certainty that Melvin Gordon will finish the season on the Los Angeles Chargers, could the time for him to start producing start now? The Packers have struggled against the run all year, ranking 31st in the league when it comes to success rate against ground attacks, and the switch from offensive coordinator Ken Whisenhunt to Shane Steichen could provide dividends for the offense. Steichen was the QBs coach for the Chargers before his promotion, but despite the propensity to think of passing in situations, a change was needed and should present the entire offense with more chances to find success.
Aaron Jones (RB, GB)
Aaron Jones left last weekend's contest against the Kansas City Chiefs and has been limited by his shoulder ailment to begin Week 9. The reduced practice time seems to be more precautionary than anything, so the NFL's leader in touchdowns with 11 at the midpoint of the season should be back to full participation before the week is up. Jones draws a winnable matchup against the Chargers, who rank 22nd in the league in PPR fantasy points surrendered.
Davante Adams (WR, GB)
If Davante Adams plays, you are inserting him into your lineup as a WR1. Keep an eye on his status since the team does play one of the later games, but it is beginning to look as if Adams will be active again this weekend.
***UPDATE: As of Friday afternoon, Davante Adams' status for Sunday is listed as questionable. Expect him to be a game-time decision, and be ready to adjust your lineup to account for the late-afternoon start.
Hunter Henry (TE, LAC)
Hunter Henry is a bonafide TE1 every week he is healthy enough to suit up. A clash against the Green Bay Packers is no different, and it doesn't hurt that the team has given up the seventh-most PPR fantasy points to the position. Yes, a lot of that did come against Darren Waller in Week 7, but the Packers have failed in all three occasions this season against one of the premier tight ends.
Matchups We Hate:
None
Other Matchups:
Philip Rivers (QB, LAC)
Philip Rivers receives enough passing volume to warrant at least QB2 consideration on all weeks, but how should we be viewing him for a contest against the Green Bay Packers? After a quick start to the season that saw the Packers hold opposing QBs to under 10 fantasy points in three straight games, the wheels have come off slightly as of late by allowing 21.2 points to Derek Carr and 19 points to Matt Moore. Rivers has enough upside to reach those sorts of projections so consider him a QB2 once again in a winnable home test.
Austin Ekeler (RB, LAC)
As I mentioned for Melvin Gordon, hopefully a switch to new offensive coordinator Shane Steichen will help get the offense going in the right direction. Austin Ekeler has been the teams' best playmaker this season, which makes it even more baffling that the Chargers have shied away from using him since the return of Melvin Gordon. If you own Ekeler, treat him as an RB2 this weekend with upside.
Jamaal Williams (RB, GB)
Jamaal Williams has been targeted five times in the red zone this season - tied for sixth-most amongst NFL RBs. Unfortunately, with Davante Adams potentially set to return, his red-zone usage could be set for a steep decline. Williams is nothing more than a volatile flex option on Sunday.
Keenan Allen (WR, LAC)
Keenan Allen was a game-time decision heading into Week 8, which makes his seven-catch and 10 target display that much better. A matchup against the Green Bay Packers might let him keep the momentum rolling, as the Packers' secondary has allowed 16.8 yards per catch to wideouts, the highest clip in the NFL.
Mike Williams (WR, LAC)
After bringing in 10 touchdowns during his second season in the NFL in 2018, Mike Williams has disappointed in 2019, failing to catch a touchdown through eight weeks. It has been surprising to see Williams' lack of usage inside the 20-yard line, as the big wideout has only hauled in two passes within that distance this season. A matchup against the Green Bay Packers might not be ideal either since Green Bay has only allowed five touchdown catches to wideouts in eight games.
Marquez Valdes-Scantling / Geronimo Allison (WR, GB)
Having Davante Adams available should open up some running room for both Marquez Valdes-Scantling and Geronimo Allison, but it is nearly impossible to trust either as anything more than a flex option in Week 9. Valdes-Scatling has a little more boom-or-bust potential if you are looking to swing for the fence against a defense that has been susceptible big passing plays.
Jimmy Graham (TE, GB)
The Chargers have faced a rather easy schedule of tight ends this season but have impressed in all outings besides one. Jimmy Graham isn't quite good enough at this point in his career to be considered a bonafide must start, but the position is so weak that it might be difficult to find a better alternative than his back-end TE1 value.
Matchups Analysis - Sunday Night Football, 8:20 PM ET
New England Patriots at Baltimore Ravens
Matchups We Love:
None
Matchups We Hate:
Sony Michel (RB, NE)
The Patriots are ranked 20th in rushing success rate this season, and when you look at only the games where offensive tackle Isaiah Wynn, center David Andrews, full back James Develin and WR Josh Gordon were out, only 43% of the Patriots' offensive snaps graded out successfully - three percent below league average. The workload has been there for Sony Michel to have more favorable performances, but the results have not shown up.
Other Matchups:
Tom Brady (QB, NE)
Three games in 13 days for the New England Patriots could show some wrinkles in an offense that has sputtered in prior weeks. Although victories have masked some of the issues, the Patriots have not looked right as of late. New England has faced the fifth easiest schedule of opposing defenses this year but will be challenged by the Ravens, who be will be rested coming off the bye and ready to pounce. That doesn't mean Brady shouldn't be considered as a QB1, but the warning signs are there.
Lamar Jackson (QB, BAL)
Something will have to give on Sunday. The New England Patriots have faced the easiest schedule of opposing offenses this season, while the Baltimore Ravens have taken on the easiest strength of defenses. That isn't to take away from what either team has been able to accomplish, but someone will blink first on Sunday night. Head coach Bill Belichick has been known to take away what a team does best, so it will be interesting to see if Lamar Jackson can beat this vaunted Patriots unit with his arm in Week 9. Jackson is still probably good enough to start, but I wouldn't be expecting him to play savior for me again this weekend.
Mark Ingram (RB, BAL)
I know I keep harping on the fact that the New England Patriots haven't played many real teams this season, but it is noteworthy when you have to take on your first real test. The Patriots have faced the fifth easiest schedule of opposing run offenses this season but were slashed last weekend against who I would consider their best opponent of the year and gave up 7.2 yards a carry on a 55% success rate. Mark Ingram is dangerous to start if the Patriots Defense proves to be legit, but there is more of an opening than might meet the eye.
Julian Edelman / Phillip Dorsett  / Mohamed Sanu (WR, NE)
It looks as if CB Jimmy Smith will be back, which is a huge upgrade for the Baltimore Ravens. Through 12 games last season of the 31-year-old being active, the team ranked first in passing success rate. In 2017, Smith played in 11 games, and the Ravens were third in passing success rate - holding opponents to a 40% success rate through the air. The addition of Marcus Peters and the shutdown nature of Marlon Humphrey will make this defense difficult to beat if Smith can play, and Julian Edelman, Mohamed Sanu and Phillip Dorsett should be downgraded to account for the matchup. Dorsett and Sanu are fringey flex options, while Edelman is more of a back-end WR2 this week.
Marquise Brown (WR, BAL)
The bye week came at a good time for Marquise Brown, who was given an extra week to heal up and get his rookie season back on track. If he is able to suit up on Sunday night, Brown would carry some flex appeal, but it is still a dangerous matchup against a defense that currently ranks second in fantasy points surrendered to wideouts.
***UPDATE: Marquise Brown's official injury status heading into the weekend is questionable, but according to the report on ESPN's fantasy app, John Harbaugh expects him to play. Considering the Sunday night start time, it will be difficult for fantasy owners to justify waiting all day on a final decision regarding Brown.
Mark Andrews (TE, BAL)
The Patriots haven't faced a notable TE this season, which would make some sense as to why they are ranked first in the league against the position. At the end of the day, Mark Andrews hasn't received less than seven targets in any game this year and will have to be rolled out as a TE1 choice. Is the matchup good? No. But Baltimore will have some openings to find success.
More Start/Sit Advice