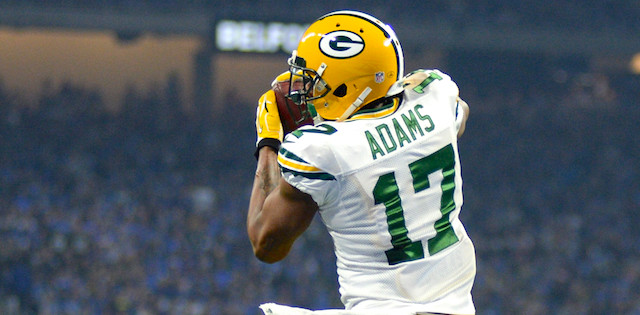 Welcome to our Week 14 matchup analysis and start/sit column for fantasy football. We'll be covering every single contest from the Sunday slate in one convenient location, helping you make the best decisions for your fantasy lineups. Be sure to check back regularly because this article will be updated as news comes in regarding injuries and other important information.
Spencer Aguiar will start off by covering the first set of games that begin at 1:00 PM ET on Sunday, and Chris O'Reilly will take you home with his analysis of the late afternoon and evening games.
If you have any additional lineup questions, follow us on Twitter @Teeoffsports and @cjoreillyCLE and feel free to ask away! Without further ado, let's get started.
Editor's Note: Get any rest-of-season NFL Premium Pass for 50% off. Our exclusive DFS Tools, Lineup Optimizer and Premium DFS Research through the Super Bowl.
Sign Up Now!
Matchups Analysis - 1:00 PM ET Games

Carolina Panthers at Atlanta Falcons
Matchups We Love:
Devonta Freeman (RB, ATL)
While Devonta Freeman's season can only be classified as a disappointment, some signs of life were shown on Thanksgiving's game against the New Orleans Saints. Freeman was given a season-high 17 carries, despite the fact that the Falcons trailed from practically the opening minute. Yes, some of the increased usage can be placed on Julio Jones missing the game, but Freeman appears to be past the foot ailment that cost him two games. With an extra few days to rest up, Freeman does enter the RB1 conversation against a Carolina Panthers squad that just allowed 242 yards and three scores to the Washington Redskins.
Christian McCaffrey (RB, CAR)
In PPR settings, ESPN currently has Christian McCaffrey at an extreme projection of 28.2 points. I am not sure we will see him reach that total, but it is impossible to bet against McCaffrey and his 29.5-point per game average in 2019. If you made your playoffs and own McCaffrey, you don't need me telling you that he needs to be in your lineup.
Julio Jones (WR, ATL)
Assuming Julio Jones plays, don't leave your stud on the bench for your opening-round matchup. Nothing is worse than losing a contest because you overthink the situation, so as long as we don't hear rumors of Jones being severely limited if active, play your first or second-round pick in Week 14.
UPDATE: Julio Jones is active for Week 14. 
Matchups We Hate:
None
Other Matchups:
Matt Ryan (QB, ATL)
It may feel difficult to trust Matt Ryan after he has thrown just five touchdown passes in his previous five games, but owners are going to need to have their blinders on and quickly forget about some of the veteran QBs recent mishaps. For all the negatives we can take away from the Falcons' Thursday night loss at home to the New Orleans Saints, there are two positives we should look into. For starters, Atlanta did show fight and resolve that they have not quit on the season, even though their paltry record may indicate otherwise. And star wideout Julio Jones should be back to take on a middling passing defense that has allowed 46% of passing plays to grade out successfully - 14th in the league. Starting Ryan might feel gross, but there is enough upside to warrant QB1 potential.
Kyle Allen (QB, CAR)
After a four-week stretch that saw Kyle Allen average 8.6 fantasy points per contest, the second-year QB has bounced back with two straight 23+ point showings against the Saints and Redskins. This week, Allen will get a bottom-five passing defense in terms of fantasy points surrendered to the position, as the Falcons have given up nearly 22 points per game to opposing quarterbacks on the year. That may feel like Allen is in a situation to be all systems go for your fantasy squad, but I would be careful in treating him better than anything above a mid-end QB2. Allen was only able to put up 5.7 points in standard leagues when these two teams met in Week 11, and the firing of head coach Ron Rivera should produce a more conservative gameplan.  None of that means I am avoiding him if I don't have alternate options, but he is a bench piece for most teams in one-QB settings.
D.J. Moore (WR, CAR)
DJ Moore has recorded at least 70 receiving yards in seven of the last eight games and is averaging 103.4 yards per game over the last five contests. His 29 receptions in his past four games place him in a share of fourth for most catches, and he draws a winnable matchup against the Atlanta Falcons. I do downgrade Moore slightly with the ousting of head coach Ron Rivera, but you are going to have to roll with the second-year wideout as a WR2 on Sunday.
Curtis Samuel (WR, CAR)
If my season was on the line in a Week 14 playoff contest, I would feel great trepidation in trusting Curtis Samuel. I do think teams that need a swing for the fence option can justify playing the former Ohio State product, but Samuel is stuck as nothing better than a flex possibility because of Kyle Allen's inability to stretch defenses with deep throws. There is always a chance we see him match his four-catch, 25-yard Week 11 showing against the Falcons, and that scares me when accessing this game.
Calvin Ridley / Russell Gage (WR, ATL)
Calvin Ridley has caught fire in his last three games, securing 22 catches for 319 yards and two scores. If you own Ridley, treat him as a WR2 against a beatable Panthers secondary. As for Russell Gage, keep an eye on Julio Jones' status. If Jones plays, targets could be sparse. Assuming Jones is active, Gage is a low-end flex option.
Austin Hooper (TE, ATL)
Perhaps just in time for the playoffs, Austin Hooper looks like he could be back from a knee injury that sidelined him three weeks. While a matchup against the Panthers is not quite ideal, you are going to have to roll with Hooper as your TE in most situations.
UPDATE: Austin Hooper will be returning to the starting lineup. This is a big boost for fantasy owners. 
Greg Olsen (TE, CAR)
Greg Olsen left the Panthers' Week 13 game with a concussion, leaving his status for Week 14 up in the air. Olsen has transformed into a security blanket for Kyle Allen late in the season and has amassed 25 targets in his previous four games. A loss of Olsen would be another downgrade for Allen's prospects this weekend and is a situation worth monitoring.
UPDATE: Greg Olsen has been ruled out for Sunday. 
Indianapolis Colts at Tampa Bay Buccaneers
Matchups We Love:
Chris Godwin / Mike Evans (WR, TB)
Who will Jameis Winston favor on Sunday? That is starting to become the million-dollar question that only Winston has the answer to. With Chris Godwin and Mike Evans ranked as the number two and three PPR wideouts in 2019, you will need to treat both as WR1s and hope your man is the one that is in Winston's good graces in Week 14.
Jack Doyle (TE, IND)
Without Eric Ebron there to vulture targets away, Jack Doyle emerged as a TE1 in Week 13, catching six passes for 73 yards and a score. Owners of Doyle should continue to treat their new star this way, and a matchup against the Bucs won't hurt the matter. If you were struggling for TE production and were lucky enough to snag Doyle off the waiver wire or had him on your bench, congratulations. You might have found the answer to your issues at the tight end position.
Matchups We Hate:
Peyton Barber (RB, TB)
The consensus is that Peyton Barber stole the show last weekend against the Jacksonville Jaguars with his 18.4 point PPR showing, but let's not forget that he only rushed for 44 yards on 17 carries and was bailed out by two short touchdowns and a two-point conversion run. Despite his best fantasy output of the season, Barber remains nothing more than a body to own for depth, and I wouldn't trust him to replicate his results in back-to-back weeks.
Marlon Mack (RB, IND)
Marlon Mack is trending closer towards being active after suffering a broken hand in Week 11, but a matchup against the Tampa Bay Buccaneers is far from ideal. The Bucs rank third in the NFL in PPR points surrendered and second in success rate against the rush. There is a chance that the game script might dictate that the Colts are behind, which even further adds to the murky outlook for Mack. Desperate teams can view him as an RB3, but I'd prefer to keep him on my bench if possible.
UPDATE: Marlon Mack has been given full clearance to practice and will be active on Sunday. 
Jonathan Williams / Jordan Wilkins (RB, IND)
If Marlon Mack plays, both Jonathan Williams and Jordan Wilkins are obviously nothing more than bench depth, but this outlook is meant to focus more on if Mack is inactive. I prefer Wilkins in that situation since the team did give him more of a meaningful workload last weekend, but the touches are too up in the air to trust either player. It doesn't mean that one won't emerge from the pack, but it's a risky proposition to take.
Other Matchups:
Jameis Winston (QB, TB)
Bad Jameis was out in full force during Week 13, scoring just 10.7 points in standard leagues on the day. Ironically, Winston did not add to his league-leading 20 INTs, but he did fail to throw a touchdown for the first time this season. Trusting Winston in a must-win situation is always difficult to stomach, but there is enough volume there for owners to bite the bullet and hope for QB1 numbers.
Jacoby Brissett (QB, IND)
Even though fantasy points didn't necessarily follow, Jacoby Brissett provided his best game in recent weeks, surpassing 300 yards through the air for just the third time this season. That positive momentum might be able to continue in Week 14 against a Tampa Bay Buccaneers squad that excels in stopping the run but can be beaten by the pass. The Colts are currently three-point underdogs on the road, and anytime Brissett gets an increase in throwing the football, his fantasy value goes up. None of this makes him better than a QB2, but two-QB owners should consider him if they are in a pinch.
Ronald Jones II (RB, TB)
So much for Ronald Jones being named the starter a few weeks ago. The former USC back was only able to compile six carries in Week 13, rushing for a grand total of eight yards. His paltry performance marks the third consecutive poor showing, although it is difficult to draw too many conclusions from the game last week. Peyton Barber was given a larger role after finding success on the ground early, and head coach Bruce Arians has been transparent all season with his motto that the back with the hot hand will take the lead. I wouldn't give up on Jones entirely, but he is difficult to trust as anything more than a flex play for the time being.
Nyheim Hines (RB, IND)
I don't mind viewing Nyheim Hines as a poor mans James White this weekend against the Tampa Bay Buccaneers. There should be some usage for him through the air, and I could see him putting together around a 10 points in PPR leagues. Unfortunately, that isn't necessarily the upside most owners will be looking for, which makes him more of a low-end flex option than anything else.
T.Y. Hilton (WR, IND)
Head coach Frank Reich said that the team is hopeful that T.Y. Hilton can return to the field this season. That isn't encouraging news when it comes to his Week 14 status, so you should probably begin making other plans.
UPDATE: T.Y. Hilton has been ruled out
Zach Pascal (WR, IND)
Zach Pascal hauled in seven receptions on his 10 targets for 109 yards in Week 13. Injuries to T.Y. Hilton, Parris Campbell and Chester Rogers helped to ascend Pascal to the top of the depth chart, and he has shown this season that he does have fantasy value when given a chance. Owners of Pascal will need to see if the three men mentioned above will be active on Sunday because if they aren't, there is some WR3 value available. I would just be careful in assuming that this sort of production can be trusted on a weekly basis.
UPDATE: Parris Campbell is practicing and looks like he will make his return. 
O.J. Howard (TE, TB)
I am sure O.J. Howard has one last trick up his sleeve to scorn fantasy owners one more time in 2019. Howard did look decent last weekend by catching five balls for 61 yards, but the TE has failed to put together two quality performances back-to-back this season. Can it happen? Sure. But I am not counting on it.
Miami Dolphins at New York Jets
Matchups We Love:
Jamison Crowder (WR, NYJ)
I'm willing to excuse Jamison Crowder for his poor run in the past two weeks because we haven't seen a massive dip in his target share. Crowder has averaged slightly over 7 targets per game this season and has still accumulated 6.5 per contest during his unfortunate recent performances. The wideout torched the Dolphins in Week 9 with eight catches for 83 yards and a score and does bring WR2 value on Sunday.
Matchups We Hate:
Patrick Laird / Zach Zenner / Myles Gaskins (RB, MIA)
How do you replace Kalen Ballage if you are the Dolphins? You insert Patrick Laird, who rushed for five yards on 10 attempts in Week 13. Ah, it must feel like a familiar sight for head coach Brian Flores. All jokes aside, Miami's running game has been historically bad in 2019, with the team averaging 3.1 yards per carry on 242 attempts. Ballage's 1.8 yards per rush on 74 handoffs has plummeted the number slightly, but it has been a collective effort all season long. Laird has shown some upside as the teams' third-down back after catching 10 passes in the past three games, but the Dolphins will need someone to handle the rock between the tackle. Perhaps it will be newly signed Zach Zenner, or maybe the team decides to give Myles Gaskins a shot at the job. Regardless of who it ends up being, I prefer a wait and see approach before inserting anyone into my lineup for a critical Week 14 playoff contest.
Other Matchups:
Ryan Fitzpatrick (QB, MIA)
I'm not so sure you can count on Ryan Fitzpatrick for any sort of a floor, but desperate owners might be able to play the veteran QB on multiple occasions down the stretch. The Dolphins take on the Jets, Giants and Bengals between Weeks 14-16, and there may still be a little magic left in the air. I am a pretty firm believer that how aggressive of a route you need to take with your lineup comes down to how likely you are to win your matchup, so I am not so sure I'd be playing Fitzpatrick if I am comfortable with my chances that week. However, if you are looking for a swing for the fence QB to try and exceed 20 points, Fitzpatrick might be your man. With all that being said, he should still be considered a volatile QB2.
Sam Darnold (QB, NYJ)
Sam Darnold emerged from Week 13s 22-6 loss at Cincinnati with a knee injury and bruised ribs but is expected to be fine for this Sunday. It has been a rollercoaster of a ride for Darnold in 2019, which is shown by the second-year QB scoring either 13 or fewer or 20 or more fantasy points in every start but once this season. Many owners will want to take on the lowly Miami Dolphins when given a chance, but Darnold should be relegated into QB2 status due to his volatile nature.
Le'Veon Bell (RB, NYJ)
It hasn't been a great season for Le'Veon Bell behind a deficient Jets offensive line, but the former All-Pro back has been able to salvage some fantasy success because of his usage through the air. Bell's 55 catches in 2019 has him ranked in sixth place amongst all RBs, and a matchup against the struggling Miami Dolphins may be good enough for us to see a vintage performance out of the 27-year-old. Consider Bell to be an RB1 in Week 14.
UPDATE: Le'Veon Bell has been downgraded to out for Sunday with an illness. Bilal Powell is the member of the backfield you should pick up if you are desperate for a body, but I'd be careful in overvaluing his prospects in Week 14. The game is against Miami, and there is a chance for production, but this could just as easily blow up in your face because of an unknown usage rate. Will the Jets keep him as a change-of-pace back? It is possible and makes it hesitant to trust him. 
Robby Anderson (WR, NYJ)
For as much as I want to believe Robby Anderson has turned the corner, consider me slightly pessimistic. Anderson's 11 catches and 187 yards in the past two weeks is encouraging, but we are only a few weeks removed from the five-week stretch that saw him catch nine total passes for 103 yards. There is definitely some WR3/flex appeal against a soft Dolphins secondary, but there is always a possibility that the roof caves in on Anderson and your fantasy season. Proceed with caution.
Devante Parker (WR, MIA)
DeVante Parker's stigma hasn't allowed fantasy participants to truly appreciate just how good he has been in 2019. Parker has reached double-digits in PPR scoring in his past nine contests and has been the fourth-ranked PPR WR since Week 6. I've reached the point where I am ok with recommending the former Louisville pass-catcher as a WR2 down the stretch of the season.
Albert Wilson (WR, MIA)
It appears as if Albert Wilson is finally starting to get some momentum as the season comes to a close. Eleven receptions in his past two games shouldn't be scoffed at, but Wilson has struggled to do much with those catches, failing to exceed 33 yards in a game this year. If you want a low-end flex option that can settle around 10 points, Wilson may be your guy. However, if you are looking for more, I'd look elsewhere.
Ryan Griffin (TE, NYJ)
Ryan Griffin missed practice on Wednesday with an illness but should be healthy enough to go by Sunday. Assuming he does play Griffin has turned into a low-end TE1 in recent weeks, scoring eight or might PPR points in five of the last six games.
Mike Gesicki (TE, MIA)
Make that five straight games that Mike Gesicki has received at least six targets. The second-year TE has come on strong recently, and it hasn't hurt that he has been able to find the endzone in each of his last two tilts. If you have been scrambling to find a TE1 producer, Gesicki is a reasonable choice to reach that territory again in Week 14.
San Francisco 49ers at New Orleans Saints
Matchups We Love:
Alvin Kamara (RB, NO)
Alvin Kamara's biggest setback in 2019, aside from his injury-plagued campaign, has been his lack of finding the endzone. Kamara has been a dynamo early in his career with 33 touchdowns in 41 career games, but you wouldn't realize that was his average with just two scores to speak of this season. With that being said, a matchup against the 49ers should allow New Orleans to utilize Kamara, as it seems likely the 49ers will attempt to stop Michael Thomas' production as much as they can. I'll assume most owners aren't actually considering benching Kamara with his difficult matchup, but there is more upside available than it may appear on paper.
Matchups We Hate:
Jimmy Garoppolo (QB, SF)

Jimmy Garoppolo has been boom-or-bust this season, and if the San Francisco 49ers want any chance for the one seed in the NFC, look for them to use their running game to control the tempo on the road. The Saints have been equally difficult defensively against both the pass and run, and it seems in the 49ers' best interest to limit Garoppolo's attempts. There is always a chance that the game script works in his favor, but there are too many possible outcomes for me to feel comfortable starting him with my season on the line.
Raheem Mostert (RB, SF)
See post on Tevin Coleman and Matt Breida.
Latavius Murray (RB, NO)
Even though Alvin Kamara hasn't had the season everyone expected in 2019, Latavius Murray isn't quite setting the league on fire either. Murray has received just 11 total touches in the past two games, and it seems as if the Saints are starting to take an approach that Kamara is about to be unleashed. That leaves Murray in a touchdown-dependent state, and I wouldn't bet against Kamara being the one that receives an extra workload in scoring situations. I'm leaving Murray on my bench if I can possibly avoid playing him.
Deebo Samuel (WR, SF)
I am not going to talk you out of playing Deebo Samuel if you are in a tight spot with no other flex options to speak of, but you might want to look at his actual game logs from the past few games before placing him in your lineup just because of a few inflated point totals. Samuel has received just six targets in the last two games and has been bailed out with touchdowns in each outing. The Saints are one of the better defenses against the pass in the NFL, and this game has the makings to be a letdown for the explosive rookie.
Other Matchups:
Drew Brees (QB, NO)
Drawing the San Francisco 49ers is a tough break for fantasy owners of Drew Brees in Week 14. Only the New England Patriots have allowed fewer points to the position, with only five of 12 quarterbacks exceeding 15 points in standard leagues this year. That obviously isn't the most encouraging news for Brees and company, but the 49ers have given up four of those situations in the past five weeks. Brees is good enough to warrant back-end QB1 consideration, but I wouldn't hesitate to make a switch if you have another quality option sitting on your bench.
Tevin Coleman / Matt Breida (RB, SF)
I want to pump the brakes on this idea that Raheem Mostert has become fantasy viable after taking 19 carries for 146 yards and a score in Week 13. First and foremost, Mostert is best utilized for the 49ers as a special teams player and has been a quality asset in that role for them this season. This idea that he has now overtaken Coleman and Breida is slightly preposterous to me, although I wouldn't necessarily discount his ability to pilfer scoring chances away at times. Assuming Breida is able to make his return, look for Mostert to be relegated to some short-yardage work and for Coleman and Breida to handle the majority of the workload. That might not account for as much upside as usual against a stingy Saints Defense that hasn't allowed a 100-yard rusher in 34 straight games, so let's downgrade this whole backfield a touch in Week 14.
Michael Thomas (WR, NO)
At least we found out Michael Thomas is human last weekend during his season-low 48-yard performance on Thanksgiving against the Falcons. The 49ers aren't a great bounce-back spot, and I do believe we see San Francisco try to prevent Thomas from being the one to beat them, but itis not as if you are going to bench Thomas during a playoff game. I do downgrade him slightly, but he is a WR1 every time he suits up this season.
Emmanuel Sanders (WR, SF)
After an explosive coming out party in his San Francisco debut, Emmanuel Sanders has been limited by the teams' inefficient passing game. Sanders has caught just 10 balls in his previous four games, scoring no touchdowns and failing to break 41 yards. The 49ers might decide to get him involved a little more on Sunday, but downgrade Sanders into the flex range for the time being.
Jared Cook (TE, NO)
New Orleans' lack of a second playmaker on the outside has given Jared Cook some chances to succeed in recent weeks. Cook has received at least six targets in three of his past four outings and has provided four scores in his last six games. A contest against the 49ers is less than ideal, but the big man has earned TE1 consideration.
George Kittle (TE, SF)
Don't let George Kittle's poor performance in Week 13 dissuade you from using him against the Saints. Benching Kittle is asinine and can not be condoned. He is one of the best tight ends in football and is a must-start any time he steps on the field.
Detroit Lions at Minnesota Vikings
Matchups We Love:
None
Matchups We Hate:
David Blough (QB, DET)
David Blough was a good story on Thanksgiving for the Detroit Lions, but I would be careful in trying to catch lightning in a bottle once again. Blough impressed in the first half, throwing for 179 and two scores but came back down to earth after the Bears were able to get some real-life footage of him and ended the second half with just 101 yards, zero TDs and one INT. Minnesota gives Blough another difficult test, and it seems likely that the Vikings will use the footage they have of him against an NFL defense to their favor. I am leaving the rookie on my bench in all settings.
Bo Scarbrough (RB, DET)
As a real-life NFL RB, Bo Scarbrough has done a solid job during his three games. The second-year back has rushed for 236 yards on 56 carries and was able to find the endzone in Week 11 against the Cowboys. The issue for fantasy owners, especially those in PPR leagues, is that the former Bama back has failed to haul in a reception. In a game where the Detroit Lions could be trailing badly on the road, Scarbrough should be viewed as nothing better than an RB4 because of his lack of usage on passing downs.
Other Matchups:
Kirk Cousins (QB, MIN)
Kirk Cousins erupted in Week 7 for 338 yards, four TDs and no INTs the first time these two teams met but we might want to lower expectations slightly for their Week 14 tilt. Don't get me wrong, I like the matchup for Cousins and believe he deserves QB1 consideration, but this game has a chance to get ugly fast, which would limit how often we see the Vikings drop back to pass. Perhaps Dalvin Cook's injury allows Minnesota to be a little more aggressive offensively, but consider Cousins a safe QB2 with QB1 upside.
J.D. McKissic (RB, DET)
With Bo Scarbrough being non-existent in the passing game, J.D. McKissic does carry some flex appeal on Sunday. McKissic has managed to bring in 20 catches in his past six games and may see extra playing time if the Lions get down early. That is good enough to make the 26-year-old a back-end RB3 with a little upside.
Dalvin Cook / Alexander Mattison (RB, MIN)
I assume this was the reaction that every owner of Dalvin Cook felt when they saw their star back writhing around in pain on the field on Monday night. The injury didn't look like much to the naked eye, but it does make sense that Cook felt some discomfort after explaining that he initially suffered the injury in Week 11 against the Denver Broncos. It wouldn't shock me if we see the Vikings decide to use a little load management if they go up early in the game, so fantasy owners of Cook might want to temper expectations slightly. I am still treating him as an RB1, but we might be looking at a lesser load than usual. As for Alexander Mattison, his value will be predicated on just how much work the Vikings decide to give Cook. I'm ok viewing the rookie as a back-end RB3 for managers in deeper leagues, but a handful of things will have to break right for him to be unleashed for over 10 points.
Kenny Golladay / Marvin Jones Jr. / Danny Amendola (WR, DET)
I decided to leave Kenny Golladay off the hate list after his four-catch, 158-yard and one score performance on Thanksgiving, but that doesn't mean I still wouldn't proceed with caution in Week 14. Golladay will be without Matthew Stafford, who presents extra volume to the offense, and the lack of targets with David Blough under center doesn't bode well for his 55% catch rate in 2019. The whole offense makes for a risky play if Blough takes some steps backward in his second start, but the routes that Marvin Jones has run this season do seem to be slightly more conducive to find weekly success. Consider both Golladay and Jones flex options, while Amendola is a low-volume WR4.
Stefon Diggs (WR, MIN)
It looks as if the Vikings will be without Adam Thielen for at least one more week after the star wideout has failed to get in practice time as of Thursday. That will leave Stefon Diggs with the difficult task of going against CB Darius Slay, but despite the tough matchup, consider Diggs a low-end WR2 on Sunday.
UPDATE: Adam Thielen remains doubtful for the contest on Sunday. 
Logan Thomas (TE, DET)
With T.J. Hockenson placed on IR, Logan Thomas will get a chance to see what he can do as the lead TE for the Detroit Lions. Inexperienced QBs often look for tight ends to bail them out when protection fails around them, and Blough did do just that with Hockenson in Week 13. It remains to be seen if Thomas can find a similar connection with the rookie, but he is a name to keep an eye on if you are desperate for help at the position.
Kyle Rudolph (TE, MIN)
Kyle Rudolph has become the king of the one-handed touchdown catch in recent weeks. The big-body TE was able to snag another beautiful score in Week 13, making it six touchdowns in his previous six games. Adam Thielen's injury has opened up Rudulph to become a viable TE1 again. and he will look to keep the momentum rolling against a Detroit squad that has been beaten on multiple occasions this season, which includes by Rudulph in Week 7.
Denver Broncos at Houston Texans
Matchups We Love:
None
Matchups We Hate:
Drew Lock (QB, DEN) 
Drew Lock became the third Denver Broncos signal-caller since the merger to produce a game-winning drive in his first career start, joining Trevor Siemian and Craig Penrose as the only members of the club to accomplish this feat. That should provide the Broncos with some encouragement going forward, but there are still negatives that Lock will need to fix. The rookie averaged fewer than five yards per attempt and struggled to find a rhythm with any pass-catcher not named Courtland Sutton. The Texans' defense just slowed down Tom Brady and should do the same to Lock on Sunday.
Royce Freeman (RB, DEN) 
See post on Phillip Lindsay.
All Denver Wideouts Not Named Courtland Sutton (WR, DEN) 
Things will improve for everyone as QB Drew Lock becomes more acclimated with the offense, but I'd prefer to take a wait-and-see approach for all wideouts not named Courtland Sutton.
Other Matchups:
Deshaun Watson (QB, HOU) 
Deshaun Watson draws a stingy Denver Broncos Defense in Week 14, but unless you have an additional top player at the position on your bench, you are going to have to close your eyes and hope for the best. The last thing you want to do is bench your studs when the games matter most, and it is worth noting that the Broncos have allowed four straight QBs to go over 16 fantasy points. Like always, Watson is a QB1 anytime he is healthy enough to play.
Phillip Lindsay (RB, DEN) 
It has become clear in the past few weeks that Phillip Lindsay has taken over in the backfield from Royce Freeman. Lindsay has out-touched Freeman by 10 touches per game (17.3 to 7.3), but it sadly hasn't turned into fantasy production. Houston has been solid against the run in 2019, which does limit Lindsay's ceiling, but his floor is still high enough to justify borderline RB2 value or flex potential.
Carlos Hyde / Duke Johnson (RB, HOU) 
Game flow has been critical for both Carlos Hyde and Duke Johnson this season, as Hyde and Johnson have seen vastly different roles when the team is trailing or ahead. A showdown against the Denver Broncos does seem like it would be better for Hyde and could leave Johnson in a precarious position where he doesn't receive enough snaps to support being started. I would view Hyde as a back-end RB2/ high-end RB3, whereas Johnson might disappoint after his massive showing against the Patriots last weekend.
Courtland Sutton (WR, DEN) 
Even though Drew Lock didn't do much in his first start last Sunday, that didn't stop Courtland Sutton from surpassing 20 PPR points on the day. Sutton caught four passes for 74 yards, hauling in two touchdowns in the process. There will be some ups-and-downs for Denver's offense under Lock, but Sutton is the closest thing to stable that the team has. Consider him a back-end WR2 with upside.
DeAndre Hopkins (WR, HOU) 
Fantasy owners need to survive one more week of DeAndre Hopkins playing an upper-echelon defense before getting to take on the Titans and Bucs in Weeks 15 and 16. That doesn't quite help create peace of mind if you can't advance past your fantasy game this weekend, but you are going to have to roll with Hopkins and hope for the best. There are just too many targets going his way to consider anything else.
Will Fuller (WR, HOU) 
Will Fuller is always a little too volatile for my liking, especially when he takes on a difficult defense like the Broncos. If we exclude his two explosions against the Colts and the Falcons, Fuller has failed to surpass 10.1 PPR points in any other contest. It is not impossible for Fuller to beat a top-10 passing defense, as was evident by his seven-catch, 140-yard effort against Indianapolis, but I am only playing him if I feel like I need a desperation swing for the fence.
Darren Fells (TE, HOU) 
Darren Fells is splitting playing time with Jordan Akins at almost a 50/50 clip right now, which limits the upside of either player. Fells would be the one you want to start because of his rapport in goal-line situations with Deshaun Watson, but it must be noted that the Broncos have only allowed three touchdowns to tight ends in 2019. You can probably find a better alternative this week on your bench or waiver wire.
Noah Fant (TE, DEN) 
Noah Fant averaged 13 yards per air target during the teams' Week 13 win over the Los Angeles Chargers, but it didn't amount to much on the day. If Fant's targets can increase from the three he received last Sunday, there is some hope that we see the rookie TE bounce back with a decent showing.
Baltimore Ravens at Buffalo Bills
Matchups We Love:
None
Matchups We Hate:
Marquise Brown (WR, BAL) 
The best way to try and beat the Buffalo Bills is on the ground with a hard-nosed running style. That doesn't bode well for any of the Ravens' wideouts in Week 14, but Marquise Brown is the only one that has shown to be startable on occasions. Brown's ankle injury does add to my concerns slightly, but this feels like a letdown spot in a pivotal fantasy game.
Other Matchups:
Lamar Jackson (QB, BAL) 
It is at least worth noting that the Buffalo Bills have only allowed two QBs to go over 20 fantasy points in standard settings in a game this season. One time came against the Miami Dolphins in Week 7, and the additional outing was last weekend when Dak Prescott put together a few meaningless drives to get himself over the total. There is always a chance that you drafted Lamar Jackson late and were never able to move your other premium QB, but the second-year star is going to pretty much be a lock for your lineup in Week 14.
Josh Allen (QB, BUF) 
Since Buffalo's bye in Week 6, Josh Allen has outscored every fantasy QB in the league not named Lamar Jackson and has averaged nearly 23 points put outing. Allen has turned a corner this season with his 11:1 TD/INT ratio in the past seven weeks, but Sunday's showdown against the Baltimore Ravens will be no piece of cake. Baltimore has not allowed a QB to surpass 15 fantasy points in eight straight weeks, although Allen's legs don't make him quite like every other QB. Unless, of course, you are looking at his opponent this weekend. There is some risk involved, but Allen should be viewed as a back-end QB1.
Mark Ingram (RB, BAL) 
Mark Ingram's value has started to be slightly warped into finding the endzone because of his lack of usage through the passing game, but his 12 scores on the year are encouraging. It seems likely that the Ravens and Bills will be apart of a grind it out affair in Week 14, so Ingram should be able to receive enough volume to be trusted as an RB2. Just realize that his floor does sink every time he doesn't score.
Devin Singletary (RB, BUF) 
A surprising amount of efficiency as a receiving threat has helped Devin Singletary propel to the next level. The Ravens haven't allowed many receptions to backfields this season but have yielded nearly eight yards per catch to backs in 2019. Singletary is far from a pass-catching specialist at this stage of his career, but his expanded role on the receiving front does make him a player to consider for your flex spot.
John Brown (WR, BUF) 
Revenge game for John Brown? I am not so sure I would go that far, but Baltimore hasn't been immune to the occasional slip-up this season, with the team ranking 17th in explosive passing plays allowed. The Bills want to run the football and surprise you on deep passes, so I wouldn't discount Brown's chances of catching the Ravens sleeping on a few occasions. Mark him in as a low-end WR2.
Cole Beasley (WR, BUF) 
Cole Beasley won't often lead the Bills in targets as he did in Week 13, but he is a decent streaming option in deeper leagues. Beasley has recorded double-digit points in five of his last seven games and does have a moderately high floor with the way he is used in Buffalo's offense.
Mark Andrew (TE, BAL) 
Buffalo hasn't played the most challenging schedule of tight ends this year, but they have given up almost 34% fewer points than leave average in PPR leagues. You can chalk some of that up to their strength of schedule, but it is still impressive that the Cowboys were the first team to exceed 15.2 PPR points at the position last weekend (21.1). Mark Andrews does share some of the duties with Hayden Hurst and Nick Boyle, but you should be able to slot Andrews into his typical TE1 role this Sunday.
Cincinnati Bengals at Cleveland Browns
Matchups We Love:
Joe Mixon (RB, CIN) 
A change from Ryan Finley to Andy Dalton should continue to help Joe Mixon receive extra work through the air down the stretch of the season. Mixon had only caught three balls from Weeks 10 to 12, but Dalton was able to infuse a little life back into the passing game, which allowed the former Oklahoma RB to tie his season-high of four receptions in a game. Mixon has produced four games of at least 17 PPR points in his past five contests and should be able to find some success against a Browns Defense that ranks 16th in rushing success rate.
Nick Chubb (RB, CLE) 
The emergence of Kareem Hunt has cut into the ceiling of Nick Chubb as of late. Chubb has lost nearly all the passing work he was getting early in the year and has become touchdown-dependent if he wants to find success. With that said, a matchup against Cincinnatti should be just what the doctor ordered, as the Bengals have allowed over 50% of rushes to grade out successfully - 25th best in the NFL. I'd venture to say Chubb is a lock for 20 touches on Sunday and is a favorite to find the endzone.
Matchups We Hate:
Andy Dalton (QB, CIN) 
Making his first start since Week 8, Andy Dalton produced his 198th career touchdown pass in Week 13 - helping to lead the Bengals to their first victory of the season. However, all the celebration might be quickly spoiled in Week 14, as the Browns produce the sixth-highest pressure rate in the league. Add to that the fact that Cleveland features a top-10 unit against the pass, and you begin to paint a picture that Dalton should be left on your waiver wire.
Auden Tate / Alex Erickson / John Ross (WR, CIN) 
In a game where running attempts will most likely be up for both sides, John Ross, Auden Tate and Alex Erickson make for risky plays this week. Tate has transformed into a human highlight reel with some of his grabs this year, but the routine catch has often troubled him. Ross might be able to continue his early-season form but makes for an impossible start after not taking the field since Week 4. And as for Erickson, his three-week surge appears to have been nothing more than a fluke, and you should leave him on the waiver wire in all settings. Perhaps Tate or Ross will garner some value down the stretch, but I'd prefer to take a wait-and-see approach.
Tyler Eifert/C.J. Uzomah (TE, CIN)
Andy Dalton's return wasn't able to do much for Tyler Eifert, who only managed to catch one pass for 12 yards. C.J. Uzomah faired better on the day with five receptions for 51 yards, but the lack of consistency and interference in each others' playing time make them better left on the waiver wire than in your lineup.
Other Matchups:
Baker Mayfield (QB, CLE) 
Baker Mayfield hurt his thumb during Week 13s loss to the Pittsburgh Steelers but should be fine for the game on Sunday. If you were lucky enough to make your playoffs with Mayfield as your primary quarterback, congratulations on the superb managing of your squad. A matchup against the Cincinnati Bengals might look good on paper, but a cold-weather battle with a boom-or-bust QB is not what I want to risk my season on in Week 14 in one-QB settings.
Kareem Hunt (RB, CLE) 
We haven't seen a bad PPR game from Kareem Hunt as a member of the Cleveland Browns during his first four contests, and it is hard to find much to dislike in Week 14. If we are looking for a negative, it is possible that a run-heavy game script could take away some of Hunt's upside, but there is enough volume available through the air to ensure RB3/flex numbers.
Tyler Boyd (WR, CIN) 
I was calling Tyler Boyd a decent buy-low candidate even before Andy Dalton arrived back on the scene, but the reemergence of the "Red Rifle" should provide Boyd with both a higher ceiling and floor. A showdown against the Browns isn't ideal, but Boyd is the beneficiary of enough targets to warrant back-end WR2 or high-end WR3 numbers.
Odell Beckham / Jarvis Landry (WR, CLE)
Odell Beckham's disappointing season continued in Week 13, as the star wideout was only able to bring in three receptions for 29 yards against the Pittsburgh Steelers. Some of his issues should be chalked up to Baker Mayfield's mistakes, but I do believe Beckham's groin injury has hampered his route running ability slightly in 2019. The biggest beneficiary to this has been Jarvis Landry, who has excelled with 65 catches, 919 yards and five scores on the year. A clash against the Bengals might look good on paper, but there is some risk involved for both men on Sunday. Consider each as a low-end WR2, but there is a chance for more production to be had.
David Njoku (TE, CLE)
David Njoku got marginally close to returning last week from his wrist injury, but the TE ultimately was not able to give it a go. With no real indication that he has improved any in Week 14, I'd venture to guess that we see him held out of action once again. If he isn't able to take part in the festivities, Demetrius Harris and Ricky Seals-Jones would handle the majority of the reps.
UPDATE: David Njoku will make his long-awaited return and jumps into the TE1 conversation. 
Washington Redskins at Green Bay Packers
Matchups We Love:
Aaron Rodgers (QB, GB) 
Through rain, sleet or snow, Aaron Rodgers is capable of putting up top-notch fantasy numbers, as the future HOFer showed with his four touchdown onslaught of the New York Giants. There is a chance that a negative game script could hamper Rodgers' overall production if the game turns into a blowout early, but there is no other reason to dislike the Packers' QB at home against a defense that ranks in the bottom half of most passing metrics.
Aaron Jones (RB, GB) 
After two straight dud performances, Aaron Jones has the ultimate bounce-back spot against the Washington Redskins on Sunday. The Redskins have given up over 10% more points to the position than league average, and it seems probable that the Packers will be doing a lot of running in a game where they are nearly two-touchdown favorites.
Davante Adams (WR, GB) 
Everyone wants to keep talking about the down season Davante Adams is having, but the wideout has been prolific when healthy. We can harp on the fact that he hasn't exceeded 64 yards during his past two games, but Adams continues to show why he is one of the safest wideouts to own with his high target share and hefty red zone usage. Roll Adams out as a top-notch WR1 if you own him.
Matchups We Hate:
Dwayne Haskins (QB, WSH) 
Dwayne Haskins led the Washington Redskins to a victory in Week 13 but wasn't exactly efficient in doing so. The rookie finished the contest completing just 12 of 25 passes - good for 147 yards and no scores. Haskins shouldn't be making your lineup down the stretch of the season and is best left on the waiver wire.
Adrian Peterson (RB, WSH) 
I am not buying the resurgence of Adrian Peterson after torching the Panthers for 99 yards and a score in Week 13. I understand that Derrius Guice is not going to be handed the full playbook and suddenly given 20+ touches a week, but I am not sure what exactly you are hoping to accomplish if you start Peterson on Sunday. The veteran receives practically none of the passing down work and needs to find the endzone to return any sort of value. Playing catchup on Sunday doesn't exactly bode well for his playing time either, so consider me out.
Jimmy Graham (TE, GB) 
With just two catches in the past two games and a calf/wrist injury limiting him in practice, Jimmy Graham can be dropped and left on the waiver wire in most settings. It might seem outrageous that one of the best players that has ever played the position is droppable, but Graham has failed to exceed 10 points in any game where he hasn't caught a TD. Maybe he gets one on Sunday, but there are safer players available.
Other Matchups:
Jamaal Williams (RB, GB) 
Aaron Jones' recent stumbles have given Jamaal Williams a chance to take some work away, but it hasn't exactly resulted in the former BYU back stealing the job. Williams has been solid with a 4.38 average on the ground in his last three games to go along with 11 receptions, but until he is given a larger workload, it is impossible to trust him as anything more than a flex option in the perfect matchup. I would consider the Redskins to be a solid test for Williams, although some of his passing work might shrink if the game does get away from Washington early.
Derrius Guice / Chris Thompson (RB, WSH) 
The RB situation in Washington is a little muddled at the moment. Chris Thompson was barely used during his return last Sunday, and I would take a wait-and-see approach on the Redskins' top pass-catching back before inserting him into my lineup. As for Derrius Guice, the talent is obvious of what he can accomplish if he stays healthy, but he has yet to receive over 12 touches in his first three games. We can't be expecting him to break long runs for touchdowns weekly, so I'd prefer to treat him as an RB3 with upside in Week 14.
Terry McLaurin / Kelvin Harmon (WR, WSH) 
Dwayne Haskins has managed to sink the Terry McLaurin ship since taking over at QB for the Redskins. McLaurin has only scored double-digit points once in the last six weeks and has been held to under five catches five of those times. On the other hand, Kelvin Harmon has seen his stock slowly begin to rise with three straight performances of at least three catches, but he has failed to provide a robust showing so far this year. Dynasty owners might want to try and acquire Harmon when they get the chance, but he is best left on the waiver wire in redraft leagues. As for McLaurin, the rookie is so explosive that I don't want to count him out, but it is becoming more and more difficult to trust him with Haskins under center.

Allen Lazard / Geronimo Allison (WR, GB) 
Marques Valdes-Scantling seems to be completely out of the loop with just two catches in the last four weeks and can be dropped if you were still holding onto him from earlier in the year. That leaves Allen Lazard and Geronimo Allison to compete for duties alongside Davante Adams, and it has surprisingly been Lazard who has shown the most consistency. I'd prefer to leave both players on my bench, but Lazard isn't a horrible selection if you want to swing for the fence and hope for the best.
Matchups Analysis - 4:00 PM ET Games
Kansas City Chiefs at New England Patriots
Matchups We Love:
Sony Michel (RB, NE)
Even in a game his team lost by 31 points, Josh Jacobs was still able to rack up 104 rushing yards on 17 carries against the Chiefs last week. Despite the fact that New England is beginning to display some weaknesses of their own lately, the one thing we can always count on from Bill Belichick is to hit his opponents where they are most vulnerable. For Kansas City, that is undeniably on the ground. Sony Michel hasn't been an impressive runner by any stretch of the imagination, but expect him to see enough touches to take advantage of one of the most favorable RB matchups of the Week 14 slate.
James White (RB, NE)
In addition to being exploitable by the straight-up run, Kansas City hasn't fared much better against pass-catching running backs. The Chiefs have allowed the sixth-most receptions to RBs and the most receiving yards, along with five receiving touchdowns. James White is averaging nearly seven targets per game, and this one should feature enough scoring for him to hit the over on that. White becomes an especially valuable fantasy option if Sony Michel can't make good on the rushing matchup, so treat him as a high-end PPR play.
Travis Kelce (TE, KC)
This is one of those times where I'm not crazy about the matchup, but I don't see how else the Chiefs will sustain success on offense without heavily involving Travis Kelce. Kelce has seen at least eight targets in every game this season but two, and hasn't dropped below 62 receiving yards in any of his last five. He's also reappeared on the touchdown radar with two scores in his last three outings. Considering how well the Patriots shut down every other position in opposing offenses, I can see Kelce posting a new season-high in targets (which would be at least 11, if so), and we all know how capable he is of capitalizing on his chances.
Matchups We Hate:
Damien Williams/Darwin Thompson/LeSean McCoy (RB, KC)
Damien Williams sat out last week's game with a rib injury, and hasn't logged a practice this week. This potentially opens the door for a split between Darwin Thompson and LeSean McCoy, which at least produced two touchdowns in a lopsided Week 13 win. Whether Sunday yields a timeshare or someone in this backfield takes hold of a featured role, a matchup with the Patriots doesn't provide much in the form of optimism. New England is allowing an average of 75.3 rushing yards per game to RBs, and have allowed the position to score just two total touchdowns all season long. Given the constantly fluctuating touch counts of every RB in this backfield, it is tough to view any of them as anything higher than a touchdown-dependent flex option for Week 14.
Sammy Watkins / Mecole Hardman / Demarcus Robinson (WR, KC)
For an offense as explosive as Kansas City's can be, the Chiefs sure do have a lot of skill players who completely disappear from the game plan in any given week. The target share of Sammy Watkins over his last two games has knocked him onto the outside of the flex bubble. Demarcus Robinson hasn't been a factor in well over a month. Mecole Hardman has been equally unreliable of late with the exception of a few touchdowns sprinkled in here and there. All of this is reason enough for me to avoid them in Week 14. A matchup with the Patriots--who are holding WRs under 10 receptions per game and have permitted just two touchdowns to the position--seals the deal.
Other Matchups:
Tom Brady (QB, NE)
There are a handful of reasons this shouldn't come as much of a surprise (specifically his age and the Patriots' defense), but Tom Brady has been a mostly unexciting fantasy quarterback in 2019. After throwing multiple TDs in four of his first five games, he's accomplished the feat just twice since. What is surprising is that he's completing just 55% of throws in his last five games, which is a very un-Brady-like lack of efficiency. Regarding the matchup, I'd be surprised if we don't see an effort on New England's part to control the clock on the ground and keep the ball out of the hands of Patrick Mahomes. Brady has certainly been throwing enough lately that there will be opportunity here, and it wouldn't come as a shock if this game features a healthy bit of scoring. I just don't view Brady as the lock-and-load QB he once was.
Julian Edelman (WR, NE)
Julian Edelman has been on the injury report for seemingly the entire year, but hasn't missed a game. It's probably safe to ignore his questionable status. Assuming he plays, his targets per game average of 10.25 is enough to keep him firmly entrenched in WR2 territory in PPR leagues. The tougher sell is his matchup against a Chiefs team holding his position to the fewest receptions per game of any team in the league. Regardless, this is just one of those instances in which you have to place more weight on Edelman's season-long opportunity and production than on the matchup itself. He is averaging over seven receptions and 86 yards per game over his last eight, giving him a high enough floor to count on as the fantasy playoffs begin.
Mohamed Sanu / Phillip Dorsett / Jakobi Meyers (WR, NE)
As for the rest of Edelman's WR teammates, I'm hard-pressed to justify rolling any of them out there this week. It's hard to ignore that Jakobi Meyers is becoming more involved in New England's offense of late, but I don't know that it's enough to trust him in a playoff lineup. Phillip Dorsett continues to see somewhere in the neighborhood of five or six targets on a weekly basis, but his production hasn't been there outside of a couple of touchdowns in his last five games. Mohamed Sanu has only had one serviceable fantasy outing in four games since joining the Patriots, and he's been limited in practice this week with an ankle injury. Factor in a stingy Chiefs secondary, and I'm steering clear of this WR corps other than Edelman.
Rex Burkhead (RB, NE)
As fantastic as the matchup is, Rex Burkhead's opportunity just hasn't been there. It would be very much in line with what we've come to expect of the Patriots during the Belichick era if Burkhead suddenly saw 18 touches for no discernible reason on Sunday, but it's safe to regard him as a huge risk in fantasy lineups for Week 14.
Patrick Mahomes (QB, KC)
There are two ways to look at this matchup for Patrick Mahomes. You can hang your hat on the fact that the only quarterbacks to rough the Patriots up this year have been dynamic ones like Lamar Jackson and Deshaun Watson, and you can view Mahomes in the same light as those guys. Or you can take note of the following: Watson was the first quarterback all season to throw for multiple touchdowns against this unit; Jackson's big fantasy day was more a product of two rushing touchdowns than his numbers through the air; the last team to throw for more than 240 yards against New England was the Steelers in Week 1; opposing teams are averaging fewer than 175 passing yards per game in New England; the Patriots have surrendered seven touchdowns and picked off opposing QBs 20 times. Mahomes, like Watson and Jackson, should obviously be started regardless of matchup. But this is a rough draw for anyone who needs last year's MVP to advance them past the first round of the fantasy playoffs.
Tyreek Hill (WR, KC)
Tyreek Hill's opportunity on a weekly basis is the only reason he's not among the hates in this matchup. Hill is averaging 10 targets a game in the six full games he's played since returning from a month-long injury absence in Week 6, and he's scored five touchdowns for his trouble in this span as well. None of his recent performance numbers make the matchup any more inviting, especially since he's likely to be the recipient of the Stephon Gilmore treatment on Sunday. Still, if Mahomes is going to throw him somewhere in the neighborhood of 10 passes on Sunday, he's the type of guy who doesn't need to catch all or even most of them to bring back WR1 numbers. View him as a WR2 just to be safe.
Pittsburgh Steelers at Arizona Cardinals
Matchups We Love:
None
Matchups We Hate:
None
Other Matchups:
Kenyan Drake / David Johnson (RB, ARI)
I'm pretty much listing David Johnson here out of the sheer disbelief that a consensus top-10 pick in 2019 fantasy drafts has been such a massive and not-entirely-injury-influenced disappointment. His usage rate since the Cardinals acquired Kenyan Drake demands that you bench him. As for Drake, it's opportunity that will keep him above water against a tough Steelers Defense on Sunday. Pittsburgh is holding RBs to a meager 3.85 yards per carry and has allowed just four rushing touchdowns to the position. None of the Steelers' last four opponents have achieved more than 106 rushing yards as a team. Drake is averaging 18 touches per game since coming over to Arizona; he'll likely need as many to put up high-end RB2 numbers in Week 14.
Kyler Murray (QB, ARI)
The Steelers have held five of their last six opponents under 200 yards passing. The last time they gave up 300 yards through the air was Week 6, when they jumped out to a three-score lead against the Chargers. Pittsburgh owns the best turnover rate in the league and the second-highest pressure rate. Kyler Murray's fantasy profile has involved enough inconsistency that it's tough to trust him in any given week. He's thrown multiple TDs in six games; in his other six, he's thrown zero combined. You like that he's recently begun adding value with his legs, scoring two rushing touchdowns in his last two games. Still, if you've played fantasy long enough you know those are largely unpredictable. If I'm rolling him out there in Round 1 of the fantasy playoffs, I'm hoping for a high rushing floor.
Christian Kirk / Larry Fitzgerald (WR, ARI)
With the Steelers holding opposing WRs to just over 10 catches per game, it's going to take volume for me to feel confident in Christian Kirk or Larry Fitzgerald this week. Lately, that volume has been trending more in Kirk's direction. He's seen 42 targets in his last five games to Fitzgerald's 28, though the actual production of both has floated up and down in the same span. I'd trot Kirk out as a flex option in PPR formats, and I'd only look Fitzgerald's way in deeper leagues.
Jaylen Samuels / Benny Snell Jr. (RB, PIT)
James Conner hasn't played in weeks and is listed as doubtful as of this writing, so we'll once again treat the Steelers backfield as the office of Jaylen Samuels and Benny Snell. If such is the case, Snell is the only one of the two you can count on based on recent evidence. He's rushed 37 times for 161 yards and a touchdown in his last two games. Samuels has 14 total touches in the same span, and his opportunity in the passing game hasn't been there. The Cardinals are a reasonably inviting matchup in that they've allowed the eighth-most rushing yards to opposing RBs. Snell belongs somewhere near flex territory, though I wouldn't try to talk you out of benching him in favor of safer options.
JuJu Smith-Schuster (WR, PIT)
He's probably not going to play after missing practice all week, and he hasn't been a dependable weekly option even when he's been out there. I'm fine with leaving JuJu Smith-Schuster on my bench for Week 14 unless he makes a miraculous return to full health by the weekend.
Devlin Hodges (QB, PIT)
The season-long "start your quarterbacks against Arizona" philosophy doesn't necessarily apply to Devlin Hodges. For one thing, this is an injury-ravaged offense that will likely be without its top two skill players yet again. For another, Hodges isn't asked to go out there and launch the ball all over the field to begin with. In two full games as the Steelers starter, he's attempted just 41 total passes. From an efficiency standpoint, you like that he's completed 70% of them. This matchup isn't without its upside, but there is no reason to gamble away everything you've worked for by rolling out a third-string QB in the fantasy playoffs.
Diontae Johnson / James Washington (WR, PIT)
James Washington is averaging 83.4 yards per game in his last five, and has scored three touchdowns. Arizona has given up the third-most receptions to opposing WRs, setting him up for another solid fantasy outing. The Steelers will have to take at least a few shots downfield to mix up their otherwise vanilla game plan, and lately those chances have been yielding production for Washington. Diontae Johnson has unfortunately drifted out of the picture from a fantasy standpoint, which means it's tough to have any faith that he can capitalize on the favorable matchup at hand.
Vance McDonald (TE, PIT)
This is the matchup you're supposed to automatically love every week, but how much do you really trust Vance McDonald at this point? McDonald appeared to be trending in the right direction at the beginning of November after seeing seven targets in three straight games. He didn't do much with the opportunity, but at least the chances were there. In his last two games, even that can't be said anymore. McDonald has been targeted four total times and amassed a whopping 22 yards in his last two outings. I know we are supposed to set and forget whatever tight end is facing the Cardinals, but I'd hardly be enthusiastic about doing so this week. If you've been operating with a streaming strategy at tight end all year, then by all means, nab him up. But if you've been getting reasonably dependable production from one guy on a weekly basis, I wouldn't be in a rush to bench him in favor of McDonald.
Los Angeles Chargers at Jacksonville Jaguars
Matchups We Love:
Melvin Gordon (RB, LAC)
Only three teams have allowed more total rushing yards to RBs than the Jaguars, and only two have allowed more rushing touchdowns. Melvin Gordon has seen at least 20 carries in three of his last four games, and averaged at least four yards per tote in all four. Volume is not a concern for Gordon, and he could return mid-tier RB1 value in this matchup. View him as an RB2 to be safe, but do so with confidence.
Leonard Fournette (RB, JAX)
Leonard Fournette is in that tier of running back where his workload takes precedence over most matchups. He's averaging 23.75 touches per game, and the kicker is that an extremely PPR-friendly share of that is coming in the passing game. He's caught 30 passes in his last four games alone, and has 65 receptions on the season. The Chargers present one of the softer matchups for pass-catching backs, and their 4.2 yards-per-carry average isn't enough to scare me into thinking Fournette is in for a tough day on the ground. Roll him out there as an RB1.
Matchups We Hate:
Gardner Minshew (QB, JAX)
From backup quarterback, to Super Bowl MVP, to $88-million man, back to the bench in favor of Gardner Minshew. The journey of Nick Foles has been an interesting one. Anyway, the Jaguars have evidently entrusted the remainder of their season to Minshew, and his outlook upon reclaiming the starting role isn't terrific with the Chargers on the docket. Los Angeles is one of four teams holding opponents under 200 yards passing per game. Anticipate a heavy emphasis on the ground game from both teams in this one, limiting the potential for a full-fledged shootout. Keep Minshew on the bench or waiver wire for Week 14.
Other Matchups:
Hunter Henry (TE, LAC)
Hunter Henry is one of those tight ends you just have to roll with, but this matchup offers up some resistance. The Jaguars are holding his position to under four catches and 45 yards per game, and they're beatable enough in other facets that a strong emphasis on Henry won't necessarily be the Chargers' go-to formula for victory here. Let's just hang our hats on the fact that he's averaging nearly 7.5 targets per game since he returned from injury in October, and trust that the opportunity will be there for him to bring back start-worthy TE numbers.
Keenan Allen (WR, LAC)
Unless he was Michael Thomas, Keenan Allen's early-season dominance was always going to come back to earth at some point. What his fantasy owners should not forget is that his opportunity has largely not dropped off (okay fine, he's not averaging 14 targets a game like he was after Week 3), and he must continue to be treated as a solid PPR play as a result. Allen has gone for at least six catches and 53 yards in four of his last five, and has scored a touchdown in both of his last two. He'll get a middling matchup with the Jaguars, so trust the volume.
Mike Williams (WR, LAC)
Mike Williams has been limited at practice this week, so monitor him going into the weekend if he's on your radar. Jacksonville is getting beat by wide receivers to the tune of 13.66 yards per catch, which makes Williams' relative dependence on big plays interesting in this contest. The PPR safety net is unfortunately not part of the package regarding Williams, but he has found a way to turn minimal receptions into decent production of late. He's averaging 85.6 yards per game in his last five despite catching three or fewer passes in four of those. He's also been targeted 13 total times in his last two. Williams' recent form puts him near the flex bubble this week, though you have to be willing to live with the floor inherent in his spectrum of outcomes.
Austin Ekeler (RB, LAC)
As susceptible as the Jaguars are to the ground game, they're among the league's least friendly opponents for pass-catching running backs. That's not enough to give me pause on Austin Ekeler, who ranks 11th in the NFL in receptions and fifth in receiving touchdowns (and no, not just among running backs), but I'm fine with tempering expectations a bit in this one. Jacksonville's 4.3 receptions per game to RBs is the seventh-lowest average in the NFL. Keep Ekeler in your lineups, but expect a flex-caliber outing unless he goes off for a couple of big plays or scores.
Philip Rivers (QB, LAC)
Philip Rivers has committed a crippling number of turnovers this year, so if there's anything to get excited about here it's that Jacksonville isn't particularly adept at forcing them (seventh-worst). By and large, the Jaguars have held up well against the pass, including last week's game in which the pass-happy Buccaneers somehow failed to throw for a touchdown for the first time all year. Jacksonville's last eight opponents have all been held under 260 yards through the air, and only three have thrown multiple touchdown passes. I am as much of a Rivers apologist as there is, but I have to take a stand on his 2019 campaign. He can't be trusted in playoff lineups.
D.J. Chark / Dede Westbrook / Chris Conley (WR, JAX)
Let's start with the activity levels of Jacksonville's top three wideouts. D.J. Chark and Chris Conley have been limited in practice this week due to injury, while Dede Westbrook hasn't logged any participation at all due to a personal matter. After the entire Jaguars passing attack largely failed to capitalize on the best matchup of the slate in Week 13 (Tampa Bay), it doesn't bode well for this group that none of them are full practice participants heading into a considerably more difficult matchup with the Chargers. If Chark gets the green light, he naturally slots back into your lineup, though maybe as more of a high-end flex or low-end WR2 than the WR1 he was beginning to resemble a few weeks ago. Westbrook maintains a decent PPR profile based on his target share and offensive role, though the matchup, again, isn't a favorable one. Conley has kept a healthy enough target share to warrant consideration in lineups most weeks, but he hasn't been hitting some of the lofty yardage totals we saw earlier and he's only scored two touchdowns all year. Only six teams have allowed WRs to catch fewer passes than the Chargers, making this triumvirate a less inviting fantasy collection than they've been.
Tennessee Titans at Oakland Raiders
Matchups We Love:
Ryan Tannehill (QB, TEN)
I don't know that this is the time to start streaming quarterbacks, but if for some reason early-season injuries have forced you into doing that for most of the year, look no further than Ryan Tannehill this week. Tannehill's 5-1 record as the Titans' starter isn't just the product of playing well enough not to lose; he's thrown multiple touchdowns in five of his six starts, and has completed nearly 72% of his passes along the way. The Raiders are tied for the third-most touchdown passes allowed, and own the sixth-lowest pressure rate in the NFL. If you're in a position where you have to gamble, then roll those dice on Tannehill this week.
Derrick Henry (RB, TEN)
The Raiders present a middling matchup for running backs, as they are allowing just over four yards per rushing attempt and have held the position to seven touchdowns. Where Oakland has not excelled is in the red zone; 66.7% of opposing offensive possessions have resulted in touchdowns. Derrick Henry owns a 77.3% share of Tennessee's carries inside the 10, so he'll likely have a few cracks at that porous red zone defense on Sunday. Combine opportunities in scoring position with his stranglehold on the rest of the Titans' backfield work, and Henry should be in line for another RB1 outing.
Darren Waller (TE, OAK)
This will be especially true if Josh Jacobs is inactive, as I can't imagine who else the Raiders can trust to produce if he's out, but Darren Waller should be in for a game on Sunday no matter what. Waller has jumped back onto the dependable tight end map of late after a disconcerting stretch in Weeks 8-10, and now he gets to face a Titans Defense permitting 56 yards per game and six total touchdowns to tight ends. Count him among your favored sheep for Week 14.
Matchups We Hate:
None
Other Matchups:
A.J. Brown / Corey Davis / Adam Humphries (WR, TEN)
It's been the same story all year for A.J. Brown. He'll occasionally go off for something like 100 yards and/or a touchdown, then you won't hear from him for a week or two. Adam Humphries wouldn't even be listed here if not for the fact that he's caught two touchdowns in his last three games (on five total receptions). Both Brown and Humphries are dealing with injuries as the weekend approaches. Corey Davis has continued what can now be categorized as a career-long tendency to explode every once in awhile and be largely invisible most of the rest of the time. None of the target shares in question are enough to provide PPR optimism. You know I love Tannehill this week, but I can't definitively tell you which of his receivers is going to benefit if he plays well. Because he's been playing well, and none of these guys have maintained any level of dependability. If you must, a healthy Brown offers the highest upside of the three.
Jonnu Smith (TE, TEN)
Jonnu Smith has developed zero rapport with Ryan Tannehill despite serving as Tennessee's starting tight end for most of the season. He hasn't done anything of consequence since Week 8. Yes, the Raiders have allowed the second-most touchdowns to tight ends, but that's the kind of thing you point to when considering a guy who actually has a role in his team's offense in the first place. There's enough at stake in the fantasy playoffs that I don't want to absolutely need a touchdown from anyone in my lineup.
Josh Jacobs (RB, OAK)
Josh Jacobs is dealing with an injury that has evidently kept him out of practice this week, so his status should be watched closely as the weekend approaches. Tennessee is holding running backs to exactly four yards per carry, which carves out a halfway difficult obstacle for Jacobs if he's a full go this Sunday. His volume and efficiency have largely been enough to offset such difficulties most weeks, and he's been a relatively frequent visitor to the endzone. The Titans are almost as dreadful defensively in the red zone as Oakland, and they've permitted eight rushing touchdowns to RBs. Jacobs is a fine candidate to find paydirt once again in this matchup, especially considering his death grip on the Raiders' rushing work inside the 20. View him as the low-end RB1 or high-end RB2 he's been for most of the season if and when he's given the green light to play.
Jalen Richard / Deandre Washington (RB, OAK)
We'll discuss Jacobs' understudies here for two reasons. The first is that Tennessee has allowed the second-most receptions to running backs of anyone, which could line Jalen Richard up for a solid PPR day. Unfortunately for anyone looking to go that route, Richard's role as the pass-catching back in Oakland has not yielded a high floor. DeAndre Washington would be in line for increased carries if Jacobs can't go, which would potentially yield a flex-caliber outing if he can exploit the Titans' red zone woes. If the worst-case scenario unfolds and Jacobs is inactive, it's reasonable to expect that Oakland's plan in the backfield would take on a different look in his absence. It's difficult to imagine Washington would see the same RB1-level workload, meaning Richard would likely have more opportunities for PPR work. This is just one writer's take, of course, and it hinges entirely on Jacobs' status, but I wouldn't rule this entire backfield out just because their starter is sidelined.
Derek Carr (QB, OAK)
There isn't anything especially intimidating about the matchup, but Derek Carr has displayed enough warning signs of late to warrant ignoring him in fantasy lineups for Week 14. He's thrown just three touchdowns in his last four games, has been held to 222 or fewer passing yards in three of four, and has committed four turnovers. I might like him better from an opportunity perspective if his star running back is out, but even then there is no reason to take this kind of risk in the fantasy playoffs.
Raiders Wide Receivers (All WR, OAK)
If you've been reading this column all season, you know that when I don't even include players' names in the header and instead lump them together as a position group, it's because I'm staying away from them in fantasy lineups. Is there a glimmer of promise in the matchup? Sure. The Titans are giving up 172.5 yards per game to wideouts. But who among Oakland's WR corps do I trust to do anything with it? If you absolutely have to turn to someone here, it's obviously Tyrell Williams. But I'd leave no stone unturned en route to that decision.
Matchups Analysis - Sunday Night Football, 8:20 PM ET
Seattle Seahawks at Los Angeles Rams
Matchups We Love:
Tyler Higbee (TE, LAR)
This "love" comes with a caveat, and that caveat hinges entirely on whether Gerald Everett plays on Sunday night. Everett remains questionable after missing Week 13, which could keep the door open for another terrific outing from Tyler Higbee. After exploiting the Cardinals for 107 yards and a touchdown on seven catches, Higbee gets a Seahawks Defense that is tied for second with Arizona in receptions allowed to tight ends and has given up 802 total yards (third-most) to the position. I'm fine rocking Higbee for another week if Everett doesn't get the go-ahead, and things aren't looking good for the latter on that front as of Thursday night. If Everett does play, I worry that these two will vulture each other's opportunity and limit the potential for one or both to go off.
Matchups We Hate:
None
Other Matchups:
Russell Wilson (QB, SEA)
I suppose your level of confidence in Russell Wilson this week depends on which version of the Rams Defense you expect to show up. If it's the one that has occasionally been shredded by opposing passing attacks (including by Seattle in Week 5, and more recently by Baltimore), then you're not all that worried about Wilson for Week 14. But if it's the unit we've seen for most of the year, this Rams defense is a formidable adversary for an opposing QB. The Rams pressure the QB at the league's third-highest rate, are holding opponents to the 10th-lowest average passing yards per game, and have forced at least one turnover in all but two games. All this said, Wilson deserves the benefit of the doubt anyway. Unless for some reason you have a definitively safer option on your bench, you're not sitting the Seahawks quarterback.
Jacob Hollister (TE, SEA)
Jacob Hollister has carved out enough of a role for himself that he shouldn't be totally ignored, but the Rams don't present the most inviting matchup for tight ends. Los Angeles is holding TEs to just over four catches for just under 50 yards per game, meaning Hollister will need volume to work in his favor if he's going to return start-worthy fantasy value. It's not a risk I'm jumping at the chance to take.
Chris Carson / Rashaad Penny (RB, SEA)
The last two weeks have informed us that Seattle's backfield is now a two-pronged attack. Rashaad Penny has not just cut into Chris Carson's volume--he's made good on it. His 29 carries have yielded over 200 yards and two scores, and he added a receiving touchdown last week for good measure. The good news for Carson owners is that he hasn't relinquished the entirety of his work, as he still saw 23 rushing attempts and racked up 102 yards and a score of his own in Week 13. Based on the usage rates of late, both Carson and Penny have to be considered fantasy starters for Week 14. The matchup will probably present a bigger obstacle than the split workload, as the Rams are holding RBs to 3.75 yards per carry. Reduce expectations to flex territory, but don't run away from the Seahawks two-man show.
Tyler Lockett (WR, SEA)
In what has got to be the most mystifying turn of events of this whole season, the once-dependable Tyler Lockett has become a liability in fantasy lineups. After hitting rock bottom in Week 13 with zero catches, he now has four receptions in his last three games. If you're lucky enough to have emerged unscathed from the regular season and find yourself in the playoffs despite this inexplicable disappearance, I wouldn't argue with you for benching Lockett on Sunday night. He's likely to have Jalen Ramsey in his kitchen on at least some of his routes, and based on his recent downward trend--which is not just a lack of production but also a decrease in targets--Lockett can officially be considered an extremely risky option.
D.K. Metcalf (WR, SEA)
While Lockett has transformed into a near afterthought, D.K. Metcalf has mostly thrived in recent weeks. He's caught six passes in three of his last four games, hitting the 70-yard mark or better in all three and scoring a touchdown in one of them. The Rams present a better matchup for WRs from a PPR standpoint than they do in terms of putting up huge yardage totals or touchdowns. They've allowed the eighth-most receptions to wideouts, but are holding the position to just under 12 yards per catch and nine total touchdowns. I'd look to Metcalf as a flex option if I had to, but he's not the highest-floor guy out there with the Rams defense on the other side of the field.
Jared Goff (QB, LAR)
Jared Goff has been enough of a liability in the turnover department that I'm willing to bet Seattle's third-best turnover rate will hold up against him on Sunday night. You'd like to think he'll have time in the pocket against a team with one of the league's lower pressure rates, but Goff has been unreliable enough on a weekly basis that it'd be a foolish endeavor to trust him with your championship hopes. Prior to tossing two touchdowns against the porous Cardinals last week, he had gone three straight games without one. Goff has become a matchup-dependent streaming option, and while this one isn't terrifying, it's also not compelling enough to take on the risk.
Todd Gurley (RB, LAR)
Touchdowns have been a large part of Todd Gurley's fantasy value, so it bodes well for him that the Seahawks are tied for the fourth-most rushing scores allowed to RBs with 10. Gurley hasn't seen the same overwhelming volume this season that we were used to coming in, but he's parlayed his role as the (still) number-one back in L.A. into a solid RB2 campaign. There's no reason to think he won't provide start-worthy numbers against Seattle.
Cooper Kupp (WR, LAR)
You shouldn't need me to talk you into starting Cooper Kupp this week, but in case you're concerned about his relative drop-off in production lately, here are some things to feel good about. Kupp went for nine catches, 117 yards and a touchdown on a season-high 17 targets against the Seahawks in Week 5. After posting three pedestrian fantasy outings in Weeks 10-12, Kupp got back into the mix with 65 yards and a touchdown in Week 13. He is averaging just over nine targets per game, and that includes Weeks 10-11 when he saw just seven combined. The Seahawks don't jump off the page as a soft matchup, but I'd hardly be worried about Kupp on Sunday night.
Robert Woods (WR, LAR)
Robert Woods was a frustrating fantasy asset for most of the first half of this year, but a recent uptick in volume has bailed out any owner who was patient enough to weather the ups and downs. Woods saw a season-high 18 targets in Week 13, catching 13 of them for 172 yards. In his last three games, he's caught a total of 26 passes and has achieved at least 95 yards in all of them. His season-long ceiling has been capped by the fact that he hasn't scored a touchdown through the air, but his volume over the last few games has him firmly back in the PPR flex conversation.
Brandin Cooks (WR, LAR)
Unlike Kupp and Woods, Brandin Cooks has not enjoyed any sustained success of late. Part of his inability to get going includes an injury that kept him out of almost three full games, but it's also hard to gather any momentum when your quarterback throws the ball to your teammates 20-plus times a game. Cooks has caught four passes on six targets since returning from injury two weeks ago, and as high as his upside is when he gets the chances, we can't entrust our championship hopes to a guy whose volume is trending in the wrong direction.
Gerald Everett (TE, LAR)
As I alluded to above, this is a fine matchup for tight ends. But I also prefer for there to be one clear-cut, go-to guy at the position if I'm going to try to exploit it. I'm too concerned about the potential for Gerald Everett and Tyler Higbee to cut into each other's chances if Everett gets the go-ahead for Sunday night. I wouldn't totally avoid either even if Everett is active, but I'd be in the market for a tight end who doesn't have to share his opportunity if I can find one.
More Start/Sit Advice