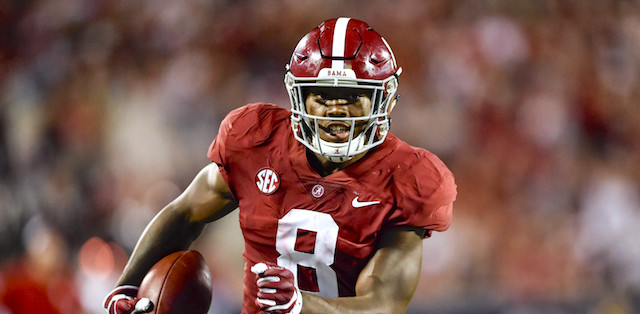 After our recent RotoBaller rookie dynasty draft, organizer and lead editor Pierre Camus asked us if we could conceivably select one position to pick from, where would it be?
My answer was easy, although it sounded amateurish at first: Give me the first pick. Not because of the pomp and circumstance surrounding it. I want the first pick because new Oakland Raiders RB can be an instant impact fantasy player as a rookie, and it's nowhere even close that he will immediately be the best fantasy player at his position.
Jacobs has a clear path to immediate playing time, and his versatility only adds to his upside as a rookie. In his first season, he has the potential to be a high-end RB2. He is an instant Top 20 in yearly leagues for me from a conservative viewpoint, and I could make a good case he can be ranked Top 15.
Editor's Note: Get any rest-of-season NFL Premium Pass for 50% off. Our exclusive DFS Tools, Lineup Optimizer and Premium DFS Research through the Super Bowl.
Sign Up Now!
The Ideal Scenario for Success
Jacobs was the final piece to completing the Raiders' new offensive cast around Derek Carr, which started when Antonio Brown and Tyrell Williams were acquired during he offseason. He should be a focal point immediately, easing pressure on Carr, and also allowing him to utilize play-action passing even more effectively than before.
The Raiders have completely paved the way for Jacobs to earn significant playing time and a large role as a rookie. They didn't sign anyone as a true starter during the offseason, and Marshawn Lynch appears unlikely to return for one last hurrah. Isaiah Crowell was added as a stopgap and backup before he tore his Achilles.
Jacobs is going to do it all for the Raiders and thrill fantasy players in the process. He will gain big chunks of yardage as a runner, make plays from everywhere on the field as a receiver, and finish scoring drives as the unquestioned goal line runner. He enters the NFL with few question marks and a lot of promise. Most other rookie RBs will have to fight for playing time and/or have to earn their possible larger role.
As a runner, there is much to like about Jacobs. It has been most noted that he runs very well inside and is a strong finisher. He also runs very well in short space, displaying nifty cuts and change of direction abilities. He has been criticized for not having top end speed, yet when he sees a hole he can exploit, he can burst through it with authority and take off with determination for a big gainer. Lynch supposedly never had top end speed either, but his other outstanding skills led to some memorable long runs.
A Different Kind of Beast
Jacobs is not Lynch, though, in terms of overall style. He does not quite run with the same low base and he is more adept as a receiver.  He does run high, which can expose him to potential injuries, whereas Lynch used to look to burrow through defenders for the most part. Those thinking that Jacobs is the next Lynch are comparing two RBs with distinctively varying approaches.
Jacobs has excellent vision and can make defenders miss in short space. Near the goal line, he is very difficult to contain. As a receiver, he can be a significant threat to defenses from anywhere on the field. He even gets downfield well, with very good ball tracking abilities.
Jacobs also figures to be a three-down RB type because of his pass-catching skills and his respectable pass-blocking abilities. He also has some "fresh legs" coming out of Alabama, where he was not utilized heavily overall during his college career. That fact makes him even more appealing as a dynasty RB.
Jacobs was widely expected to be the only RB picked in the first round of the NFL Draft, and that is exactly what transpired. He was easily in a class of his own among this rookie group. Opportunity does not always lead to quality production as I always say, but this is an ideal scenario for success.
So where and when should Jacobs be drafted in yearly leagues?
The Fantasy Outlook for 2019
Well, there is a clear Top 10 at RB in PPR formats as a default, that ends with the likes of Joe Mixon. Nick Chubb is just outside of that group, but after that, no one has a firm hold on their spot in the Top 15 or so. Dalvin Cook has a lot of promise, but has battled a lot of injury issues in his young career. Leonard Fournette also is a health risk. Marlon Mack lacks a track record before 2018. Damien Williams must prove he can get the job done over a full season, he was a perennial NFL backup until last year. Phillip Lindsay and Derrick Henry still have to prove themselves some more.
What is the negative on Jacobs? That he is a rookie, nothing else.
I will likely rank many of those RBs ahead of Jacobs initially, except for maybe the final two mentioned among that group, putting Jacobs very close to the Top 15. If anyone wants to "bold" enough to rank them ahead of Cook or Fournette, who have already disappointed, I won't hold any major debate with them. That could make Jacobs a Top 15 guy for me.
I can see Jacobs going anywhere from the third to fourth round in yearly drafts. Even without doing much during the preseason, Jacobs could rise in overall rankings and fantasy draft appeal. We have seen it before. Over certain short periods of time, some players see their stock rise in fantasy drafts for no apparent solid reason. The community simply raises the level of buzz and it translates into drafts.
I'll take Jacobs as soon as round three if I have to in early drafts. I won't wait for the hype meter to rise.
Rookie Season Projections: 1.075 rushing yards, eight TDs. 58 receptions, 576 yards, four TDs.
More NFL Rookie Profiles