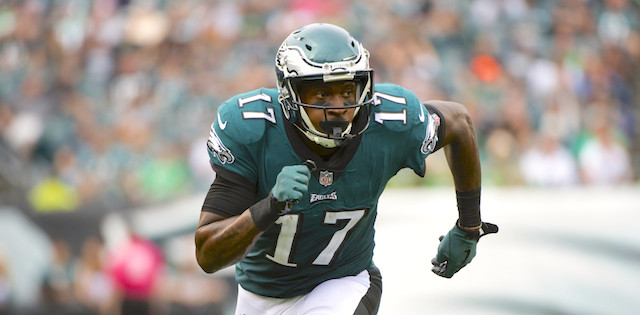 Whether due to their own play, the play of others, or injuries, players' stock increases and decreases on a weekly basis. Perhaps more than any other, the NFL is a league that experiences ups and downs at a rapid pace. With only 16 games, there's little room for error and seemingly endless opportunities for improvement. The same goes for fantasy football; managing rosters effectively is key to winning that championship.
Throughout the season, players get hot and see an increased role while others struggle and fight to stay relevant. Experienced fantasy players know this happens every year. In this weekly column, we'll showcase those who have taken important steps forward and those who have taken steps back.
Below are my key risers and fallers heading into Week 16 of the NFL season. You can also check out our other articles throughout the week, discussing other fantasy football risers and fallers as well.
Editor's Note: Get any full-season NFL Premium Pass for 50% off. Our exclusive In-Season Lineup Tools, Lineup Optimizer and over 150 days of Premium DFS Research.
Sign Up Now!
Week 16 Risers
Alshon Jeffery (WR, PHI)
What an up and down season it has been for Alshon Jeffery. Heading into the final week of the fantasy season, it appears that Jeffery has finally found his answer in the form of Nick Foles. Foles targeted Jeffery eight times last week, resulting in eight catches for 160 yards. Jeffery is locked in as a WR2 for a suddenly very important Week 16 game against the Texans.
Derrick Henry (RB, TEN)
So, I guess this is a thing? Somehow, a guy that was completely irrelevant all season burst onto the scene just in time for the fantasy playoffs and is now poised to finish as an RB1. What a world. Derrick Henry scored 95.5 fantasy points from Weeks 1-13. He has scored 78 fantasy points in Weeks 14-15. Incredible. A home matchup against the hapless Redskins should create a more positive game script for the lost and found superstar, who is pushing himself back into the third round of 2019 drafts...somehow.
Tevin Coleman (RB, ATL) and Jamaal Williams (RB, GB)
I group these two together because they are here for similar reasons. While Tevin Coleman was already the lead back in a committee, Jamaal Williams was an afterthought in his offense (because he is not particularly good at football) until last week's events. Both Ito Smith and Aaron Jones went down with injuries, ending their respective seasons. That puts Coleman and Williams in line for heavy usage in Week 16. Each could see upwards of 20 touches, making Coleman a must start and Williams a must add.
Evan Engram (TE, NYG)
Did you know that Evan Engram was the overall TE1 last week? As we saw last year, Engram thrives without Odell Beckham and not just because he is force-fed targets (although it helps). Engram truly cannot be covered, and Pat Shurmur should be ashamed of himself for not utilizing Engram more. I can't really see a reason for the Giants to push Beckham back onto the field, making Engram a strong TE1 for the fantasy championship.
Week 16 Fallers
The Once Great QBs
I am not including Patrick Mahomes (QB, KC) here, even though his last two weeks have been "pedestrian" by his standards. This is more for the guys we thought we could rely on every week like Aaron Rodgers (QB, GB), Ben Roethlisberger (QB, PIT), and Jared Goff (QB, LAR) have been rendered moot during fantasy's most important weeks. Rodgers isn't even a QB1. Roethlisberger gets a rising Saints defense that just shut down the Panthers offense and is going to carry the Saints to a Super Bowl (yes, the Saints are winning the Super Bowl). Goff...I have no idea what's going on there. The Rams offense, at one point, could literally do whatever it wanted. Now, they look stymied, and Goff is missing throws he usually makes. I think the team is missing Cooper Kupp a lot more than we thought they would. I hesitate to include Drew Brees (QB, NO) on here, but I will mention him anyway because he is completely faceplanted in the three most important weeks of the fantasy season. Brees will be back home against the Steelers, who did a nice job containing Tom Brady last week, but I still think you start Brees with confidence. I can't fathom starting either of these three in your fantasy championship or even in a third-place game.
The Replacements
It has been a fun ride for Justin Jackson (RB, LAC), Jaylen Samuels (RB, PIT), and Damien Williams (RB, KC), but the run is (mostly) over. For Jackson, it is completely over as he has zero fantasy value with Melvin Gordon likely returning. For Samuels, his fantasy value doesn't drop to zero because (a) he is very good at football, (b) he is better than James Conner, and (c) Samuels is still going to see the field a decent amount with Conner back. Williams is here based upon the potential that Spencer Ware returns. Williams was just fine filling in for Ware last week, and I wouldn't be surprised if Williams retained the lead back role, but if Ware returns, Williams' snap share is sure to decrease. For at least Samuels and Williams, they will go from must-starts in Week 15 to huge question marks in Week 16.
The Elite TEs
Basically, if you relied on someone to get you to the playoffs, he let you down when it mattered most. Where were Travis Kelce, Zach Ertz, and George Kittle last week? I won't even include Rob Gronkowski because he can't let you down anymore given that he's flat out not an every week starter in fantasy. But Kelce, despite being the TE5 on the week, posted a middling 7-61 line. Ertz managed just 3-22. And Kittle was 3-51, but, in his defense, he has one of the worst QBs to ever throw a pass in the NFL, Nick Mullens, trying to get him the ball. Mullens missed Kittle as open as one could possibly be on a would be 50+ yard touchdown or I'd be telling a very different story. With Kelce, I think it is more of a blip than anything else. With Ertz, it may be a Foles thing. With Kittle, it was just a bad matchup, but he has another bad one against the Bears elite defense.
More Weekly Lineup Prep