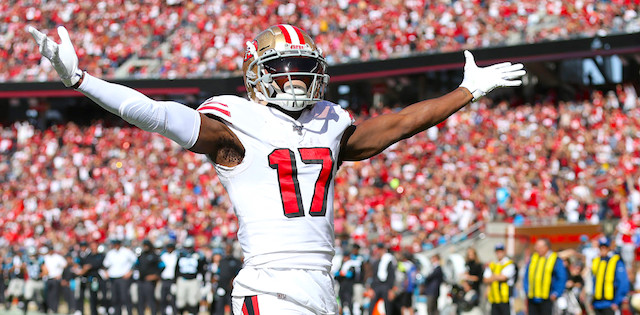 We all know a good wide receiver is important. Most leagues are PPR and more receivers are played than other positions. But the key is finding those wide receivers with favorable matchups. Just like with other positions, it is difficult to know at draft time which defenses will be good or bad by the time the fantasy playoffs roll around.
Before the season started, the Vikings looked like a bad matchup. But with Xavier Rhoades playing poorly, it is now a good thing to be playing a receiver against them. The same thing goes for Jacksonville with Jalen Ramsey now in Los Angeles stealing money. This is also the reason waiver adds are so important. I mean, who would have thought Devante Parker would be this good? No, seriously Devante Parker folks.
So, let's look at those wide receivers who you might want to take a second look at before putting them in your lineup. As with quarterback and running back, you start your studs. So, no mention of DeAndre Hopkins or Michael Thomas here. But instead, we are looking at those in consideration for WR2, WR3, or flex plays.
Amari Cooper is ailing. This is not good for the production of Michael Gallup.
There have been few if any times this season where either of these players has a good game without the other. Neither of them are alphas and both need someone else to feed off. This said, if the Cowboys want to make the playoffs, they will need to rely more heavily on the legs of Ezekiel Elliott. This will also limit the upside of all the receivers in Dallas, of which there are plenty. In addition to Cooper and Gallup, Randall Cobb and Jason Witten are also looking for targets. The target share is going to be spread rather thin for the rest of the season. Not to mention the tough slate of upcoming opponents.
Starting with a road game in Chicago on Thursday night this week, the Cowboys play solid defenses over the next three weeks. Yes, even the Eagles, who got lit up by Miami over the weekend. Even so, the Dallas-Philadelphia game is always a physical one. It will also likely be for not only the division but also a playoff berth.
If Jalen Ramsey can get his head in the game, the meat of this sandwich is another difficult game against the Rams. Although this one will be in Dallas, making it a bit easier. The key will be not overpredicting what Gallup will do in these games. Don't count on a 100-yard game and a touchdown when projecting your lineup. We saw in New England, with Cooper shut down, Gallup was also slowed. In games against the Bears and Rams, this could be like déjà vu. And in that case, the Eagles game will not even matter.
The Emmanuel Sanders experiment started off great in San Francisco. He posted 100 yards and a touchdown in his first game and we were all on board. Then two things happened. He got injured, and Deebo Samuel took over.
Neither of these things benefit Sanders, especially on a team that is heavily run first.
With George Kittle finding his form, there is not much to go around for the limited pass targets of Jimmy Garoppolo. In the case of Sanders and Samuel, the old Talladega Nights adage is true. If you're not first, you're last. Some teams can have fantasy relevance from more than two pass catchers. The 49ers? Not one of those offenses. They are also going to be playing a road game against the New Orleans Saints this week. Not great for any wide receiver this season. Sure, Week 15 looks better with the Falcons' awful defense, but this is followed up by the Rams and Jalen Ramsey coming to town.
This is not a stretch of games to look forward to starting who has become a fringe WR3. If you are lucky enough to have Samuel, you can start him in these games. As for Sanders? Be careful.
Starting with New England this week, the lizard king has a string of tough games in the fantasy playoffs. Not only this, but Patrick Mahomes has not been his normal self of late. After New England, the Chiefs face the Broncos in Week 15 and the Bears in Week 16.
Even in a dominant win over the Raiders, Mahomes threw for less than 200 yards and only one touchdown. With both Tyreek Hill and Travis Kelce in front of the pecking order, Watkins is hardly a flex play in the coming weeks.
In Sunday's game against the Raiders, Watkins saw three targets but scored no fantasy points. This comes after four weeks of averaging only 4.6 fantasy points per game. Not great Bob.
Let Watkins sit these playoffs out. He has the skills, sure. But the lack of opportunity coming his way makes the confidence level too low to take a chance on him in the playoffs.
Chase the points. This is what people are going to be doing by racing to play Robert Woods this week against the Seahawks.
They are excited to see him finally break out in Week 13 for 13 catches and 172 yards. This will validate him being held on the roster all season, despite all the bad games. But remember, the Cardinals stink. Their defense has been shredded all season. This should have been expected. Or at least not surprising.
Upcoming games against better defenses, starting this week against Seattle, will make his Week 13 explosion a thing of the past.
If the matchup this week does not deter you, think of the two weeks which follow. Road games against the Cowboys and 49ers will bring you back to reality. While Dallas does not have the best secondary, Byron Jones is good and their front seven is going to get pressure on Jared Goff. This will lead to a bigger game for Cooper Kupp out of the slot and not so much for Woods.
In Week 16 the Rams and Jared Goff are again on the road as they will travel to face the No. 1 pass defense of San Francisco. Not only are the 49ers the best in the NFL against the pass, but they are also going to make this game go at a snail's pace with the run game. A run game that has allowed them to remain in the top two of time of possession all season in 2019. Not a championship game to look forward to if you make it there.
You can certainly still start him. You may not have any better options. But don't expect a game like he had last Sunday until maybe Week 17 when the Cardinals come to town. But if you are playing in Week 17, please stop that immediately.
More Weekly Lineup Prep