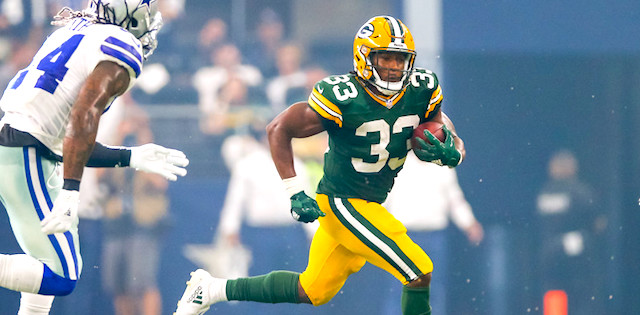 Fantasy football is a game of values. Sure, it is much more complex than that. But in its simplest form, we are all trying to find the best values to put the best team on the virtual gridiron as possible.
We all seek sleepers and players that can break out and give our fantasy teams that much more value. But at the same time, we are trying to avoid those landmines that we draft, blow up in our face and drag our fantasy seasons down with it. A bust in the early rounds is so hard to bounce back from, which is why many of the overvalued players I will be discussing go in the early rounds of drafts.
Here are five running backs that I think are going too high in drafts. I will largely be avoiding these players, unless they fall further because every player has a price. But these five backs feel like traps at their current price. I will be avoiding them; allow me to convince you to do the same!
Editor's Note: Our incredible team of writers received 13 award nominations by the Fantasy Sports Writers Association including Baseball Writer of the Year, Football Writers of the Year, Golf Writer of the Year and many more! Be sure to follow their analysis, rankings and advice all year long, and win big with RotoBaller!
Read More!
The Packers' lead back finished last season as the RB2 in PPR leagues. When you look at the eight running backs that topped 250 fantasy points last season, Jones ranked seventh in scrimmage yards. His 1,558 was only more than Austin Ekeler and only by eight. Of those eight backs, his 49 catches were only more than Derrick Henry (18) and Nick Chubb (36). But of those eight RBs, only Christian McCaffrey matched Jones' 19 touchdowns. But he did so on 118 more touches.
Jones scored 36 percent of his fantasy points off of touchdowns in 2019. The only RBs with a higher percentage were Todd Gurley (38%), Jordan Howard (38%), Mark Ingram II (37%), Derrick Henry (37%) and Raheem Mostert (36%). Touchdowns are very unpredictable, meaning that Jones was already headed towards some serious touchdown regression. That was before the Packers went out and drafted A.J. Dillon in the second round.
Dillon is a big-bodied power back, weighing in at 6'0", 249 pounds. Jones, on the other hand, is 5'9" and 208 pounds. Let's not forget that Matt LaFleur had Derrick Henry before becoming the HC of Green Bay and has compared Dillon to Henry. Even if Dillon has to wait a year to be set free, like Henry had too, Dillon could really hurt Jones this season. If natural TD regression wasn't bad enough, he could now have a TD vulture on his hands.
Jones was effective inside the five-yard line last year, converting 62 percent of his carries inside the five into touchdowns. But Dillon was brought in for a reason and it could be viewed as a way to help keep Jones fresh. Even if you project Jones for nine touchdowns, a very solid number, that is a decrease in 60 fantasy points from last year's production. Does he get enough volume to make up for that? I am not so sure, as Jones also has to worry about Jamaal Williams still being a factor there, especially in the passing game. Last year Williams averaged 7.6 carries per game, 14.3 routes per game and 3.2 targets per game. The possibility for Jones and Williams sharing duties in-between the 20s and then Jones and Dillon splitting in the red zone is a very scary, yet realistic, proposition.
Williams did eat into the snaps last year as well. We may not remember because of the way Jones finished the season.
Jones is going off the board as the ninth running back in FFPC drafts as a late first or early second-round pick. I simply cannot pay that price. I like him more as an RB2 and would be willing to pull him off the board in the third round. But going as high as he is? There is simply too much risk for me to invest that highly. Jones is being overpriced because of the touchdown success he had last season. Do not pay the lofty price.
Singletary was a player I was excited for heading into 2020 but was cautiously optimistic as I expected the Bills to bring in another back. I did not expect them to have Zack Moss fall to them in the third round. Bills GM Brandon Beane has already said that Moss will be used similar to Frank Gore. You may hear that and think, oh he is just a complimentary piece to Singletary. Wrong.
The Bills last year made it very clear that they did not want to use Singletary near pay dirt. Last year Singletary had 20 red-zone touches, compared to Gore's 25 and Josh Allen's 21. That number shrinks to just two touches inside the five-yard line. Gore had 11 touches in the five, while Allen had five. Allen turned all five of those touches into touchdowns, so I still expect him to vulture some touchdowns. Beane has also said Moss can compete for first and second down work, which is just another reason to be scared.
Starting in Week 9, Singletary played 65 percent of the snaps in every game. That number reached 70 percent or higher in Week 12 and got as high as 96 percent in Week 16.
The increase in snaps was because Gore looked like a shell of what was already a shell of his former self. I have little doubts that Moss will be a more competent runner than Gore was last season. Additionally, Allen only averaged 4.3 passes per game to RBs, which ranked 45th among all QBs last season. That number was 4.5 in 2018. So, with Singletary you have to worry about others vulturing all his touchdowns, while also having to factor in that he has a QB that doesn't throw a bunch to RBs and has a bigger threat to that early-down work than last season. See the risk here?
Due to those risks, it is hard for me to value Singletary as anything but a low-end RB2 or even a flex option. Singletary is the 21st RB going off the board as a fourth-round pick on FFPC. That to me seems more like paying for his ceiling, which I think he will have a hard time reaching. This is a case of love the talent, hate the situation for fantasy. Unfortunately, that makes Singletary overpriced and a fade for me.
Raheem Mostert, San Francisco 49ers
ended the season on a tear, and I understand why some are excited. But to me, this backfield is all about Kyle Shanahan. He has had success with RBs regardless of who is the lead back in San Fran and had even more running success when he was the OC in Atlanta. In his first season as the Niners head coach, he did give the bulk of the work to Carlos Hyde. Hyde would routinely play over 70 percent of the snaps and averaged 18.7 touches per game. He was rewarded with walking papers and replaced by Jerick McKinnon (we know how that worked out).
Things then got very murky in 2017 as there were three backs that all averaged around 10 touches per game with Matt Breida (10.9 touches per game), Alfred Morris (9.3) and Jeff Wilson (11.0) being used sporadically. Mostert averaged just 3.8 touches per game that season. The snaps that season were all over the place:
2018 49ers RB Snaps:
And it was more of the same in 2019. There were five different RBs that finished a week as the top-scoring fantasy back for the Niners. Only three times did an RB play at least 60 percent of the snaps. No back averaged over 10 carries per game, but each of Mostert, Coleman and Breida averaged between 8.6 and 9.8 carries per game. In Weeks 12-17, when Mostert was officially a thing and scoring double-digit fantasy PPG, he was still averaging just 12.8 touches per game. But he did score eight touchdowns in this six-game span.
Mostert had just 77 touches, meaning that he scored a TD on 10 percent of his touches. Those touchdowns accounted for 46 percent of his fantasy points during this span. He also was still being ignored in the passing game as he averaged just 2.0 targets and 1.2 catches per game. If you count the great postseason run, Mostert was still TD dependent. He scored 13 touchdowns on 133 touches, which is the same pace he had during the regular season. About 45 percent of the fantasy points he scored from Week 12 through the Super Bowl were off of touchdowns.
If I have learned anything it's that you should never bank on touchdowns. Mostert is a TD-reliant back, that has competition for touches with a coach that is not afraid to spread them around and is seldom used in the passing game. There is simply too much that could go wrong here.
2019 49ers RB snaps:
Last year, Mack was underrated in fantasy drafts, but this year I am staying far away. The Colts traded up in the second round to nab Jonathan Taylor. That was the beginning of the end for Mack.
In 2019, Mack rushed for 1,091 yards and eight scores, while racking up 14 catches. Mack scored 16+ fantasy points in seven of his 14 games and was in single digits in the other seven games. To take that a step further, Mack had 38 percent of his rushing yards in three games last season. In his career, he has 12 games of at least 80 rushing yards and 22 with less than 50 yards. This just highlights the inconsistency that has plagued Mack throughout his NFL career.
Another knock is that 13 percent of Mack's carries last year went for negative yards. The league average for backs with 100+ carries was nine percent. Coaches hate backs that lose yards and if Mack is doing so more than league average, that is another big knock against him. Many dubbed Taylor as the best pure runner in this year's drafts class. With the Colts investing such a high draft pick in a season that they are clearly going all-in with veteran Philip Rivers, I expect Taylor to quickly become the lead dawg in this backfield.
You also have to factor in that Mack simply won't be used much in the passing game. His catches have dwindled every season he has been in the league and was a career-low 14 receptions last year. Hines will be a factor in the passing game. Mack goes off the board as an RB3, but there are better upside shots that I would rather take a shot on. Mack has to worry about Taylor on the ground and Hines in the passing game, both of which I think are superior options. I will be avoiding Mack this season.
On one hand, Michel is the ultimate floor play. He has rushed for just over 900 yards and either six or seven touchdowns in each of the past two seasons. He's had 12 catches or fewer each season, which right there shows how low his floor is. Each week you need to rely on him scoring touchdowns. He had a three-TD game and still scored just 22.4 fantasy points (three TD=18 fantasy points). He topped 15 fantasy points just twice last season.
Some may think signing Cam Newton will help Michel and the run game, but I think this hurts Michel greatly. Cam would routinely lead the Panthers in touches inside the five-yard line.
Panthers leader in carries inside the 5-yard line

2018- CMC, 12 (Cam, 3)
2017- Stewart, 13 (Cam, 4)
2016- Stewart, 16 (Cam, 6)
2015- Cam Newton, 10
2014- Jonathan Stewart, 5 (Cam, 4)
2013- Mike Tolbert, 13 (Cam, 2)
2012- Cam Newton, 11
2011- Cam Newton, 14

— Michael Florio (@MichaelFFlorio) June 30, 2020
Last season, Michel scored only one touchdown longer than five yards. In his career (regular season) he has just three touchdowns longer than five yards. If Cam is stealing some of those looks, and we already know Michel won't be used in the passing game, what is the upside here?
And, to tear him down even more, the Patriots have more running backs than we can count! Having to worry about James White, Rex Burkhead and Damien Harris eating into his work. To me, the appeal in the past was the safe floor Michel presents. But now, I do not see really any reason at all to take him, even as an RB3.
Who are the RBs that you think are overpriced? Let me know on Twitter, @MichaelFFlorio
More Fantasy Football Analysis