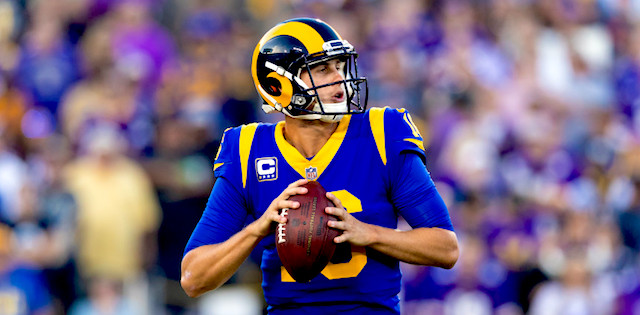 This is going to be a special edition of Warning Signs. Usually, we take a look at players from different teams who have disappointed thus far. This week, I am going to focus on a single team full of players to worry about.
It is not good to have a team of big stars where almost all are underperforming. But for the most part, the Los Angeles Rams are just that this season.
With the clear exception of Cooper Kupp, everyone on this team has been a shell of themselves. I guess you really do need to play in the preseason. Or maybe Sean McVay is not the be-all-end-all of offensive geniuses. Or is it just a Super Bowl hangover? Let's see how closely we should pay attention to the warning signs heading into Week 7.
Editor's Note: Get any rest-of-season NFL Premium Pass for 50% off. Our exclusive DFS Tools, Lineup Optimizer and Premium DFS Research through the Super Bowl.
Sign Up Now!
It all starts at the top. But since we are not talking about coaches when it comes to fantasy, the top for our purposes is the quarterback position.
Goff is a bad quarterback when the blocking isn't perfect. In his last 12 games, he has 13 interceptions and 13 fumbles. Yet the Rams still decided to open the checkbook and hitch their fortunes to him. This could lead to the fall of the empire in Los Angeles before it even gets started.
The Rams love to pay their homegrown talent. This is great to see if you are a draft pick. But if they don't work out long-term, that is a recipe for failure - a recipe they are stuck figuring out now with the likes of Goff and Todd Gurley.
Jared Goff did not do himself any favors this week. In a must-win game, he had a career-low 78 passing yards and no touchdowns against an improved 49ers Defense. The only touchdown of the game came from a run by none other than Robert Woods.
Overall the team is not very good right now. They lack any semblance of depth and their mediocre players are paid like stars. This is a failing enterprise, and it all starts with the man behind center. Maybe he should be benched until (if) the ship gets righted.
Todd Gurley And Knee-Gate Concerns
What a difference a knee makes.
The player whom we thought was the best running back in the NFL is now a shell of himself at age 25. Sure, the talent is there. But looking at it, what is the true difference between Todd Gurley and Jay Ajayi? Maybe both of them should have fallen in the draft.
We are not going to know what to expect from Gurley going forward, both for this season and in future years for dynasty leagues. But one thing is obvious - if you did not cash out on him yet, it will be tough to get anywhere near what you may want now.
Listening to Michael Lombardi this morning, he made a good statement. The best thing that could have happened to the Rams this weekend was Todd Gurley missing the game. This way they were able to see if they had anything in Malcolm Brown or rookie Darrell Henderson. Based on the results, we still don't know. But we do know Knee-Gate is a real problem and if Henderson or Brown do not succeed, this team will miss the playoffs. And it may be a long while before they return.
Darrell Henderson The Clear #3?
Before this weekend, Darrell Henderson only played on two snaps this season. With Todd Gurley a scratch, Henderson shared the backfield with Malcolm Brown, having six rushes for 39 yards. Even with Gurley missing the game, Henderson was the clear backup to Brown. He did not even enter the game until the second quarter, and this is not a good sign for what to expect from him if Gurley misses more games.
Henderson was the rookie everyone wanted in rookie drafts. He was in a high-powered Rams offense and he was the clear backup to RB1 Gurley. The same was said last season about John Kelly. Things change. Those who took him early are banging their heads against the wall right about now.
Darrell Henderson is not a bust, at least not yet. But he is not what we thought he could be, or even would be in this offense after drafting him, even in regular fantasy drafts around the seventh-round. Much like the rest of the team, save Cooper Kupp, we wanted more. He isn't more than a desperation bench stash in deep leagues.
Brandin Cooks Suffering From Slot Targets
Of course, he has been hampered by concussions. But this does not entirely excuse the lackluster performances provided by the speedy Cooks. As the arguable number one receiver on the Rams, Cooks was supposed to be locked in as a top-15 wide receiver for fantasy teams.
Some of the disappointment comes in the form of Jared Goff being bad this year. A lot of it also comes from Cooper Kupp returning from injury at such a high level, one which many did not think would happen so early in the season. But being the number one WR over the first five weeks, it is clear he has taken over the number one role.
With Goff being limited, the slot receiver has become more and more entrenched in the offense. For this reason, the outside tandem of Cooks and Robert Woods have been left in the dust - which is sad as both were drafted in the first four rounds of fantasy leagues.
With Gurley aching, the six targets per game and four catches per game are both far too low for a receiver like Brandin Cooks. After six games, 23 receptions for 343 yards is not the type of production needed to justify the high draft pick spent on him. The 14.9 average per reception, while nice, will also limit his production as the Rams continue to work within the limited repertoire of Jared Goff. With all this said, Brandin Cooks may be the most concerning of all the pass catchers in Los Angeles for the rest of the season. His trade value is probably too low so you may be stuck playing matchups and hoping for the best.
There Is Hope For Robert Woods
Zero touchdowns on 31 receptions in not great. Lucky for us, he actually got a rushing touchdown on Sunday against the 49ers. Otherwise, it would look even worse. One thing in Woods's favor? Targets.
With 51 targets through six games, his usage has not diminished. This is the main reason to be more confident with him compared to the more downfield play in Brandin Cooks. Whereas Woods is multi-faceted and can play in the slot if need be, Cooks is more limited - he does one thing and does it well, but that is all.
Woods has seemingly been in the league forever. Whether it be his time with the Bills or now with the Rams, we have been talking about him forever. But he is only 27, right in the prime years for a wide receiver, so now is the time we need to get the most out of him.
For redraft leagues, he still holds value as a weekly starter. For dynasty, he is actually a good buy-low candidate as people think he is older than he really is.
We do, however, have to temper our projections for him. He was a niche pick to finish top-10 as a fantasy WR in 2019. But with Kupp currently sitting at number one in the pecking order for targets, a top 10 finish is unlikely. If you are happy having a top-24 receiver for the rest of the season, Woods should not disappoint.
More Weekly Lineup Prep