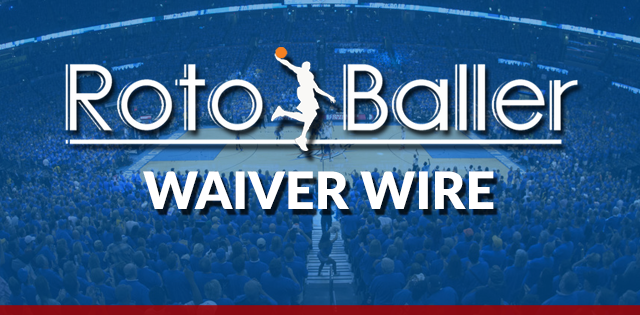 Welcome back to RotoBaller's weekly fantasy basketball waiver wire column and schedule breakdown. How's this season going for you? Need some help with your team? Let's get you some, though don't forget that the trade deadline could really shake things up.
The NBA season just keeps on chugging along, and so does the fantasy basketball season. If you need to bolster your roster or turn around a downward slide, then let's find you some help.
These recommendations are mainly for 9-cat leagues, but if you play in another format, there's a good chance that the information here can still help you. We'll be looking at centers, forwards, and guards whose low rostership and upside make them ideal players to get onto your fantasy team. Our staff at RotoBaller has great insight and daily columns on how to improve your squad and tips to make your team successful, so be sure to check them out! Now, let's get prepared for Week 17.
Editor's Note: Our incredible team of writers received five total writing awards and 13 award nominations by the Fantasy Sports Writers Association, tops in the industry! Congrats to all the award winners and nominees including NBA Writer of the Year, Best NFL Series, MLB Series, PGA Writer and Player Notes writer of the year. Be sure to follow their analysis, rankings and advice all year long, and win big with RotoBaller!
Read More!
NBA Week 17 Schedule Guide
Let's take a look at some notable things on the schedule this week.
Teams with four games: Boston, Brooklyn, Chicago, Cleveland, Dallas, Detroit, Sacramento, San Antonio, Utah
Teams with three games: Atlanta, Charlotte, Denver, Golden State, Houston Indiana, Los Angeles Clippers, Los Angeles Lakers, Memphis, Miami, Milwaukee, Minnesota, New York, Oklahoma City, Orlando, Philadelphia, Phoenix, Portland, Toronto, Washington
Teams with two games: New Orleans
Number of teams playing each day:
Monday: 16
Tuesday: 12
Wednesday: 18
Thursday: 8
Friday: 22
Saturday: 18
Sunday: 4
Back-to-Backs:
Sunday/Monday: Cleveland, Sacramento
Monday/Tuesday: Brooklyn, Chicago, Oklahoma City
Tuesday/Wednesday: Minnesota
Wednesday/Thursday: 0
Thursday/Friday: Milwaukee, Phoenix
Friday/Saturday: Charlotte, Cleveland, Dallas, Indiana, Miami, New York, Philadelphia, Sacramento, San Antonio, Utah
Saturday/Sunday: 0
9-Category Leagues - Waiver Wire Adds
This column is written based on H2H 9-category 12-team leagues. All players in this article are rostered at around 50 percent or less.
Cam Thomas, G/F - Brooklyn Nets - 28% rostered 
Thomas should be the highest priority add in the league right now after Kyrie Irving's recent trade demand. The Nets won't play Kyrie again until they trade him, and if the team doesn't manage to work out a Kyrie trade, it's likely that Irving just shuts it down. Either way, Cam Thomas should be in line for more minutes.
And what can he do with those extra minutes? Well...he scored 44 points on Saturday against the Wizards. Yeah, that's not a misprint: 44. He also added six rebounds and five assists and went 16-for-23 from the floor. The Nets have terrible injury luck right now, and until Kevin Durant (knee) is back, Thomas is their top scoring threat.
Malik Monk, G - Sacramento Kings - 39% rostered 
De'Aaron Fox missed the last game for personal reasons and is already ruled out for Sunday. Monk had 12 points, five rebounds and five assists with Fox out last game.
But Fox's absence isn't the reason Monk should be added. Because last time Fox did play, Monk had 22 points, three rebounds, five assists and three steals. This is to say that Fox's absence could increase the ceiling for Monk, but that he's worth adding no matter what because of how well he's been scoring the ball over the last couple of weeks.
Aaron Nesmith, G/F - Indiana Pacers - 30% rostered 
Nesmith has scored in double figures in four straight games, while also adding at least three rebounds in each of those games. He's shot 50% or better from the floor in all four contests, and made at least one three in each of them as well.
I don't necessarily think of Nesmith as an exciting add right now, but he's delivering some points, steals and threes and has played 24 or more minutes in seven of the last eight games.
Larry Nance Jr., F/C - New Orleans Pelicans - 44% rostered 
Nance has a double-double in three of the last four games, and the one time he didn't hit that mark during that stretch, he had nine rebounds. If you need rebounds, then take a look at Nance. He's also usually a pretty efficient scorer, so he can help bolster your team in the field goal percentage department as well. The only downside here is that his minutes seem capped in the mid-20s, and there's not really a path to him getting more, so he won't have any huge explosive games. But he still offers solid production.
Chris Boucher, F/C - Toronto Raptors - 31% rostered 
Boucher has been playing well, scoring in double figures in three of the last four games. On Friday, he had 11 points and eight rebounds while blocking three shots. Solid numbers.
But the main reason I want to add Boucher? The trade deadline is coming up, and we've heard whispers of the Raptors making some moves. Those moves probably won't be as big as a Pascal Siakam trade, but there's always a possibility that happens, and if it does, it could land Boucher in an even larger role.
Edmond Sumner, G/F - Brooklyn Nets - 7% rostered 
This is the deep league version of adding Cam Thomas. You don't get the same floor and ceiling that you do with Thomas and you don't get the same long-term outlook because Sumner's role is more tenuous, but he played 39 minutes against Washington on Saturday, scoring 29 points and adding two rebounds, three assists, one steal and one block.
This is the second game in the last five that Sumner has scored over 20 points. The problem? In the other three, his max was six points. But as long as the Nets have the injury issues they have right now, Sumner is a streaming option.
Download Our Free News & Alerts Mobile App
Like what you see? Download our updated fantasy basketball mobile app for
iPhone
and
Android
with 24x7 player news, injury alerts, lineup notifications & DFS articles. All free!
More Fantasy Basketball Analysis
By popular demand, RotoBaller has aggregated all of our fantasy basketball NBA waiver wire pickups into a running list of NBA waiver options, so bookmark the page and check back often for updates.