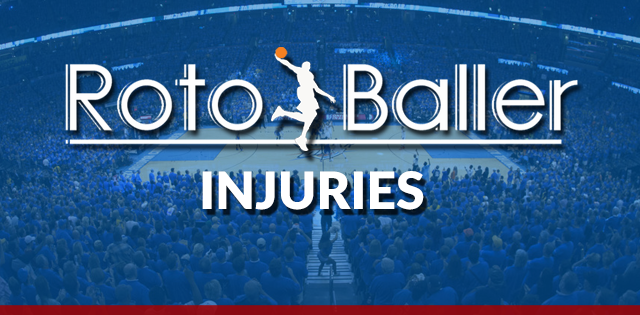 Welcome back RotoBallers! I'm here to help you stay up to date on injury news, and how it impacts your teams in case you had a busy weekend and couldn't keep track of everything. January is just about finished!
I'm doing this midday on Monday for release Tuesday morning, so any news that drops on Monday night won't be covered. I'll just cover what has changed since last week.
Drop me a follow on Twitter (@Maxadelphia) for all things fantasy basketball, and nightly NBA plays. Be sure to also bookmark our awesome free NBA injuries report tool for up-to-the-minute fantasy basketball injury updates.
Featured Promo: Get any full-season NBA Premium Pass for 50% off. Win big with our exclusive DFS lineup tools, matchup rating projections, powerful Research Station, Lineup Optimizer, daily DFS lineup picks/cheat sheets and more!
Sign Up Now!
Short-Term Injuries for Fantasy Basketball
Ben Simmons, PG/SG/PF, Brooklyn Nets - Knee
First thing first, can we appreciate how funny it is that Simmons is listed as a shooting guard on Yahoo?? With that out of the way, I'm looking to get in front of this injury. Simmons had been very ineffective in the last few weeks, which makes me think that he may have been playing through an injury. The same happened earlier this year when Simmons ultimately missed time, his level of play decreased substantially and then he sat for 10-ish games and came back and looked good. Seth Curry started in his place last game and should be in line to do so again tonight vs the Lakers.
OG Anunoby, SG/SF, Toronto Raptors - Wrist
Anunoby left last Friday's game @ Golden State after only 10 minutes after what was deemed a "wrist sprain". He subsequently missed their game the next night in Portland, and there has been no update official update since. Anunoby was ruled out for Monday's game in Phoenix, so this is one to keep an eye on. I would recommend targeting Precious Achiuwa on waivers until Anunoby returns (or if you're looking for some depth).
Christian Wood, PF/C, Dallas Mavericks - Thumb
Last Friday (1/27) Mavs coach Jason Kidd said Wood will be out "at least" another week, and he considers his injury "week-to-week" moving forward. While Wood is out, I would target Dorian Finney-Smith. DFS has provided 9th-10th round value in 9-CAT leagues over the past two weeks.
Kevin Porter Jr, PG, Houston Rockets - Foot
Porter has missed six straight games, while the Rockets are in the midst of a 13-game losing streak, and things got even worse on Saturday when Porter Jr's status was downgraded to "reevaluated in a week". I didn't write up KPJ last week because he was listed as "Questionable" for last Monday's game, the same status he received for their other two games that he ultimately missed. Seeing them recant their game-by-game strategy, I worry there's an extended absence coming for the Rockets' young PG.
Week 2: The Rockets have provided absolutely no kind of update since last week. KPJ was ruled out for Monday's game vs the Thunder early in the day, and then the Rockets don't play again until Friday. At the very least, I would expect this week to be another wash for him.
Long-Term Injuries for Fantasy Basketball
Steven Adams, C, Memphis Grizzlies - Knee
Adams, who currently sits 4th in the NBA in rebounding, suffered a PCL sprain last Tuesday, and his return timetable is supposed to be 3-5 weeks. I'm going to err on the side of caution here – that the Grizzlies who are cruising toward the playoffs don't rush Adams back to action, and his absence is closer to five weeks than three. Assuming Brandon Clarke is already rostered in your league, look at Santi Aldama to pick up Adams' vacated rebounds.
Mitchell Robinson, C, New York Knicks - Thumb
Robinson had thumb surgery last Thursday, and won't be re-evaluated for three weeks; that would put us right at the week leading to the All-Star break. From a front-office perspective, the obvious move would be to keep Robinson out through the All-Star break. Early results of Robinson missing time indicate that Jericho Sims will have a larger role over Isaiah Hartenstein.
Update 1/26): Moving Robinson to long-term officially off the back of some James Dolan comments on a radio show. Dolan said during his weekly appearance on the "Good Day New York" show that Robinson will be out for four weeks. That would us right back in the ballpark of the post-ASB timeline I had predicted last week, this just makes it official.
Karl-Anthony Towns, PF/C, Minnesota Timberwolves - Calf
KAT strained his calf last Monday night, and his timetable for return is 4-6 weeks. Based on usage since the injury, it looks like the Wolves starters will just take on more of the load. If you're looking for streaming options, both Jaden McDaniels and Kyle Anderson are worth evaluating.
Update 1/24: Towns' situation continues to look worse and worse. Head coach Chris Finch said KAT "has no timetable to return to game action". At this point, it feels like we'll be lucky if Towns returns by the fantasy playoffs.
Kevin Durant, SF/PF, Brooklyn Nets - Knee
Durant suffered an MCL sprain, and while the Nets announced he'll be re-evaluated after two weeks, these injuries typically take around a month for a player to return. I expect that to be around Durant's timeline. He'll be back before the All-Star break (Feb 16-21), but I wouldn't expect to see him before February.
Update 1/24: The Nets announced KD is on pace with his recovery plan and will be re-evaluated in two weeks. It figures to reason KD will try and play in the All-Star game, which would be the week of his re-evaluation. If he returns to meaningful action before the ASB, I would expect it to be in limited minutes.
Zion Williamson, PF/C, New Orleans Pelicans -  Hamstring
Zion tweaked his hammy last Monday night in Philly, and the Pelicans initially ruled him out for three weeks. We're 1/3 of the way through their initial diagnosis but given the organization's track record with their former #1 overall pick, I'd much prefer to err on the side of a longer absence.
Update 1/24: The Pelicans announced Zion will be re-evaluated again in two weeks. I would say it's likely a guarantee we won't see him until after the All-Star Break.
Marvin Bagley, PF/C, Detroit Pistons - Hand
Bagley underwent hand surgery last Thursday, after suffering two broken fingers, and is going to miss 6-8 weeks. I'm going to assume Jalen Duren is no longer available in your league, so if you need to dig deep, look at Nerlens Noel.
Devin Booker, PG/SG, Phoenix Suns - Groin
Booker played only four minutes on Christmas and then exited with a presumably re-aggravated groin injury. No update is being provided until Tuesday, so I don't have definitive answers this week. I know the Suns' backcourt is depleted right now, and Damion Lee is in a potential short-term explosion spot. I also think Torrey Craig is a decent option again as well.
Update 1/25: The Suns announced Booker will be re-evaluated in a week. Given how badly the Suns have been slumping of late, I do NOT expect them to give Booker extended recovery time through the ASB.
Devin Vassel, SG, San Antonio Spurs - Knee
Spurs coach Gregg Popovich said that Vassel won't return until "a little after the All-Star break" after the rookie standout got hurt and is expected to have surgery done this Wednesday. The Spurs are obviously not looking to compete for anything (besides the Victor Wembenyama sweepstakes) this year, so hopefully, this isn't the beginning of the end for the standout rookie guard. Josh Richardson looks to be a great replacement option for Vassel from a fantasy perspective.
Kelly Oubre Jr, SF/PF, Charlotte Hornets - Hand
Oubre is going to miss 4-6 weeks after getting surgery on his left hand. Jalen McDaniels was called upon to take Gordon Hayward's minutes when he was injured, and I would expect he and Hayward will fill the void left by Oubre.
Aleksej Pokusevski, SF/PF/C, Oklahoma City Thunder - Leg
Pokusevski suffered some sort of tibia fracture in his left leg, which is expected to sideline him for at least 6-8 weeks. Thunder coach Mark Daigneault, said that he doesn't think the injury is "long-long term", and expects Pokusevski to return before the end of the year. But...we know the Thunder, currently 12th in the West, love a good tank, so take that with a grain of salt.
Lonzo Ball, PG/SG, Chicago Bulls - Knee
Until Ball returns (which doesn't seem like it will be in 2022), Ayo Dosunmu is the starting PG for the Bulls. Dosunmu is off to a hot start, and he's definitely worth looking to acquire if you can find a good deal.
Update 1/28: Ball has been deemed "nowhere close to returning" by Bulls coaching/management. Coach Billy Donovan said that if there isn't marked improvement by post-ASB, Lonzo will just be shut down for the year officially.
The Tank Corner 
Closed until later in the season, we'll get here when teams start trotting out G-Leaguers none of us have ever heard of.
Download Our Free News & Alerts Mobile App
Like what you see? Download our updated fantasy basketball mobile app for
iPhone
and
Android
with 24x7 player news, injury alerts, lineup notifications & DFS articles. All free!
More Fantasy Basketball Analysis