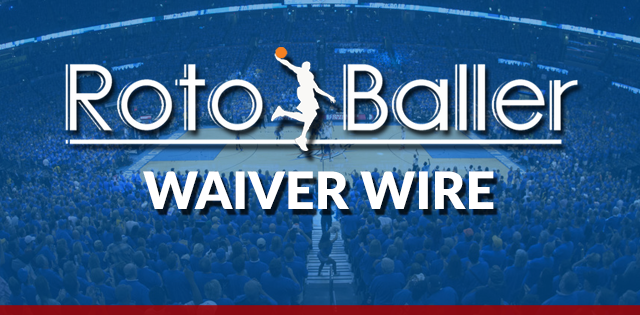 The deeper a fantasy basketball league, the harder it is to hit a winner with your last few picks. It is also harder to find decent help from the waiver wire if your late-round picks don't do you justice. If you picked up a few stinkers, don't lose hope just yet. I will try to help you pick up a winner.
Here are my deeper league fantasy basketball waiver wire pickups for your fantasy basketball teams this upcoming week. These NBA players should be available in most leagues and they might just help you out, whether it's a few weeks' rental or a long-term fix to a problem your team is having.
If a guy on your team is frustrating you with his weak performances, give some of them a go. They might just be worth it.
Editor's Note: Our incredible team of writers received five total writing awards and 13 award nominations by the Fantasy Sports Writers Association, tops in the industry! Congrats to all the award winners and nominees including NBA Writer of the Year, Best NFL Series, MLB Series, PGA Writer and Player Notes writer of the year. Be sure to follow their analysis, rankings and advice all year long, and win big with RotoBaller!
Read More!
Fantasy Basketball Waiver Wire Targets For Week 22
The Grizzlies will welcome Ja Morant back this week but that won't be the case for Steven Adams, who might actually miss the remainder of the regular season. Luckily enough for Memphis and even more for fantasy GMs out there hurting for late-season help, Xavier Tillman Sr. is doing more than enough to cover for the missing big man.
Tillman has started all games this month while averaging a healthy 28 MPG in which he's been excellent on a super-depressed usage rate as part of the Grizzlies' first unit. Tillman is getting just a 15% usage and hoisting fewer than eight FGA per game in March, but that comes with some positives.
For one, X-Till is finding paydirt on nearly 60% of the shots he attempts (58 FG%) mostly because he just operates in the paint without stretching the floor one tiny bit. That also allows him to stay close to the glass and boost his rebounding numbers (he's averaging seven RPG this month) while quickly dishing out dimes for others to hit open shots (almost three APG).
The steals are great with 1.3 SPG in March (10 games played through Sunday) while Tillman has also scored at a 60%+ clip from the floor in six consecutive games while attempting at least 4+ FGA in each of those.
The less heralded of Indy's two rookies (the other one being Bennedict Mathurin) keeps starting games and getting better by the day. That'd be Andrew Nembhard for those of you not in the known, although you should be more than aware of this man's exploits by now and grab some shares before the regular season comes to an end.
Nembhard has moved from the starting SG position to manning the point in Indiana for the last week or so. It's been four games straight starting as the Pacers' point guard and the results couldn't have been any better. In this four-game stint, Nembhard has averaged a 20-2-5 per-game stat line on gaudy usage rates above 24 percent.
In fact, Nembhard has been on fire for five games as he's scored 14+ in each of those, hit 11 three-point shots in that span, hoisted a healthy 71 FGA (14+ per game), and contributed all across the board with a focus on scoring and diming.
The turnovers have stayed low even in this larger-than-ever role. The rookie is getting 32 MPG of playing time in the last five games, which is a notch above the 29 MPG he was already playing between December-February.
The Houston Rockets could only enjoy Jae'Sean Tate for three games at the start of the season (October) before he got to the shelves for the next two-plus months, not making his return until January 5. The young forward has slowly but surely increased his presence in the lineup while mostly coming off the pine to help carry the second unit since then.
Tate had a five-game span in which he started all of those games sandwiching the All-Star break but he's now back to the bench mob. The results and the production are actually better this way, as he gets more chances to shoot the rock and dish out dimes leading the reserve unit.
Playing on the wing, Tate is not one to trust when it comes to hitting many three-point shots. In fact, he's only scored two 3PM once this season in 31 games while averaging 0.4 3PM per game over the full campaign. That said, he still knows how to score mid-rangers and how to attack the rim, which also comes with free throws going his way (2.2+ FGA per game).
Tate finds his mojo in the classic cats with a reasonable amount of points (nine PPG throughout the season, nearly 11 PPG in March), rebounds (four RPG), dimes (2.5+ APG), and steals (0.8 SPG this month). The shooting percentages are often well above 50% because he is a two-point shooter more than a three-point hoister.
On the negative side of the spectrum, the turnovers and the personal fouls hurt his production and could/should be lower. Can't have it all, and that's why he's rostered in barely one of each 20 ESPN leagues these days.
Cory Joseph (PG, DET) - 3% rostered
Veteran guard Cory Joseph has experienced two very different seasons this year in Detroit. From the start of the campaign through the end of February, he played a total of 694 minutes (16 MPG) spread over 43 games (and more than 23 MP just four times), but just in March alone, he's appeared in all 10 games for the Pistons, logging a combined 286 minutes and playing 24+ every single time (29 MPG).
Joseph keeps playing as part of Detroit's second unit, but his numbers have skyrocketed as of late thanks to the veteran playing a much larger role coming off the pine than he did in the early portions of the season. He's been so good at everything, in fact, that he's yet to finish a game this month below the 16-FP mark while averaging a much-better 25 FPPG.
CJ has scored 11+ points in each of his last eight games while averaging 14+ PPG in that span and through Sunday. He's also hit a three-point shot in 10 straight matchups while keeping his shooting percentages from the floor above 42% in nine consecutive outings.
Joseph can contribute the most in the scoring (points, FG%, FT%) cats but he has now found a way to rack up assists (4+ APG in the last two weeks) and rebounds (2.8 RPG) while also providing one SPG in this recent eight-game stint.
Joe Ingles (PF, MIL) - 3% rostered
It was all good news when Joe Ingles returned to a basketball court as early as last December after a long time recovering from injury. That was definitely way ahead of schedule, and Milwaukee has reaped the rewards of having the Aussie available sooner than expected, giving him more and more playing time each passing week as he gears up for when he will count the most: through the upcoming postseason run.
Ingles played just 21 MPG through January, then 23 MPG in February, and he's ramped up his efforts to a dose of 25 MPG this month (nine games played). In fact, Ingles has ramped up his playing time and his stats, as he's currently enjoying the best spell of games donning Bucks threads since he joined the organization a few months ago.
It's funny because Ingles is alternating average and great performances on a per-game basis. He's scored 12, six, 15, six, 14, and six points in his last six games through Sunday. Up and down, up and down, up and down.
Even then, though, Ingles is contributing double-digit points in March (10.5+ PPG) while also hitting a lot of three-point shots (2.8+ 3PM per game) on spot-up shooting duties while adding nice rebounding numbers (four RPG) and dishing out a fair amount of assists (3.7+ APG) to go with solid steals (0.8+ SPG) for someone on a limited/particular role.
Don't expect a huge volume of anything (he's hoisted more than nine shots just once through the year and it happened all the way back in January), but count on fantastic efficiency on a per-minute basis with contributions all across the board.
Download Our Free News & Alerts Mobile App
Like what you see? Download our updated fantasy basketball mobile app for
iPhone
and
Android
with 24x7 player news, injury alerts, lineup notifications & DFS articles. All free!
More Fantasy Basketball Analysis