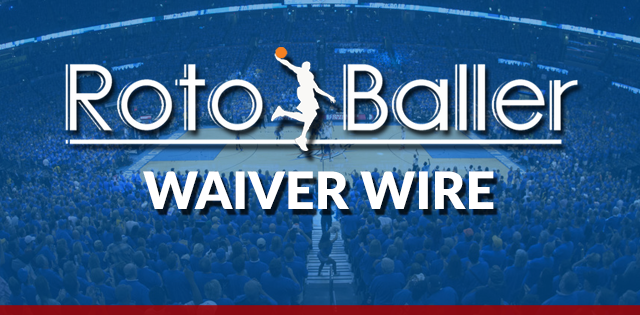 The deeper a fantasy league, the harder it is to hit a winner with your last few picks. It is also harder to find decent help from the waiver wire if your late-round picks don't do you justice. If you picked up a few stinkers, don't lose hope just yet. I will try to help you pick up a winner.
Here are my deeper league waiver wire pickups for your fantasy basketball teams. These players should be available in most leagues and they might just help you out, whether it's a few weeks rental or a long term fix to a problem your team is having.
If a guy on your team is frustrating you with his weak performances, give some of them a go. They might just be worth it.
8% rostered
For some reason I can't quite grasp, Wayne Ellington is somehow rostered in less than 10% of all Yahoo fantasy leagues. Let me put it in another way: Wayne Ellington, a guy on a scorching hot shooting streak--with upside on assists and almost never turning the ball over--is available in more than 90% of Yahoo fantasy leagues. That, my friends, makes no sense at all.
While I could understand such a low rostership entering the last week of games, it is nonsensical at this point and much less after the week Ellington put together leading up to the AS break. These are Ellington's last three games for the Pistons: 15-1-0-1-1 with 4 treys, 25-3-0-2 with 8 triples, and 17-0-3-1 with 4 three-pointers. The guard has started 21 of his last 22 games all the way back to Jan. 13, went through a shooting slump for most of February, but he's back at his early-season numbers dropping 60% of his FGA on a healthy-enough 10+ attempts per game.
Ellington's aforementioned slump coincided with a bump down in minutes that seems to be fixed now. From Jan. 16 to Jan. 28 Ellington averaged 31 MPG and an incredible 19-2-2 line shooting 58% from the floor and hitting 4+ treys in every single game of the seven he played in that span. He's back at it. In the last three games, he's scored 4, 8, and 4 treys and the FG% is again up at 60 percent. Ellington might be moved to a better team/environment, and although he might turn into a pine-rider wherever he goes, he's a pure flamethrower that will give you tons of points, triples, and great percentages.
5% rostered
We have yet to see how San Antonio deals with their forwards/centers rotation after the AS break, but if things don't change a lot, then Lyles might still be worth adding for those managing in deep leagues. If things reverse course to how they were going a few weeks ago, though, Lyles would only be rosterable in super deep leagues at most.
Keldon Johnson was forced to miss a couple of weeks from Feb. 14 to Mar. 2 but he came back for the Spurs that latter-day and he had started every game prior to his absence. Odds are he gets back to that role come Wednesday. That being said, it looks like San Antonio is moving on from starting LaMarcus Aldridge, which would make Lyles still a half-valuable rotational piece for the team. That is, assuming Aldridge is not moved entirely and traded away before this month's deadline.
Lyles has started all last five games leading up to the break. He's played an average of 30 (!) minutes per, and he's averaged a nice 12-7-1-1 line while at it, which is far from low production given his availability. He just went into the break posting his first dub-dub of the season with a 15-10-1-1 performance against the Thunder on Mar. 4 playing just 27 minutes. Keep an eye on San Antonio's plans going forward, be it regarding the rotation and potential trades of players taking minutes from Lyles.
4% rostered
How can I say this nicely? Hmm... The Houston Rockets stink. I don't think I can do better, folks. Houston's maladies, though, are all coming from a single even that took place a few weeks ago: Christian Wood getting injured. That's it. Since then, the Rockets have won all of zero games, are 0-13 in that span, and enter the second half of the season sitting at the 14th place in the West with an 11-23 record only better than the Wolves' 7-29 mark... Ugh.
Justin Patton has taken on Wood's duties for Houston during the last few games of the first half, namely in six of them from Feb. 22 to Mar. 3. He started a couple of those against Memphis and Cleveland, and in the last three he went to play 26, 31, and 26 minutes posting an average line of 8-5-1-2-1. Those numbers are definitely not going to blow your mind away, but the truth is that Patton has shown prowess to do it all on the court.
Patton has hit six triples in the past four games while still shooting 63 percent from the floor on low volume. His usage has been, obviously, low at just 11%, but when given the second-unit, off-the-bench role in his last outing against the Nets on Mar. 3 he played to the tune of 1.3 FP/min and was very productive with a 10-6-4-4-1 line in that match. That is what Houston is expecting from him going forward as Wood should be back come Wednesday. Not the worst of additions for deep-league GMs in the need of a big man with upside.
4% rostered
Did we go into the AS break witnessing Baynes' renaissance after a rather bad first half of the season? It could be the case, indeed, and if that's the truth then his paltry rostership of below-5% should sky-rocket in no time once the second half of the year tips off next Wednesday. Baynes started every game for the Raptors from Dec. 23 to Feb. 14 but he left the starting five on Feb. 16 and didn't regain such a role after Toronto's game against Detroit two weeks later on Mar. 3.
Through the "starting" part of his season, Baynes only averaged 0.75 FP/min, so seeing him benched in favor of some Anunoby-Siakam small ball lineups wasn't that surprising after all. His stint as a reserve didn't help Baynes improve his numbers a lot, although at least he raised his per-minute efficiency a bit going up to 0.8 FP/min. His last couple of starts, though, both just before the break, in back-to-back nights, saw Baynes put up two of his best performances of the season.
In the last two games against Detroit and Boston and the prior match against Houston, Baynes has averaged an above-average 1.05 FP/min in 23 MPG of average playing time. His lines read 9-6 with a block, 13-4-1-1, and 13-9-4-1. Baynes has shot above 44% from the floor in all of the last six games, is averaging a 55 percent FG%, and he's scored one triple in five consecutive games leading up to the AS break. Not the greatest of starters (if he retains that role), but definitely a productive bench-player that seems to be getting it right of late.
4% rostered
Detroit Pistons rookie Isaiah Stewart is still down in the team's pecking order when it comes to big men. He's coming off the pine every time he plays, with both Jerami Grant and Mason Plumlee above him. Only two times has Stewart started this season, both on back-to-back nights a little over two weeks ago facing Indiana and Boston. Other than that, and as a second-unit man, Stewart has been a nice finding by Detroit in the last NBA draft.
Isaiah has played almost 22 MPG in the past two weeks while putting up nightly 7-7 lines. While that's nothing superb, Stewart is only getting a low 13% usage rate and his mojo comes on the blocks department as he's averaging 1.3 per game in that span. Stewart is one of only 37 players (min. 20 games) blocking at least one shot per game, and he's doing so playing the sixth-fewest minutes per game.
Blake Griffin is exiting the All-Star break as a Net and is entirely out of Detroit already. Plumlee has been nice for the Pistons, but Stewart keeps improving nightly. There are even rumors about Detroit potentially moving Jerami Grant before the deadline if the offer they get is good enough. Stewart is shooting the rock at a magnificent 79% from the field in his last six games before the break. Good flyer to pursue by those in super deep leagues, with upside to grow as the season advances and Detroit tests its young assets in larger runs.
Download Our Free News & Alerts Mobile App
Like what you see? Download our updated fantasy basketball mobile app for
iPhone
and
Android
with 24x7 player news, injury alerts, lineup notifications & DFS articles. All free!
More Fantasy Basketball Analysis
By popular demand, RotoBaller has aggregated all of our fantasy basketball NBA waiver wire pickups into a running list of NBA waiver options, so bookmark the page and check back often for updates.