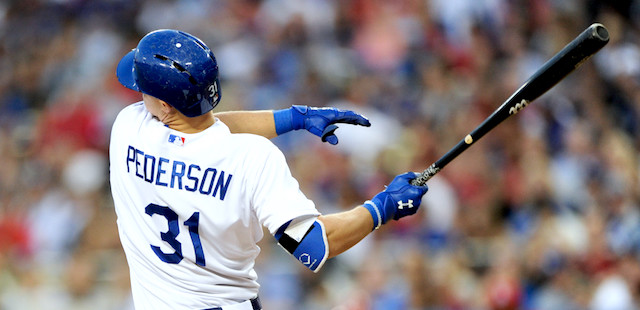 As important as it is to be active on the waiver wire, snagging that next hot bat or pitcher on a roll before anyone else can, let's be honest--there are only so many roster spots. That's why your watch list is just as important as your waiver wire activity, and perhaps even more so.
Throughout the season, you want to get the jump on your competition and sniff out the breakout players before they break out. That's what this list is all about--using some in-depth research and advanced analytics to find the players who aren't quite there yet but are on their way.
This is not necessarily a list of players you should add right away - it is a list of people to keep a very close eye on in most leagues, and to consider picking up in deeper formats. In some cases, we will even caution you not to pick up a widely-added player, and steer you away from the fool's gold. Use it to build your own watch list.
Editor's Note: Get any full-season MLB Premium Pass for 50% off. Exclusive access to our Draft Kit, premium rankings, projections, player outlooks, top prospects, dynasty rankings, 15 in-season lineup tools, and over 200 days of expert DFS research.
Sign Up Now!
Pitchers to Watch in 12+ Team Leagues
Lucas Giolito (SP, CWS)
Do you remember when Giolito was considered one of MLB's premier pitching prospects? Yeah, me either. His first full season in the majors came with the White Sox last year, and he was quite literally one of the worst starting pitchers in the game. Giolito finished the season--a full 32 starts and 173 innings pitched--with a 6.13 ERA. I'm honestly shocked they let him make that many starts. His 5.37 SIERA backs that number up, as do the rest of his peripheral stats. A 16.1 K%, an 11.6 BB%--this guy was not a major league-caliber pitcher.
That's why he's on the watch list and not the add list. But, my eyebrows are raised after his season debut. He carried a no-no into the seventh inning against the light-hitting Royals, and finished with two runs, three hits and a walk allowed over 6.2 with eight strikeouts. At one point there was top-prospect pedigree here, and Giolito is still not even 25 years old. Keep him on your watch list and see how he fares against some more difficult opponents.
Sandy Alcantara (SP, MIA)
Alcantara only saw 34 innings of big league action in 2018, and there wasn't a ton of impressive material there to work with. His 3.44 ERA in that time was backed up with a 5.42 SIERA, so it's not particularly impressive upon further review. The 6'5" flamethrower has struggled with walks for much of his professional career, and that held true last year (15.8 BB%).
So I took notice when he threw eight innings of shutout ball against the Rockies while issuing ZERO free passes. He yielded just four hits while striking out six in an extremely efficient outing. Alcantara has a ton of potential in the long term, and at age 23, I have plenty of hope for him to make some sustainable changes in the control department. The Marlins have very little to lose this year, so expect them to give Alcantara a pretty long leash as he gets truly acclimated to MLB hitters. I'm not adding quite yet, as I want to see him show up a few more times before I'll be a true believer.
Spencer Turnbull (SP, DET)
I will be the first to admit that I said "Who?" when I learned that Spencer Turnbull would have a starting opportunity in the Tigers rotation. More the fool am I, because Turnbull has impressed through his first two starts. Through his first 11 innings this year he's notched 15 strikeouts and four walks and is coming off a 10-strikeout performance against the (again) light-hitting Royals.
The 26-year-old righty has been good through two starts, but I'm not ready to declare him a stud-in-the-making yet. For one thing, the Tigers are B-A-D BAD, so if you're looking for wins look elsewhere. In the minor leagues, he was a middling achiever as far as strikeouts are concerned, so I'm not sure I'm buying the K% yet. Keep an eye out for what could be a next-level sleeper, but don't bit just yet.
Batters to Watch in 12+ Team Leagues
Joc Pederson (OF, LAD)
Speaking of guys with top-prospect pedigree! Joc Pederson has always been part of that pesky Dodgers outfield platoon from the last few years, but with Yasiel Puig now in Cincinnati Pederson, he has the left field job relatively locked down. He's making the most of the opportunity, hitting .412 with three big flies, eight runs scored and five RBI through six games.
The big factor that gives me some hope is the fact that Pederson cut down on his strikeouts in 2018, setting a career low in K% with just 19.2%. When he first emerged in the MLB, that number was over 29%, so there has been some true growth over his MLB career so far. Pederson is never going to be a high batting average guy, so expect that to regress closer to his career average as the season progresses. However, there is legitimate 30-homer power here, so keep an eye out if you're in any format where HR or slugging percentage matters.
Niko Goodrum (OF, DET)
Besides being a terrific inspiration for fantasy team names, Niko Goodrum is following up a minor breakout season in 2018 with a solid start to 2019. Goodrum's primary value is his speed, so the 12 steals last year in 131 games was actually somewhat of a disappointment. The 16 homers, on the other hand, was a bit of a surprise given his minor league numbers. I think that something like 12 homers with 22 steals is a more realistic expectation, and Goodrum is showing signs of making that happen.
In 2019 his OBP is an exceptional .483, thanks in large part to the fact that he's walking in a quarter of his plate appearances. Some simple math for you: high OBP+above-average speed+green light=terrific roto value. If Goodrum can maintain an OBP over .330 or so, he should push for 25 steals, which along with 12+ homers and a middling batting average makes him a valuable cheap piece. If you waited on steals, keep an eye on Goodrum.
Dansby Swanson (SS, ATL) 
For a former number one overall pick, Swanson's career so far can be seen as nothing but a disappointment. Once heralded as the next great shortstop, Swanson has been dreadful at the plate for the last two years but maintained regular playing time thanks to his defensive and base-running abilities. He has hit below .240 in each of the last two seasons while averaging just 10 homers and 6.5 steals in that time. That's worse than the average shortstop, much less on a production level you'd expect from a number one overall pick.
He has roared out of the gates in 2019, hitting .353 with two jacks, four runs, and six RBI through six games. Plain and simple, given his track record you can't trust Swanson after just a week of good games. BUT, given his pedigree, it's worth noticing when he gets off to this good of a start. He's in a great lineup, and if he can begin hitting the counting stats will start to add up.
More Waiver Wire Pickups and Streamers