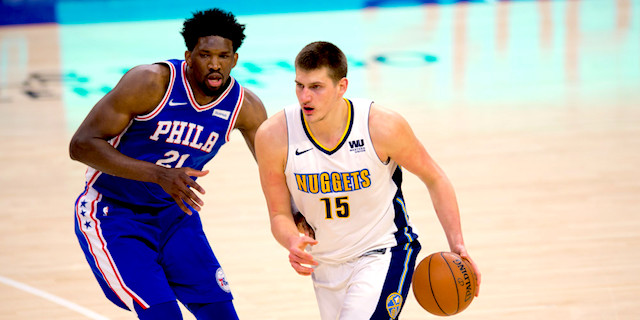 What Appears In This Article?
hide
Game 2 between the Nuggets and Suns. The NBA is faaaantastic!
Unfortunately, this is the only game tonight but FanDuel has a $400k NBA Clutch Shot tournament with $100k to first place. The entry fee is $7 and the maximum capacity is 68,037 entries.
Here are my favorite plays from tonight's game for the FanDuel single-game slate that locks at 9:30 PM EST.
Featured Promo: Get any full-season NBA Premium Pass for 50% off. Win big with our exclusive DFS lineup tools, matchup rating projections, powerful Research Station, Lineup Optimizer, daily DFS lineup picks/cheat sheets and more!
Sign Up Now!
Denver Nuggets (+6) at Phoenix Suns (222 total)
The Suns displayed a well-rounded attack to take Game 1 of the series, as every starter scored in double figures with four of them scoring at least 20 points. They are tough at home and play fantastic defense. Will the MVP rise to the occasion?
Nikola Jokic ($15,000) was named the MVP of the NBA on Tuesday and will be my MVP on Wednesday. He has the highest floor/ceiling combo on the slate. He put up 48.3 FD points in Game 1 but that's essentially his floor when he plays a full complement of minutes. In the Portland series, he went for at least 50 FD points in five of the six games with a high of 77.7. In three regular-season games with the Suns, Jokic scored 46.3, 61, and 61.4 FD points. He only played 30 minutes in the 46.3 game. Jokic will need to step up if the Nuggets are going to tie the series up. He went for at least 60-FD points 24 times during the regular season, with eight above 70 and a high of 88.6 FD points.
My STAR for the night was between Devin Booker ($14,500) and Chris Paul ($13,500). Booker does have the higher ceiling but he's so dependent upon scoring that he has more floor games than ceiling ones. Paul contributes in so many categories that he can often match Booker's output. In addition, Paul is $1,000 cheaper. Paul went for 46.7 FD points in Game 1 and, in the three regular-season matchups, he went for 37, 37.3, and 55.3 FD points.
Michael Porter Jr. ($12,000) wasn't great on Monday as he shot 6-for-13 from the field and 3-for-8 from downtown. He also did not notch a steal or block, only the second time these playoffs he got bageled. I expect him to bounce back in a big way today as he is such an offensive force and will be needed. In the final two games against Portland, he scored 26 points in each game and went for 40 and 47.9 FD points.
Deandre Ayton ($12,500) went for 20 points and 10 rebounds with a steal in Game 1, good for 34 FD points. He has really blossomed these playoffs, double-doubling in the first four games against the Lakers and producing over 40 FD points in three of those contests. That said, he did go for only 13.1 and 19.4 FD points in the last two games in the Lakers series so the floor is low. I prefer Porter Jr. in this price range but have no problem pivoting to Ayton, especially if the ownership projections are in his favor.
Mikal Bridges ($11,500) put up a whopping 44.5 FD points in Game 1. He shot 8-for-12 from the field and 4-for-8 from downtown. This is the ceiling and not something to be expected on a consistent basis. It was the first time he scored at least 20 points since May 13th, a span of nine games. Where he makes his hay is in the defensive categories. Could he go bonkers again? Sure, because he's a young and talented player but the usage rate isn't consistent enough for me to feel comfortable about rostering him, especially since the ownership percentage will likely be elevated from the Game 1 performance.
Aaron Gordon ($10,500) is always a conundrum because he has the physical tools to be a star. He just rarely plays like one. That said, he was fantastic in Game 1, posting up smaller defenders all night and even notching three steals. With his length, I always feel like he should rack up more defensive stats but he doesn't. He's been on quite the heater as he went for 32.4 and 32 FD points in the final two games of the Portland series.
Jae Crowder ($10,000) plays a ton of minutes and is given plenty of opportunities to accumulate fantasy goodies. He grabs rebounds and gets steals and blocks. It's the shooting efficiency that makes or breaks his night. In the playoffs, he's scored fewer than 20 FD points twice with two games above 35. The ceiling is high but the floor is low.
Facundo Campazzo ($9,500) was magnificent in Game 1, as he played 36 minutes and contributed 14 points, four rebounds, six assists, and two steals, good for 30.8 FD points. Entering this series, I thought Monte Morris ($11,000) was starting to assert himself but Campazzo reminded me that he is still the top option at point guard. The shooting efficiency isn't great but the assists and steals will always be there. In the playoffs, he's racked up at least two steals in a game in five of the seven games.