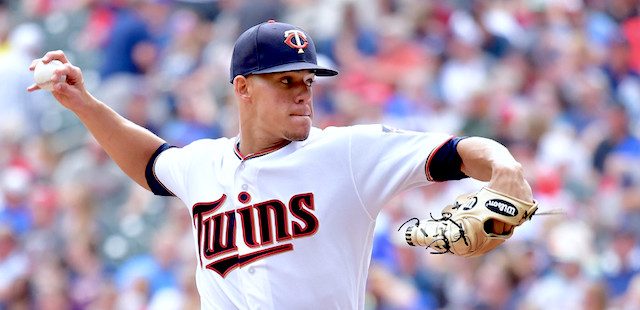 Happy 4th of July! There are 12 games on the schedule today, spread out from 11:05 am to 9:10 pm to help you celebrate the holiday the right way by watching America's pastime. I will be focusing my research on the four-game Early Only Slate and the four-game Main Slate.
In this article, I will be providing you with my daily fantasy baseball lineup picks for FanDuel on 7/4/2019. The picks will range from some of the elite players to mid-priced options and value plays.
We also provide DFS lineup picks for DraftKings and other sports. If you have any questions or comments, feel free to contact me on Twitter @Roto_Nate.
Editor's Note: Get our 2020 MLB Premium Pass for 50% off, with exclusive access to our draft kit, premium rankings, player projections and outlooks, our top sleepers, dynasty and prospect rankings, 20 preseason and in-season lineup tools, and over 200 days of expert DFS research and tools.
Sign Up Now!
FanDuel DFS Pitchers
Jose Berrios: MIN at OAK ($10,500) (Early)
Berrios is the most expensive pitcher on this slate by $2,800, which is for good reason since I see no other pitcher we can trust. Berrios has seven straight starts allowing three or fewer runs and gets a nice park boost here with playing in the pitcher-friendly confines of the Oakland Coliseum. I'm not crazy about the idea of paying up for pitching on this slate, but Berrios consistent fantasy output is too good to pass up on a slate where I can see a scenario that all other pitchers have a rough outing.
Lance Lynn: TEX vs LAA ($9,300) (Main)
Lynn has been tinkering with his repertoire, which paid off in his previous start with an eight-inning scoreless outing against the Tampa Bay Rays. Before a rough outing against the White Sox two starts ago, Lynn had a stretch of eight straight games where he allowed three or fewer runs. Despite having a higher ERA at home, Lynn has a sparkling 6-0 record in Arlington, and I would expect the Rangers have a good chance to win tonight's game after dropping the first two games of the series.
FanDuel DFS Infielders
Daniel Vogelbach: C/1B, SEA vs STL ($3,700) (Early)
Michael Wacha has had three quality starts of four since returning to the rotation on June 10th. If there was one flaw in his game, it would be the two games where he gave up multiple home runs. Enter Vogelbach, with his .433 wOBA and .326 ISO with 18 home runs against right-handed pitching. I will be looking for Wacha to struggle with the long ball again in this game, and it will start with Vogelbach.
Luis Arraez: 2B, MIN at OAK ($2,700) (Early)
"Add Arraez to the list of rookies who are making an impact in their respective lineups to start this season. He has shown no need of having to adjust to major league pitching, boasting a .411/.493/.518 slash line in his first 20 games. He faces Tanner Anderson who has gone 0-3 with a 7.13 ERA in four appearances so far this season. You won't be able to get Arraez at this discounted price for much longer, so you should roster him while you still can." If you feel you heard this before, it was my opinion on Arraez for yesterday's article when Tanner Anderson was originally pencilled in to start before Mike Fiers took the mound instead. Arraez has moved up to the middle part of the order since then, which makes him an even better option. He also picked up two hits in the first game of this series, moving his slash line to .417/.493/.533.
Rafael Devers: 3B, BOS at TOR ($4,300) (Main)
The Blue Jays pitching situation is up in the air for tonight's game, as Marcus Stroman has been battling a pectoral cramp that could see him miss tonight's start. With the way Devers is hitting the ball, it may not matter who is on the mound. He has tallied 16 hits in his last seven games, including two home runs and eight RBIs in the first two games of this series against the Blue Jays. So far this season, Devers has been raking against the Blue Jays, boasting a .474/.500/.921 slash line with five home runs in a large sample size of 38 at-bats.
Max Muncy: 2B, LAD vs SDP ($3,800) (Main)
Baseball is better off with the return of Dinelson Lamet from Tommy John surgery, which has kept him sidelined for the last fifteen months. Unfortunately for him, he has to face the high-powered Dodgers lineup in his return, so things may not go well in his first start major league start since the procedure. With their usual top-five hitters all possessing wOBA's above .345 against right-handed pitching, the Dodgers are easily one of the scariest teams to face in the league, especially at home where they 5.60 runs per game. Muncy is one of the main cogs in the lineup, boasting a .374 wOBA and .264 ISO against righties.
FanDuel DFS Outfielders
Bryan Reynolds: OF, PIT vs CHC ($3,400) (Early)
Jose Quintana came into his last start with a 6.75 ERA in his last six outings but bounced back with a six-inning shutout. However, I will take my chances that he isn't completely recovered from his terrible late-May/June. Reynolds hasn't had this best series thus far against the Cubs, but he has raked this season against lefties to the tune of a .406 wOBA and .241 ISO. I could have taken the easy route here and chosen Josh Bell as a player from the Pirates, but a quick turnaround for an afternoon game after a night game and his recent string of consecutive games played makes me think he could sit out the series finale. If Bell does crack the lineup for this game, he has hit four home runs in this series already, so I would say he is a good option as well.
Guillermo Heredia: OF, TB vs NYY ($2,100) (Early)
When you talk about under the radar plays, Guillermo Heredia would be at the top of the list. The fact is when you look at the Rays lineup, Heredia is one of the top options against left-handed pitching. So far this season he boasts a .374 wOBA and .200 ISO against lefties and faces a pitcher in J.A. Happ who has had his fair share of inconsistent starts. Heredia isn't the best option against Happ, but at this price, he would be hard not to give a long look to when trying to fit expensive options like Josh Bell or Jose Berrios.
Lourdes Gurriel Jr.: OF, TOR vs BOS ($3,700) (Main)
The Blue Jays have slipped to being the worst hitting team in the majors against right-handed pitching but on a four-game slate, we can afford to take a chance on some of their players. Especially, since they are facing Hector Velasquez and his 1.714 WHIP against right-handed hitting. Gurriel is a good example of a player who looks to be getting underpriced relative to his value due to the hitting woes of the Blue Jays as a whole. If any bigger name players in the majors had six home runs and an average of 20.6 Fanduel Points per game over their last ten games, I would imagine they would come in at a higher price. I plan on riding the hot hand here until he can prove otherwise or Fanduel starts to price him much higher.
Austin Riley: OF, ATL vs PHI ($3,400) (Main)
After a hot start to the season, Zach Eflin has allowed a 4.30 ERA over his last eight starts, with the Phillies losing six of those games. Riley is another rookie who has been swinging a hot bat as of late, hitting three home runs in his last five games. Most of Riley's production comes from the long ball, which Eflin has struggled with during this rough stretch, giving up four home runs over his last two starts.
MLB DFS News and Injury Alerts