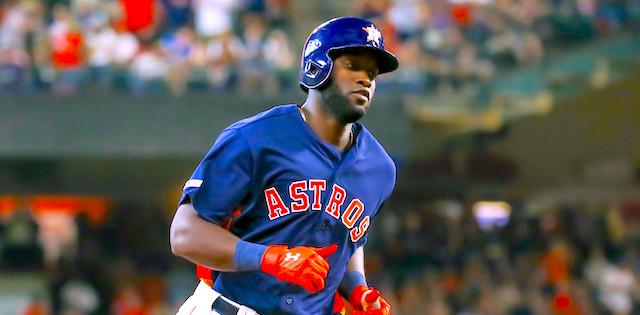 We only have one MLB game on the slate today, but it's a fun one between the Rays and Astros. The Astros are tossing Justin Verlander on three days rest, so that will be very interesting to see how that plays out. On the Rays side, it'll be a bullpen game headed by Diego Castillo. The Astros are obviously the favorite, but this is playoff baseball and anything can happen.
Let's get to it!
Be sure to also check out all the Vegas Odds for today's slate. You can also read more DFS advice and lineup picks for sites like FanDuel, and other sports too. If you have any questions or comments, feel free to hit me up on Twitter @DFSVarney
Editor's Note: Get any full-season MLB Premium Pass for 50% off. Exclusive access to our Draft Kit, premium rankings, projections, player outlooks, top prospects, dynasty rankings, 15 in-season lineup tools, and over 200 days of expert DFS research.
Sign Up Now!
MVP/All-Star Plays
Jose Altuve - Astros - $8,500
Altuve has been on fire of late, homering in two of the three games to start this series. The Rays are going to toss out Diego Castillo to start the game, but it will be as many bullpen arms as they need to quiet the Astros. Altuve has drilled both righties and lefties to a .400+ wOBA this season and he's getting hot at the right time. He has four XBH in his last four games, with the two home runs and two doubles. You get a $1k savings off of Alex Bregman, who will be similarly owned.
Yordan Alvarez - Astros - $8,000
Yordan Alvarez is seeing the ball great right now, but hasn't homered in three weeks. For one of the best power hitters in baseball, it's about time one of these went over the fence. The cast of bullpen arms for Tampa Bay are good, but they only have three arms with an xFIP under 4.00. The rest of the bullpen is beatable and Alvarez only has to connect on one pitch in the MVP spot. He won't be as popular as guys like Bregman, Springer, and Altuve, and he'll be pretty rare in the MVP spot. For a guy that can hit two home runs and break the slate, his price is rather affordable.
Austin Meadows - Rays - $7,000
If you're looking for a contrarian take on this slate, that would be the Rays offense getting to Justin Verlander and putting up some runs. The best hitter by far in this Rays lineup is Austin Meadows. Meadows has posted a .410+ wOBA against righties this season and has as much power as anyone in this game. Verlander is one of the best pitchers in baseball, but home runs are the one place you can get him. A solo shot or two out of these guys wouldn't be the least bit surprising. Meadows is cheap on FanDuel and gives you a different lineup while still having the money to afford the big bats.
Safe Plays
Alex Bregman - Astros - $9,500
You can obviously mix and match any of these guys, as anyone can hit a home run or two and be the MVP play. Alex Bregman is the most expensive option on the board and rightfully so. He's the most consistent bat in the Astros order and he rakes both lefties and righties. Even without a home run in the series, Bregman has put up 20+ fantasy points regularly. If you think the Astros are going to win this game, there's a very high chance Alex Bregman is involved and should at least be a flex play.
Michael Brantley - Astros - $7,500
Brantley doesn't have as much upside as some of these guys, but he makes hard contact nearly every at-bat and there's a huge value to that when your in this lineup and there's constantly runners on-base. The price on Brantly here is affordable and he's a great guy to just plug in there to make other things work. He'll be hitting third in between the big guns and there's always the upside for a home run. If there are any runs in this game, Brantley and Bregman are two of the safer bets to be involved.
Brandon Lowe - Rays - $6,000
Brandon Lowe spent most of the year raking righties to the tune of a .371 wOBA. The rest of the year was spent on the IL with injuries. He's back in perfect time and looking healthy as ever. The match-up is obviously tough in Justin Verlander, but he is pitching on three days rest and the Rays could very well put up a few runs. Lowe has the power to change the slate and I doubt he's over 30% owned.
Contrarian Plays
Yuli Gurriel - Astros - $6,500
Yuli Gurriel is a guy I prefer to target against lefties, though he's still consistent against righties. We don't know who will be coming out of the Rays bullpen, but Diego Castillo will open it up and likely pitch two or three innings. If Gurriel can come to the plate with runners on base, he's an excellent bet to drive them in. the Astros are implied to put up nearly five runs in this game and Gurriel could very easily get involved.
Tommy Pham - Rays - $6,500
Tommy Pham is an all-around great hitter and he will very low-owned on this slate. He's certainly better against left-handed pitching, but still posted a .324 wOBA against righties on the season with 18 home runs. Like I've said countless times now, the match-up is tough, but Vegas is still expecting the Rays put up two or three runs. Remember, Verlander is on short rest and they're not going to ruin him with 100+ pitches. It's tough to root for batters vs Justin Verlander, but this short MLB playoff should have taught you that nobody is special in October.
MLB DFS News and Injury Alerts