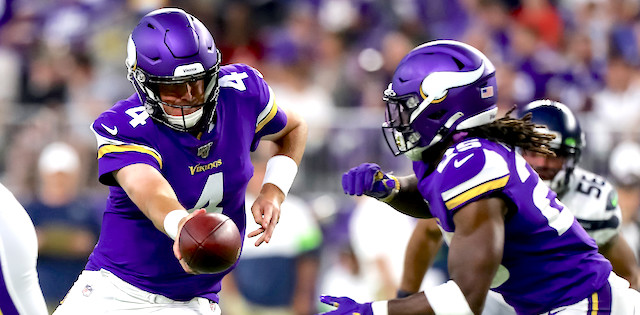 Assisting our famous waiver wire pickups list, and our weekly waiver wire columns by position, this column focuses on suggested waiver wire bidding percentages for fantasy football owners in leagues using a Free Agent Acquisition Budget (FAAB).
As a caveat, these prices do not by any means indicate how much these free agent players will go for. Each league values players differently and will continue to do so. These values are here to provide a baseline to understand roughly how much you should be targeting to spend on a particular player. You only have so much FAAB money, spend it as wisely as possible.
Most of your playoffs begin now, but some still have one more week. Regardless, this is no time to conservatively sit on your FAAB funds. Even if you don't need a starter, your cash is better served blocking opponents than sitting in that wallet. To assist you in winning it all, here are our FAAB auction bidding recommendations for Week 14 below.
Editor's Note: Get any rest-of-season NFL Premium Pass for 50% off. Our exclusive DFS Tools, Lineup Optimizer and Premium DFS Research through the Super Bowl.
Sign Up Now!
FAAB Waiver Wire Bids - Quarterbacks
Ryan Tannehill (QB, TEN) - FAAB Bid: 3-4%
39% owned
Despite just 59 combined pass attempts over his last three games, Tannehill has thrown for two scores in each of them as he continues his efficient quest to become Tennessee's franchise QB. This offense will always rumble through Derrick Henry first, but that eases the pressure on Tannehill and allows him to attack downfield. His 9.0 intended air yards per attempt mark is tied with Ryan Fitzpatrick and Josh Allen for fifth among healthy signal-callers. It doesn't hurt that he's topped 35 rushing yards in three of his last four games either. With Oakland's reeling defense up next, Tannehill is set to lead you past Week 14.
Ryan Fitzpatrick (QB, MIA) - FAAB Bid: 2-3%
10% owned
Fitzpatrick has a budding star in Devante Parker, who helped Fitzmagic toss a season-high 365 yards and three touchdowns in a comeback victory over Philly. The veteran now gets the Jets, Giants and Bengals in Weeks 14-16 to inject a little magic into your playoff hopes. Shriek along with this glorious, bearded QB in 14-teamers and enjoy how their nonexistent ground game puts everything on Fitz's shoulders.
Jacoby Brissett (QB, IND) - FAAB Bid: 1-2%
38% owned
Brissett has struggled lately and his knee doesn't look 100%, but streamers may like his outlook should T.Y. Hilton and Marlon Mack be close to 100% themselves for a road date with the Bucs. Despite recent improvements, Tampa Bay has still yielded the second-most fantasy points to opposing QBs. He's third here due to that knee, but his offensive line remains elite and Tampa is always capable of imploding on themselves like a dying star.
FAAB Waiver Wire Bids - Running Backs
Alexander Mattison (RB, MIN) - FAAB Bid: 50-60%
30% owned
Dalvin Cook reportedly suffered a clavicle injury on Monday night, but nothing is broken per Tom Pelissero. While speculation is that Cook can play through it, this is a lingering issue that may knock him out of future games or limit his workload. Perhaps Minnesota wants him to rest up and get ready for the playoffs? Regardless, Mattison instantly becomes a top RB add given Cook's medical history. The Boise State alum is averaging over four yards per carry and has shown receiving chops, making him a solid all-around add. Worst case is Cook suits up next week and you have a great handcuff for a banged-up RB.
Raheem Mostert (RB, SF) - FAAB Bid: 40-50%
14% owned
Mostert leapfrogged Tevin Coleman in no time, slicing up Baltimore's defense for 154 total yards and a TD on 21 touches. No Matt Breida helped consolidate the work, and Breida is presumed back in Week 14, but Mostert may be the 1A to Breida' change-of-pace role with Coleman as the No. 3 moving forward. Coleman hasn't topped 40 rushing yards in five games since obliterating Carolina in Week 8. Don't act like you're getting a workhorse here, but Mostert and Breida could be weekly staples in that RB25-30 range, with Mostert holding the best health and talent upside at the moment. Hot hands matter in December.
Derrius Guice (RB, WAS) - FAAB Bid: 25-30%
50% owned
Guice stomped all over Carolina's front seven, turning a mere 12 touches into 137 yards and two touchdowns. He edged out Adrian Peterson for two goal-line plunges, despite AP leading the way with 13 carries. Washington faces another poor run defense in Green Bay next week, though the Packers offense is far more capable of tilting the gamescript and forcing opponents to abandon the ground game.
Benny Snell Jr. (RB, PIT) - FAAB Bid: 18-20%
34% owned
Snell was once again the preferred option over Jaylen Samuels with James Conner out, providing 63 rush yards and a score on 16 carries after his 21-98-0 line in Week 12. Given Conner's injuries, it's likely Snell retains some value even upon Conner's return. That would push him to the FLEX fringe, though, as he remains an RB3 in Week 14 at Arizona should Conner miss again.
Bo Scarbrough (RB, DET) - FAAB Bid: 18-20%
43% owned
Scarbrough is seeing insane volume but the lack of touchdowns is covering it up. His 21 carries on Thanksgiving trailed on Derrick Henry's 26 in Week 13, which builds handsomely on the 18 carries of Week 12 and 14 in Week 11. It's tough sledding against MIN, TB and DEN to finish out the fantasy season, but his floor is worth adding in 14-team circles.
Darwin Thompson (RB, KC) - FAAB Bid: 18-20%
5% owned
Thompson waltzed into Week 13 work with Darrel Williams suffering a hamstring injury and Damien Williams already out. The rookie totaled 44 yards and a score on 11 rushes as Andy Reid won't overwork LeSean McCoy. Next week against New England could see KC lean into their rookie's talents more should both Williams miss, but the matchup keeps him in the RB35-40 range.
Peyton Barber (RB, TB) - FAAB Bid: 5-6%
21% owned
Barber proved Bruce Arians' hot-hand approach to be true in Week 13, as he delivered two scores after Ronald Jones missed a blitz pickup. That's all it took to tilt the action Barber's way, which makes him an extremely risky option moving forward. Playing the coin flip for a starter's share of snaps in a top-five offense is worth it to some.
FAAB Waiver Wire Bids - Wide Receivers
Allen Lazard (WR, GB) - FAAB Bid: 8-10%
5% owned
Lazard tallied a diving 43-yard catch, a zippy 37-yard TD on a post and another 23-yard catch for fun at snowy Metlife Stadium. Those were his only three targets in a game that was well in hand, but Geronimo Allison only produced a 2-20-0 line on his three looks while Marquez Valdes-Scantling didn't see a look. Lazard appears to be their No. 2 WR with Aaron Rodgers' trust on big throws, making him a solid add before Week 14 against Washington.
Zach Pascal (WR, IND) - FAAB Bid: 10-15%
17% owned
With Chester Rogers (knee) out for the season, perhaps the 98% available Parris Campbell can return as Indy's No. 2 WR before facing Tampa. If not, I'd expect Marcus Johnson (0%) to be a solid dart throw after he put up 55 yards in Week 13. And if T.Y. Hilton returns then Pascal should still be involved as the No. 2 since Indianapolis is down Eric Ebron. That vacated pass-catching role, especially in the red zone, frees up valuable looks for Indy's pass-catchers against a shaky Tampa Bay secondary
James Washington (WR, PIT) - FAAB Bid: 10-15%
23% owned
No JuJu Smith-Schuster and a swap to Devlin Hodges has slowed Pittsburgh's overall pass attempts, but Washington's speed helps him maximize the fewer looks. He and Diontae Johnson have both seen 11 targets over their last two games, yet Johnson has only 43 receiving yards while Washington has 209 and two scores. With 90-plus yards in three of his last four, Washington is a top-36 WR against Arizona in Week 14.
Anthony Miller (WR, CHI) - FAAB Bid: 8-10%
14% owned
Miller came up big with Taylor Gabriel out, catching nine balls for 140 yards on 13 targets in Chicago's 24-20 victory on Thanksgiving. Now averaging 11 targets over his last three games, Miller is trending up down the stretch. Unfortunately, Mitch Trubisky's arm creates a low floor and Dallas has surrendered the fourth-fewest fantasy points to WRs in '19.
Nelson Agholor (WR, PHI) - FAAB Bid: 4-5%
11% owned
Alshon Jeffery feasted on 16 targets in Week 13, but Agholor still had six looks after being injured in Week 12. His 3-41-0 line had a two-point conversion tacked on, but was unremarkable. Next up is a date with the Giants, who just let Green Bay's No. 2 WR flame them for over 100 yards and a score. He's likely behind Jeffery and both TEs, but if you're desperate for upside then here's a play.
FAAB Waiver Wire Bids - Tight Ends
Vance McDonald (TE, PIT) - FAAB Bid: 2-3%
50% owned
McDonald and the Steelers are playing the world's worst defense against tight ends, the Arizona Cardinals. Fire him up if you've got him, but do note McDonald's only seen four targets over PIT's last two games after seeing seven in three consecutive games through Weeks 9-11. Their run game and defense are their weapons with game-managing QBs at the helm, but the matchup makes him a viable add.
O.J. Howard (TE, TB) - FAAB Bid: 2-3%
32% owned
Howard caught a season-high five balls for 61 yards in Week 13 at Jacksonville, but you never know when a mistake will put him into Bruce Arians' doghouse. Positive momentum helps his case for Week 14 at Indianapolis -- an average TE-defending unit that hasn't faced many athletic types since their Week 6 bye. Prior to that, Hunter Henry, Austin Hooper, Darren Waller and Travis Kelce all topped 50 yards against them. I know that Howard is below those ballers, but said hurdle appears mental at this stage.
Mike Gesicki (TE, MIA) - FAAB Bid: 2-3%
19% owned
Gesicki scored for the second straight week and has seen six or more targets in five consecutive games. He's emerged as the No. 2 option behind DeVante Parker for Ryan Fitzpatrick on a team that often finds itself in passing gamescripts. The TE landscape offers few sure things, so take that volume and lock it in for Week 14 against the Jets.
Tyler Higbee (TE, LAR) - FAAB Bid: 2-3%
11% owned
Higbee predictably crushed the Cardinals with Gerald Everett (knee) out, hauling in seven-of-eight targets for 107 yards and a TD. His relevance is tied to Everett's health, but Week 14 against Seattle would be another top-12 spot if he's the starter.
David Njoku (TE, CLE) - FAAB Bid: 1-2%
29% owned
Repeating myself here: Njoku has been on the IR since breaking his wrist in Week 2, and has been practicing over the past two weeks. He posted a 4-37-1 line in Week 1 and would face the Bengals and red-carpet-laying Cardinals in Weeks 14-15. Monitor his practice status and add if he nears the field.
FAAB Waiver Wire Bids - Defense/Special Teams
Packers Defense (vs WAS) - FAAB Bid: 0-1%
48% owned
The Packers forced Daniel Jones into three interceptions in Week 13, and now get to face rookie Dwayne Haskins. Washington exploited Carolina's awful run defense and didn't have to press Haskins into duty, but Aaron Rodgers should score enough to force Washington's hand. I wager Washington tries to attack Green Bay in the same fashion as Carolina given the run defense woes, so hope that GB adjusts appropriately and plays Haskins into the same corner as Jones.
Colts Defense (at TB) - FAAB Bid: 0-1%
27% owned
The Colts haven't allowed more than 25 points on defense since Week 1, with at least seven standard-scoring DEF points in seven-of-eight games since Week 5's hold of Patrick Mahomes to 13 points. With a season-high six sacks in Week 3, perhaps turnover-prone Jameis Winston and the Bucs will provide Indy's first defensive score of the year.
Buccaneers Defense (vs IND) - FAAB Bid: 0-1%
2% owned
Perhaps you're desperate for a low-owned option, in which case you may pivot to the team facing Indy. The Bucs have quietly stepped up against Atlanta and Jacksonville over the past two weeks, recording 11 sacks with six turnovers and two TDs against them. The Colts' O-line is much better than that of those teams, but momentum is a helluva drug and T.Y. Hilton and Marlon Mack could both be limited, if not out.
More Waiver Wire Adds and Pickups