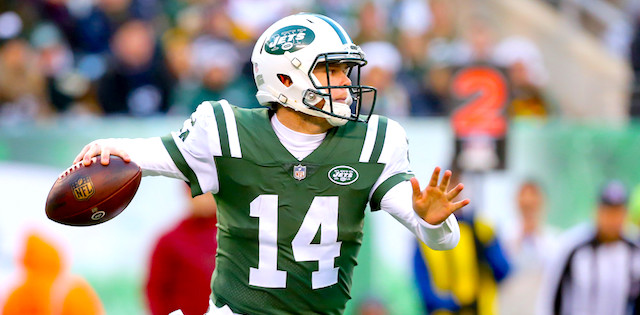 Assisting our famous waiver wire pickups list, and our weekly waiver wire columns by position, this column focuses on suggested waiver wire bidding percentages for fantasy football owners in leagues using a Free Agent Acquisition Budget (FAAB).
As a caveat, these prices do not by any means indicate how much these free agent players will go for. Each league values players differently and will continue to do so. These values are here to provide a baseline to understand roughly how much you should be targeting to spend on a particular player. You only have so much FAAB money, spend it as wisely as possible.
Most of you are facing the final regular season matchup of your fantasy football season this week. Be mindful of your opponents' FAAB wallets and go for the jugular -- losing with money in pocket doesn't mean a thing. To help you win it all, here are our FAAB auction bidding recommendations for Week 13 below.
Editor's Note: Get any rest-of-season NFL Premium Pass for 50% off. Our exclusive DFS Tools, Lineup Optimizer and Premium DFS Research through the Super Bowl.
Sign Up Now!
FAAB Waiver Wire Bids - Quarterbacks
Sam Darnold (QB, NYJ) - FAAB Bid: 3-5%
39% owned
Darnold continues to take advantage of a cupcake schedule, as he made mincemeat of Oakland in Week 12 with a top-three performance. The beat goes on against Cincinnati in Week 13 before a date with Miami in the first round of fantasy playoffs. Despite Le'Veon Bell's best efforts, the offensive line limits the rushing attack's potency. It will fall on Darnold to lead the charge. You can cut ties after Week 14 with Baltimore and Pittsburgh due up after that, but he can take you to the semifinals.
Nick Foles (QB, JAC) - FAAB Bid: 2-3%
33% owned
We noted Foles' poor matchup in Week 12 last week, but now he'll face Tampa Bay's porous secondary. I know, Matt Ryan just looked geriatric against the Bucs on Sunday, but that's an anomaly at this point. Tampa Bay continues to look strong against the ground game and wields an offense that creates shootouts, painting Foles as a high-end QB2.
Ryan Tannehill (QB, TEN) - FAAB Bid: 2-3%
26% owned
Tannehill not only passed for 259 yards with two aerial TDs, but he was inspired by Derrick Henry and rushed for 40 yards and two more scores on the ground. The Titans are red-hot and Tannehill should keep things rolling against the Colts in Week 13. Beyond that, dates with Oakland, Houston and New Orleans in Weeks 14-16 are all above-average matchups for QBs.
Ryan Fitzpatrick (QB, MIA) - FAAB Bid: 1-2%
10% owned
Fitzmagic tossed two scores and led Miami's rushing attack with 45yards en route to a top-10 Week 12 performance against Cleveland. His schedule opens up with Philly at home in Week 13, road dates against the Jets and Giants (same stadium) and Week 16 hosting Cincinnati. Miami is almost always playing from behind and has no RBs to help ease Fitzpatrick's burden, giving him ample chances to ride or die downfield.
Andy Dalton (QB, CIN) - FAAB Bid: 0-1%
6% owned
To say Ryan Finley was overmatched during his three-week audition would be an understatement. The still-winless Bengals are turning back to Dalton for Week 13's game against the Jets, which may inspire A.J. Green towards a miraculous step in his recovery. The Red Rifle isn't a world-beater, but he can at least throw for more than 200 yards in a game and lives on the streaming radar. Week 16 against the Dolphins could win a few deep-league championships.
FAAB Waiver Wire Bids - Running Backs
Rashaad Penny (RB, SEA) - FAAB Bid: 30-35%
20% owned
Penny stampeded to 129 yards and a touchdown while Chris Carson mustered 57 yards on 12 touches and fumbled twice. Carson's fumbilitis is no new issue and Seattle has stuck by him, but Penny has momentum and may force a timeshare. Facing MIN, LAR and CAR over the next three weeks is suboptimal, but we're targeting touches and hot hands at this point in the season. Ride the wave.
Benny Snell Jr. (RB, PIT) - FAAB Bid: 25-30%
5% owned
Snell tallied 22 touches for 103 yards in Week 12's win over the Bengals, as he and the offensive line did the heavy lifting while Mason Rudolph got himself benched. Presumed starter Jaylen Samuels only saw five touches, as even Kerrith Whyte (6-43-0) outworked him. This offense is sputtering, but Snell also had 89 yards on 18 touches back in Week 6 before the knee injury in Week 8. If active, James Conner won't be 100% and Pittsburgh can't trust their QBs right now.
Bo Scarbrough (RB, DET) - FAAB Bid: 25-30%
43% owned
Scarbrough didn't find paydirt, largely due to Jeff Driskel's three interceptions and his own fumble, but notched 98 yards on 18 carries for an impressive 5.4 YPC. He's way ahead of J.D. McKissic et al for rushing duties and should have a 15-touch floor moving forward. He'll likely be TD-dependent from here on out, as games against Chicago, Minnesota, Tampa Bay and Denver are frightful.
Qadree Ollison (RB, ATL) - FAAB Bid: 5-6%
0% owned
Ollison has scored in back-to-back games with Devonta Freeman out, as Brian Hill simply isn't cutting it. The rookie is bigger than Hill and should see the valuable goal-line looks here, perhaps even when Freeman returns. The larger problem is that Atlanta's 31.4% run percentage is the lowest in the NFL and I don't see that changing soon. Budget for a low-end, TD-dependent flex play who faces NO, CAR, SF and JAX appropriately.
FAAB Waiver Wire Bids - Wide Receivers
A.J. Brown (WR, TEN) - FAAB Bid: 10-12%
16% owned
Brown legged out a 65-yard TD to highlight a 4-135-1 line despite Ryan Tannehill only attempting 16 passes. The rookie has shown several flashes and is clearly above Corey Davis right now. Without Delanie Walker, the aerial attack needs Brown. Consider how DeAndre Hopkins just torched Indy and perhaps Brown can capture some of that magic in Week 13.
James Washington (WR, PIT) - FAAB Bid: 10-12%
20% owned
Washington's big-play ability helped him turn three catches into 98 yards and a score, as his speed lifts the low ceiling provided by Mason Rudolph and/or Devlin Hodges. JuJu Smith-Schuster isn't a lock to return for Week 13 against Cleveland and Week 14 against Arizona is a top-10 matchup. That alone should keep Washington in the WR3/4 conversation as the playoffs begin.
Randall Cobb (WR, DAL) - FAAB Bid: 8-10%
30% owned
Cobb led the Cowboys WRs with 86 yards on four catches (seven targets) in a sloppy loss to the Patriots where Amari Cooper was shutout. With at least seven looks in Dallas' four games since their bye, Cobb continues to be a high-floor PPR option going into a Thanksgiving date with Buffalo. A high-flying game against the Rams in Week 15 and a potential division-decider against Philly in Week 16 should yield profits.
Chris Conley (WR, JAC) - FAAB Bid: 6-8%
15% owned
I realize Dede Westbrook's 8-69-0 line trumps Conley's 4-49-0 day, but they both saw nine targets from Nick Foles. The Jags were in catchup mode all day long as the Titans went cuckoo, but this makes five straight games with seven or more targets for Conley heading into a date with Tampa Bay's awful secondary. If you need more justification than that, then you aren't reading this blurb anyway.
Allen Lazard (WR, GB) - FAAB Bid: 5-6%
5% owned
Lazard was quiet in Week 12, along with all the Packers, but his 28 total yards was still fourth on the team alongside a 65% snap rate. Anyone beyond Davante Adams and the two RBs is an ancillary piece, but the San Francisco smackdown gives way to a green-light matchup with the Giants. After that comes Washington at home. An angry Aaron Rodgers may banish the G-men to the shadow realm.
Allen Hurns (WR, MIA) - FAAB Bid: 4-5%
0% owned
With Albert Wilson and Jakeem Grant getting hurt, Hurns rose up to a 4-42-1 line on seven targets. Miami has no ground game -- sorry, Patrick Laird truthers -- and are perpetually playing with a negative gamescript. If Wilson and Grant are limited/out, Hurns, Devante Parker and Mike Gesicki may all offer PPR value with PHI, NYJ, NYG and CIN down the stretch.
FAAB Waiver Wire Bids - Tight Ends
Ryan Griffin (TE, NYJ) - FAAB Bid: 8-10%
44% owned
The Jets have scored exactly 34 points in three straight weeks, with Griffin scoring in their last two and landing a nice contract extension in the meantime. No Chris Herndon gives him ample job security, and securing either 50 yards or a TD in five of his last seven games paints a pretty picture. That picture gets additional Bob Ross magic given he'll face CIN and MIA the next two weeks.
Jack Doyle (TE, IND) - FAAB Bid: 6-10%
33% owned
Doyle will step up with Eric Ebron headed to the injured reserve, though it may be a small one. I'd expect Mo Alie-Cox to get a bigger boost so Indy can retain its two-TE sets, but Doyle is the clear pass-catcher between them. Week 13 against TEN may be a low-scoring divisional affair, but Week 14 at TB and Week 15 at NO should call for more offense.
Mike Gesicki (TE, MIA) - FAAB Bid: 3-5%
15% owned
Gesicki hasn't exceeded 30 yards in three weeks, but he at least tallied his first career TD in Week 12. The results haven't been there, but having at least six targets in four consecutive games offers a certain floor at TE. It isn't a safe one, but enough to make him a weekly top-18 TE with a reasonable chance at the top-10.
David Njoku (TE, CLE) - FAAB Bid: 1-2%
30% owned
Njoku has been on the IR since breaking his wrist in Week 2, and is currently "day-to-day" per Freddie Kitchens. He posted a 4-37-1 line while playing nearly every down in Week 1 and would step into cupcake schedule heading into the playoffs, with PIT, CIN and ARI in Weeks 13-15. Monitor his practice status and add if he nears the field.
FAAB Waiver Wire Bids - Defense/Special Teams
Philadelphia Eagles Defense (at MIA) - FAAB Bid: 4-6%
38% owned
Offensive ineptitude has shrouded Philly's headlines, overwriting how the defense has held opponents to 17 points or fewer in four straight games. When that includes New England and Seattle (they sacked Russell Wilson six times,) we should take note. The Eagles draw Miami, the New York Giants and Washington over the next three weeks -- meaning you can ride them straight to your finals.
New York Jets Defense (vs. OAK) - FAAB Bid: 4-6%
23% owned
After producing 16 sacks over their previous three games, the Jets froze the Raiders from ever reaching the end zone. They were so dominant that Derek Carr was benched in the third quarter, with Brian Poole nabbing a one-handed INT and taking it to the house. The Jets are currently the sixth-best fantasy defense and flying high into a road date with newly-reinstated Andy Dalton and the Bengals. They face the turnover-prone Dolphins after that for a sweet double-dip.
Carolina Panthers Defense (at WAS) - FAAB Bid: 3-5%
33% owned
Carolina's defense has underwhelmed against Green Bay, Atlanta and New Orleans lately, but facing Dwayne Haskins at home next is like chicken soup on a wintry day. Recent struggles aside, the Panthers' 41 sacks trail only the 49ers (44) on the season. Expect pressure early and often on the rookie.
Los Angeles Chargers Defense (at DEN) - FAAB Bid: 2-4%
31% owned
The Chargers come out of their bye rested and ready to pick on rookie Brandon Allen (or Drew Lock?) in Denver. The rebuilding Broncos are averaging fewer than 16 points per game and recorded a season-low nine first downs with 49 pass yards in Week 12. I imagine they'll try to attack with Phillip Lindsay and Royce Freeman, but they can't completely shield Allen from defenders.
More Waiver Wire Adds and Pickups