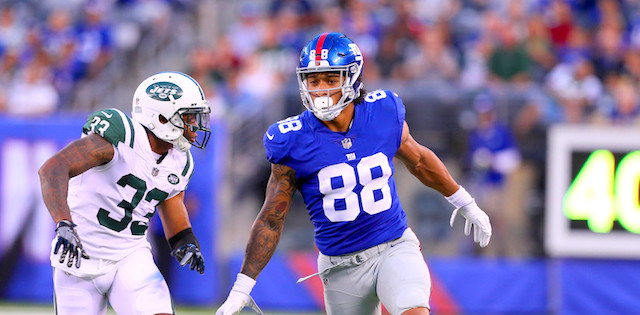 Is New York's Evan Engram going to be more valuable than Philadelphia's Dallas Goedert this year and in the coming years in dynasty fantasy football leagues? This intriguing question will be about as easy to answer as why we park in driveways and drive on parkways.
Engram is coming off an injury-plagued season where he did not offer fantasy players much until Odell Beckham Jr. was off the field and out of Engram's way. Meanwhile, Goedert showed flashes of brilliance and glimpses of what he can do when thrown the ball, but he was held back because he plays second-fiddle to one of the best tight ends in the NFL, Zach Ertz.
Both young tight ends have tons of talent and payloads of potential. So will Engram be more valuable than Goedert in dynasty leagues this seasons and in future seasons, or vice versa? Here is a look at how Engram and Goedert stack up against each other coming into the 2019 campaign:
Editor's Note: Get any rest-of-season NFL Premium Pass for 50% off. Our exclusive DFS Tools, Lineup Optimizer and Premium DFS Research through the Super Bowl.
Sign Up Now!
Evan Engram, New York Giants
2018 Stats:  45 receptions, 577 yards, 3 TD
Fantasy football players know one thing about Engram: He posts better numbers when Beckham Jr. is not on the field with him. Beckham averaged over 10 targets per contest in his 12 games last season. Conversely, Engram averaged 4.7 targets per game during the seven weeks he was on the field with OBJ. Then during the final month of the season when Beckham was out with an injury, Engram saw an average of 7.7 targets per game. Coincidence? Hardly. When Beckham was on the field, Eli Manning looked at him like he was filet mignon and Engram was hamburger.
It was a similar story in 2017 when Engram was a rookie. Beckham only lasted four games before suffering a season-ending injury and again averaged 10 targets each game. Engram averaged 7.25 targets over the four-game period, but while his target total did not drastically increase (7.8 per game in the 11 games he played without Beckham alongside him), his numbers in major fantasy categories definitely did. Engram even caught touchdown passes in four consecutive games while Beckham was shelved for the season.
New York traded Beckham to the Cleveland Browns and signed veteran Golden Tate to replace him in the starting lineup, but now Tate is suspended for four games for violating the NFL's drug policy. Meanwhile, Sterling Shepard fractured his thumb and could miss the start of the season, too. Looks like it could be Engram and a lot of unproven and untalented wide receivers running routes during the first month of action. I wonder who Eli is going to zone in on?
There is no doubt that the majority of fantasy players and pundits believe Engram will catch at least 70 passes for 800 yards and eight touchdowns, which would eclipse all of his career-highs in those categories. In reality, Engram could probably post even better numbers, but he will need Manning or rookie Daniel Jones to find him, and he needs Tate and/or Shepard to return so he is not triple covered on a weekly basis. I would pencil Engram in for 70-800-8, but will certainly not be surprised if he puts up 80-1,000-10 in 2019. He has the talent and the tools for such a season in 2019, and beyond.
Dallas Goedert, Philadelphia Eagles
2018 Stats:  33 receptions, 334 yards, 4 TD
Goedert can be almost indefensible around the end zone since he is big-bodied (6'4", 260), has above-average hands and underrated agility. Considering he was drafted in the second round in 2018 and improved by leaps and bounds as last season wore on, you would normally pencil him in for a numbers jump for this upcoming season. The trouble is Goedert is No. 2 in the tight end pecking order in Cheesesteakville because Ertz is arguably the top tight end in the sport.
Rookie tight ends normally do not provide much fantasy bang as they slowly get acclimated to the NFL and learn their team's playbook. Just look at the 2018 rookie tight end class. Nobody broke the 600-yard barrier, and only two tight ends (Baltimore's Mark Andrews and New York's Christopher Herndon) had 500 receiving yards or more. So Goedert's paltry season stat line was not unexpected.
It is in Year Two when some tight ends take off. Look at San Francisco's George Kittle. In his second year in 2018, all he did was set the NFL record for most receiving yards for a tight end in a single season. Others like Tampa Bay's O.J. Howard and Atlanta's Austin Hooper took massive, Carl Lewis-like leaps in their second seasons. This is why the Goedert bandwagon is seeing a lot of jumpers these days.
Let's compare some of the intangibles between Engram and Goedert:
Their Quarterbacks
Manning has seen better days. His feet and his release have gotten slower, and he has more trouble making plays downfield than he did during his glory years. Yet Manning has shown that he can get the ball to Engram and will force it down Engram's throat like a mother forces creamed peas down a baby's throat when Engram is the top option in the passing attack.
A healthy Carson Wentz is better than an ancient Manning, though. Look no further than Ertz's numbers the past couple seasons. That's a plus in Goedert's column…until Wentz gets injured. Wentz has missed eight games over the past two regular seasons (not to mention five postseason contests), so unless he pulls a Brett Favre and stays injury-free, you could make an argument that quarterback is a wash because 14 Manning starts (I'm assuming Jones starts before season's end) is equal to 11 Wentz outings.
Their Offenses
New York's offense will revolve around workhorse tailback Saquon Barkley running inside, outside, over the top, catching 15 passes per game, kicking field goals, and throwing halfback-option passes, all while making social commentary about the Colin Kaepernick situation in his spare time. When the aforementioned Tate and Shepard return, the Giants offense could be slightly above-average at best but more likely to be below-average. The Giants offense was average-at-best last season and lost Beckham, so it is impossible to envision them having an offense similar to what the Eagles can put out.
Philadelphia not only upgraded its receiving corps by bringing back longtime favorite DeSean Jackson, but the Eagles also bolstered their backfield by trading for 1,000-yard rusher Jordan Howard and drafting Miles Sanders in the second round. This will lead to more scoring opportunities in the red zone for Goedert than Engram, as long as Wentz is the one running the Eagles offense and not Josh McCown or Cody Kessler.
Their Situations
Engram might be the de facto top target for the Giants, especially during the early portion of the season with Tate suspended and Shepard questionable for Week 1. He has proven that he can thrive when his target total is high and that he can make plays of over 15 yards that many tight ends cannot make. At worst he is the No. 3 option in New York's passing offense, and at best he could be rivaling Barkley for the No. 1 spot as they battle over short dump-offs from Manning.
Meanwhile, Goedert is not even the top option at tight end on his team, let alone in his passing offense. He could be as low as fifth on the totem pole with Ertz, Jackson, Alshon Jeffery and Nelson Agholor all part of the passing package. There is no doubt he will be hard-pressed to get the targets Engram does this season, although maybe he can catch up to him in 2020 and later years if things change for both players.
The bottom line is Goedert's only hope to be better than Engram in 2019 is for Ertz to suffer a season-ending injury in Week 1 so Goedert can be Philadelphia's full-time tight end, and even if that happened he would be no sure thing to be near Engram's fantasy zip code. Goedert has the potential to be a top tight end in the NFL in the years to come and is a cheaper get on dynasty leagues at this juncture, but Engram is the better tight end to have on a dynasty roster in my mind.
More Dynasty League Strategy