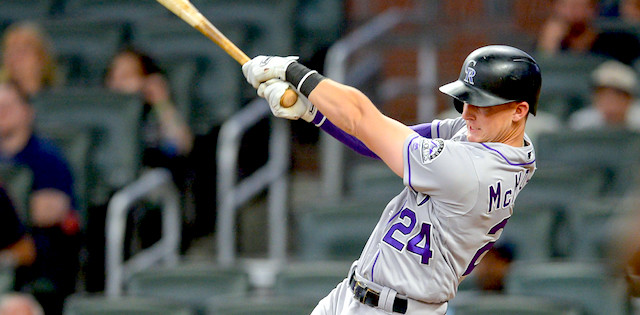 While optimism continues to grow surrounding the likelihood we will have baseball in 2020, there are still a few hurdles to clear, and plenty of unknowns regarding the parameters. While the universal DH seems like a near-certainty at this point, other important factors- like how many games will be played and where they will take place- are still up in the air.
A home park can obviously make a dramatic impact on the value of players, and some are affected much more than others. All hitters in Coors Field, as well as left-handed batters in Yankee Stadium, obviously have the environment working in their favor, while power numbers are suppressed in places like San Francisco and Kansas City.
While most signs are now pointing to at least the majority of teams playing in their respective home parks this season, that's far from guaranteed. In this column, we'll dive into a few players whose outlook for 2020 would take a pretty big hit if their team ends up playing in a different venue this year.
Featured Promo: Want a free RotoBaller Premium Pass? Check out these sports betting promo offers from the top sportsbooks! All new sign-ups get a free bonus offer on their first deposit, and a free year of RotoBaller's Premium Pass for all sports ($450 value)!
Sign Up Now!
Where the games are played is obviously going to play a key role in how Colorado hitters should be valued on draft day. Even if the Arizona/Florida plan comes to fruition, a scenario in which the Rockies would be playing in an offensive environment in the desert, that's half the league their hitters wouldn't have an edge on. On the flip side, if they are playing at Coors Field and several other west coast teams are calling Arizona home this season, Rockies' hitters could be even more valuable than usual in 2020.
The player who may be most affected if the Rockies don't play at Coors this season is McMahon. He put up pretty solid numbers in 2019, when he hit .250 with 24 home runs and five stolen bases, and in the second half, hit .252/.331/.500 with 17 HR. However, the home/road splits were pretty drastic:
Now the owner of a .204/.296/.316 line with just 7 HR in 356 career plate appearances on the road, the sample is too small to conclude that McMahon is not capable of producing outside of Denver. However, he would certainly come with a lot of risk without the friendly confines in his corner. With an ADP of 170 since the beginning of April, McMahon would have a hard time earning his draft day cost if he's not playing in Colorado.
LeMahieu found a lot of success at Coors Field while with the Rockies, as he boasts a solid .329/.386/.447 line in 1,938 career plate appearances at the park. But the career-high 15 HR he hit in 2018 were surprising, and he hit just .276, so it was fair to wonder what he would do after leaving Colorado.
LeMahieu did land in another hitter-friendly home park, but the short right-field porch accounts for much of the attraction, and he had hit a total of nine opposite field HR in his career prior to 2019. But Yankee Stadium ended up suiting him quite well:
As you can see, most of the damage LeMahieu did during his 26 HR campaign was done at home, where he went deep on 19 occasions. He seemed to make a conscious effort to adapt to his home park, as he went oppo 12 times, which tied for 6th in all of baseball.
LeMahieu possesses an advanced hit tool, and should be able to figure out how to best take advantage of his home park, wherever that may be. However, some sort of regression was probably coming already, and playing in a different venue for home games would negatively impact his outlook.
Hoskins hasn't been able to sustain the power he displayed upon his debut in the second half of 2017, but he has still hit a total of 63 homers in his two full seasons in the league. He hit 29 bombs in 2019, and was a drain in the batting average category, as his 24.5% K% contributed to a lowly .226 average.
An ADP of 112 (since 4/1) suggests owners are counting on a rebound from the 27-year-old in 2020. While he certainly has the upside to turn a significant profit on his draft-day cost, where he plays his home games may significantly affect his chances of doing so. Let's take a look at his career splits:
Hoskins has undoubtedly enjoyed hitting at Citizens Bank Park, a place that increases right-handed batter HR about as much as any park in the league. In 2019, he hit just .206 on the road, and despite 33 more plate appearances away from home, just 13 of his 29 HR came outside of Philadelphia.
Hoskins can put up respectable power numbers no matter where he plays, but his current home park has definitely helped boost his production. Clarification on where teams will be playing will be key in determining how to properly value him for 2020. His chances of a bounce-back would surely take a hit if the Phillies are playing anywhere besides their regular home ballpark.
La Stella was in the midst of a breakout season in 2019 when a fractured leg put an end to it in early July. After hitting a total of 10 HR in 928 career plate appearances heading into the season, he left the yard a whopping 16 times in 321 PA in 2019. As you can see below, most of the newfound power was shown in his home ballpark.
Since the right-field fence was lowered by 10 feet prior to the 2018 season, Angel Stadium has been one of the best parks in the league for pushing up HR by left-handed batters. La Stella took full advantage of his surroundings, as 23.9% of his fly balls at home cleared the fence.
La Stella whiffed in just 8.9% of his PA in 2019, and while that may not quite be repeatable, he can be counted on to hit for a pretty high average in just about any park. However, the power is more of an open question, given his lack of a proven track record in that department. La Stella looks like an excellent gamble at his 310 ADP (since 4/1) if he's playing in Angel Stadium. But if they play elsewhere, the park advantage goes away, and he may just provide an empty batting average.
More Fantasy Baseball Busts and Avoids