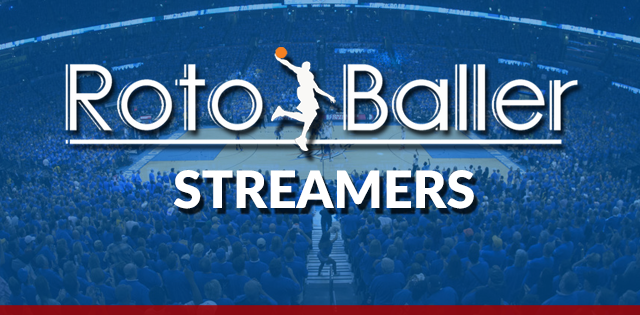 It's time for the playoffs! Most leagues start the playoffs this week unless you are in a non-typical format. You simply can't get too attached to anyone this time of year. If you have a stud that is going to be out more than a week or someone who's badly underperforming- just cut bait and pick up a more productive player in the short term!
Most leagues limit how many players you can stream each week in daily leagues. If your league only allows three moves per week, you need to be very efficient with your moves and grab players who will help you maximize your games played and help you win an extra category or two of counting stats.
The goal of this article each Monday morning will be to help you plan out your roster moves for the first half of the week. Planning ahead is important and I always include which teams play on optimal days for streaming in the very first section so you can look for additional players that I don't mention as well. All the rostered percentages used in this article are from Yahoo! Let's see who can help us start the week strong!
Editor's Note: Our incredible team of writers received five total writing awards and 13 award nominations by the Fantasy Sports Writers Association, tops in the industry! Congrats to all the award winners and nominees including NBA Writer of the Year, Best NFL Series, MLB Series, PGA Writer and Player Notes writer of the year. Be sure to follow their analysis, rankings and advice all year long, and win big with RotoBaller!
Read More!
Weekly Schedule: Monday to Thursday
Teams that play only one game (AVOID): CHI, LAC, MIN, SAS (zero games!), PHX
Teams that play three games (TARGET): NONE
Teams that play a B2B set (TARGET): DAL, DET, WAS, PHI, OKC
Shallow League Streaming Options
Delon Wright - PG/SG (42%)
I'm going to assume that Tyus Jones is already gone off your wire (he's now up to 48% in Yahoo leagues) so I will jump down to the low 40% range here. Wright has "league-winner" written all over him for the stretch run. He's coming off a massive week that saw him average 11.7-5-7.7 with a gaudy 3.7 steals in three games. The Wizards get the lowly Detroit Pistons on Tuesday and then Atlanta and a very turnover-prone Trae Young twice. If he's still somehow still on your wire, go get him and don't think twice.
Tari Eason - SF/PF (41%)
This is another no-brainer but Eason deserves mentioning for those of you in 10-team leagues (if he's on the wire in 12-team leagues, your fellow managers need to re-evaluate their priorities when it comes to fantasy basketball). Eason's last five games have produced 15.8 points, 8.4. rebounds, 1.8 assists, 1.4 steals, and 1.0 blocks. He's only making 1.2 threes, but I'll gladly trade the low volume of threes for the sparkling 54% shooting.
Matisse Thybulle - SG/SF (37%)
He's going to be inconsistent when it comes to scoring, but Thybulle is playing 30+ minutes nightly as the starter in Portland and producing boards, steals, and blocks that you would associate with a big man. Since coming to Portland, he's putting up a lofty 2.0 steals per game and 1.4 blocks while shooting 47% from the field and adding 2.1 made threes. I'm sticking with him this week, at least for Detroit tonight and Boston on Wednesday, we can always re-evaluate the second half of the week on Thursday.
Dennis Smith Jr. - SF/SF (35%)
I remain very bullish on DSJ and I was expecting his rostership to jump up into the 40s soon after they announced LaMelo was done for the year. Perhaps people are waiting for that one big game, and maybe it's still coming. But if not, we are still looking at some production similar to Delon Wright with solid boards, assists, and steals with some uneven scoring.
Deni Avdija - SF/PF (25%)
Deni is my guy and you probably know that by now, but he's certainly not super reliable when the Wizards are fully healthy. I would really only feel good deploying him if one of Porzingis or Kuzma is out, so maybe hold off until we get the Washington injury report tomorrow.
Jalen Suggs- PG/SG (26%)
Suggs re-entered the starting lineup yesterday and produced with 15-4-2 and three steals on some clean shooting. Orlando is probably going to be unpredictable down the stretch with what guys they decide to play, but Suggs when healthy is going to have a role and earn minutes.
Xavier Tillman - SF/PF (24%)
Tillman is a guy I'm adding as we speak. Brandon Clarke is done for the year, Steven Adams is still out, and the Grizzlies badly need some big bodies in the paint. He can produce when he gets minutes and he's shown that recently with two double-doubles in his last four games.
Deep Leagues Streaming Options
Kris Dunn - PG/SG (19%)
Dunn has been a revelation in Utah, putting up some simply awesome fantasy numbers off the bench for a team that has no real interest in competing. It's surprising that no other contenders wanted him, he's really polished his game over the last few seasons and would be a nice bench piece for a number of playoff-bound teams. Anyway, you should be eyeballing him this week. His game is so fantasy-friendly and he's putting up an easy 13-3-4 with 1.8 steals and 55% shooting in only 23 minutes a game. He could be an absolute difference-maker for you in the playoffs.
Austin Reaves - SG/SF (19%)
Reaves is another guy who is badly under-owned here, right? Since LeBron went down, Reaves has averaged 14-2-4.8 and 1.7 threes on 60% shooting! He's going to be uber-productive as their super-sub and won't hurt you anywhere.
Hamidou Diallo - SG/SF (17%)
Diallo is a stat stuffer and the Pistons are running out of healthy wings. He's going to tank your FG%, but very few guys on the wire can do what he can do in terms of scoring, rebounding, and defensive stats. He's the classic garbage-time player on a bad team who's getting a chance to put up meaningless stats to finish the year.
Moritz Wagner - PF/C (11%)
Mo came through for me in a big way last night as he got a spot start and helped push my team in an industry dynasty league into the second round. He's been awesome this year even when coming off the bench. But keep an eye on Wendell Carter Jr. and if they shut him down early or rest him again, Wagner is going to be a smash streamer.
Download Our Free News & Alerts Mobile App
Like what you see? Download our updated fantasy basketball mobile app for
iPhone
and
Android
with 24x7 player news, injury alerts, lineup notifications & DFS articles. All free!
More Fantasy Basketball Analysis