We continue looking at ADP risers and fallers as we've done throughout the early portion of the summer with the running back position. We've already gone over risers at wide receiver, tight end, and quarterback.
Average Draft Position (ADP) indicates the average position where a player is drafted over more than one fantasy football draft. You can consider it as the price you have to pay to draft and get a player in your team.
ADPs are helpful to gauge the average value of players on draft day as viewed by the competition.
Running Backs - ADP Risers
In this series, I'll highlight players at each skill position seeing significant fluctuation since the start of May leading up to June using data from FFPC drafts that have taken place in that period. Today, it's time to look at four running back ADP risers.
Not that long ago, by mid-April, the word on the streets was that Matt Breida would start the 2020 season in San Francisco. Fast-forward to the days around the draft and you'll find Breida packing his bags en route to Miami. How fast things change. Ever since that trade took place Breida's ADP has gone up and up and up. It has stabilized a bit as of late, but it's still seen a 44-pick bump during the past month and change, which is ridiculously high.
Breida will be paired with Jordan Howard in the Dolphins backfield and although their games are complementary (Howard more of a short-rush tank, Breida more of a big-play, finesse player) they will undoubtedly share touches. Both players are going to be part of an RBBC with Breida bringing some pass-catching upside.
Both of them have similar ADPs (Breida 92, Howard 98) and PFF projects them to score 118.0 and 120.6 PPR respectively in 2020. At their price, they're far from good ROI plays and you should be able to find more valuable assets in your board (Jamaal Williams, Tarik Cohen, or even Phillip Lindsay, all going cheaper).
Ronald Jones' ADP bump of more than 12 picks is a little hard to explain. Tampa drafted Ke'Shawn Vaughn and also has Dare Ogunbowale in the backfield after trading Peyton Barber to Washington. This looks like an RBBC entering the 2020 season, and although Jones should be the RB1 of the team he will still lose touches to the other two.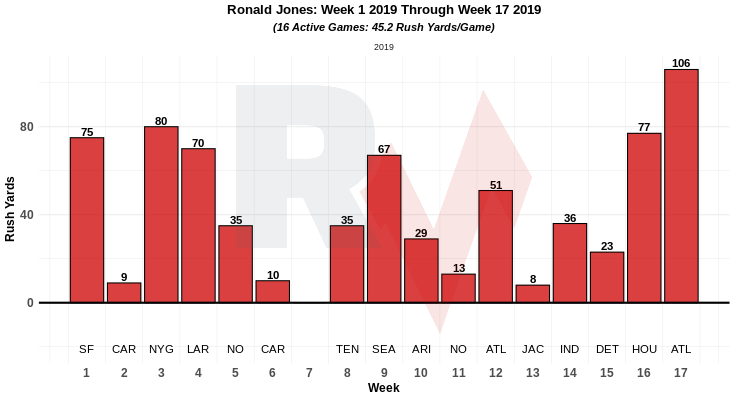 If we're honest, Jones hasn't looked closer to a world-beater in his first two years as a pro. He only had one 100-yard game in 2019 and it wouldn't be a surprise to see Vaughn snatching the no. 1 role from him with time. There are also rumors out there about Tampa offering Devonta Freeman a contract, making this ADP rise even more baffling.
Jones offers an atrocious ROI at his current ADP (projected to 100.8 PPR good for RB53 while having the 37th-highest ADP among RBs). Fade him until his price drops a lot and let others fall in his trap.
Washington's backfield is crowded as hell. It features Derrius Guice, Adrian Peterson, Peyton Barber, J.D. McKissic, and now also rookie RB Antonio Gibson. Gibson might end playing more wide receiver than running back, but that still leaves four names there. Put in simple fantasy football terms: avoid this RBBC as you'd avoid lava running down a hill.
Guice's ADP rise could be described as the result of Washington planning to reduce 38-year-old Peterson's workload and the fact that Guice's was once a first-round pick that has not had the chance to prove much due to injuries in his first two years in the league (he missed 2018 entirely). He should be the first man in line to take the reins of the backfield, that is.
Guice projects to reach 154.6 PPR, the 30th-highest mark among RBs. His ADP is currently the 33rd-highest, so he's a borderline positive-ROI candidate. He should be a good pick at his ADP of 75, but if it keeps climbing I'd advise passing on the tailback.
I'd be the first one to try and convince you of the potential David Johnson's renaissance taking in place in Houston come next season. That being said, Johnson's current ADP of 36 is more than ridiculous. I mean, Johnson getting off boards in the third round would require him to put on an incredible season that seems to be out of his reach these days. Sure, Johnson had a 246.6 PPR year in 2018, but 2019 was a down season for him as he finished RB37 with 141.5 PPR.
Fantasy GMs are drafting Johnson as the 20th-best RB while he projects to score 194.8 fantasy points in 2020. That aligns, as that point total would be good for RB20 on the year. The problem is that he is the 85th player overall in total PPR in those projections, his ROI would be really low at that high price, and you'd be betting a lot (a third-round pick or even a low second-round one if you want to secure him) on a positive regression that who knows if it will happen or not. He's a total fade for me.
More Fantasy Football Analysis