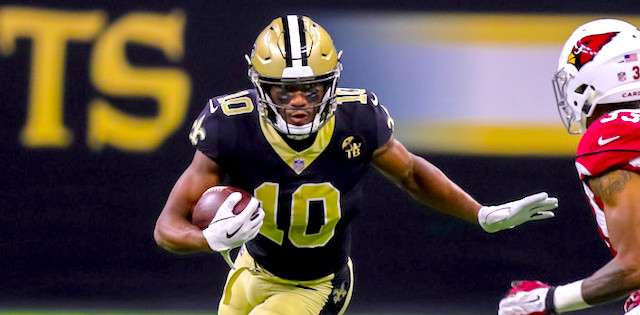 When it comes to dynasty football leagues you know there is no offseason. Without the in-season worries of lineup setting and setting up waiver wire claims, dynasty league enthusiasts can focus their efforts on making trades to improve their teams and preparing for rookie drafts.
Today's column will take a look at New Orleans wide receiver Tre'Quan Smith. We will start off with an overview of the second-year wideout and then take a look at analyzing his value in dynasty leagues. Then, to finish it off, we will propose some possible trades involving Smith to give you some ideas for either buying or selling him.
For all discussions regarding Tre'Quan Smith's dynasty value, let's assume you are playing in a 12-team, one-quarterback dynasty league with PPR scoring. As always, player values can shift quickly in dynasty leagues so be sure to stay on top of the NFL news cycle when proposing trades.
Featured Promo: Our friends at RIVAL Fantasy have created fun and unique DFS games including over/under contests and Fantasy Bingo. Use promo code BALLER to get a free year of RotoBaller Premium access ($199 value), and a $50 risk-free deposit.
Play Now!
Overview
Tre'Quan Smith
Team: New Orleans Saints
College: Central Florida
Height/Weight: 6'2", 210 pounds
2014 NFL Draft: Round 3, Pick 91
The Saints bolstered their receiver corps during the 2018 draft when they made Smith the 91st pick of the third round. Smith was an impressive three-year producer a UCF, breaking out for 724 yards and four scores as a freshman. His best season came as a junior, where he caught 59 passes for 1,171 yards and 13 touchdowns. After that impressive campaign, Smith decided to forego his senior season and declared early for the NFL draft. Smith, despite not playing in a Power Five conference, entered the NFL as an impressive prospect, boasting an 86th percentile breakout age and 60th percentile college dominator according to Player Profiler. 
The fact that Smith landed on a Saints offense that is one of the best in the league is another positive factor working in his favor. Smith hit the ground running in his rookie year, going for 111 yards and two touchdowns in just his fourth NFL game. Later, in Week 11, he torched the Eagles for 10 catches, 157 yards, and a score. He had some down weeks, as No. 2 receivers often do in the spread the wealth New Orleans offense, but his two big games showed that he can hang with the elite athletes of the NFL. Smith should see a larger role heading into his second year, which makes him all the more desirable as a dynasty asset.
Dynasty Value
Smith's current ADP does not reflect the potential that he possesses. The second-year wideout is, on average, the 159th pick in FFPC dynasty startups. That means dynasty drafters can expect to see him go off of the board in the 13th round of startups. As such, he should be worth roughly the equivalent of an early second-round rookie pick in trade. More on that in a moment. If Smith takes a step forward and breaks out this season, he could easily be worth a first-round rookie pick at this time next year.
As mentioned above, one of the main concerns with Smith is the inconsistent nature of the New Orleans passing offense. After Michael Thomas and Alvin Kamara get theirs, the rest of the Saint pass-catchers can be boom/bust from week to week. New Orleans quarterback Drew Brees is also getting near the end of his career as he will play the 2019 season at age 40. What happens to the New Orleans offense once Brees finally hangs up the cleats is a mystery at this time and could put a dent in Smith's dynasty value, depending on how proficient Brees' replacement is.
Possible Trades
Selling Smith is a tough proposition. Players such as Smith are usually guys I refrain from trading unless I get an offer that I can't refuse. There are a few reasons that I say this. First, if you drafted Smith in your 2018 rookie draft, it probably only cost you a late second or early third round rookie pick. The low cost to acquire him means that even if he does bust, it won't set your team back. If he does hit and develops into a dependable WR2 in fantasy, it is basically free money for your team if you do choose to sell. From a draft pick perspective, Smith is worth a second-rounder but I would rather hold him over selling at that cost. Instead of including Smith in a one-for-one trade for a pick, it would be a better idea to package him for a better asset.
If looking at acquiring a different wide receiver, I would look to package Smith with a first-round draft pick to try to buy a top-24 wide receiver. Here at RotoBaller, we currently have Smith ranked as the WR43 in dynasty leagues. If you could move him and possibly a first-round pick to get a player in the Jarvis Landry, Tyler Boyd, Will Fuller, or Tyler Lockett territory, that would be a recommended deal to explore. From a running back perspective, a similar approach is recommended. Try to see if you can get a mid to low-end RB2 in a package built around Smith and a future first.
Conclusion
Smith's upside far outweighs his floor as he flashed skills during his rookie season. Unless you can get an overpay from another owner who loves him, it would be worthwhile to hold onto him as a bench piece with the potential to develop into a quality starting option down the road. He sets up as one of my favorite potential second-year breakout wide receivers.