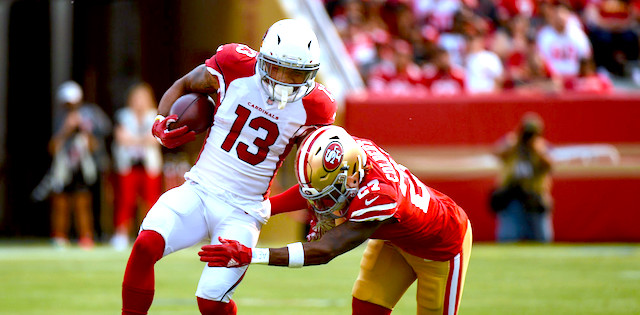 The 2018 season was a disaster for the Arizona Cardinals. The team ended the season with the fewest points in the NFL and were the only team to not having 4,000 yards on offense. In fact, Arizona finished with 3,865 yards, and the second-worst mark belonged to the Dolphins, who finished with 4,638, a gap of 773 yards. To put that in perspective, gaining 773 more yards than the Dolphins would have made you just the 23rd-worst offense.
Offensive line was a big part of those struggles, as was the team's head coach being a defensive guy in an increasingly pass-oriented league. How did the Cardinals fix that? Well, they went out and made some small improvements to that line, and then they brought in a new head coach, former Texas Tech coach Kliff Kingsbury. An Air Raid coach working with the league's worst offense? Hmm!
With a new offensive scheme, you can expect better things from this team and, specifically, from second-year wide receiver Christian Kirk, right? Or will the quarterback uncertainty in Arizona derail things this offseason? Let's examine Christian Kirk's dynasty stock to determine if you should be buying or selling the Cardinals wideout.
Editor's Note: Get any rest-of-season NFL Premium Pass for 50% off. Our exclusive DFS Tools, Lineup Optimizer and Premium DFS Research through the Super Bowl.
Sign Up Now!
Profile
Christian Kirk
Team: Arizona Cardinals
College: Texas A&M
Height/Weight: 5'11", 200 pounds
2018 NFL Draft: Round 2, Pick 47
Case to Buy
So, let's address the biggest issue first, which is that we don't know who the Cardinals quarterback will be. It could still be Josh Rosen, who suffered through a disappointing rookie year but showed a lot of promise at UCLA, or it could be Kyler Murray, who Kingsbury loves and who'll be available with the first overall pick in this month's draft.
Regardless of which one ends up as the starter, Kingsbury's pass-heavy offensive system should lead to a major increase in offensive output for Arizona, and Kirk should be one of the big beneficiaries of that.
The case for buying on Kirk this offseason is this: Larry Fitzgerald is heading into his final NFL season, the offense is trending up, and Kirk is a young receiver with, presumably, a long career in front of him. Last season, Kirk -- operating in an offense that was, as stated above, just flat out bad -- caught 43 passes for 590 yards and three touchdowns. He finished the season as the WR57 in fantasy, which wasn't good but also wasn't bad for a rookie on a team as bad as Arizona.
In fact, per PlayerProfiler, Kirk had some pretty interesting efficiency marks:
| Statistic | Position Rank |
| --- | --- |
| Yards per Reception | 38 |
| Yards per Target | 36 |
| Yards per Pass Route | 38 |
| True Catch Rate | 12 |
| Production Premium | 30 |
| Fantasy Points per Pass Route | 43 |
I want to focus on that true catch rate. Kirk's actual catch rate of 63.2 percent ranked just 58th among wide receivers, but true catch rate takes into account uncatchable passes to come up with an idea of what a player's catch rate was on passes where the ball is placed in spots where the receiver should get them. Kirk's true catch rate of 89.6 percent ranked 12th among receivers. Take out the poor quarterback play in Arizona, and Kirk was really pretty good! And if we assume improved quarterback play is coming this year, Kirk's actual numbers should look a lot more like his theoretical numbers.
Case to Sell
Ain't got one. Just buy Christian Kirk.
Actually, I can come up with a few reasons why you might want to sell on Christian Kirk. There's that whole unsettled quarterback situation, which could be a bigger deal than we think.
All signs seem to be pointing to Kyler Murray heading to Arizona. Lots of people are really hyped about Kyler Murray, but there are plenty of question marks about how a player his size will manage the taller defenders in the NFL, and choosing to stick with Christian Kirk during an offseason where a LOT of people are going to think he's heading for a breakout season means you are A) keeping Kirk at a point where his trade value is skyrocketing and B) putting a foot down and saying that you trust Kyler Murray, since Kirk's ability to succeed will be directly tied to Murray's ability to succeed. Kirk's value should increase as the season gets closer, so holding onto him until after the draft and after we start to hear good things trickle in about Murray's camp performance and all of that could net you something solid.
Final Verdict
I'm buying Christian Kirk, and I'm doing it as soon as I can. Get him while there's still uncertainty about that team. Get him while he's still going after Dante Pettis in dynasty startup drafts (no offense to Pettis, who I also really like, but who faces a much more uncertain situation in a more-crowded 49ers receiving corps). Kirk can be an efficient receiver who racks up points in PPR leagues and you can get him at his cheapest value ever if you act now. Buy Christian Kirk!
More Dynasty League Strategy