The first round of the NBA Playoffs is winding down. In fact, we are down to just one game on our Friday. The Eastern Conference Semifinals are already decided with Brooklyn and Milwaukee starting tomorrow and Philly-Atlanta starting on Sunday. How the West was won is going to be a little tougher to figure out. If the Clippers win tonight, Game 7 will be on Sunday with the opening of the Philly-Atlanta series.
Thanks to this Western Conference win-or-go-home matchup for the Clippers, we will move into Showdown mode for DFS on DraftKings again tonight. To build our rosters for this particular format, we need to identify a Captain and five utility players. It's just like the analytics nerds dreamt it up: positionless basketball. The Captain will earn 1.5 times the amount of points he regularly tallies, but it also drives up the price for your more prominent players.
This article will provide you with my daily fantasy basketball lineup picks for DraftKings on 6/4/21. You can also check out today's FanDuel lineup picks. With COVID-19 a significant factor, remember to monitor injury news as the slate can completely change before lineups lock.
Editor's Note: Our incredible team of writers received five total writing awards and 13 award nominations by the Fantasy Sports Writers Association, tops in the industry! Congrats to all the award winners and nominees including NBA Writer of the Year, Best NFL Series, MLB Series, PGA Writer and Player Notes writer of the year. Be sure to follow their analysis, rankings and advice all year long, and win big with RotoBaller!
Read More!
Los Angeles Clippers (-2.5) 
Kawhi Leonard - SF (Captain: $17,400, Utility: $11,600)
Kawhi had been the only consistent force for the Clippers in the first four games. Then he laid an egg in Game 5 with just 37.75 DraftKings points in 42 minutes in the loss. Now what? With no sure thing for the Clippers, where do we turn? How about back to Kawhi. The 227 DraftKings points in the first four games of this series weren't a fluke. The biggest players come up big on the biggest stage, right? Facing elimination, Kawhi is easily the best captain option for the Clippers and needs to be in any build.
Marcus Morris - SF/PF ($6,600)
I still find it hard to trust Paul George in the playoffs, so I have no desire to pay that price for him. Instead, Morris was a force on both ends of the court in Game 5. This is what the Clippers need going forward. Keep in mind that they only lost Game 5 by five points with a horrendous shooting night from Kawhi. The talent is on this team to push it to Game 7, but that's going to mean that Morris is closer to his 37.25 DraftKings points output in Game 5 than the 16.7 he averaged over the first four games of the series.
After an abysmal Game 1, George has rebounded to score at least 25 DraftKings points in each of the last four games. The bad part is that he hasn't topped 30. The guard situation is still a bit of a mess for the Clippers, but Jackson is at least entrenched in 30 minutes per game. He's the only safe guard option, but he has very little upside to speak of. He's not worth running at captain.
Other options: Paul George ($10,800), Nicolas Batum ($5,000)
Want more NBA DFS tools and content? Our NBA Premium package includes our daily DFS Cheat Sheets, Research Station, Optimizer, and access to our Premium Slack Chatrooms where members can chat with our NBA analysts. Check out this recent big win from RotoBaller premium member Bsuperak on FanDuel - join in on the winning!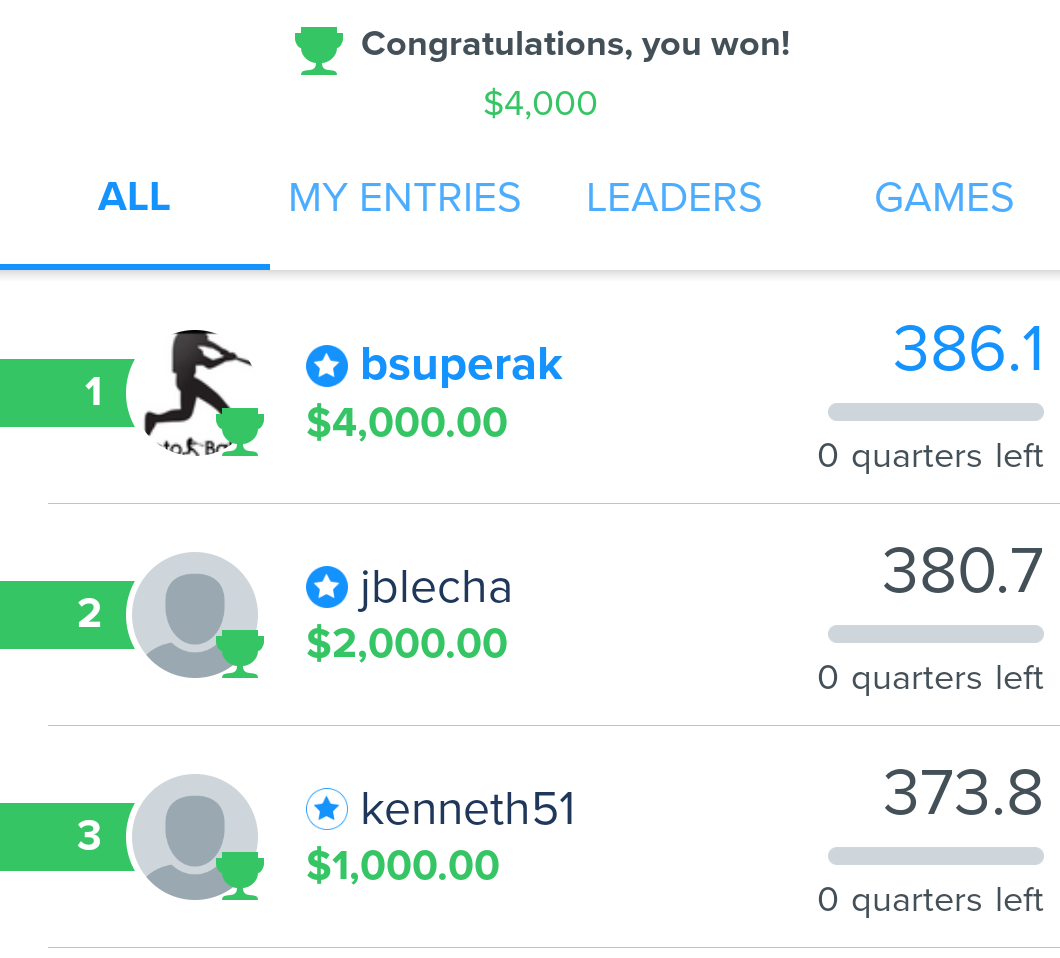 Dallas Mavericks (+2.5)
Luka Doncic - PG/SF (Captain: $19,200, Utility: $12,8o0)
It's really hard to captain Luka and field a reasonable player at every utility slot, but it might be worth trying. Luka has 318 DraftKings points this series, including topping 70 three times in five games. That's over triple digits at the captain slot. No one on either team is going to come close to that. If you don't run Luka at captain, you have to hit every utility slot right to dethrone someone who did. Good luck!
Tim Hardaway Jr. - SG/SF (Captain: $11,400, Utility: $7,600)
Hardaway has not shot well from the floor since the first two games, but the volume makes him worth putting in as a risky captain in large field GPP's. The nearly $8,000 in savings over Luka and $6,000 over Kawhi allow you to either run a super balanced lineup or to put two stars in with him. Inconsistency has always been the issue with THJ, but he has topped 35 DraftKings points twice in this series. If get around 60 from him at captain and none of the star players have a huge game, that could be the recipe for a big win here.
Dwight Powell - PF/C ($2,800)
Maxi Kleber was limited and wasn't much of a factor in Games 4 and 5. The difference is that in Game 5, Dallas went huge and pushed the Clippers around. Boban Marjanovic started the game and Powell played 21 minutes after playing just 18 minutes in the first four games combined. Considering how successful Dallas was with this lineup in frustration Kawhi and dominating the paint, I think we'll see this approach again. Both Powell and Boban give us much-needed salary relief if we plan on running Luka at captain.
Other options: Dorian Finney-Smith ($6,000), Jalen Brunson ($4,600)
NBA DFS News and Injury Alerts
More DFS Lineup Picks and Analysis