Happy Thursday, Rotoballers! I've barely recovered from the masterpiece that was Kevin Durant's Game 5. Thanks to his historic (literally, look it up) performance, the Nets are now up 3-2 in this Eastern Conference Semifinal, and the franchise is one win away from their first Conference Final since 2003. We already know that Kyrie Irving (ankle) is out for Game 6, but James Harden (hamstring) will play. However, with the way Harden looked in Game 5, it'll be risky to throw him in a lineup.
Meanwhile, Milwaukee continuously perplexed the basketball world by failing to attack Harden on one leg while blowing a 17-point lead. If they don't win the next two games, there will be changes coming for the Bucks. Vegas has them as five points favorite tonight and has the game over/under set at 220 points. While the guys in Nevada are usually dead on with their predictions, their over/under picks have shaded on the high side a few times in this series. I think it will be an incredibly tight game, and I wouldn't be surprised to see another under.
This article will provide you with my daily fantasy basketball lineup picks for DraftKings on 6/17/21. You can also check out today's FanDuel lineup picks. With COVID-19 a significant factor, remember to monitor injury news as the slate can completely change before lineups lock.
Featured Promo: New for 2023, we've added A LOT of new exclusive PGA articles, picks, and tools to our PGA Premium Packages! Spencer Aguiar, one of the most successful PGA bettors in the industry, now features 10+ weekly articles with his exclusive picks, rankings and models in the TeeOffSports VIP subscription. Win big in 2023!
Sign Up Now!
Brooklyn Nets (+5) (107.5 total)
Kevin Durant - SF/PF (CPT: $18,600, UTIL: $12,400)
Find me a DFS player who is not playing Durant tonight, and I will simultaneously show you a liar. The man broke NBA Twitter with his Game 5 heroics, and all eyes will be on him to see if he can close out the Bucks in six by himself. Last game, the 2014 MVP erupted for 49 points, 17 rebounds, 10 assists, three steals, two blocks, and four three-pointers. All those numbers equaled 100.25 DraftKings points and made him the seventh player since 1950 to score over 100 DK points in a single game. Technically, he was only the fourth because DK wasn't around when Jordan, Hakeem, Kobe, and Chris Webber played basketball, but the point still stands. While it's absurd to expect KD to even come close to those numbers on Thursday, he is the most likely candidate to do it again in this contest and, therefore, is one of two players I will consider captaining my showdown lineups.
James Harden - PG/SG (CPT: $16,500, UTIL: $11,000)
Harden looked like a shell of himself on Tuesday night as he took the court for the first time since Game 1. The defensive effort remained the same, but he didn't have his usual offensive bag of tricks to pull from on his bad hamstring. The Beard played a massive 46 minutes in Game 5 but tallied five points, eight assists, and six rebounds. He also shot 1-for-10 from the floor and missed all eight of his three-point attempts. The 2018 MVP is hobbled, but he's gutting it out to be someone the Bucks have to respect on the court at the offensive end. If he can't hit any shots, then the defensive attention won't last long in Game 6, but it would be silly to eliminate Harden from your lineup considerations. The list of 100-point scoring nights on DK I mentioned with Durant earlier has Harden on it... twice.
Joe Harris - SG/SF (CPT: $11,700, UTIL: $7,800)
I believe in you, Joe! If Jeff Green can go 7-for-8 from the three-point line, I've got to think the insane Joe Harris game is on its way. I refuse to believe the best three-pointer shooter in the league (statistically) can't make three-pointers anymore. For the series, Harris is 12-for-36 from downtown but 4-for-20 in the last three games. If this were a regular-season slate, I would fade Harris until his shot returns. However, in a one-game showdown slate, we've got to take chances, and (apologies because I've been watching Loki) there's a timeline where Harris comes out and drops seven threes and helps the Nets oust the Bucks in six games. I want to be a part of that timeline, and it's why I'll have Harris in a couple of lineups.
Other options: Blake Griffin ($6,800), Jeff Green ($4,800)
Want more NBA DFS tools and content? Our NBA Premium package includes our daily DFS Cheat Sheets, Research Station, Optimizer, and access to our Premium Slack Chatrooms where members can chat with our NBA analysts. Check out this recent big win from RotoBaller premium member Bsuperak on FanDuel - join in on the winning!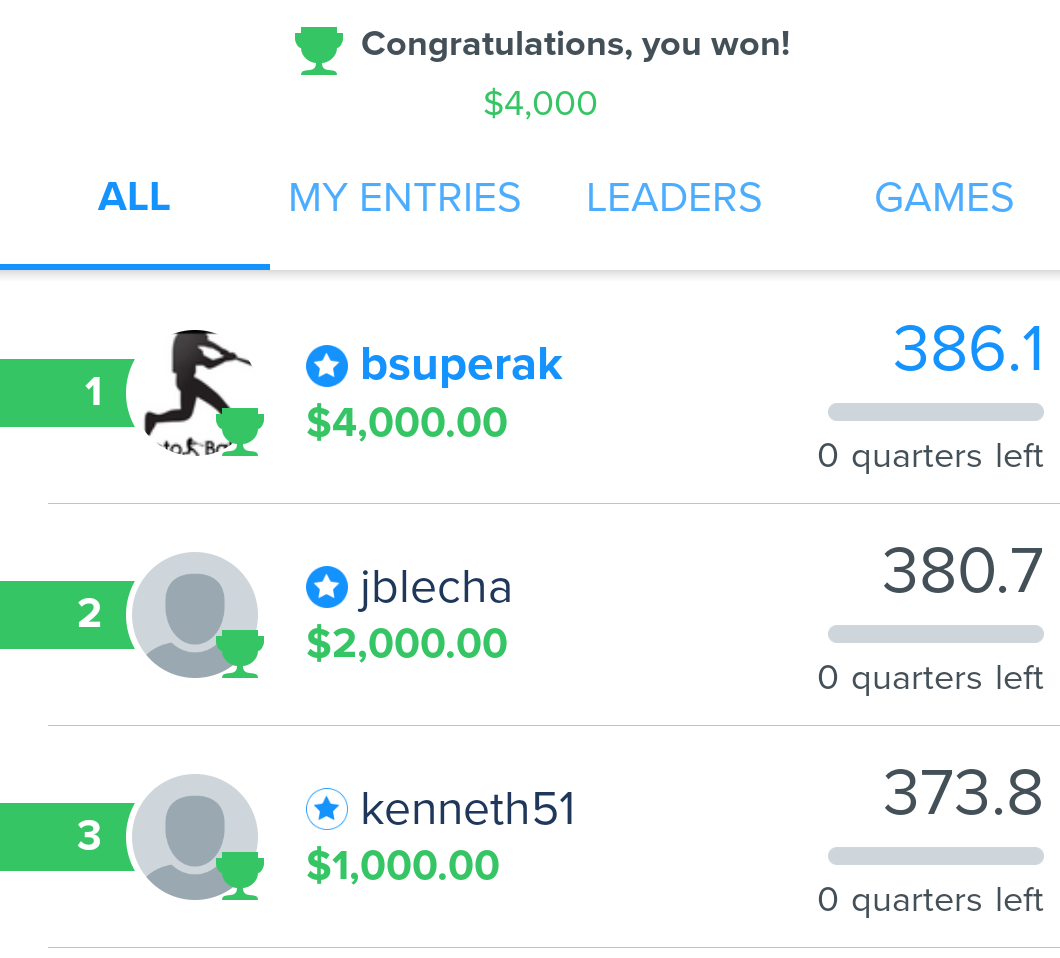 Milwaukee Bucks (-5) (112.5 total)
Giannis Antetokounmpo - PF/C (CPT: $18,000, UTIL: $12,000)
It sounds absurd to ask for more from a player averaging 30.6 points and 12 rebounds, and yet I find myself doing that with Antetokounmpo heading into a pivotal Game 6. Someone in Milwaukee needs to cap his three-point attempts. Yes, he went 2-for-4 in Game 5 (a loss), but he's shooting 17.1 percent on three-pointers in the playoffs. A made two is better than a missed three. You heard it here first. It's not entirely Giannis' fault the Bucks are down 3-2, but he's going to get all the blame if they get bounced tonight against a weakened Nets team. Honestly, there's not a lot of DFS analysis to be had with the two-time MVP. He's averaging 53.4 fantasy points per game this series, and he's going to be right around that mark again tonight. It comes down to him or KD as your captain, and I'm not the kind of guy who will fade someone that just racked up 100 DraftKings points on Tuesday.
Khris Middleton - SG/SF (CPT: $14,100, UTIL: $9,400)
Although I just said it comes down to Giannis and Durant for your choice as captain tonight, Middleton is the one uber contrarian play you could use to differentiate your lineup from the rest of the field. Over his last three games, the two-time All-Star is averaging 26.3 points on 20 shots with 7.7 rebounds, 4.7 assists, three triples, a steal, and a block. While he may not come close to Durant or Antetokounmpo in total fantasy points, he's nearly $4,000 cheaper than both of them at Captain. He provides some valuable lineup flexibility for the rest of your showdown roster. If you're in a multi-entry tournament, constructing a lineup with Middleton as your Captain has tremendous upside.
Jrue Holiday - PG/SG (CPT: $12,900, UTIL: $8,600)
It didn't strike me until I nearly picked another Bucks player that this may be the last time I can write about their team this season. Therefore, I have to include Jrue because I've been fading him a lot in the second round, and he deserves at least one write-up before his season comes to an end. We are waiting for Round 1 Holiday to make an appearance in Round 2. In the four games against Miami, the three-time All-Defense player averaged 44.5 fantasy points per game but is sitting at 30.1 FPPG through five games of this Eastern Conference Semifinal. His rebounds and steals are both lower than the Miami series, and he will need to get those up to his All-Defense levels if he is going to be a positive contributor for our DFS lineups.
Other options: Brook Lopez ($5,600), Bryn Forbes ($4,400)
NBA DFS News and Injury Alerts
More DFS Lineup Picks and Analysis