Happy Friday, Rotoballers! The first batch of play-in games was a huge success. Yes, it was boosted by the phenomenal Los Angeles-Golden State game, but the game-seven environment to all four games was really cool to watch so early in the postseason. Jayson Tatum went off for 50 to down Washington, Memphis got past a mental hurdle with a win over San Antonio. Last night we saw Sabonis go nuts, but none of his teammates followed suit as the Pacers exited stage right with an embarrassing 27-point loss to Washington. The Wizards now draw Philly in the real first round of the playoffs.
Thanks to this Western Conference win-or-go-home matchup, we will move into Showdown mode for DFS on DraftKings again tonight. To build our rosters for this particular format, we need to identify a Captain and five utility players. It's just like the analytics nerds dreamt it up: positionless basketball. The Captain will earn 1.5 times the amount of points he regularly tallies, but it also drives up the price for your more prominent players like Curry, Jonas, and Ja.
This article will provide you with my daily fantasy basketball lineup picks for DraftKings on 5/21/21. You can also check out today's FanDuel lineup picks. With COVID-19 a significant factor, remember to monitor injury news as the slate can completely change before lineups lock.
Editor's Note: Our incredible team of writers received five total writing awards and 13 award nominations by the Fantasy Sports Writers Association, tops in the industry! Congrats to all the award winners and nominees including NBA Writer of the Year, Best NFL Series, MLB Series, PGA Writer and Player Notes writer of the year. Be sure to follow their analysis, rankings and advice all year long, and win big with RotoBaller!
Read More!
Golden State Warriors (-3.5) 
Stephen Curry - PG (Captain: $17,100, Utility: $11,400)
Curry is the obvious pick, and not just because he's about the only offensive threat the Warriors have since Kelly Oubre Jr. is still out. Curry scored 37 real points against the Lakers, but still only put up 50.25 DraftKings points. However, in the regular season finale against Memphis, Curry racked up a staggering 73.25 DraftKings points. That's well over 100 points from the captain slot and he's exactly $3,000 less than Westbrook was last night. It kind of seems like a bargain, no?
Draymond Green - PF/C (Captain: $13,200, Utility: $8,800)
Curry doesn't seem outrageously priced at captain so I'm not really sure what we gain with Draymond here. He has a very high floor due to his defensive chops and he put up a solid 42 DraftKings points against the Grizzlies, even with Curry going berserk in that game. If you're afraid Curry doesn't carry the team, I can see paying down. Otherwise, I'm not sure the ceiling is high enough to captain Draymond here. He is definitely a good utility play though. The biggest question if you captain Draymond is: what can you do with that extra $4,000?
Looney is locked into guaranteed minutes with James Wiseman out of the picture. Draymond still runs plenty of minutes at the five, but they're going to need Looney's body in there to try and combat Jonas. Looney put up a strong 23.75 DraftKings points against Memphis and was one of the more successful players, especially for the price, against the Lakers. Looney is guaranteed for around 25 DraftKings points. He's well worth this price.
Other options: Andrew Wiggins ($8,200), Jordan Poole ($5,400)
Want more NBA DFS tools and content? Our NBA Premium package includes our daily DFS Cheat Sheets, Research Station, Optimizer, and access to our Premium Slack Chatrooms where members can chat with our NBA analysts. Check out this recent big win from RotoBaller premium member Bsuperak on FanDuel - join in on the winning!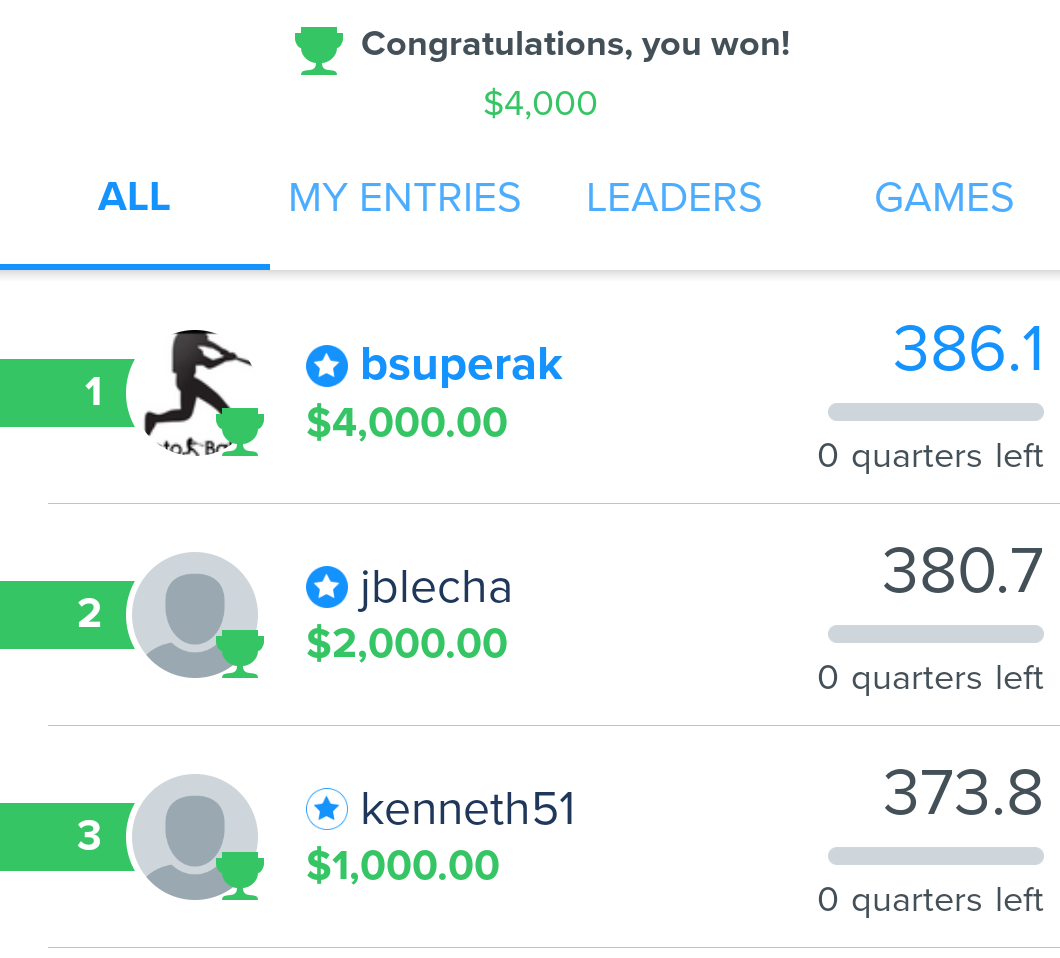 Memphis Grizzlies (+3.5)
Jonas Valanciunas - C (Captain: $15,000, Utility: $10,0o0)
The Warriors couldn't handle Jonas over the weekend, so I'm not sure they can now either. He put up 53.5 DraftKings points in that game and had a 23 point - 23 rebound double-double against the Spurs in the 9-10 game. However, Jonas's big game against the Warriors was in a double-digit loss. The good news is that Jonas will score well even in a loss. The bad news is that he's the only one that might.
Jaren Jackson Jr. - PF (Captain: $10,800, Utility: $7,200)
Triple J had hit minutes limit lifted against the Spurs, but was still outshined by Jonas by a large margin in that game. The fact remains that we likely wont see Jackson get back to the role he had last season, at least not with what's left of this year. That said, his price is reasonable and he had a strong game against the Warriors in Oakland last weekend. Jackson had 35.75 DraftKings points in that one despite spending time in foul trouble. That's always the risk with Jackson, but considering the massive savings, Jackson might be worth a look in GPP formats.
Dillon Brooks - SG/SF ($7,600)
Brooks is peaking at the right time. He has at least 30 DraftKings points in five straight, topping 40 in two of those. The bad news is that the low water mark was against the Warriors. The silver lining was that Brooks only played 30 minutes in that game, so he got a fantasy point per minute. It is worth noting that Brooks was in foul trouble for most of that game and ultimately ended up being disqualified. If he can hang around for 40 minutes, which the Grizzlies to run him at from time to time, Brooks could be in line for another 40. The bad part is Brooks has 11 fouls in the last two games. That's nothing new for Brooks. He has always fouled a lot.
Other options: Ja Morant ($9,400), Kyle Anderson ($6,600)
NBA DFS News and Injury Alerts
More DFS Lineup Picks and Analysis