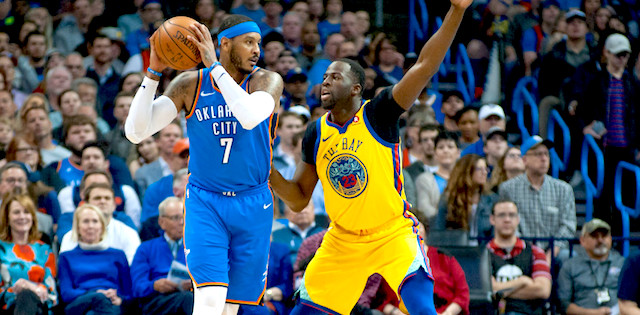 With eight games total today, DraftKings only has seven on the main slate. Of those seven games, only two really stick out as "should be good" games. This late in the season, some players will rest for no reason other than load management, and that means more in-game parity. Teams like the Mavericks will be able to compete with the Warriors if Steph Curry and Kevin Durant don't play. The Chicago Bulls could beat the Jazz if Rudy Gobert decides to take a game off to get ready for playoffs. Anything can happen after tip-off, but as long as you set yourself up for success beforehand, that's all you can really do.
All in all, the games are getting unpredictable and it's going to take some serious attention to detail to make sure your lineups are perfect enough to cash out. Every game will have their instances of unpredictability, but the best thing you can do is just stay connected. Before you submit your lineup, make sure you are checking in on your most important games. Find out who the coaches are starting each night, all it takes is a simple Google search.
With the NCAA Tournament underway, there is going to be slightly less interest in DFS as a whole, especially with all the unpredictability that comes with this part of the season. I don't watch college basketball outside of viewing prospects, so feel free to bother me while I play Apex Legends on Xbox. I'll also be in the NBA Chat Room and @HalfCourtJester on Twitter.
Editor's Note: Our friends at Monkey Knife Fight have the best, most fun, fastest growing DFS props game! It's super simple to play and to win real money. Just choose your NBA, NHL or PGA game, and make your picks! Get a 100% instant deposit bonus up to $50 using promo code: BALLER. That's $50 for free - don't miss out!
Play Now!
DraftKings DFS Guards
Mike Conley - PG vs. MIN ($7,500)
Starting strong, right? Even though Mike Conley has that little "I might not play" asterisk next to his name, fading him could cost you. He's obviously the best player on that team and they aren't really fighting that. In the last six games he's played in, he's scored over 20, four of those six games tallying at least 28 points. It's easy to say Conley is on a tear, so as long as he plays, you have to play him. He missed the Grizzlies last game versus the Magic, so hopefully that means he'll be back against Minnesota.
Bogdan Bogdanovic - SG/SF vs. PHO ($4,300)
He has experienced a slight dip in minutes recently, but Bogdan Bogdanovic's usage and shot attempts have seemingly gone up during this time. He's a consistent player all over the court, and that's perfectly reflected in the box score. He is taking shots every game, making high-quality scoring chances for his teammates, he just isn't shooting very well. That can change any game and the Suns are the perfect, defense-less team that Bogdanovic can "rebound" against.
Maybe not literally, but since he has dished out at least five assists in two of the three games versus the Suns this year, I like his overall upside tonight.
DraftKings DFS Forwards
Justin Holiday - SG/SF vs. MIN ($4,000)
If there's one thing Justin Holiday is really good at, it's having so much potential, but not having the shooting touch to really capitalize. Don't get me wrong, I loved having Holiday on the Knicks because he makes team's better. He makes the right plays, unless that play is hitting consecutive shots frequently. For the first time since he's joined the Grizzlies, he scored over 20 points.
Conley not playing opened the door for him to take a few extra shots, but even with Conley returning, Holiday hit four or more three's for just the second time since joining Memphis. Last time he hit multiple three's in a game he responded with a 19-point outing. With his price, that's all we need.
Draymond Green - PF/C vs. DAL ($6,400)
Draymond Green continues to do a little bit of everything as usual, but you do have to be careful and make sure he is actually playing before rostering him. Assuming that one or hopefully two, non-Green Warriors miss this game, his upside is multiplied. Honestly, I'd much rather roster Green when Kevin Durant isn't playing rather than Steph Curry. Durant tends to turn the game into iso-ball where he does most of the facilitating, whereas when Durant sits, Green is taking the ball up and doing everything he can to find Curry and Thompson on the wings.
His price won't kill you if everyone ends up playing, but I would say his upside is reduced the more superstars that play in this game.
DraftKings DFS Centers
Hassan Whiteside - C  vs. WAS ($5,200)
Hassan Whiteside continues to be an annoyance for basketball fans, simply because every game is a toss-up regardless of the matchup. We never know what effort we will get from Whiteside, but tonight I think even he knows that he has upside. Yes, Thomas Bryant is a big body in the paint and will have a solid game I'm sure, but Whiteside with 80% effort is still posting a solid 20-10 line versus the Wizards.
Of course, this should be the case with most of Whiteside's games and things happen, but on paper this is a matchup that you can't afford to pass up if and when it hits. If it makes it any better, in all but one game, Whiteside has double-doubled. That one game he had 10 boards and nine points so basically double-doubled every game versus Washington this year.
More Fantasy Basketball Analysis