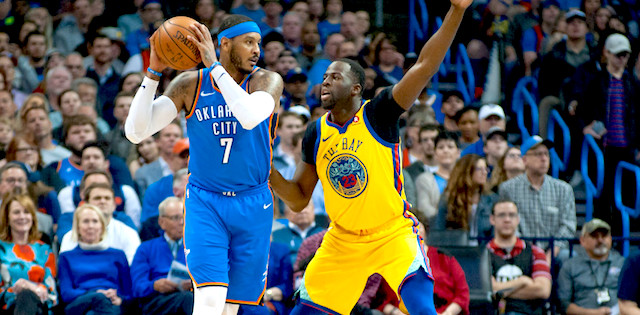 Last night was an exciting night in the NBA and we get a more relaxed schedule Sunday. With only four games this early in the season, tonight will be one of the tougher slates. No matter what tool you use, what stats you prefer, none of them really matter at this point. The first few games with be about exposing specific match ups and taking advantage of players that are trending up. Every game tonight is projected to be high-scoring, so don't shy away from stacking the Thunder or Clippers, two teams that are facing teams on the second night of a back-to-back.
In this article, I will be providing you with my daily fantasy basketball lineup picks for DraftKings on 10/21/18. These DFS lineup picks can vary from higher-priced players and elite options to lower-priced players and value picks on DraftKings.
You can also check out today's FanDuel lineup picks and our Premium DFS Cheat Sheet. And don't forget to check out our brand new NBA DFS Matchup Ratings tool with daily player projections. Find me in the Hoops Chat Room, Twitter @HalfCourtJester or getting as many Blackout games in as I can before 5PM.
Editor's Note: Get our full-season NBA and DFS Premium Pass for 50% OFF. Plus, you also get our full-season NFL Premium and DFS Pass for free! Take advantage of our lowest pricing all year, and get an edge on your competition.
Sign Up Now!
DraftKings DFS Guards
Patrick Beverley - PG/SG, @ LAC ($4,400)  
Both Chris Paul and Rajon Rondo deserve to be ejected for acting like elementary school kids, but even if they aren't, Patrick Beverley is a nightmare matchup. Not only will he get under Paul's skin, but his size and strength advantage will benefit Beverly on both sides of the ball. His price need to continue to drop for him to be a solid "value" play, but he is still producing alongside a very fruitful roster. Danilo Gallinari and Tobias Harris are head-and-shouders above the rest of the team when it comes to scoring, but they do not hesitate to pass to Beverley when he is open. He usually doesn't shoot well so don't be worried by that, but do be worried if you view this pick as anything more than a situational sleeper. If only Avery Bradley could find a way to be productive again...
Alex Abrines - SG/SF, vs SAC ($3,300)
The Kings, once again, have established themselves as the team to target. With Russell Westbrook still out and minutes to go around, Alex Abrines finds himself steering his own ship. His production will directly reflect his minutes. If he's not scoring, the Thunder won't hesitate to go in a different direction, but Abrines has two factors working in his favor. He is already guaranteed minutes because he is an elite shooter, and he's playing a young inexperienced team on top of that. His price gives him plenty of wiggle room to toss up another dud, but I am not banking on that happening again.
DraftKings DFS Forwards
Carmelo Anthony - SF/PF, @ LAC ($4,800)
This pick is either too easy to take and everyone will play him, or noone will play him and I'll be swimming in his production. First off, I cannot stand the way Carmelo plays basketball. It's selfish and it literally hurts the entire team. Second, this is the type of player you want for DFS. Selfish players who will get their shots whether it's good for the team or not. I do not advocate for Anthony in formats outside of DFS, but his nightly consistency never falters. He shoots against everyone and for years has been able to get to his spots and score 30 points despite a 10-point loss. His price plus the Clippers wings struggling on defense...do I need to keep explaining?
Draymond Green - PF/C, @ DEN ($6,800)
The Nuggets played Saturday night and swept the Suns under the rug, so don't expect serious fatigue on their end, but they still have to play the Warriors, which will absolutely incite serious fatigue. The Nuggets are no defensive match for any of the Warriors players and although the regular season games are closer and usually, Green will be exceeding his projected. I keep typing out drawbacks I have about playing Draymond, but none of them are really rational so I erase them. There is almost no reason to fade Draymond tonight.
DraftKings DFS Centers
Paul Millsap - C, vs. GSW ($6,400)
There are a few things going into this pick that really solidify it for me. Paul Millsap is playing at home, against a very talented team. He thrives is situations like this and it won't hurt that the rest of the team will play better at home. If he can continue to do what he is doing, the added benefit of his team playing well should help turn this bargain into the steal of the night. This early in the season, talented players who haven't really produced have lower prices so make sure you are capitilizing as much as possible.
NBA News and Player Updates