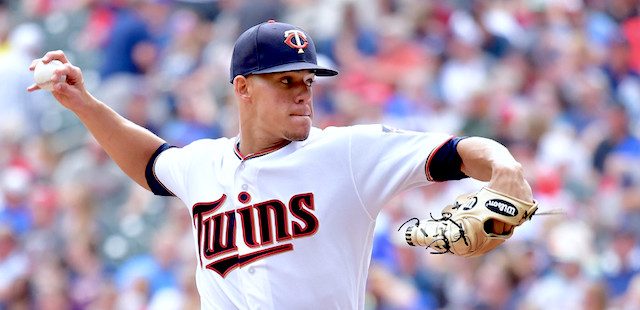 Welcome to Friday baseball on DraftKings. We have an exciting day on our hands, with a 13-game main slate and one game earlier in the day. There is plenty of pitching options on the main slate, including another ace against the Detroit Tigers. There is also a few cheaper options worth considering, so we'll have to dig in and make sure we choose the right options. At hitter, there are plenty of terrible pitching options to take advantage of.
DraftKings has gifted us with plenty of fun tournaments, including the $11 Hidden Ball Trick that prizes $50k to first place. There's a tournament for every price point and plenty of ways to take these tourneys down. Let's jump in and take a look at the top play at each position.
In this article, I will be providing you with my daily fantasy baseball lineup picks for DraftKings on 8/23/19. The lineup picks will range from some of the elite players to mid-priced options and value plays. Be sure to also check out all the Vegas Odds for today's slate. You can also read more DFS advice and lineup picks for sites like FanDuel, and other sports too. If you have any questions or comments, feel free to hit me up on Twitter @VarneyDFS.
Editor's Note: Get any full-season MLB Premium Pass for 50% off. Exclusive access to our Draft Kit, premium rankings, projections, player outlooks, top prospects, dynasty rankings, 15 in-season lineup tools, and over 200 days of expert DFS research.
Sign Up Now!
DraftKings DFS Starting Pitchers
Jose Berrios - MIN vs. DET - $10,000
For a team that's already struggling to breathe, the Tigers seem to get quite a bad draw with starting pitchers. After Verlander and Cole, the Tigers will travel to Minnesota and face off with Jose Berrios. The Tigers have posted a .278 wOBA against right-handed pitching and we saw Cole strikeout 12 in seven innings last night. Berrios is no Gerrit Cole, but he strikes out 23% of batters in his own right and has held both sides of the plate to a sub .303 wOBA. The Twins will let Berrios go 100+ pitches, so there's not much to worry about here outside of fluke letdown. Berrios is the top SP1 in both cash games and tournaments.
Vince Velasquez - PHI @ MIA - $7,800
We've avoided Vince Velasquez for most of the season as he hasn't been allowed to stretch out much. That has changed recently, going five or more innings in each of his last five starts. He's even been over 100 pitches twice. He now draws the Miami Marlins, who are the only team that can compare to the Tigers in terms of ineptness. Velasquez is way too cheap on DraftKings for a match-up with this team in spacious Marlins Park. Velasquez is an easy SP2 and he allows you to pay up for some much-needed bats.
DraftKings DFS Infielders
Travis D'Arnaud - TB @ BAL (Blach) $4,400
The Tampa Bay Rays get to face off with Ty Blach tonight, who's arguably the worst pitcher in all of baseball. Over his last four games, Blach has allowed 21 earned runs in just 15 innings of work. It doesn't get any worse. Against righties, he's allowed a ridiculous .425+ wOBA. Travis D'Arnaud has turned a corner in 2019 and has looked like a much different hitter than ever before. Against lefties, D'Arnaud has sported a .358 wOBA with nine home runs in just over 100 plate appearances. The price is affordable and there isn't much to love at the position. D'Arnaud is a relatively easy cash game and tournament play against Blach.
Rhys Hoskins - PHI @ MIA (Noesi) - $4,200
If you're looking to pay up at first base, there are a few options. Gurriel and Bell to name a couple. With that said, I don't see anyone that's a must and Rhys Hoskins is way too cheap. He won't garner much attention, either, but Hector Noesi is as bad as it gets. In his only three starts this season, Noesi has given up 16 earned runs on six home runs. The Phillies are a top stack of the night and Hoskins has as much HR upside as anyone on the entire slate.
Jose Altuve - HOU vs. LAA (Suarez) - $5,300
Second base gets the award for worst position of the night. We have Jose Altuve in a phenomenal match-up against a bad lefty, but the position really is a wasteland after him. Altuve has been better than ever since coming back from injury, sporting a .417 wOBA against lefties in August with seven home runs in the month. He now draws Jose Suarez, who gives up three plus runs every time he takes the mound. The Astros righties are all in play and Jose Altuve has slate-breaking upside at an extremely brittle position.
Manny Machado - SD vs. BOS (Rodriguez) - $4,100
I know Eduardo Rodriguez is a pretty solid pitcher, but Manny Machado is a better hitter and he takes lefties. On the season, Machado has posted a .451 wOBA against southpaws with 10 home runs in just 99 at-bats. Rodriguez has been susceptible to righty power with 14 home runs on the season and a .318 wOBA against. Machado is simply too cheap for how good of a hitter he is vs lefties. Rodriguez has talent, but he's never been a guy we look to avoid completely. Machado should fly under the radar at 3B and is a guy I'm comfortable with in both cash games and tournaments.
Bo Bichette - TOR @ SEA (Sheffield) - $4,600
Justus Sheffield has been a pretty big prospect for a couple years now, but it remains to be seen whether he can bring it at the major league level or not. His first taste was quite bad, allowing two earned runs and four walks in three innings of work. He'll face off with the Blue Jays tonight, which means Bo Bichette gets a lefty. Though a small sample size, he's posted a .440 wOBA against lefties with seven XBH in 30 at-bats. His price is reasonable and he shouldn't have much trouble getting to Sheffield after getting through arms much tougher in his young career. He's a great play across the board and shouldn't be too popular.
DraftKings DFS Outfielders
Nelson Cruz - MIN vs. DET (Soto) - $5,800
I would be doing you a huge disservice if I didn't recommend Nelson Cruz here. He's up to 20 home runs on the season vs lefties and very well may be the best hitter in the league vs southpaws. His wOBA is up over .450 and he's hitting the ball hard over 50% of the time. He now faces off with Gregory Soto, who's a terrible pitcher that's given up a .390 wOBA opposing righties. Cruz is extremely expensive, but arguably the top hitter on the entire slate.
Bryce Harper - PHI @ MIA (Noesi) - $5,200
We touched on how bad Hector Noesi has been. 16 earned runs in three starts is all you need to know. Harper has been swinging a hot bat lately and his wOBA has finally risen over .360. Four homers in your last 10 will do that. The match-up doesn't get any better and we know Harper has two home run upside on any given night. He's affordable on DraftKings and a great pairing with Rhys Hoskins.
MLB DFS News and Injury Alerts