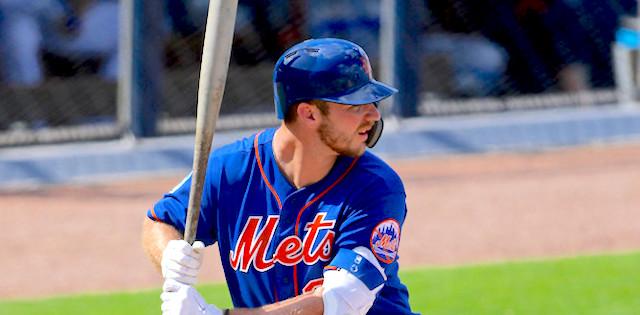 This Friday slate is absolutely packed as usual. There are 14 games in the main slate starting at 7:05pm. There's an early 2:20pm start at Wrigley field as the Cubs host the Reds, which adds a 15th game to the all day slate. Most of the money will be centered around the main slate so let's focus there.
In this article, I will be providing you with my daily fantasy baseball lineup picks for DraftKings on 5/24/19. The lineup picks will range from some of the elite players to mid-priced options and value plays.
Be sure to also check out all the Vegas Odds for today's slate. You can also read more DFS advice and lineup picks for sites like FanDuel, and other sports too. If you have any questions or comments, feel free to hit me up on Twitter @VarneyDFS.
Editor's Note: Get any full-season MLB Premium Pass for 50% off, with exclusive access to our season-long articles, 15 in-season lineup tools and over 200 days of expert DFS research/tools.
Sign Up Now!
DraftKings DFS Pitchers
Robbie Ray, ARI (@ SF) ($10,900)
There are a ton of options to consider on the pricey end of pitching. We're going to focus on Robbie Ray, but there are six $10k+ pitchers that are all worth playing in at least tournaments. As for Ray, he goes into the spacious AT&T Park and faces off with an extremely weak San Francisco Giants lineup. They actually rank 29th against left-handers with a team .266 wOBA. The only team they're better than is the Miami Marlins. They don't have any pop in the lineup and strikeout at a high 24.5% strikeout rate. Robbie Ray should be less than 15% owned and is safe with a ton of upside.
Miles Mikolas, STL (vs. ATL) ($7,300)
There are a lot of higher end pitchers to target, but DraftKings will give you a huge discount to go down to Mikolas. The matchup isn't great against the Braves, but they're worse on the road and Busch Stadium favors pitching. Mikolas was lit up last time out, but was on a prior streak of three games in which he lasted more than six innings. He's a lot better at home in St. Louis and the Cardinals are healthy -150 favorites. Mikolas is affordable on DK and a splendid SP2.
DraftKings DFS Infielders
C - Chris Iannetta, COL (vs. BAL) ($4,100)
With catcher always one of the weaker positions, it's a good idea to get exposure to Coors Field here. John Means will take the mound for the Orioles and will do his best to make it five innings. He's a terrible lefty that has been extremely lucky and is sporting a 4.5+ xFIP against both sides of the plate. The Rockies are going to put up some runs tonight and Iannetta should be right behind the heart of the order. He's always hit lefties well and has kept it up this year with a .373 wOBA and .250 ISO. He's not too expensive and gives you solid exposure to an offense that should put up 5+ runs.
1B - Peter Alonso, NYM (vs. DET) ($5,300)
The Mets are facing off with Gregory Soto, who's been one of the worst pitchers in all of baseball this year. He wasn't a big prospect originally, and has now held a 6+ xFIP on the year. He's being pummeled against both sides of the plate, allowing 12 ER in nine innings. We obviously don't have much of a sample size, but nothing tells us anything should change. Pete Alonso has burst onto the rookie scene and has posted an insane .449 wOBA against lefties to back up his 16 home runs. Soto will be backed up by a below average Tigers bullpen and will have the advantage all game long. He's definitely expensive, but my pick for homer of the night.
2B - Brendan Rodgers, COL (vs. BAL) ($4,400)
You can obviously play Trevor Story and Nolan Arenado. You don't need me to tell you that. I'm looking for exposure to some lesser known Rockies and will leave the obvious Coors Field plays to you guys to figure out. Brendan Rodgers got called up less than a week ago and has four hits in his first three games. He's spent his minor league years dominating lefties and is a middle infielder with both power and speed. He's going to be a big part of this Rockies lineup and is going to have plenty of opportunities to drive in some runs. He's going to cost you a pretty penny in Coors Field, but should be pretty low-owned and has a ton of upside.
SS -Manny Machado, SD (@ TOR) ($4,300)
There isn't any clear play at SS, and Manny Machado is way too cheap to ignore against a bad pitcher. Trent Thornton has posted a .274 wOBA against righties, which looks nice, but doesn't tell the whole truth. His peripherals show a 5.21 xFIP, so he's just been super lucky so far. The Padres are moving from Petco Park to the Rogers Centre, so a Machado HR or two in this series shouldn't surprise anyone. Thornton doesn't have a strong slider and I can't see Machado going down easy against his weak arsenal.
3B - Matt Carpenter, STL (vs. ATL) ($4,200)
Mike Foltynewicz isn't a guy I plan on stacking against, but I never mind a one-off lefty against him. He gave up a 4.01 xFIP to lefties in '18 and has been slightly better this year, but all of his peripherals tell a different story. He gives up a ton of hard contact and doesn't strikeout many lefties. Matt Carpenter is still one of the toughest at-bats in baseball and has shown off some of his power recently. The Cardinals are favorites in a game with an 8 over/under and you have to figure Carpenter will get involved with any runs that are scored. He's affordable and at a position that lacks much appeal. That is if you can't afford Nolan Arenado, of course.
DraftKings DFS Outfielders
Mike Trout, LAA (vs. TEX) ($5,800)
If you're going to pay up for an outfielder, it's hard to get away from Mike Trout against a bad lefty. Drew Smyly has been an embarrassment this season, giving up a 5.67 xFIP to righties and walking 6+ batters per nine innings. He's no match for the best player in baseball and is seeing the ball nicely right now. You're obviously going to have to pay up for Mike Trout against a lefty, but this is as good of a match-up as it gets and he can hit two homers with ease.
Juan Soto, WAS (vs. MIA) ($4,600)
Juan Soto is priced down a bit and can be played in all formats. Pablo Lopez is actually a pretty good young pitcher, but he's been lucky against lefties and has clear home run issues (5 in 20 innings). Juan Soto has dominated righties since entering the league, sporting a .385 wOBA and hitting 19 homers in 400 at-bats. Soto is seeing the ball well, posting 12 hits in his last six games. He won't be heavily owned and has as much upside as the field.
Rajai Davis, NYM (vs. DET) ($3,900)
This is a guy who'll be in 100% of my lineups. He's going to be in the lineup against a left-hander and has always destroyed them. Since 2015, he's held a .381 wOBA and actually has a ton of power for such a small speedster. He's super cheap on DraftKings and will help you pay up in an extra spot or two. We've already touched on Greg Soto, who's one of the worst pitchers in the entire league. Davis has started his Mets career hot and will look to continue the madness vs Soto and a porous bullpen.
MLB DFS News and Injury Alerts