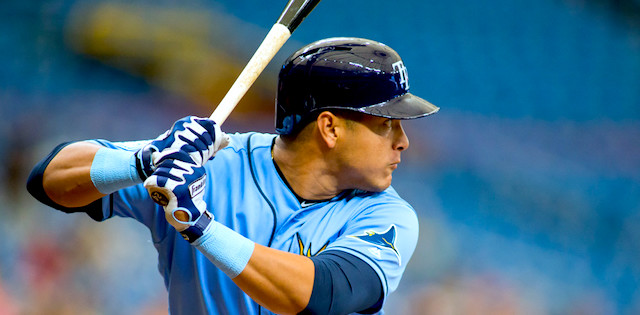 Another small slate on a Thursday as we see just eight total games, with six of them on the early slate. Therefore, the featured slate kicks off at the early time of 12:05 pm, compared to a usual 7:05 pm start. These small slates are interesting as they present interesting possible combinations. On deeper slates you can always find a hitter or pitcher combination that works at any price. On smaller slates that is not as easy, with just 10 teams to choose from.
The Mets are the biggest favorite on the slate, but Noah Syndergaard's struggles make him tough to lock in at his high price, even against the ice cold Reds. That game is also the one with the lowest projected total, so it is definitely an interesting game to look at. However, there also other reasonably low projected totals in the other four games on this slate. That means there could be a lot of good pitching performances.
In this article, I will be providing you with my daily fantasy baseball lineup picks for DraftKings on 5/2/19. The lineup picks will range from some of the elite players to mid-priced options and value plays. You can also read more DFS advice and lineup picks for sites like FanDuel, and other sports too. If you have any questions or comments, feel free to hit me up on Twitter @benrolfe15.
Editor's Note: Our incredible team of writers received 13 award nominations by the Fantasy Sports Writers Association including Baseball Writer of the Year, Football Writers of the Year, Golf Writer of the Year and many more! Be sure to follow their analysis, rankings and advice all year long, and win big with RotoBaller!
Read More!
DraftKings DFS Starting Pitchers
Charlie Morton, TB (@ KC) - $9,000
If you want to pay up for Syndergaard then it is absolutely worth it. However, Morton with his 39 strikeouts and 2.76 ERA in 32 2/3 innings this season is another good option, and comes at a solid discount. Additionally, Morton also has a nice matchup, going up against a Royals team ranking in the bottom half of the majority of hitter rankings. One downside to Morton is that he has yet to go longer than six innings in any game this season, and has failed to reach that mark on three of his six starts.
Mike Foltynewicz, ATL (vs. SD) - $7,800
This is an interesting gamble given Foltynewicz is making his second start since coming off the injured list. In his first start he gave up four earned runs in six innings, but did strike out five on the plus-side. Now he goes up against a struggling San Diego side who rank in the bottom five in the league in batting average, OBP and runs scored. Interestingly they actually rank eighth in the league in home runs this season, despite ranking 23rd in slugging percentage. However, even if they do manage to get hold of Foltynewicz in this start it is unlikely they are able to do significant damage to his stat line.
DraftKings DFS Infielders
C - Wilson Ramos, NYM (vs CIN) - $3,500
Ramos does not have the upside in this matchup that Yasmani Grandal has, but he is nearly $1,000 cheaper. Ramos had solid numbers against right-handed pitchers last year, with a .361 wOBA and a .159 ISO.
1B - Daniel Murphy, COL (@ MIL) - $4,400
It has been a tough start to the season for Murphy thanks to injuries. However, since returning a couple of weeks ago he has hit two home runs, scored seven runs and drove in five, with five extra base hits. His numbers last year against right-handed pitchers were also extremely impressive, with a .370 wOBA and a .191 ISO.
2B - Robinson Cano, NYM (vs. CIN) - $4,000
A mixed season so far for Cano, but when you focus on his performances against right-handed pitchers things look a lot rosier. The left-handed hitter has hit all three of his home runs this season off right-handed pitchers, giving him a .224 ISO and a .364 wOBA when righties are on the mound.
3B - Travis Shaw, MIL (vs. COL) - $3,600
Shaw is another player who has not had a good start to the season. However, much like Cano all of his home runs (four) this season have come with right-handed pitchers on the mound. After a strong season against righties in 2018, Shaw has a .203 ISO and a .307 wOBA against them so far in 2019.
SS - Jorge Polanco, MIN (vs. HOU) - $4,400
This time I am leaning on a hitter who has had a strong start to the season, with five home runs and a .327 batting average. However, much like the two relative stragglers above Polanco has done his damage when right-handed pitchers have been on the mound. Against righties this season Polanco has a .449 wOBA and a .326 ISO. He is also facing a pitcher who allowed a .381 wOBA and 3,13 HR/9 against left-handed hitters last season.
DraftKings DFS Outfielders
Charlie Blackmon, COL (@ MIL) - $4,600
Blackmon is having plenty of success against right-handed pitchers this season, with three home runs, a .222 ISO and a .383 wOBA. He is also facing a pitcher who allowed a .394 wOBA and 1.62 HR/9 to left-handed hitters last season.
Avisail Garcia, TB (@ KC) - $4,000
It has been a good start to the season for Garcia, but strangely he has yet to find success against left-handed pitchers. However, today he faces a pitcher in Danny Duffy who allowed a .351 wOBA and 1.52 HR/9 to right-handed hitters last season.
Brandon Nimmo, NYM (vs. CIN) - $3,900
Nimmo finished April with a flourish and will be hoping to have a strong May to pull his season around. His ISO and wOBA are worryingly low against right-handed pitching, but now he faces a pitcher in Tyler Mahle who allowed a .423 wOBA and 2.56 HR/9 to left-handed hitters last season.
MLB DFS News and Injury Alerts