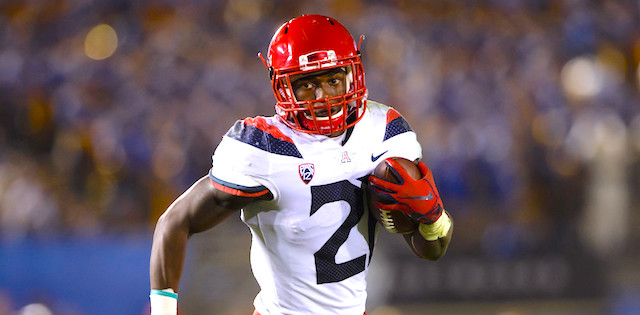 After the NCAA was scared of the NFL last night, we'll kickoff our college football week two on Friday night. It's a fun slate, at least. We have a few quarterbacks expected to put up a ton of points and it'll be important to nail it. Let's get our bankroll up before an exciting weekend of football awaits us.
Let's find a few top plays at each position. FanDuel and DraftKings have drastically different slates, so you can hit me up on Twitter if you have any questions. I'm more than happy to help. Let's do it!
In this article, I will be providing you with my daily fantasy college football lineup picks for FanDuel and DraftKings on 9/6/19. The lineup picks will range from some of the elite players to mid-priced options and value plays. If you have any questions or comments, feel free to hit me up on Twitter @VarneyDFS.
Editor's Note: Get any full-season NFL Premium Pass for 50% off. Our exclusive In-Season Lineup Tools, Lineup Optimizer and over 150 days of Premium DFS Research.
Sign Up Now!
FanDuel, DraftKings DFS Quarterbacks
Jamie Newman, Wake Forest (FD $10,100 - DK $8,400)
I don't see much merit in paying down for quarterback on this short slate. DraftKings is a different story with Jayden Daniels, who's a bit cheaper and has a high implied total. On FanDuel, however, those top three arms stand out. My favorite of the bunch is Jamie Newman. He was a guy we were all over last week and he impressed from the start. He torched the Utah State defense for 400+ yards and three scores while adding another on the ground. This Rice defense is no better than the Aggies and Wake Forest should put up another 30+ points. In cash games, Jamie Newman is a guy I'm all over here. On DraftKings, it's easy to pay up with all the value. On FanDuel, he's cheaper than Perkins. However you cut it, Newman is my QB1.
Bryce Perkins, Virginia (FD $10,300 - DK $8,000)
While Jamie Newman is my cash du jour, Bryce Perkins has more upside. He's facing a cupcake William & Mary defense and could combine for six touchdowns before the starters see the bench. If Wayne Taulapapa fails to find the endzone and steal the thunder, Perkins will have a great game. He has dual-threat ability and could easily outscore Jamie Newman if Wake Forest has success on the ground instead of through the air. He should be lower owned as he disappointed last week and is more expensive. Virginia will look to get this offense fully back on track and getting Perkins in the endzone is a big factor. On FanDuel, I don't mind paying down for Hank Bachmeier. On DraftKings, Jayden Daniels is worth considering in tournaments.
Also Consider: Hank Bachmeier, Jayden Daniels
FanDuel, DraftKings DFS Running Backs
Robert Mahone, Boise State (FD $10,200 - DK $4,700)
If you're playing on DraftKings, press the lock button on Robert Mahone. As you can see on FanDuel, he's the top option on the slate and should be priced like it. Instead, he's just $4,700 on DraftKings. If he's anything under 100% owned, something is wrong. This Marshall defense ranked in the bottom third in the FBS last season against the run and we should see another 20+ touches for Mahone. Even on FanDuel at the steep price tag, he's worth considering if you can find the value. If money wasn't a thing, Mahone is the guy I take over anyone.
Wayne Taulapapa, Virginia (FD $9,100 - DK $5,100)
It's either Cade Carney or Wayne Taulapapa here, and the fourth best running back is miles away. If you're not playing Bryce Perkins, Virginia is going to have to score some way. Wayne Taulapapa is going to be fed the ball early and often and could find the end zone a time or two and break the slate at running back. William & Mary is bad against both the pass and run, so it really just comes down to how Virginia decides to attack. You have to take a stand on one guy or the other.
Also Consider: Cade Carney, Eno Benjamin, George Holani
DraftKings DFS Wide Receivers
Khalil Shakir, Boise State (FD $9,000 - DK $5,100)
Here we have another brutal pricing job by DraftKings. Khalil Shakir emerged as the clear number one option in week one and DraftKings has him priced at $5,100. On FanDuel, they have priced him too highly and it really makes this slate a completely different animal on both sites. Marshall allowed 267 yards per game through the air in 2018 and it doesn't look like anything changed in week one. It's pretty simple here. On DraftKings, play Shakir. On FanDuel, defer to CT Thomas for Boise.
Joe Reed, Virginia (FD $8,000 - DK $5,600)
Hasise Dubois is the consensus number one receiver here, but Joe Reed is the guy with more upside and he won't be nearly as highly owned. If you're playing Bryce Perkins, I don't mind either of these guys. Joe Reed is unproven, but a 6 foot 2 receiver with as much speed as anyone on the field. I've already touched on William & Mary, but it's hard to emphasize how bad this defense was. They gave up 500+ yards against FBS opponents in 2018 and Virginia should be able to get this offense fully on track before they get to the meat and potatoes of their schedule.
Frank Darby, Arizona State (DK $5,400)
If this was a DraftKings only article, I would've touched on this game a lot. I know a lot of folks play on FanDuel and this game isn't available over there. If you're playing on DK, play a lot of this game. It has a high total and both offenses are extremely capable. As for Arizona State, Frank Darby is my favorite weapon. Brandon Aiyuk is who I was all over in week one, and he came through. I just think the defense may be aware of that and Darby is just as good, if not a better talent. He's cheaper and won't be as expensive.
Also Consider:Sage Surratt, Hasise Dubois, Steven Claude, Pierre Williams
More DFS Analysis