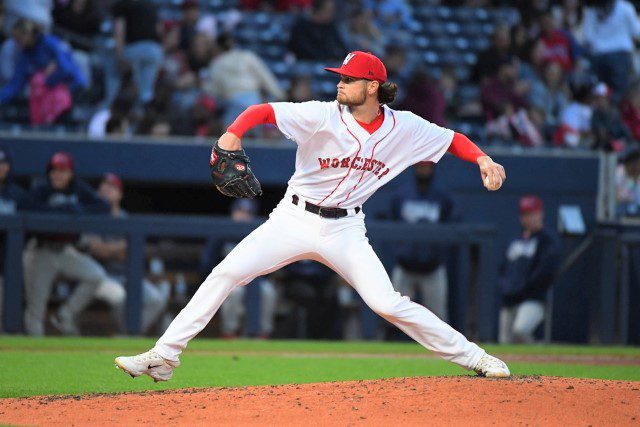 The National League shut out the American League in the 2023 Futures Game with a 5-0 victory on Saturday. With many concerned about the pitching in the game, Futures Game arms limited the game to a total of five runs, 11 hits, and struck out 22 combined.
This week will be our second week of capturing all of the Futures Game players that have not been covered yet this year. Each of these weeks, we've done 18 players, expanding on the typical six hitters and six pitchers. We'll be back to "normal" next week with our regular six-pack.
Look here for insight on potential fantasy baseball dynasty league pickups before they hit and to get to know players as they ascend to the major leagues!
Featured Promo: Get any full-season MLB and DFS Premium Pass for 50% off. Exclusive access to our Team Sync platform, Premium articles, daily Matchup Rating projections, 15 lineup tools, DFS cheat sheets, Research Stations, Lineup Optimizers and much more!
Go Premium, Win More!
Top Hitter Prospects
Statistical highlights:
Hitter Prospect Outlooks: Fantasy Six-Pack
Lawrence Butler, OF, Oakland Athletics
The A's drafted Butler out of high school in Georgia in the sixth round of the 2018 draft. One of the youngest players in the 2018 draft, Butler struggled in his full-season debut in 2019 before losing the pandemic season.
He came out of the pandemic with adjustments to his swing that led to a .273/.367/.504 line with 19 home runs and 29 stolen bases across both A-ball levels in 2021. He was injured for portions of the 2022 season but had a strong showing in the Arizona Fall League, earning the Dernell Stenson Sportsmanship Award, a well-earned award for one of the most-liked players in the AFL.
Butler has continued his growth this season, drawing more walks and striking out less than he has previously while still offering both power and speed, slashing .285/.352/.465 with 10 home runs and 13 steals. Butler is also athletic enough to handle center with a strong arm that has already produced seven outfield assists already this year.
VERDICT: With the A's en route to a 100-loss season, space could be created at the deadline by moving nearly anyone of value with the big league club, so Butler could see some MLB run this season. Even if he doesn't, he will compete for a job next season and should be owned in all deep dynasties.
Jonatan Clase, OF, Seattle Mariners
The Mariners signed Clase out of the Dominican Republic in 2018. The diminutive switch-hitting outfielder (5'9", 150 pounds listed) had a strong debut in the DSL in 2019, slashing .300/.434/.444 with 31 steals.
After the pandemic season, Clase struggled to make the same consistent contact, posting a .245/.333/.388 line. He did put up a .267/.373/.463 line in 2022 in the Cal League with 13 home runs and 55 stolen bases, but he also struck out at a 27% rate.
Clase had an incredible start to the season in High-A, posting a .333/.453/.701 line in 21 games before being promoted to Double-A. He's struggled at the level, with a .222/.337/.429 line and striking out at a 30%+ rate. That said, his overall line is still 16 home runs and 47 steals in just 74 games, which is an incredible line.
VERDICT: Clase makes the most of his athletic tools, but he's still quite raw as a player, as the strikeouts show. He's moved into must-own territory in deep dynasty simply because of his power/speed combination, but how soon he'll work up to the majors remains to be seen, and if the strikeout rate remains high, he could struggle at advanced levels.
Yanquiel Fernandez, OF, Colorado Rockies
The Rockies signed Fernandez out of the Dominican Republic in 2019, but because of the pandemic, he didn't debut until 2021. He's done nothing but hit ever since.
The 6'2" lefty-swinging outfielder can generate impressive raw power and has hammered 49 career minor league home runs over 240 games as well as 65 doubles and eight triples. Fernandez is a strong defender in right fielder and has jumped up three levels in 2023, going from Single-A Fresno up to Double-A Hartford. Overall, he's posted a .304/.355/.588 line with 22 home runs.
VERDICT: Fernandez's big arm has already led to eight outfield assists this year, so he's not just a bat, and his rise to the upper minors hasn't slowed down his power. He should be up in 2024 and should be owned in deep dynasty as well as most shallow leagues.
Drew Gilbert, OF, Houston Astros
When the Astros selected Gilbert in the first round last summer out of the University of Tennessee, many thought it was a perfect organizational fit. Gilbert was the team leader for the Vols, on the field and emotionally. Gilbert hit very well in his pro debut, working up to full-season ball, hitting .313/.405/.531 over 11 games. This season, Gilbert has combined to hit .268/.374/.440 across High-A and Double-A.
Recruited to Tennessee as a two-way player, Gilbert has an elite arm in the outfield and plays a strong defensive outfield at all three outfield positions, giving him value as he moves up.
VERDICT: Gilbert's physical and emotional aggressiveness can get him into trouble at times, but he's got the elite talent to make up for it. That said, he is more a real-life stud than a fantasy one, with a profile akin to Adam Eaton. Make your pickups accordingly.
Spencer Jones, OF, New York Yankees
Considered an elite two-way talent coming out of high school in California, Jones was a tough sign due to his desire to work on both sides of the ball, so he went to Vanderbilt. The Yankees made him the 25th overall selection in 2022.
Jones moved to a full-time outfielder by the time he was done at Vanderbilt, with his enormous 6'7" frame punishing baseballs. He hit very well in his pro debut last year, slashing .344/.425/.538 between the complex and Single-A. He's spent all of 2023 so far at High-A, and he's definitely shown his raw power, with 10 home runs and 20 doubles over 68 games while stealing 21 bases as well, but the strikeout rate has been rough, at 31%.
VERDICT:  The raw talent with Jones is incredible, and a guy with his skillset and size rarely has a middle ground. He could take a number of years to finally click, but when he does, he could be special. For now, a deep dynasty league is the only spot I could insist he's owned in.
Jordan Lawlar, SS, Arizona Diamondbacks
Lawlar was part of the impressive 2021 high school shortstops, drafted sixth overall by Arizona out of high school in Texas. His performance in fall instructs immediately had people talking, and he jumped into the top 50 of all prospects.
In 2022, Lawlar was incredibly impressive as a 19-year-old for most of the season. He jumped up both A-ball levels to Double-A by the end of the season and even played in the Arizona Fall League. After going .303/.401/.509 with 16 homers and 39 steals over 100 games, he hit .278/.469/.528 over 11 AFL games.
Lawlar got off to a slow start in 2023, hitting .162/.296/.342 over his first 32 games through May 21. Since then, he's torn the cover off the ball to a .314/.389/.557 pace with seven home runs and 16 steals.
VERDICT: Lawlar's a strong defender at short and one of the 10 best prospects in the entire game right now. He should be owned in all dynasty formats, and is likely to make a debut next season.
Noelvi Marte, 3B/SS, Cincinnati Reds
The Seattle Mariners signed Marte in 2018 out of the Dominican Republic, and he had a huge debut in the DSL, hitting .309/.371/.512 with nine homers and 17 steals in 65 games. After the pandemic, the 19-year-old Marte pushed across the Mariners' A-ball levels in 2021, hitting .273/.366/.460 with 17 home runs and 24 steals. That put him squarely on the prospect radar as a top-20 prospect.
Marte was one of the key pieces the Mariners sent to Cincinnati to acquire Luis Castillo in mid-2022. He combined for 19 home runs over 115 games. The Reds moved Marte to Double-A this season, playing third base primarily as he's thickened in his legs and isn't really a shortstop anymore. He has shown impressive bat control this year between Double-A and Triple-A, hitting .275/.346.446 with eight home runs and 13 steals.
VERDICT: While he may still have growth to achieve at the plate, he's shown plenty already, and the Reds are not holding anyone back that shows that they're ready for the next level. If Marte gets hot in the second half in AAA, he could end up in the majors down the stretch. He should be owned in all dynasty formats.
Jackson Merrill, SS, San Diego Padres
Another member of the elite 2021 prep shortstop class, Merrill was selected 27th overall by the Padres out of high school in Maryland. He showed well in his pro debut and received rave reviews at fall instructs coming into his first full season.
Injuries prevented a full 2022 season for Merrill, but when he was on the field, he was incredible, slashing .339/.395/.511 with 23 extra-base hits and 11 steals in 55 games. The Padres pushed the teenager to the Arizona Fall League, and while his numbers weren't amazing, he didn't back down. The move to High-A this season has continued to show Merrill's athleticism as he has 10 homers and 10 steals, but he's also dropped his walk rate to 5.7%.
VERDICT: While Merrill should be owned in all dynasties, the way the Padres work, it would not surprise if his major league debut is made with another organization. Keep that in mind if you're acquiring him.
Nasim Nunez, SS/2B, Miami Marlins
The Marlins snagged the switch-hitting Nunez in the second round of the 2019 draft out of high school in Georgia. Standing just 5'9", Nunez always had questions about his future power potential, and over his debut in 2019 and first full-season assignment in 2021, Nunez did not hit a single home run.
Despite a lack of power, Nunez always flashed elite speed, and that shone through in 2022 across two levels as Nunez swiped 70 bases and got on base at a .384 clip. He opened the 2023 season in Double-A, but while he's still stealing (33 steals in 76 games), he's struggling to a .211/.330/.289 line overall.
VERDICT: Nunez is an elite runner and has strong defensive skills, but he's still very raw as a player. Right now, there's no reason to roster Nunez in any level dynasty league until he shows that he's an offensive threat enough to potentially allow his speed to play.
Edgar Quero, C, Los Angeles Angels
The Angels signed Quero out of Cuba in February of 2021. He responded with a strong .240/.405/.463 line working up to Single-A. He hit five home runs and walked 18% of the time, though he struck out 27% of his plate appearances. Since then, Quero has shot into prospect consciousness while lowering his strikeout rate and maintaining a high walk rate. He hit 17 home runs and 35 doubles in 111 games in Single-A in 2022.
The switch-hitting Quero is much more hitter than catcher at this point, with definite work behind the plate still to be a major league backstop. He's shown excellent on-base skills this season in Double-A, but he's not producing the same power numbers.
VERDICT: Quero has definite work that needs to be done before he's a big leaguer. He could be a deep dynasty own, but with a deep group of catching prospects in the game right now, even ownership in a deep dynasty could be questionable.
Tyler Soderstrom, C/1B, Oakland Athletics
If Soderstrom was even an average defensive catcher coming out of high school in 2020, he'd have been a top-10 pick. As it was, he was selected 26th overall by the A's on the strength of his bat. He came out in his first full pro season and hit .306/.390/.568 over 57 games, powering out 12 home runs. He followed up with an incredible 29 home runs in 2022, climbing up three levels, finishing with nine games in Triple-A as a 20-year-old.
With Las Vegas this year in Triple-A, Soderstrom has continued to power out home runs, hitting 20 over 69 games. He is struggling some with his contact rate this season and has seen his strikeout rate jump to 27%.
VERDICT: Soderstrom spends a lot of time at first base, but the A's still give him the majority of his time behind the plate, despite his struggles there, especially with holding runners. His power could be a fantasy asset, but he needs to continue improving his offensive profile to consistently get to that power. He is a dynasty own for sure, but no need to rush on him in redraft, despite the power shown at AAA.
Top Pitcher Prospects
Statistical highlights:
Wild pitches: 1. Miguel Mora 27, 2. Brayan De Paula 18, 3 (tie). Jason Bonilla and Seth Lonsway 17.

FIP (min. 40 IP): 1. John McMillon 1.62, 2. Lazaro Estrada 2.24, 3. Kody Funderburk 2.27, 4. Ben Sears 2.27, 5. Steven Zobac 2.31.

Pitcher Prospect Outlooks: Fantasy Six-Pack
Shane Drohan, SP, Boston Red Sox
The left-handed Drohan was selected by the Red Sox in the fifth round of the 2020 draft. He made his pro debut in 2021 and showed well, with a 3.96 ERA, 1.42 WHIP, and 86 strikeouts over 88 2/3 innings.
Drohan stepped up in his second pro season, moving up to Double-A, posting a 3.89 ERA, 1.26 WHIP, and 157 strikeouts over 129 2/3 innings. This year, Drohan opened the year dominating Double-A and was bumped up to Triple-A. Overall, he's posted a 3.47 ERA, 1.30 WHIP, and struck out 79 over 80 1/3 innings.
Drohan is a mix of average and fringe-average stuff from the left side, with a fastball that works around 92-94 and an average curve and change. He could use a fourth pitch, but his delivery is repeatable, but he struggles to consistently command his stuff.
VERDICT: Drohan's raw stuff projects as a backend reliever or multi-inning reliever. He's probably on the doorstep of the majors, but the fantasy impact he will have could be fairly limited, so hold off until he secures a rotation spot in Boston.
Tink Hence, SP, St. Louis Cardinals
A late helium guy in the 2020 draft, Hence was selected in the second round by the Cardinals out of high school in Arkansas. He posted very raw pitches, but the stuff was electric. Multiple teams dreamed of his long-term potential, though the risk was high.
Hence has not tossed a lot of innings so far, pitching just eight innings in 2021 and then 52 1/3 innings in Single-A in 2022, though his 1.38 ERA and 0.88 WHIP with 81 strikeouts over 52 1/3 innings were incredibly impressive. He pitched out of the bullpen in the Arizona Fall League, posting a 2.16 ERA and 0.96 WHIP over 8 1/3 innings.
Hence has been pitching in the rotation this season so far, pitching 46 2/3 innings over 12 starts, striking out 51. Hence reaches the mid-90s with ease and the pitch has a ton of life up in the zone. His curve is an incredible plus pitch as well.
VERDICT: Hence still has notable relief risk, but even then, he'd be an elite reliever. His arm is still building up innings, and that could take time, potentially even 2025 before he's ready for a consistent rotation spot. He is definitely a dynasty own at all levels because of his potential impact, but don't expect a quick ascent to St. Louis.
J.P. Massey, SP, Pittsburgh Pirates
After an up-and-down career at the University of Minnesota, the Pittsburgh Pirates took Massey in the seventh round. The 6'5" righty struggled with control throughout his college experience, walking 17% of hitters. The Pirates worked with Massey to calm down his delivery. He still has a high leg kick, but the long arm and hip action that plagued his control during college have been significantly minimized.
Massey works with a five-pitch mix, using a mid-90s four-seam fastball, a two-seamer, a slider, a curve, and a changeup. He's pitched across both A-ball levels this year, and his walk rate is down 6% from his college rate, but that's still plenty high.
VERDICT: Massey could be a very good middle reliever, or he could have a career as a mid-rotation arm if he can continue improving his control. Right now, there's no reason to own him in any dynasty league until that control makes another step forward.

Sem Robberse, SP, Toronto Blue Jays
The Blue Jays signed Robberse out of the Netherlands in 2019. The pandemic delayed his full-season debut until 2021, when Robberse tossed 88 2/3 innings across both A-ball levels, striking out 90.
The righty worked between High-A and Double-A in 2022, tossing 111 1/3 innings, with a 3.23 ERA and 1.16 WHIP, with a 97/34 K/BB ratio. He's returned to New Hampshire this year and posted a 4.19 ERA, 1.15 WHIP, and 69/28 K/BB over 73 innings so far in 2023.
Robberse has a fastball that sits 92-94, with three secondary pitches that rate as average pitches. His consistent delivery allows for average control as well.
VERDICT: Robberse is a guy who could work in the back end of a rotation to handle heavy innings. He will need to see either additional downward drive on his secondary pitches or action on his fastball to work in the rotation, otherwise, he could be a long relief prospect. No reason at this time to roster Robberse.
Mike Vasil, SP, New York Mets
The Mets selected the large (6'5", 240+ pounds) Vasil out of the University of Virginia in the eighth round of the 2021 draft. He made a big impression over his debut and instructs, generating plenty of positive momentum heading into 2022.
Vasil took that momentum and turned it into a strong debut season, pitching across both A-ball levels and finishing his year in the Arizona Fall League. He struck out 85 over 71 1/3 innings in the regular season, then posted 18 strikeouts over 15 1/3 innings in the AFL.
This season, Vasil opened the season strong in Double-A, but he's really hit a wall after his promotion to Triple-A in mid-June, primarily due to control struggles. Vasil has worked to improve his overall athleticism, and that's added a couple of ticks to his fastball, which now reaches the mid-90s and sits 92-93 with better action than he had in college.
VERDICT: Vasil's control struggles could imply that he would be best suited moving to the bullpen and focusing on a three-pitch combo of his fastball, slider, and curve. If he can locate, he's a solid mid-rotation arm. Right now, only in the deepest dynasty should Vasil be owned.
Owen White, SP, Texas Rangers
An elite athlete in high school in North Carolina, the Rangers selected White in the second round of the 2018 draft. He was set to make his pro debut in 2019 before Tommy John halted that, and then the pandemic delayed his debut even further.
Finally on the mound in 2021, White dominated, with 56 strikeouts over 35 1/3 innings. He climbed up to Double-A in 2022, pitching 80 1/3 innings, with 104 strikeouts. This season, he returned to Double-A and was having another strong season before the Rangers called him up to make his MLB debut, tossing two innings.
He returned to Triple-A, and he's struggled with his command in Round Rock. He has a strong mix of pitches that portend a future starter, reaching the upper-90s with his fastball that sits in the mid-90s, then working in a curve, slider, and changeup that all rate as above-average or better.
VERDICT: White has the makeup of a starter, but he's struggling with command at the moment. He should be owned in all but the very shallowest dynasty leagues.

Yosver Zulueta, RP, Toronto Blue Jays
Zulueta had a career in Serie Nacional in Cuba before signing with the Blue Jays in June of 2019. He had Tommy John surgery before throwing a pitch in the Jays system. The righty showed up touching triple digits in Spring Training in 2021, but he then tore his ACL, knocking him out until 2022, when he pitched 55 2/3 innings across all four full-season levels, striking out 84.
The Jays have been using Zulueta as a reliever in Triple-A this season since mid-June, and the change has been positive for Yosver, though his walk rate has been extremely high regardless of role.
VERDICT: Zulueta has an explosive fastball that can touch triple-digits, and his curve can flash plus but is inconsistent. With health setbacks and control issues, the 25-year-old Zulueta is likely staying in the bullpen, and that significantly reduces his fantasy value, with no recommendation to roster at this point, but to keep a close eye as he could help in strikeouts for fantasy squads out of the bullpen.
Check back again next week for more evaluations and look behind the numbers!
Download Our Free News & Alerts Mobile App
Like what you see? Download our updated fantasy baseball app for
iPhone
and
Android
with 24x7 player news, injury alerts, sleepers, prospects & more. All free!
More Fantasy Baseball Prospects and Rookies