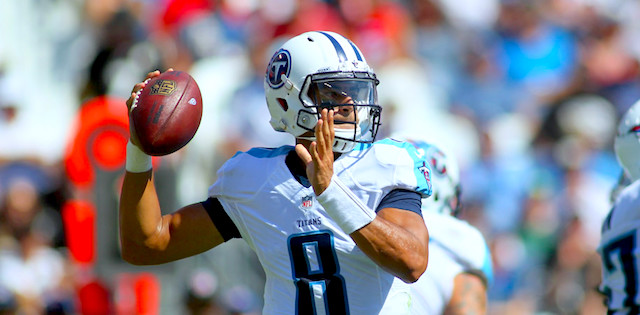 As a longtime fan of the Houston Texans and, therefore, a longtime hater of the Tennessee Titans, it takes a lot for me to defend a Titans player.
But all of this Marcus Mariota hate has to stop. Yes, his career up to this point hasn't resembled what people wanted from it and he's not a fantasy QB1, but there's still a lot of potential for Mariota to succeed in a revamped Titans offense, and he's likely heading for a season that looks more like 2016, when we thought he was breaking out, than 2017 or 2018.
Let's talk about why everyone should be higher on Marcus Mariota than they currently are and why he can be a streamable fantasy quarterback in 2019.
Editor's Note: Get any rest-of-season NFL Premium Pass for 50% off. Our exclusive DFS Tools, Lineup Optimizer and Premium DFS Research through the Super Bowl.
Sign Up Now!
Marcus Mariota Isn't That Bad, Y'all
Look, I get where everyone is at with Mariota at this point, and I get that the addition of Ryan Tannehill isn't good for him. He's never finished better than QB12 and has never played a full 16 games. Those aren't good things. He's combined for 24 touchdown throws over the last two seasons, which doesn't even match his 2016 production, when he threw for 26 of them. And last year, he threw for under 200 yards per game. Bad stuff, yes.
But let's look beyond those raw numbers. PlayerProfiler has some advanced stats that have me still occupying Mariota Island.
First off, the Titans just didn't throw the ball last year, with the team averaging just 30.2 pass plays per game. The elevation of tight end coach Arthur Smith to the offensive coordinator role doesn't suggest much about the team's plans to change that, but their other offseason moves do. For example, the Titans brought in one of the best (and most underrated) slot options in the NFL last year in former Buccaneer Adam Humphries, who suddenly gives the team a reliable option at the slot.
They also drafted A.J. Brown in the second round and will have a healthy Delanie Walker at tight end. Mariota should be throwing more this year for the simple reason that he has good options to throw the ball to. Last season, Corey Davis was targeted 112 times. Running back Dion Lewis was second on the team at 67, and then you get to the team's other wide receivers, Taywan Taylor and Tajae Sharpe. Those guys will be significantly less involved this year, with the team's new acquisitions taking on a larger share of the offensive load.
Beyond that, though, there are numbers from last year that suggest Mariota can excel on a team that dedicates more time to the passing game. Among all quarterbacks, he had the seventh-best deep ball completion percentage. He had the fifth-highest true completion percentage, a number that factors in throwaways and drops. And while he was 29th among quarterbacks in air yards, he was only 17th in air yards per attempt. If he stays on the field, we'll see Mariota throwing the ball deeper more often. The deeper the target, the better chance it results in a big play.
Marcus Mariota also ranked eighth among quarterbacks in accuracy rating, but his receivers dropped 19 passes. This is where the new receiver corps comes in, and why I'm pretty high on Adam Humphries this year. Humphries had the 11th-best catch rate among wide receivers last year and proved to be a very solid guy after the catch, racking up 428 YAC, eighth-best at his position. I can't say enough about how much I think having a guy like Humphries is going to help Mariota this season.
(Also, a non-advanced stat here: Mariota completed 68.9 percent of his passes last year, tied for fifth in the NFL.)
Mariota is also a mobile quarterback, which increases his fantasy value. He's rushed for over 300 yards in each of the past three seasons and had five rushing touchdowns in 2017. Is he Cam Newton or Kyler Murray? Nah, but he's capable of giving fantasy owners a couple of extra points per game with his legs, and a couple of extra points per game can make a difference over the course of a season.
Don't Believe Me? Just Watch
Let's head to the tape and show some visual evidence of why Mariota deserves more love.
First, if you want a more in-depth breakdown, last season I wrote about and broke down Mariota's Week 10 performance, when he threw for 228 yards and a pair of touchdowns against the Patriots. He showed a lot of promise in that game, and the Titans had him moving around in the backfield and firing the ball downfield.
But let's look at some tape from some other games.
Marcus Mariota. @TheCDavis84. Clutch. pic.twitter.com/NgC7VOajM0

— Tennessee Titans (@Titans) December 3, 2018
Here's a touchdown throw against the Jets from last season. The Titans run this play out of the shotgun -- which, it should be noted, the Titans used on 51 percent of snaps last year, the league's sixth-lowest rate -- on third and six. When you have a mobile quarterback like Mariota, I like running plays from the gun as much as possible, and I hope the Titans understand that this year and put Mariota in this position more.
Anyway, Mariota gets the snap, the Titans offensive line does a good job keeping the pocket clean for him, and Mariota is able to thread the ball between two Jets defenders to Davis right at the first down line, who turns upfield to get those final four yards.
The thing about this play is the accuracy that Mariota shows. He gets the time to throw that he needs, and because of this is able to deliver a pass right to Davis. Remember those advanced metrics from earlier that suggest Mariota is actually a really accurate passer who has been hurt by his supporting cast?
Yeah. I'm buying that conclusion.
Titans Film Room has a great compilation here of Mariota's ability to anticipate where his receivers are going to be:
Marcus Mariota throwing with trust/anticipation, a 2018 compilation #Titans pic.twitter.com/rBWgQtlRy9

— Titans Film Room (@titansfilmroom) February 24, 2019
More evidence here of how a clean pocket and good receivers can help Mariota excel. He's shown some really good ability to put passes where they need to go and to lead his receivers. This year's improvements to the roster will give him his best chance since 2016 to actually turn that potential and that accuracy into solid production.
I don't think Mariota's heading for a QB1 year. The volume just isn't there for that. But he will see more volume than last year, and I think he's got a chance to be solidly in that QB2 tier, maybe in the QB15-18 range. That's not fantasy starter material, but it does make him a viable streaming option for fantasy owners who go that route. It makes him a bye week replacement. And it makes him a value play in Superflex leagues. So, let's stop hating on Marcus Mariota, okay?
More ADP Values and Sleepers