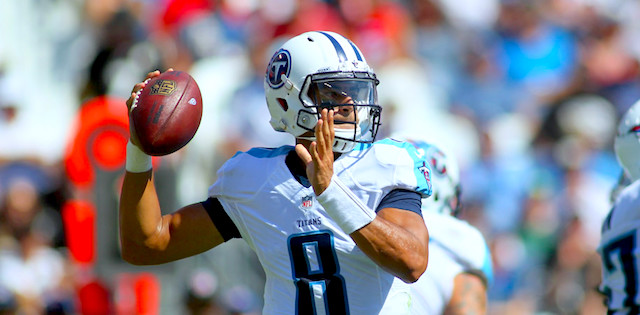 We're over halfway through the NFL season and I still haven't broken down any quarterbacks in this column. The reason?
Yeah, I don't know. I guess no one really surprised me enough? But over the past two weeks, one quarterback has really come to life -- Tennessee Titans passer Marcus Mariota.
Let's look at some tape from Week 10, some stats, and some other things as we try to figure out how much we should or shouldn't trust Mariota moving forward.
Editor's Note: Get any full-season NFL Premium Pass for 50% off. Our exclusive In-Season Lineup Tools, Lineup Optimizer and over 150 days of Premium DFS Research.
Sign Up Now!
Marcus Mariota: The Tape Tells All
Background Information
It seems like we've been waiting on and anticipating the Marcus Mariota breakout for years now, and it gets so tantalizingly close at times, and then it winds up not happening. It's one of the sure things in the fantasy football world -- you'll think that Mariota has arrived, and then you'll realize he hasn't.
If we dive into what the stats are telling us about Mariota this year, we find some conflicting things:
His rushing numbers are great for fantasy owners, as he ranks among the top six quarterbacks in carries, red zone carries per game, rushing yards, and rushing touchdowns. Add in a 40-yard dash time that ranks in the 98th percentile among quarterbacks and you have the recipe for a good fantasy quarterback who is able to exploit the importance of rushing yardage and touchdowns in fantasy scoring.
Some passing stats that are good: Mariota ranks eighth in true completion percentage (a stat that filters out drops and unpressured throwaways), and he ranks ninth in accuracy rating. Mariota is definitely able to put the ball where it needs to be a good amount of the time.
Some passing stats that are pretty meh: Mariota is 14th in completion percentage on both play action plays and deep passes, which isn't bad but also...you'd probably like to see him more efficient at one of those. And while he's just 27th among quarterbacks in fantasy points per game, he's 18th in fantasy points per dropback.
Some passing stats that are...less good: Well, he's 27th in fantasy points per game! And 33rd in red zone completion percentage, which is especially frustrating because one of the key selling points on Mariota over the last few seasons has been that he's an effective passer in the red zone due to his lack of turnovers down there. He's also 27th in adjusted yards per attempt, and for a good old traditional stat here: he's thrown just seven touchdowns.
Ultimately, making a season-long statistical case for Mariota is difficult. The numbers suggest that he's best as a short-range passer, but he's also struggled immensely in the red zone, so the area where his short passing numbers would be most useful has actually been harmful to his overall numbers this year. And while those two facts seem incongruous enough to suggest that one of them must be a mirage, Mariota has actually gotten better in the red zone this year. That stat everyone spouted off before this season about Mariota not throwing interceptions in the red zone? Yeah, it was true, but it also ignored the fact that he was also throwing a ton of incompletions down there.
Marcus Mariota's Game Tape
But over the past two games, Mariota has seemingly taken some kind of a step. Four of his seven touchdowns have come over that span, and after throwing for less than 200 yards in four of his first five games, he's now thrown for more than 200 in three consecutive appearances.
Let's take a look at some film from Week 10's win over the Patriots and see what it's telling us about Mariota.
For Marcus Mariota to be successful, he probably needs to run an offense that takes advantage of his speed and makes use of his running backs t0 misdirect things. Starting this play with both Dion Lewis and Derrick Henry in the backfield -- something that should happen more, as Henry was only on the field for 15 offensive plays this week -- creates a lot of confusion. You run a play action here with Lewis, then get Henry out in the flat, which is a pretty easy dump-off to make. But Mariota is fast, and can buy time, and he sees a chance to get the ball to Corey Davis farther down the field, so he steps up and does so. A lot of moving parts on this play, and if the Titans want to be successful then they should take advantage of all the misdirections available to them.
Here's a great example of the threat of Mariota as a runner opening things up for the Titans offensively. Play starts with Dion Lewis in motion, which gets a linebacker heading to the left side of the field. Then Mariota almost immediately rolls out, which brings one defender who could have been helping on Jonnu Smith down to defend against the threat of Mariota running, which gets Smith in a one-on-one against a defender who doesn't have good positioning from the start of the play and is having to try to catch up. Touchdown Titans.
So, two plays in and we see how Mariota moving can be an effective way of doing things for the Titans. You have one of the NFL's fastest quarterbacks, and you need to take advantage of that when building plays for him.
Let's look at a play where Mariota doesn't move around.
There's still play action, but you can see that by going with the quick pass here, Mariota has to wedge the ball into a pretty tight window. And while he's got the accuracy to do that and he completes this pass, it's notable how much more difficult this completion is than the first two we looked at.
Here's Mariota's other touchdown throw from Sunday's contest.
This is a lot more of a traditional "drop back and pass" kind of play than the others, and it's some good evidence to support the idea that Mariota can be a successful NFL quarterback. He gets a really, really clean pocket here, and gets his best receiver up top with a step on the defender. Seeing Mariota succeed vertically is big, because he hasn't been a big air yards guy this year, and one of the best indicators of a quarterback's success can be his ability to throw the ball down the field.
I'm not going to break down any more film here, but here are just a few brief thoughts from watching the rest of Mariota's throws from Sunday:
Definitely some of Mariota's best moments came when he either had extra time from his line or bought himself some time. I think the best way to get Corey Davis involved in the game plan for the Titans is to keep finding ways to push the ball to him deeper downfield, and that comes with improvement from an offensive line that gives up the highest adjusted sack rate in the league.
Seriously though, for as bad as that offensive line rates on the season, Sunday wasn't terrible. Mariota was sacked twice, which is far less than the 11 times the Ravens sacked him.
Mariota was finding open receivers a lot, which...could it just be that the Patriots were exceptionally bad defensively on Sunday?
The Fantasy Impact
My ultimate opinion on Mariota after this game is basically my same opinion that I had before the game: he has the tools to be a successful quarterback and to be a useful fantasy option, but I want to see it sustained more. Mariota threw a pair of first-quarter touchdowns, but then let the run game settle in more after that, which is good -- you need that run game to work to help the play action work -- but it also still suggests that there's limited upside for Mariota.
I do think that if the improved line play from Sunday keeps up, Mariota can put up top 15 fantasy numbers over the rest of the season. There's no oh no! game on the schedule at this point aside from Washington since Jacksonville's defense has fallen off, but that game being Week 16 is obviously scary news for fantasy owners. because you don't want to start Mariota against them based on the information we have at this point.
If the Titans use Mariota more as they did in the first quarter, getting him moving around in the backfield and taking advantage of pre-snap motion from players like Lewis, then things will be looking up for the former Oregon Duck. But maybe we should wait another week to see if this production is a trend, or just a blip on the radar of an ultimately disappointing season.
More Fantasy Football Analysis