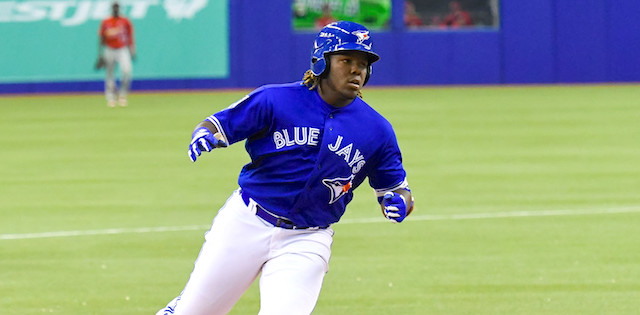 Welcome to the Friday, August 23rd edition of Daily Slivers of the Fantasy Soapbox.
Discussing baseball is as fun as the game itself. It has a way of bringing people together to share different opinions about the sport we all love. A similar action can be done with fantasy baseball where we not only discuss topics but also look to improve our teams as well as the teams of our fellow fantasy baseball enthusiasts. Everyone has their own perspectives which are not to be cast off as frivolous. They should be used as a method of expanding our own knowledge.
In this article, I review the previous day's boxscores and provide my opinion on a variety of topics. Some will be random, some will be fun, and some will be stat-driven. It's a soapbox so I may rant from time to time as well. So without any further delay, below are my thoughts on August 23rd. Enjoy them. You can even respond with your own thoughts on Twitter @EllisCan2.
Editor's Note: Get any full-season MLB Premium Pass for 50% off. Exclusive access to our Draft Kit, premium rankings, projections, player outlooks, top prospects, dynasty rankings, 15 in-season lineup tools, and over 200 days of expert DFS research.
Sign Up Now!
Daily Musings
Max Scherzer plodded through four innings. Prayers for no setbacks.
J.D. Martinez isn't a fan of new ball but he's coming around (25HR).
Hunter Dozier expanding his repertoire w/second SB.
Only six total hits in Giants/Cubs game. I applaud Jeff Samardzija and Kyle Hendricks.
Victor Robles, here's your 15/20 card. 20/20 card is already pre-made, standing by for you.
Starling Marte steals two more. I rarely own him due to injury concerns. Maybe it's just me.
Anthony Rendon gentle giant
Ryan Yarbrough continued to sparkle. Only did it through 4.1 innings though.
Austin Meadows. Stop it! Your 22nd HR is drawing too much attention. Settle down.
Thor did what he's supposed to do. Noah Syndergaard silenced the Cleveland bats for ninth win.
Michael Conforto dabbling in different skills w/ seventh SB.
MVP for the last week? Mark Melancon w/ one win, three saves, 10K, and a ...9.00ERA. Nevermind.
Kyle Tucker passed again. How rude can Astros get on September 1st?
Yep, Freddie Freeman jumping into 1st round of 2020 drafts.
They fought it so long but Carlos Martinez is a fine closer.
Everyone has power, what makes Nolan Arenado so special? Coors, maybe.
Marcell Ozuna fighting hard for this 25/15 card. Never seen anything like it.
Gerrit Cole excels while Alex Bregman delights. It's the Astros way.
Travis Demeritte is a tiny flake of shiny goodness that no one is talking about. Fourth SB.
Yoan Moncada having an injury-riddled successful season. I want the full thing in 2020.
Gleyber Torres just loves his in pairs.
Tanner Roark? beat the Yankees?
2019 will be forgotten once the season ends for Vlad Guerrero Jr. 2020 hype will begin.
We are losing players left & right. Chris Sale: Done. Jon Gray: Done. Griffin Canning: Done. Brandon Lowe: Done.
Have a great Friday. Don't work too hard, but best effort always
No Fear, Just Fantasy.
More Fantasy Baseball Analysis