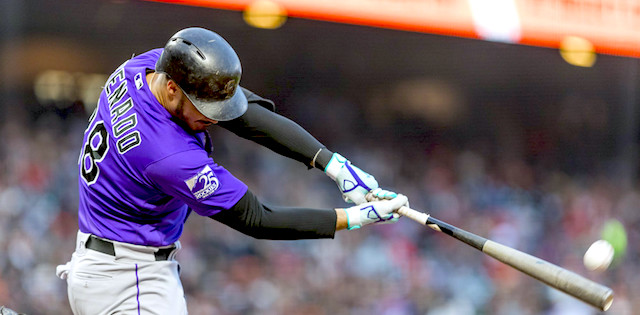 Welcome to the Monday, August 19th edition of Daily Slivers of the Fantasy Soapbox.
Discussing baseball is as fun as the game itself. It has a way of bringing people together to share different opinions about the sport we all love. A similar action can be done with fantasy baseball where we not only discuss topics but also look to improve our teams as well as the teams of our fellow fantasy baseball enthusiasts. Everyone has their own perspectives which are not to be cast off as frivolous. They should be used as a method of expanding our own knowledge.
In this article, I review the previous day's boxscores and provide my opinion on a variety of topics. Some will be random, some will be fun, and some will be stat-driven. It's a soapbox so I may rant from time to time as well. So without any further delay, below are my thoughts on August 19th. Enjoy them. You can even respond with your own thoughts on Twitter @EllisCan2.
Editor's Note: Get any full-season MLB Premium Pass for 50% off. Exclusive access to our Draft Kit, premium rankings, projections, player outlooks, top sleepers, dynasty and prospect rankings, 15 in-season lineup tools, and over 200 days of expert DFS research.
Sign Up Now!
Daily Musings
Power hitter bat cleanup. Jean Segura at least has best AVG on team (.284)
Manuel Margot w/SB…the least he could do. I guess he could do less.
Joey Lucchesi gets W. BOS next. .261AVG vs. southpaws. Pass.
If only Rafael Devers competed for batting crown, then I'd believe. .332 is 4th if MLB-leading doubles(46) & RBI(101) don't convince you. (27HR too).
Renato Nunez getting hyped for a long home-stand (27th long-distance call). Baby, I'm comin' home.
Remind my 2019 pre-draft self that I wanted more Jonathan Villar. 28SB w/15HR, .274AVG.
Morgan Freeman narrates and does all his own homers. Psst, that's Mike Freeman(four).
It is hard to succeed if you're just riding the train when it's going well. Many missed the Oscar Mercado day. Combo-meal w/10th HR & two SB(11)
Mike Clevinger is pushing to be a top-10 starter in 2020 drafts.
Can D.J. LeMehieu(21) possibly get to 30HR. That would be an alternate universe.
Have we shown our LSU pride recently? Austin Nola w/6th tater
7HR, 14RBI, .358AVG in 15 days. Give me that superstar! Kyle Seager is all yours.
Tommy Edman is generous. Shares his combo-meal. Fifth HR/Eighth SB.
Eugenio Suarez had a slow June, but still matches 2018 homer total (34).
28HR by Paul Goldschmidt doesn't have the same excitement it used to.
Harold Castro is a regular provider. Sometimes we need guys like that to hold the line.
Tommy Pham will not be getting the same love in 2020, despite 18HR & 13SB.
Cody Bellinger waits for no man. #42 is a powerful number.
DENIED! A rare day that Ronald Acuna does not steal a base or send one over the wall.
Reliever Dustin May is not the same as Starter May.
Mark Melancon gets another SV. I have a better-than-Greg-Holland vibe of him right now.
Tony Gonsolin seems to be the new Chosen One in LA rotation. Yes, please.
Smelling salts are needed for anyone who started Chase Anderson. Unconscious.
The Moose is Loose! Mike Moustakas reaches the Big Three-Oh.
Juan Soto doubles your enjoyment. 28HR leads club.
Victor Robles RoY campaign is not finished. 16HR, 19SB, .252AVG
Peter Alonso smacks 40 dingers. Does the value start to lose value at some point?
The weakest interest in a 30-homer hitter is post-hype guy Michael Conforto.
Big kids love combo meals too. Shin-Soo Choo drives through w/20th HR, 9th SB.
Jorge Polanco is the savior. Light on the heroics but still w/.295AVG.
Jordan Yamamoto survives Coors, adding win K. Wow.
Nolan Arenado turns the heat up, adding two cool-refreshing souvenirs to the menu.
Zack Greinke basks in the Houston light. 13th Win.
Alex Bregman is a definite first-rounder if he starts running again. Otherwise, maybe just back-end.
How many people will jump on the Eloy Jimenez wagon if he finishes with 30HR, .250AVG?
Wish the play was as good as the name. Anthony Bemboom gets first career homer.
Griffin Canning looking marvelous. Beautiful streamer at least.
Josh Rojas running spree begins(1). Thankfully, I got a couple of shares.
Wilmer Flores is back. 4HR, 7RBI, .600AVG last week. More playing time = I will grab him.
Starling Marte is just stockpiling the toy in the combo meals. 21HR/22SB.
Wow, Anthony Rizzo hit another long-ball. Where's the upside?
Nicholas Castellanos, welcome to the NL, where you're free to HR whenever you like.
Jose Quintana looks good. The Nats might alter his course.
Have a great Monday. Carry that good weekend momentum forward.
No Fear, Just Fantasy.
More Fantasy Baseball Analysis