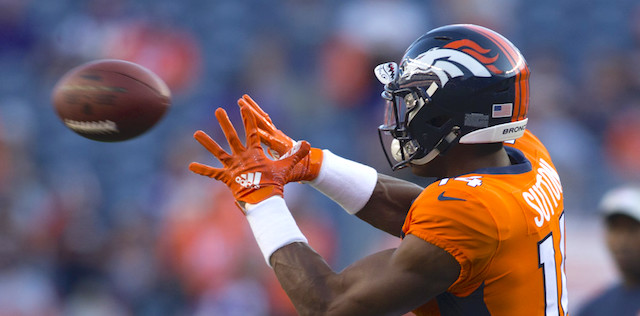 BALLER MOVE: Add in 12-Team Leagues
OWNED IN: 6% of Leagues
ANALYSIS: Courtland Sutton may not be off to a world-shocking start like some other receivers in this year's rookie class, but he has had an encouraging start to the 2018 campaign for Denver with optimistic signs regarding his play for the rest of the regular season. So far in four games, Sutton has accrued 142 receiving yards on eight receptions out of 20 targets. That averages out to 35.5 yards per game on two receptions out of five targets per game (indicating a decent level of trust from Case Keenum early on), but most importantly, Sutton has displayed his big-play potential with an impressive 17.8 yards per reception (with his longest reception of the year totaling 42 yards).
Sutton has yet to be targeted in the red-zone this year, however, he has been targeted nine times (converting on two) between the opponent's 49-20 yard line at an average of 15 yards per reception. Sutton had well-established himself as an end-zone threat while at SMU, accumulating 12 TD last season as a senior, and his lack of red-zone opportunities thus far in the season shouldn't be any cause for alarm considering his advantage in the size department at receiver. The Denver offensive line has been weak to start the year and has allowed nine sacks on Case Keenum so far over the first four games (likely being a key factor behind his six interceptions and just three TD to this point), but the Bronco passing attack has still been strong enough to support the production of multiple receivers with Keenum averaging 247 passing yards per game.
Courtland Sutton's imposing frame and strong hands have already garnered plenty of attention from his starting quarterback even with options like Emmanuel Sanders and Demaryius Thomas available, and in fact appears to already occupy the niche role of deep-threat for the Denver offense. Even at the low rate that he has been converting targets to catches, Sutton's skill set offers an intriguing mix of big-body red-zone threat potential with big-play capabilities. Despite not yet having a touchdown (or red-zone target for that matter), this makes Courtland Sutton a promising option at wide receiver moving forward if the targets keep sending him deep.
Check out RotoBaller's famous fantasy football draft sleepers and waiver wire pickups list, updated regularly!